Introduced to the market in 2001, the Hyundai Santa Fe is one of the few models named after cities. This vehicle is named after Santa Fe, a town in New Mexico.
Following its launch, the Hyundai Santa Fe enjoys surging popularity among SUV enthusiasts.
This article explores the best and worst years for Santa Fe.
The Santa Fe is one of the popular models in the Hyundai SUV lineup.
5 Best Hyundai Santa Fe Years
The Hyundai Santa Fe is an excellent, reliable SUV, particularly for SUV enthusiasts on a budget. Its multiple features, advanced technologies, and low maintenance costs make it suitable for new car owners.
Yet, choosing from the following years will be the best when looking for an exceptional Hyundai Santa Fe.
2021-2023 Generation
Santa Fe vehicles produced between 2021 and 2023 are the most reliable and technologically advanced.
Besides having multiple trims, these vehicles boast:
incredible engine performance,
safety levels,
fuel efficiency
Santa Fe SUVs produced since 2021 offer enhanced comfort and luxury, thanks to updated technologies and increased space.
Besides having a spacious cabin, this generation's vehicles feature premium-quality materials, from seats to the dashboard and steering wheel.
Enhanced safety is essential when choosing a vehicle.
Fortunately, Hyundai has focused on safety features, including:
forward automatic emergency braking,
pedestrian detection,
forward collision warning,
and blindspot monitoring.
Further, enhanced fuel efficiency is central to Santa Fe. It guarantees an MPG of between 30 and 36.
Besides, there is the hybrid option, which ensures more fuel efficiency.
Check also the good and bad years for Hyundai Veracruz.
2018 and 2019
The 2018 and 2019 Santa Fe SUVs bear significant similarities. They offer an exceptional driving experience, thanks to their smooth handling and incredible engine performance.
Various 2018 and 2019 trims offer unrivaled comfort thanks to advanced technologies and premium-quality materials.
These cars have:
ventilated seats,
heated rear seats,
a built-in navigation system,
a heated steering wheel,
and an immersive infotainment system.
The 2019 version set the basis for a modern facelift.
This car is designed as a two-row, differentiating it from previous generations. While it is packed with standard features, its comfort, reliability, and affordability make it a perfect choice. Besides, it is also easy to drive and maneuver.
The 2019 Santa Fe offers the XL trim with a third row for extra space. This choice is ideal for SUV enthusiasts with families. We also find 3rd-row seating options on the Nissan Rogue.
However, this third row could be snug.
The 2019 Santa Fe has a relatively weak engine base despite its reliability and standard safety features. For this reason, you might consider higher trims for enhanced performance.
2001 (First Generation)
The 2001 Hyundai Santa Fe is the pioneer model of this model, borrowing its design from the Hyundai Sonata. While it is not the fanciest in the group, it is an excellent choice for an immersive driving experience. It also offers enough cargo space.
You'll choose between the front-wheel-drive and the full-time four-wheel-drive options when choosing the 2001 Santa Fe.
In addition, you'll choose between the four-cylinder and the V6 engine options, each offering enhanced performance.
This car comes in three trims, and the standard option has a five-speed manual transmission that produces 150 horsepower.
Higher trims, particularly with the 2.7L V6, guarantee 180 horsepower. Various stats show that this car is reliable and long-lasting, suitable for off-road and rough terrain.
2014 to 2016 (Third Generation)
The 2014 to 2016 models kickstarted the third generation of the Hyundai Santa Fe. They are reliable and integrated with various advanced technological features, including adaptive cruising and safety.
Yet, they remain significantly affordable.
The 2014 to 2016 Hyundai Santa Fe offers a perfect blend of comfort, style, and power, making it ideal for savvy drivers.
In addition, it has:
a reliable suspension,
finely tuned for city, highway, and off-road driving.
Its interior is thoughtfully designed and spacious, comfortably accommodating seven passengers. The high-quality materials in the car significantly boost comfort.
In addition, it has a massive cargo capacity mated with a hands-free tailgate.
Enhanced engine performance is central when purchasing a car. The 2014-2016 version has a 3.3L V6 that produces approximately 290 horsepower and 252 pound-feet of torque.
Its base trim has a six-speed automatic transmission, guaranteeing a smooth driving experience.
The 2014 to 2016 Hyundai Santa Fe has a fuel efficiency rating of about 21 mpg combined.
However, there was no hybrid version for lower fuel consumption rates.
2003 to 2006
Suppose you want a Hyundai Santa Fe with adequate power and a smooth, quiet ride. Then, the 2006 model will be an excellent choice. This vehicle is reliable, family-friendly, and considerably robust.
The 2006 Santa Fe has various standard safety features, including:
traction control,
side airbags,
and anti-lock brake discs.
Its high safety ratings imply better protection from frontal impacts. In addition, it has an excellent rating on front- and rear-passenger protection.
This vehicle assures you of adequate power, a smooth ride, and excellent handling capabilities. Its AWD option is suitable for all-weather roads, making it ideal for rough terrain.
Its high-quality materials and two-tone color scheme make the interior elegant and comfortable, while it is considered spacious, this vehicle has limited legroom for adults.
Worst Santa Fe Years
While the Hyundai Santa Fe is an incredible SUV, some years were rogued with various mechanical issues, from engine malfunctions to safety problems.
You should also check our list of the most common problems with the Hyundai Santa Fe models.
Here are some insights into the worst-performing models.
2007
The 2007 Hyundai Santa Fe was riddled with multiple issues, triggering its recall by the manufacturer.
The manufacturer recalled this car nine times for different problems.
This vehicle showcased constant ignition coil misfiring, attributable to the fuel system and the engine interior. Its engine was also susceptible to:
malfunctions,
leaking gaskets,
and unnecessary check engine lights.
Its fuel gauge was inaccurate, showing improper readings that could mislead the driver.
In addition, it had malfunctioning stop lamps, which could disable cruise control features. In turn, there was a high chance of causing a car crash.
Lastly, its sun visor was defective, breaking now and again.
We have more here about problems across the Hyundai SUV models.
2013
Hyundai recalled over 150,000 2013 Hyundai Santa Fe SUVs, primarily because of a malfunctioning ABS module.
This leaking ABS module could short-circuit, triggering a fire in the engine compartment. It also increased the chances of a car crash, compromising the safety of the occupants.
Further, some vehicles exhibited issues with their powertrains.
It was common among the 2.4L cars, whose right front axles fractured quickly. Such a fracture implies minimal power to the wheels, contributing to safety issues. This problem was significantly challenging to address, requiring the manufacturer to replace the entire engine.
2009
The 2009 Hyundai Santa Fe was recalled six times, making it one of the worst-performing models.
The primary reason for this recall was the vehicle's faulty occupant classification system, which required recalibration to precisely detect small-statured adults.
Further, its engine developed issues within a significantly short time, stalling and failing eventually.
In addition, the fuel sensors would suddenly stop working, making it hard to accurately gauge the fuel level in your car.
Other minor issues reported included paint peeling off, unwarranted check engine lights, and a malfunctioning stop lamp switch.
Which Hyundai Santa Fe Generation Should You Buy?
The best Hyundai Santa Fe generation to purchase is the fourth generation.
It involves vehicles manufactured from 2019 to date. 
This selection offers a perfect mix of advanced technologies and safety features with enhanced comfort and an immersive driving experience.
The 2022 Hyundai Santa Fe offers multiple trims, each guaranteeing advanced safety features, a well-outfitted interior, and incredible suspension.
While it is not as fuel efficient as its rivals, it offers value for your money.
However, suppose you do not have enough money to buy the 2022 version. Then, the 2019 option is worth considering.
It offers:
unrivaled comfort,
safety features,
and high engine performance.
What Year Is The Most Reliable Santa Fe?
The most reliable Hyundai Santa Fe is the 2019 option, thanks to its unrivaled safety features, suspension system, stylish design, and comfort.
According to US News, its predicted reliability is approximately 4.5 out of 5.0, translating to over 90%.
This vehicle has reported minimal malfunctions, offering you an immersive driving experience. Its chic design and premium-quality materials make its interior adequately elegant.
Above all, it is considerably affordable.
What Are the Most Common Issues With Santa Fes?
While Santa Fes are substantially reliable, expect a few issues.
These vehicles will often exhibit engine issues, gradually stalling and eventually failing.
However, proper and timely maintenance is an ideal solution to the problem.
Other common problems include:
faulty service brakes,
overheating wireless chargers,
windshield cracking,
rain pooling on the windshield,
and defective fuel gauges.
How Many Miles Will a Santa Fe Last?
The Hyundai Santa Fe is among the most reliable SUVs in the market.
Most owners indicate that it will last between 200,000 and 250,000 miles, depending on your maintenance skills. Excellent maintenance will likely guarantee better results in the long run.
Various approaches ensure that your Hyundai Santa Fe lasts more than 200,000 miles.
Yet, the primary practice is to change its oil and oil filter every 3000 to 5000 miles. Usually, this move will ensure your car lasts for approximately 16 to 20 years.
We have a good overview of how fast Hyundai SUV will depreciate.
What Are the Closest Competitors of Santa Fe?
The three closest competitors of the Hyundai Santa Fe are the Kia Sorento, Nissan Rogue, Jeep Grand Cherokee, and Hinda CR-V.
These three crossover SUVs offer similar performance, comfort, and fuel efficiency.
Yet, the Kia Sorento stands out as the most competitive.
It has multiple powertrain options, excellent fuel economy, and enough legroom between its three rows of seats. However, its downfall is its insufficient cargo space.
Other competitors in this bracket include:
the Subaru Outback,
Toyota Highlander,
Ford Explorer,
Jeep Wrangler,
Toyota 4Runner,
Toyota RAV4,
and Honda Pilot.
How Long Do Transmissions On These Models Last?
Your Hyundai Santa Fe will last 200 to 250k miles when adequately taken care of.
However, automatic transmissions on these models will last between 80,000 and 150,000 miles, meaning you must replace it at least once or twice in its lifetime.
Yet, proper maintenance could help avoid this problem.
At the same time, some Hyundai Santa Fe models, including the 2021 version, exhibit transmission problems quite early.
Notable symptoms include:
whistling noises,
shakiness,
shifting delays,
and grinding during acceleration.
In such instances, it would be best to consult your dealer or a significantly experienced mechanic to help.
Go Back: Overview over best and worst years for all Hyundai car models.
Was this article helpful?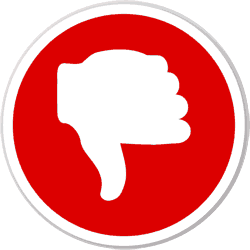 Did you find wrong information or was something missing?
We would love to hear your thoughts! (PS: We read ALL feedback)
ⓘ  The information in this article is based on data from National Highway Traffic Safety Administration (NHTSA) recall reports, consumer complaints submitted to the NHTSA, reliability ratings from J.D. Power, auto review and rating sites such as Edmunds, specialist forums, etc. We analyzed this data to provide insights into the best and worst years for these vehicle models.
---