The Hyundai Veracruz, a seven-passenger SUV, stands as an extended and more powerful version of the popular Santa Fe.
Spanning from 2007 to 2012, this model boasts an impressive 260-hp 3.8-liter V6 engine paired with a six-speed automatic.
Throughout its production years, these vehicles have garnered varying reviews from consumers, making it essential to dive into the best and worst Hyundai Veracruz years to determine the right choice for prospective buyers.
The Best Year for Hyundai Veracruz
The 2012 Hyundai Veracruz stands out as the best year for this particular vehicle.
This year, the Veracruz excelled in terms of performance, design, and reliability. With an upscale interior and a nice balance of ride and handling, it appealed to a wide range of consumers.
One of the notable aspects of the 2012 model is its great value for money. It offered features similar to those found in luxury SUVs but at a more affordable price. This attracted buyers looking for a stylish and well-equipped vehicle without breaking the bank.
Safety was another strong point for the 2012 Hyundai Veracruz. It received good crash test scores, assuring buyers of its ability to protect occupants in the event of an accident. Additionally, Hyundai's long warranty on the Veracruz provided extra peace of mind, with coverage extending up to 10 years or 100,000 miles for the powertrain.
Moreover, the 2012 Veracruz was well-received for its exterior design, which was both modern and elegant. Its lines flowed seamlessly from front to rear, giving it a cohesive and attractive appearance. The spacious cargo area also made it a practical choice for families needing room for their belongings during road trips or daily errands.
Finally, the 2012 Hyundai Veracruz earned praise for its smooth and comfortable ride. The suspension absorbed imperfections in the road with ease, allowing passengers to relax during long drives. The quiet cabin further contributed to a serene driving experience.
In conclusion, the 2012 Hyundai Veracruz year stands out as the best due to its blend of value, safety, style, and ride comfort.
Check also our list of good and bad years for Hyundai Santa Fe.
The 2nd Best Year
The 2010 Hyundai Veracruz stands out as the second-best year due to its balance of performance, efficiency, and reliability. The 3.8-liter V6 engine in this model year offered solid power and smooth acceleration, while the six-speed automatic transmission made for seamless shifting.
Those who drove the 2010 Veracruz appreciated its smooth ride and comfortable cabin.
With three rows of seating, it could accommodate up to seven passengers, making it an ideal choice for families or group road trips. Additionally, the available all-wheel drive added an extra level of confidence and capability for drivers in various weather conditions.
A notable aspect of the 2010 Veracruz was its impressive list of standard features.
Some of these included:
Dual-zone automatic climate control
USB port
Bluetooth connectivity
Satellite radio
Safety also played a prominent role in making this year's model a winner. The 2010 Veracruz received high safety scores from both the Insurance Institute for Highway Safety (IIHS) and the National Highway Traffic Safety Administration (NHTSA).
Furthermore, the vehicle was well-equipped with safety features such as:
Electronic stability control
Traction control
Anti-lock brakes
Front, side, and side-curtain airbags
Although the 2010 Hyundai Veracruz didn't receive the same level of praise as some other years, it's still widely regarded as a solid choice due to its overall balance and strong performance. For buyers seeking a reliable and comfortable SUV with advanced safety features, the 2010 Veracruz is a great pick.
The Veracruz Limited model in this year was praised for its comfort and amenities. The SUV's design offered ample space and a smooth ride, which helped make it a popular choice among consumers. Powered by the same 3.8-liter V6 engine, it was equipped with all-wheel drive, providing better traction and handling in various road conditions.
Other Good Years for Hyundai Veracruz
The Hyundai Veracruz had a relatively short production run, spanning from 2007 to 2012.
Despite its brief existence, there are several standout years worth noting:
2007: This was the debut year for the Veracruz. As a seven-passenger vehicle, it was essentially a stretched and more powerful Santa Fe. The standard 3.8-liter V6 engine produced 260 hp and was mated to a six-speed automatic transmission.
2008: The 2008 Hyundai Veracruz received positive consumer reviews for interior comfort, appearance, and driving experience. The performance capabilities remained consistent with the 2007 model's specifications.
Even though the production of the Veracruz was short-lived, these years showcased the vehicle's solid performance and functionality.
The Worst Year for Hyundai Veracruz
In the history of the Hyundai Veracruz, the 2011 model year is considered one of the less favorable years. While the precise causes for this vary, the model's decline can be attributed to several factors.
Firstly, the 2011 Veracruz experienced increased engine issues compared to previous years.
Some consumers reported engine seizing, stalling, noises, ticking, or cutting out. It's worth mentioning that the most affected vehicles were the Hyundai Sonata from the same year, rather than the Veracruz exclusively.
Next, it's important to note that this was an older model nearing the end of its production run, as the Veracruz was discontinued after 2012. This factor may also contribute to the perception of the 2011 version being less desirable, given that newer models were soon on the horizon.
Despite these issues, many owners of the 2011 Hyundai Veracruz still enjoyed the vehicle's spaciousness, maneuverability, and overall reliability. The Veracruz's charm was by no means diminished for everyone in this particular year, but it did become apparent that there were some areas where improvement could have been made.
To conclude, while the 2011 Hyundai Veracruz may not be remembered as the model's shining star, it still offered a range of benefits to its owners. It's essential to bear in mind that every car comes with its unique quirks and positive qualities, and the Veracruz was no exception.
Common Problems to Look for in Used Models
When considering the Hyundai Veracruz, certain potential issues may arise with the used models. In the 2007 Hyundai Veracruz, owners have reported problems with the A/C system, with the temperature control being unreliable, resulting in fluctuating cabin temperatures. Another common complaint is the engine stalling or sputtering during acceleration.
As for the 2008 and 2009 models, drivers have experienced issues with the electrical systems, including intermittent radio malfunctions, and faulty power window switches.
It's also important to note that in April 2013, Hyundai recalled 1,059,824 vehicles, including the 2008 and 2009 Hyundai Veracruz, due to a concern with the stop lamp switch, potentially affecting brake lights and other features connected to the switch.
For used 2010 model years, some known engine problems include high oil consumption and difficulty starting the engine. Additionally, a few complaints have been made about the steering wheel vibrates during turns or going over rough surfaces.
With regards to the 2012 Veracruz, a few consumer reviews have mentioned issues with the suspension, leading to a less comfortable driving experience. Another problem reported by owners is a loud, persistent noise while driving at highway speeds, attributed in some cases to loose heat shields.
Despite some of these common problems, the Hyundai Veracruz tends to be a vehicle with satisfactory reliability and performance. It's advisable for potential buyers to carefully inspect the model and consider the specific issues for each year before making their decision.
Go Back: Overview over best and worst years for all Hyundai car models.
Was this article helpful?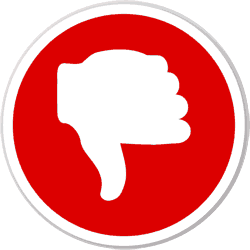 Did you find wrong information or was something missing?
We would love to hear your thoughts! (PS: We read ALL feedback)
ⓘ  The information in this article is based on data from National Highway Traffic Safety Administration (NHTSA) recall reports, consumer complaints submitted to the NHTSA, reliability ratings from J.D. Power, auto review and rating sites such as Edmunds, specialist forums, etc. We analyzed this data to provide insights into the best and worst years for these vehicle models.
---