Hyundai SUVs are some of the most reliable vehicles on the road today, but there are a few common issues with them that we think you should know about.
We reviewed Hyundai owner forums and motor industry websites to find out just how reliable Hyundai SUVs are and what problems SUV owners encountered with their vehicles.
If you're looking to buy a new or good used Hyundai SUV, we've discovered the six most common areas that owners have issues with, as well as the pros and cons of various models.
Hyundai SUV Models
Before we get into the most common issues Hyundai SUV owners face, we've listed the Hyundai SUV models that we've researched.
The most common problems appear across the range and appear in both recent models and vehicles dating back to the mid-2000s.
We found issues with the following Hyundai SUVs:
Hyundai Santa Fe
Hyundai Palisade
Hyundai Tucson
Hyundai IONIQ 5
Hyundai Venue
Hyundai Kona
Hyundai NEXO
We have more here on the current and past SUV lineup from Hyundai.
These are just some of the models we came across and they come with a vast array of different options from traditional fuel variants to hybrids and fully electric options as well.
With the Santa Fe being the most popular SUV sold by Hyundai, it is the vehicle with the most common complaints, although the problems mentioned run through most of the range.
Here is the demographic data on Hyundai owners.
1) Crankshaft Failure on 2017 and Earlier Models
While the various engine options provide great power and longevity, unexpected engine problems rear their heads with drivers experiencing the following warning signs:
Engine stalls while driving
Check engine light stays on
High oil consumption
Loud and heavy rattling sounds from the engine
The engine completely fails to start
The car accelerates with no driver input
With the wide variation in symptoms, it took a while for the cause to be identified and owners were frustrated by the apparent randomness of the problem.
However, on close inspection of the engines by the manufacturer, it was found that these issues all had a common cause.
The problems were traced back to crankshaft manufacturing flaws that led to excessive engine bearing wear.
With the high stresses experienced by the crankshaft bearings, it was only a matter of time before they failed.
It was also discovered that there were issues with the engine's connecting rod bearings, which are notorious for prematurely wearing out and making a loud banging noise.
This is a potentially catastrophic engine failure waiting to happen as the con-rods are attached to the crankshaft with a big-end bearing and the piston, via a small-end bearing. Should these bearings fail, the piston can end up shooting through the top of the engine, destroying it.
If this happens while you're driving, it's possible to lose control of the vehicle in an instant and without any prior warning.
Solution
Once again, for both the 2017 and 2012 models, there have been engine-related recalls.
However, if you suspect that your vehicle is affected, you should always verify your VIN on the NHTSA website to see if it is listed as a problem vehicle.
To solve the problem, owners frequently need to have a new engine installed, which may be extremely expensive when not covered by warranty.
Some models were equipped with a Knock Sensor Detection System, which primarily serves to limit damage and keeps an eye out for warning signs of impending engine failure.
When a car is about to break down, this system will send it into limp mode, giving owners just enough time to get it to a repair shop.
2) Service Brake Failures and Fires
A vehicle's brakes are the most important safety tool at a driver's disposal in the event of an accident or unexpected obstacle on the road.
Should the brakes fail, even at a moderate speed, significant damage can be caused, and potentially even death can occur in the event of an accident.
The service brakes, which are a car's foot-operated brakes, have been a problem area for Hyundai SUV models mostly from 2015 through 2020, with 2017 being the worst year.
We have more here on the best and worst years for Hyundai Santa Fe.
The Anti-Lock Brake System (ABS) module was the most prevalent cause of brake problems since it was prone to failure.
To make matters worse, electrical shorts from the module increased the chance of an engine fire.
In several cases, cars caught fire with some owners reporting that they heard explosions emanating from the engine bay of their vehicles.
Hyundai was compelled to recall specific Santa Fe, Santa Fe Sport, and Santa Fe XL models from 2016 to 2018 to address this potentially fatal problem.
In other cases, owners were made to wait an excessive amount of time for the problem to be fixed and for the necessary parts to arrive.
Solution
Luckily for owners of these models, Hyundai dealers were quick to respond to the recall bulletin, and replacing the ABS module was free of charge in the majority of cases.
Always check your vehicle's VIN on the NHTSA website to determine whether you have been impacted, just to be safe.
3) Running Out of Fuel Due to a Faulty Fuel Gauge
It's easy to overlook your gas level when you're in a hurry, but running out of fuel because your fuel gauge gives an incorrect reading is particularly irritating.
Many complaints have been logged about incorrect fuel gauge readings for SUV models from 2006 to 2009 and they were frequently accompanied by the check engine light coming on.
On investigating the cause of the problem it was found that a malfunctioning fuel level sensor was the real cause of the issue.
According to a leading customer review website, this was the issue that received the most reports.
Frustrated Santa Fe owners found that the typical mileage for when this issue showed up is around 90,000 miles, and the average repair cost is $550.
Solution
Despite the problem being quick and easy to fix, it can be quite pricey. To sort the problem out, you will typically need to replace the gaskets and fuel level sensor.
There are two sensors and either one or both may be faulty, so it's best to replace them both.
The vehicle's rear seats need to be removed as well as part of the rear load bay to gain access to the sensor units.
To avoid the risk of fire, the fuel pump relay is removed and the engine is run until there is no fuel left in the system.
4) Overheating Wireless Phone Charger
One of the conveniences built into Hyundai SUVs is a wireless phone charger.
A problem that is commonly found in contemporary models is that the wireless phone charger becomes too hot.
Owners have reported that the wireless charger cannot be used for more than a few minutes before their phones face potential damage as they become too hot.
Unfortunately, it's not just the Santa Fe range that suffers from this problem, as many other Hyundai vehicles are plagued by this issue too. You may want to look into the Palisade and Tucson models too.
Check the full list of problems across the Santa Fe SUVs.
The problem has been traced to the fan underneath the wireless charging pad not working properly, but because only some phones seem to be affected, it could also be a compatibility issue.
Solution
Apart from replacing the fan under the charging unit, there's not much that seems to work to solve the problem.
One solution is to try charging the cellphone without the phone case, to make it easier for the heat to dissipate.
The device and the charger being warm while charging wirelessly is normal and does not affect the gadget's typical operating capabilities, but if it gets too warm, the charger may stop working.
However, it's advisable to remove your cellphone from the wireless charger and give the charging unit and your phone some time to cool down if the phone gets extremely hot.
5) Rain Pooling on the Windshield
Visibility is key to safe driving, so anything that obscures your vision is a potential safety risk and needs to be addressed.
From 2018 onward, reports of this issue have been made for newer Santa Fe models.
The problem is that the left-side wiper blade does not completely cover the left side of the glass, which leads to a small area of the windshield collecting water and restricting vision.
Solution
Unfortunately, there is no fix for this design flaw, but many individuals won't find it to be a major problem because it doesn't apply to all models.
Most drivers don't have too much of a problem with this. But for those that do, you can use a rain repellent on the windscreen.
Because of the hydrophobic (water-repellent) silicone polymer, water on the glass condenses into beads and rolls off, solving the problem.
6) Windshield Cracking
The windshields of Hyundai Santa Fe models break way too easily, which has also been documented for other Hyundai models, with owners complaining a lot about it.
According to reports, this problem is apparently fairly widespread, and numerous accounts from angry owners are being shared online.
Windshields are designed to resist the occasional stone chip and small objects like acorns shouldn't cause any damage whatsoever.
With the problem being so widespread, demand is high, leading to lengthy backorder times for replacement Santa Fe windshields.
Depending on where in the country you are, you could be in for a long wait before your windscreen is fixed.
The problem appears to be related to poor workmanship when the glass is fitted, although extreme and sudden temperatures are also prime causes of cracks.
Solution
Hyundai has a new vehicle limited warranty that will potentially cover you for the first 5 years or 60,000 miles should your windscreen crack for no apparent reason.
Although it differs from state to state, if your windshield cracks, it almost always needs to be replaced.
If your vehicle falls outside of the warranty, then you'll need to get in touch with your insurance provider, and while you might have to pay a deductible, they should cover this.
General Pros and Cons for Hyundai SUVs
Pros
Good value for money
A smooth and comfortable ride
Stylish interior
New age design
In most cases, parts are readily available
Cons
Engine issues in the past, though they've significantly improved in recent years (think 2018 onwards)
Not as efficient in terms of gasoline consumption as some of its rivals
It lacks headroom for the back seats, and taller passengers may find it a little cramped.
Does not offer 3rd-row seating
What Do the Reviews Say?
Hyundai SUVs generally have an excellent reputation for longevity and build quality.
Owners tend to have families and the vehicles are capable of handling lots of luggage and trips to school and vacations without excessive wear and tear on the seats and accessories.
Performance is excellent, even on the smaller engine models.
I originally purchased a Hyundai Santa Fe in 2005 and was very happy with my purchase, so much so that in 2008 I upgraded to a 2008 with the bigger motor. I am still driving the '08 and still happy with the performance, nothing major has ever gone wrong.
[Source: ConsumerAffairs.com]
Safety is always a major concern, especially for buyers with families.
The Santa Fe has an excellent reputation when it comes to safety features and owners recount numerous serious accidents in which they survived with only minor scratches and bruises.
There are minor cosmetic issues that some owners have mentioned, but they are easily remedied at a reasonable cost.
I love my Hyundai Santa Fe 2012. I feel safe in it. I was in a severe car accident in 2012 in which I was driving a 2008 Santa Fe. I came out of the accident with just a few scrapes, bumps, and bruises.
[Source: ConsumerAffairs.com]
While Hyundai has done its best to resolve the faulty brake issues its older models experience, there are still owners who experience problems with this.
The dealerships do replace faulty brake rotors and ABSA modules when problems occur, but some engine issues can catch owners who did not have the problem sorted out in time.
This appears to only be a problem for vehicles that have over 150,000 miles on the clock.
Purchased new Santa Fe in 2012. Ran well for years. But in the spring of 2020, I received a recall notice about faulty rotors causing engine fires and destroying engines. I brought it to the Hyundai Repair shop. They inspected it and said everything was fine.
[Source: ConsumerAffairs.com]
What is the Resale Value on the Hyundai Santa Fe SUV?
MODEL
YEAR
MILEAGE
PRICE ($)
Hyundai Santa Fe AWD
2021
17,925
30,990
Hyundai Santa Fe SE3.3L
2017
131,093
15,988
Hyundai Santa Fe Limited
2008
166347
4,499
Hyundai Santa Fe GLS
2007
121,113
5,299
Hyundai Santa Fe 2.7L
2005
32,546
6,995

 
For more on resale value and Sante Fe depreciation, check out our article, Do Hyundai SUVs hold their value?
Sources
Was this article helpful?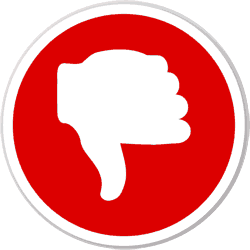 Did you find wrong information or was something missing?
We would love to hear your thoughts! (PS: We read ALL feedback)
ⓘ  The information in this article is based on data from National Highway Traffic Safety Administration (NHTSA) recall reports, consumer complaints submitted to the NHTSA, reliability ratings from J.D. Power, auto review and rating sites such as Edmunds, specialist forums, etc. We analyzed this data to provide insights into the best and worst years for these vehicle models.
---