Santa Fe is a midsized SUV by Hyundai famous for its functionality and performance.
Compared to other Hyundai units, it is cheaper to maintain and keep the unit in peak condition.
However, there are some problems reported by several users that compromise its reputation in the market.
Here are some common issues you should expect from your Hyundai Santa Fe and everything else you may need to know about the car.
How Reliable Is The Hyundai Santa Fe?
The Hyundai Santa Fe is a reliable car, more reliable than other units in its class.
There are some model years with relatively expensive malfunctions, but that is not enough to discourage you from getting yourself this high-performing SUV.
It holds a top-five reliability ranking compared to other vehicles of a similar class.
RepairPal recognizes Santa Fe as the second most reliable midsized SUV with a 4.0 out of 5.0 rating.
The most reliable unit, according to their findings, was the Mazda CX-5, a gem for most vehicle enthusiasts.
On average, it will cost you $515 yearly to repair and maintain your Santa Fe. Most SUVs in its class consume more than $600 annually to keep them in top shape.
Another factor contributing to the unit's reliability is the low frequency and severity of repairs.
The Santa Fe can drive you 200,000 miles smoothly provided you do regular maintenance, making it one of the most reliable SUVs on the road.
Check also the best and worst years for Hyundai Santa Fe.

We also have a list of the good and bad years for Hyundai Veracruz.
Common Issues With The Hyundai Santa Fe
Let's get started.
#1 Hesitation
Hesitation is a problem experienced by most of the 2017 Hyundai Santa Fe owners. According to the user reports, you will likely start experiencing this complication at around 1,000 miles.
You will feel the driving difference when you try to accelerate or when your SUV comes out of turns.
Other users claimed that the hesitation was more pronounced when the vehicle was tuned to ECO mode, but you will still notice it when in different driving modes.
It would help to be careful when approaching traffic or coming out of a rolling steep with your 2017 Hyundai Santa Fe as it is dangerous.
#2 Quiet Speakers
Faulty speakers are another problem that irritates the driver.
The issue is common in model years 2008, 2009, and 2011 to 2017, where users claim to lose sound from their speakers at around 50,000 miles.
The disrupted vehicle functions include navigation, entertainment from the audio CD player, radio and telephone calls.
Having no sound from the speaker is not a major issue for some drivers, since it does not significantly affect vehicle performance.
You may need to hard reset your Hyundai Santa Fe SUV to regain normal functioning.
#3 Engine Stalling
Another problem with the Hyundai Santa Fe is its engine stalling or shutting down while driving. The problem has been observed in several 2014 units, and its cause is a faulty crankshaft sensor.
According to some drivers, the complication poses a significant safety threat since your car can suddenly stop even at high speeds.
Other users reported difficulty exceeding their speed to over 10 miles per hour.
Hyundai is aware of this problem and issued a technical service bulletin in October 2019 to help resolve the complication. You can also consider an aftermarket crankshaft sensor replacement to eliminate engine stalling, costing less than $100.
You can also check more in our article about the most-common problems among SUV vehicles.
#4 Stuttering Transmission
The Hyundai Santa Fe also displays stuttering transmission issues that affect its overall road performance. Although it is not the most serious complication with the unit, it still compromises how the unit competes with other SUVs.
You are more likely to experience a stuttering transmission in the 2001-2004 model years and is present in both all-wheel and front-wheel variants.
You can feel the transmission stuttering as you shift from the second gear to the third.
The user reports submitted showed the problem persists when driving the vehicle for the first time and fades away after warming up.
Other users also reported their SUV jerking as they switched from parking to driving mode.
#5 Engine Failure
Not many issues plaguing the Hyundai Santa Fe are as expensive and challenging to address as the engine problems. The vehicle had significant engine complications in its 2012 and 2013 model years.
In these units, engine replacement was inevitable after 80,000 miles.
Most affected users claimed the engines would stop without warning and leave them stranded beside the road.
In some instances, these drivers were at high speeds on the highway, which is extremely risky for them and other drivers.
Despite the recalls issued by Hyundai, several owners filed class-action lawsuits as the dangerous issue became widespread.
A statement released by Hyundai in August 2014 acknowledged the engine failure and associated it with specific circumstances in its configuration.
On average, it costs around $3,000 to $5,000 to repair issues with your Santa Fe engine.
#6 Air Bag Issues
The Hyundai Santa Fe also has a few complications with its airbags.
The airbag lights illuminated regularly in the 2003-2006 and 2010 models.
The issue was common in several units and led to the recall of thousands of units for servicing.
The servicing involved updating the airbag software to ensure they deploy accordingly. The updated software also prevented accidental deployment, especially when a child is in the front passenger's seat.
#7 Paint Coming Off
The 2004 and 2009 Santa Fe models had issues with their paint. At around 70,000 to 90,000 miles, drivers reported the paint coming off their vehicles without any valid explanation.
The severity of this issue varied, with some complaining of mild chipping while others experienced flaking.
The average repair cost for paint correction and repainting is approximately $2800, depending on the damage. Almost all visible surfaces of Santa Fe peeled, including the doors, hood, and rear windows.
#8 Gauge and Fuel Level Sensor Malfunction
The 2007 and 2008 Santa Fe variants display similar fuel system issues, mainly a faulty fuel level sensor. It is a severe problem for most, and repair costs are approximately $500.
You are more likely to experience this complication after covering around 85,000 miles in your 2008 model.
The 2007 Hyundai Santa Fe driver experienced this issue at approximately 100,000 miles.
The faulty level sensor caused the fuel gauge to show inaccurate fuel levels and turned on the engine check lights. The owners complained of running out of fuel unexpectedly because of the malfunctioning fuel gauge.
It might cost you less than $80 to get an aftermarket fuel level sensor replacement to fix the problem.
#9 Malfunctioning ABS
Hyundai also recalled over 150,000 units of the 2013 model. This was primarily because of a malfunctioning ABS module.
We have more on this issue in our article about the best and worst years for Hyundai Santa Fe.
Why Should You Buy the Hyundai Santa Fe?
It Provides a Perfect Blend of Athletic and Functionality
Not many SUV options can offer the performance and accommodation guaranteed by the Hyundai Santa Fe. The vehicle provides a perfect blend of athletics and functionality by delivering out-of-this-world performance scores.
You can fit up to five passengers in its cabin, and its engine includes a turbocharged variant that will blow your mind.
Bold Design
The design featured in the Santa Fe variants makes a statement in every place they visit.
It goes beyond an ordinary SUV by presenting itself as an aggressive machine with sleek designs.
A bold front grille, LED headlights and attractive lighting contribute significantly to the stunning looks provided by these vehicles.
Impressive Driver Assistive Features
Safety is a heavy consideration when deciding which car to buy, and the Hyundai team understands this. The Hyundai Santa Fe guarantees impressive driver-assistive features that effectively provide a safe drive for you and your passengers.
These features prevent accidents from happening.
Since accident avoidance is not guaranteed, the car also helps to ensure minimal damage is felt in case of a collision.
All-Wheel Drive Configuration That Delivers
The Santa Fe has an all-wheel-drive variant for heavy performance, which continues to build SUV drivers' confidence in this vehicle.
The variant is optional and available across all trim levels to allow drivers more control over all road conditions.
The fact that Hyundai provides you with the option of an AWD or FWD is enough reason to consider the Hyundai Santa Fe as your SUV of choice.
Powerful Turbo Engine
Another reason you should buy the Hyundai Santa Fe is the engine options available. The 2021 variant offers you a choice between a 2.0- and 2.5-liter turbocharged engine if you buy your SUV.
Both engines are high performers and guarantee enough power for your driving needs.
Despite its powerful engine, the Hyundai Santa Fe is still among the cheap mid-size SUVs with the best gas mileage.
There is also a new hybrid powertrain with hundreds of positive reviews from drivers globally.
A Modern Heads-up Display
Newer models of the Hyundai Santa Fe come with a modern heads-up display.
The display sits at the center of the front dashboard and allows drivers to tweak vehicle settings without struggling much.
In some models, the heads-up display is an upgradable feature, while standard for other trim levels like the Calligraphy trim.
Significant Cargo Capacity
The Hyundai Santa Fe is also loved by many because of its towing and cargo capacity.
The vehicle has enough room to fit five grownups and their luggage.
You can tow up to 30,000 pounds in the SUV, making it easier to go on those long vacation trips with your family.
Check our article on electric cars that tow really well.
Outstanding Warranty
All Hyundai vehicles have a warranty guaranteeing to handle most vehicle repairs and fixes.
Santa Fe's extensive warranty protects your unit for five years or 60,000 miles and covers more issues than its competitors.
An Average-Performing Base Engine
You are less likely to feel the true power of the Hyundai engine if your unit has the Santa Fe base engine. The turbocharged engine options guarantee better performance, and you may need to pay more for the upgrade. The stock engine features a four-cylinder configuration that produces 192 horsepower, which is not enough for an SUV its size.
Limited Passenger Seats
The Hyundai Santa Fe can accommodate only five passengers, which is lower than other SUVs in its class. Drivers everywhere would find it more practical if the manufacturers added two more passenger seats to improve comfort and convenience.
Few Trim Levels Available
Santa Fe is not your ideal vehicle if you love being spoilt by choices.
This SUV provides minimal trim levels, limiting consumers' focus on what is delivered.
General Pros and Cons For Hyundai Santa Fe
Pros
Spacious
Premium interior
Relatively low price
Economical fuel consumption
Cons
Stiff driving experience
Underwhelming base engine
What Is New in the Hyundai Santa Fe 2022 Model?
Practicality
Although the Hyundai Santa Fe is not the biggest SUV available, the 2022 model offers a lot of practicality.
It can accommodate five passengers with two rows of seats, two in front and three at the back.
The legroom in front is 44.1 inches, while the back seat has a smaller leg space of 41.7 inches.
You are also guaranteed 36.4 cubic feet of cargo space, which is expandable to 72.1 inches by folding the rear seats. The infotainment system provided in the 2022 Hyundai Santa Fe is outstanding as it has features like Android Auto and Apple CarPlay.
Other optional features improving its practicality include wireless device charging.
Performance
The 2022 Hyundai Santa Fe has a 2.5-liter inline-4 base model engine.
This engine has a direct injection double overhead configuration producing 191 horsepower and 181 lb-ft torque.
Compared to other engine variants, it is more economical with fuel consumption by using one gallon to travel between 22 and 25 miles in the city.
You can find the turbocharged engine version in higher trim levels of the Santa Fe. The turbocharged engine is similar to the base model but offers more power and consumes more fuel.
You get between 21 and 22 miles per gallon when driving in the city and 28 miles per gallon on highways.
The hybrid engine variant is new to the 2022 Hyundai Santa Fe and is available in two versions. There is a plug-in electric hybrid and a regular hybrid.
The standard hybrid engine has a turbocharged I5 engine complemented by a 13kW electric motor and a 1.5 kWh battery pack to produce 226 horsepower.
Trim Levels
The trim levels available for the 2022 Hyundai Santa Fe are five. They include:
SE- it is the base model
SEL- features a wireless charging device, push-button start, and heated front seats
XRT- has 18-inch dark alloy wheels, a black roof rack, and front and rear skid plates
Limited- has upgraded safety features like smart parking assist, surround-view monitor systems, and blind-spot view monitoring
Calligraphy- features premium Nappa leather seats, ambient lighting, 20-inch alloy wheels, and a heads-up display
What Do The Reviewers Say?
A 2022 Hyundai Santa Fe review by US News Cars described the SUV as a spacious car with many standard tech and safety features.
The review also highlighted how economical the unit's fuel consumption is, in addition to the upscale interior and solid handling.
The only downside is its powertrain, which will most likely compromise your driving experience.
What is the Resale Price of Hyundai Santa Fe?
After five years, your Hyundai Santa Fe will depreciate by 43%.
This depreciation will resale your unit at $21,641 after five years of owning it. Here is an explanation of the resale price in detail:
| | | | |
| --- | --- | --- | --- |
| Years Old | Depreciation | Mileage | Resale Value |
| 1 | $2,393 | 12,000 | $35,774 |
| 3 | $8,332 | 36,000 | $29,835 |
| 5 | $16,526 | 60,000 | $21,641 |
| 10 | $23,095 | 120,000 | $15,072 |
We have gathered some data on depreciation for each Hyundai SUV model.
Is It Worth It To Buy The Hyundai Santa Fe?
Many vehicle enthusiasts find the Hyundai Santa Fe a worthy SUV to purchase. The unit provides sufficient power and torque for all your driving needs, even off-road.
Other aspects that make it an excellent buy include the low-price tag and modern design that stand out against its major competitors.
You are guaranteed an enjoyable driving experience with loads of driver technology installed and a lengthy warranty.
What Is The Hyundai Santa Fe's Life Expectancy?
The Hyundai Santa Fe can last 200,000 to 250,000 miles, making it a durable SUV.
You can significantly extend its life expectancy by enforcing maintenance procedures and conservative driving practices.
The average annual mileage of this car is around 15,000 miles, meaning your vehicle can last up to 17 years without the need for expensive repairs.
Conclusion
The Hyundai Santa Fe is a five-seater SUV with an optional FWD and AWD drivetrain.
Despite some minor issues with its components, you are guaranteed a reliable and worthwhile driving experience.
The issues mentioned in this article are problems reported by several vehicle users. You can contact professional car mechanics to help with some problems, while others can get them solved through DIY techniques.
GO BACK: See problems for all Hyundai models.
Sources
https://repairpal.com/reliability/hyundai/santa+fe
https://www.consumerreports.org/cars/hyundai/santa-fe/2022/reliability
https://www.nhtsa.gov/vehicle/2022/HYUNDAI/SANTA%20FE/SUV/FWD
Was this article helpful?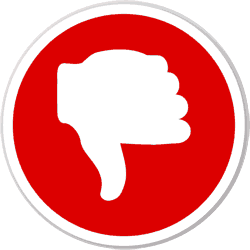 Did you find wrong information or was something missing?
We would love to hear your thoughts! (PS: We read ALL feedback)
ⓘ  The information in this article is based on data from National Highway Traffic Safety Administration (NHTSA) recall reports, consumer complaints submitted to the NHTSA, reliability ratings from J.D. Power, auto review and rating sites such as Edmunds, specialist forums, etc. We analyzed this data to provide insights into the best and worst years for these vehicle models.
---