Visibility is a very important department in any vehicle, as the safety of the driver and occupants depends on it.
Drivers and even front passengers need to be able to see what's in front of them as well as what's behind them for any journey to be safe. 
While there are so many cars with great visibility, there are also some with simply abysmal visibility and several blind spots. It becomes even more worrying when one discovers that a number of these cars are SUVs. 
Beyond all of the bells and whistles, it's very important to check for the number of blind spots before copping an SUV. It's best if you go for SUVs with the fewest blind spots.
We have put together a list of the SUVs with the most blind spots that you should absolutely avoid. Let's dive right in, shall we?
1. Toyota C-HR
The Toyota C-HR is a subcompact crossover SUV that debuted in late 2016 as a subcompact crossover SUV. It has managed sales of over 150,000 units in the last 4 years, although it has not found so much favor with critics and pundits. 
While it does boast spry handling and tons of standard features, it also suffers a tired engine, an overly firm ride, and not-enough cargo hold. 
In addition to all that, the Toyota C-HR also has one of the worst rear visibility problems of any vehicle in the market.
Mere looking at the model, you see really small windows with apparent blind spots on the rear and the sides, all of which make for terrible visibility. 
However, it does come with a rearview camera and blind spot monitoring to make visibility a bit more bearable. Little wonder, the C-HR ranks very low on most lists of the best subcompact cars; on U.S. News' list, it only managed the 19th spot out of 22 assessed cars. 
The Toyota C-HR has not been a great success on the critical end and its consistent visibility problems are part of the many reasons for that.
For more information about issues surrounding this model, we've written a comprehensive article about problems with the Toyota C-HR.
2. Nissan Murano
The Nissan Murano is a mid-size crossover SUV that debuted in 2002 for the 2003 model year. Now in its third generation, it has sold over a million units and has earned several awards and nominations. 
Some of the Murano's top features include its gentle ride, powerful V6 engine, and comfortable seating arrangement.
However, it does have its own faults, including noisy transmission, small cargo space, and unresponsive handling. 
The Nissan Murano also suffers major visibility problems, especially its recent third-generation models. On Car Problem Zoo, visibility complaints about the Nissan Murano are no less than 658, which is the fourth most reported complaint. 
One of the major issues is with the design, which infuses a roofline into the rear window and deals a big blow to rear visibility. This has been a recurrent issue for many models since 2015, and has resulted in several complaints and criticisms from customers and critics alike. 
While it is a generally good car, it ranks 20th on the U.S. News list of the best mid-size SUVs and we bet a visibility fix would buff up its rank.
If you're in the market for a similar car, you should read our article about mid-size SUVs with the best visibility.
3. Infiniti QX70
The Infiniti QX70 is a mid-size luxury crossover SUV marketed under the auspices of Infiniti, a Nisan-owned luxury brand, between 2002 and 2017. During its run, it suffered poor sales and abysmal reviews from consumers and critics. 
One of its worst issues was its visibility which was hampered by the shape of the roofline and resulted in quite a number of crashes. This required a 360° camera system, which wasn't readily available. 
Eventually, due to poor sales and vociferous castigations, Infiniti halted its production. However, we found that many used models are still in the market today thanks to its powerful engine, gorgeous cabin, and athletic build. 
We would not advise buying an Infiniti QX70 model even if it's on sale for a quarter of the normal price. Yes, the issues, especially those regarding visibility and the number of blind spots, are that serious. 
4. Toyota FJ Cruiser
The Toyota FJ Cruiser was introduced in 2006 as a retro-styled mid-size SUV. It made its way into the American Market in 2005 and debuted in the 2007 model year.
Sales and public acceptance were strong in its initial years but dwindled as time went on. 
All of the public ecstasy and nostalgia surrounding its retro styling could not save it from discontinuation in 2014.
One of its major issues was visibility and the number of blind spots the car had, thanks to its obstructive styling, view-hampering spare tire, and huge C-pillars. 
The Toyota FJ Cruiser appears to still be on the used car market and it might be tempting to consider buying it. However, we would discourage purchase of any FJ Cruiser model due to the barrage of issues it suffers, including visibility problems. 
Please also read our article where we discuss whether SUVs have more blind spots compared to sedans and other vehicle types.
5. GMC Terrain
The GMC Terrain debuted in 2009 as a mid-size crossover SUV. It morphed into a compact crossover SUV in 2018 and has achieved considerable success in all its time on the market with over one million units sold. 
Critics have lauded its nimble ride, spacious seats, and simple infotainment system. However, it has many downsides, including weak acceleration, a poorly made cabin, and an overly expensive price. 
Another factor that has contributed to lackluster ratings from critics is its poor visibility. While there is decent outward visibility at the front and sides, rear visibility is downright poor thanks to thick roof pillars. 
There are no less than 451 visibility-related complaints for the GMC Terrain on Car Problems Zoo. However, the rearview camera is standard and blindspot monitoring is also available,  both of which help ameliorate the visibility situation a bit. 
If you are looking to cop an SUV with very few blind spots, you might want to stay away from the GMC Terrain.
If you want to improve rear-view visibility and reduce blind spots when driving, you can look for compact SUVs with a blind spot monitoring system.
6. Nissan Pathfinder
The Nissan Pathfinder is a line of SUVs that have been in production since 1985. It started off as a compact SUV and became a mid-size crossover SUV in 2012.
Now in its fifth generation, it has had some very decent success commercially.
Many critics also consider it a fundamentally excellent SUV thanks to its roomy interior, composed ride, good fuel economy, and stacked list of standard features. However, it ranks #13 on the U.S. News List of the 22 best mid-size SUVs, which is quite low. 
Some of the downsides responsible for this include its antiquated infotainment system and overly expensive prices. 
It also struggles with poor rear visibility and plenty of blind spots, especially when the headrests are up. To be fair, it does come standard with helpful safety features like a rearview camera, blind spot monitoring, and rear parking sensors. 
In all, if you are in the market for a mid-size crossover SUV, the Nissan Pathfinder isn't the best choice for visibility. 
Was this article helpful?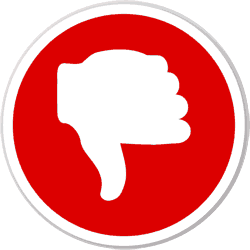 Did you find wrong information or was something missing?
We would love to hear your thoughts! (PS: We read ALL feedback)