Call it a Blind-Spot Detection, Blind-Spot Sensor, or Blind-Spot Monitoring System; they all help to reduce the risks involved in those spots the driver can't see.
If you are on the lookout for the compact SUVs that come with the Blind-Spot Information System (BLIS), stay on this page. Meanwhile, there are SUVs with the fewest blind spots you might be interested in.
While we arrange the vehicles based on sub-compact and compact categories, we also present the prices involved in acquiring them.
Let's check them out!
Sub-compact SUVs With Blind Spot Monitoring
Here, we highlight 4 subcompact SUVs that feature blind spot monitoring:
1. 2023 Nissan Rogue
The Nissan Rogue comes equipped with extended safety technologies that include a backup camera and the Blind-Spot Information System. This technology is featured in not only the 2023 Rogue but also in the 2018 model.
While it works with a 7-inch touchscreen that supports a backup camera, the 2018 Nissan Rogue also offers Automatic Emergency Braking and Forward Collision Warning.
With an estimated average price of $21,806-$26,967, the 2018 SUV is cheap for its standard.
Mind you, the 2023 model has more safety features. You'll admire the High Beam Assist, Lane Departure Warning, as well as the surround view camera system available in this latest model.
At a starting price of $39,260, the 2023 Nissan Rogue offers a somewhat costly price for a sub-compact SUV.
2. 2022 Toyota C-HR
The 2022 Toyota C-HR is another compact SUV that offers improved driver-safety assistance technologies.
It offers an automatic emergency braking with pedestrian detection, the lane departure warning, a rearview camera, and the blind-spot monitor as standard features in its models.
For a more traffic-conscious ride, this SUV also offers Road Sign Assist and Lane Tracing Assist. So, the vehicle does not only protect a driver against neighboring vehicles, it also offers smart eyes for road signs.
While the 2022 Toyota C-HR comes in 3 trims: XLE. Nightshade Edition, and Limited, its price falls between $24,280 – $27,300.
This small SUV is one of the few you can rely on for tech goodies. However, you may not enjoy its slow acceleration if you love a speedy ride.
Make sure to also read our article about compact SUVs with the highest height.
3. 2020 Mazda CX-30
The 2020 Mazda CX-30 is another great option if you desire a tech-enhanced ride. While it comes in 4 trim models, the price range falls around $21,900-$29,600.
Even the price of the more recent 2023 model ranges from $22,950-$31,000.
The 2020 Mazda CX-30 features dual-zone automatic climate control and a blind-spot monitoring system. Although it comes in four trims (Base, Select, Preferred, and Premium), you'll enjoy full driver-safety technologies in the Mazda CX-30 Select.
Mind you, if you desire an enhanced and more improved safety features, you can check the 2023 model. The very latest CX-30 offers Traffic Jam Assist, front and rear parking sensors, and Surround View Monitor.
The Mazda CX-30 is also one of the compact SUVs with the most horsepower, which makes it an ideal ride for performance lovers.
4. 2022 Ford EcoSport
Despite being the smallest of all Ford's SUVs, the 2022 Ford EcoSport doesn't have a good reputation for fuel economy. However, it offers an attractive ride that features extended driver-safety assistance technologies.
While the small SUV features an 8-inch touchscreen, it offers a backup camera and rear parking sensors. The 2022 Ford EcoSport also provides a Blind-Spot Monitoring System with rear cross-traffic alerts.
Aside from safety assistance technologies, it also has an interesting infotainment system that offers both Apple CarPlay and Android Auto.
Note that the 2022 Ford EcoSport comes in four trims: S, SE, SES, and Titanium. Whereas the backup camera comes as a standard feature in all 2022 EcoSport trims, only the Titanium has the Blind-Spot Monitoring System as an available option.
So, while the price of the other 3 trims falls within $22,040-$28,205, the Titanium trim costs slightly more at $28,395.
Compact SUVs With Blind Spot Monitoring
Below, we present 4 impressive compact SUVs that feature blind spot monitoring:
5. 2022 Ford Escape
The 2022 Ford Escape offers four trim models: Ford Escape S, SE, SEL, and Titanium. Of these models, the SE offers a more digitized safety assistance that includes the Blind-Spot Monitor.
While the 2022 Ford Escape also features a backup camera, it comes with a SYNC 3 infotainment system enriched with an 8-inch touchscreen.
This SUV also features a comprehensive driver-assist safety technology. A driver gets supported by Pre-Collision Assist with Automatic Emergency Braking, Blind-spot monitoring with Cross-Traffic Alerts, Lane-Keeping System, and others.
With a starting offer of $32,249, Ford Escape offers a little costly price.
6. 2023 Kia Sportage
The 2023 Kia Sportage comes with a finely built design that offers great camera technologies. To enhance the driver's rearview, the SUV features a backup camera that works with a wide touchscreen. You'll particularly enjoy the rearview camera on the 2023 model, which offers a 12.3-inch dual panoramic display.
Moreover, this SUV features a Blind-Spot Collision-Avoidance Technology and a Rear Cross-Traffic Alert to give a more digitized rear and blind-spot protection. It also offers a 360-degree surround view monitor that functions with four external cameras to display the surroundings of the vehicle.
While these features may not be available in other Kia Sportage models, you can find it all in the 2023 model, which has a starting price of $25,990.
If you love the latest driver assistance technologies, you should also read up on the compact SUVs with lane-assist feature.
7. 2022 Chevrolet Equinox
The 2022 Chevrolet Equinox is a small but spacious SUV that can conveniently accommodate 5 passengers.
Unlike the other SUVs here, Equinox has only the backup camera as a standard feature in the 2022 model, with the Blind-Spot Monitoring coming as an available option.
Other safety features available for this model include front and rear park assist, adaptive cruise control, rear cross traffic alert, and surround vision, and some others.
With a starting price of $25,800, the 2022 Chevy Equinox has a relatively cheap price.
8. 2022 GMC Terrain
Like the Chevrolet Equinox, the 2022 GMC Terrain also has the Blind-Spot Monitoring as an available option. While this compact SUV has the rearview camera as a standard feature, it also features several other driver-safety assistance.
Lane departure warning, forward collision warning, pedestrian detection, and the lane keep assistance are some of the other standard safety features the 2022 GMC Terrain offers.
Aside from the blind-spot information system, this SUV also features rear cross traffic alerts, rear parking sensors, and lane change alerts as some other available functions.
When compared with the other SUVs here, the 2022 GMC Terrain falls on the average in terms of advanced safety features. Regardless, it provides a better option to several other compact SUVs with little or no driver-safety assistance.
Aside from safety features, this vehicle also boasts of a user-friendly infotainment system. It offers a 7-inch touchscreen, a six-speaker stereo, Apple CarPlay, as well as Wi-Fi hotspot as standard features.
Mind you, the 2022 Terrain may not be suitable for a long family trip because of its small cargo space.
While this SUV shares a lot of similarities with the 2022 Chevy Equinox, it costs a little higher. You'll get the 2022 GMC Terrain around an estimated price of $27,900-$36,600.
Final Thoughts
When next you see a small camera or camera-like object around the side mirror of a vehicle, handle it with care. That could probably be the blind-spot sensor needed by many drivers to ensure a safer drive.
Also, when you heard an alarm as a driver attempts to switch lane, it could be the BLIS doing its work to protect you against collision.
Introduced by Volvo as far back as 2003, even before the standardization of a backup camera, this sensor is gradually gaining its deserved prominence in the automobile world.
Was this article helpful?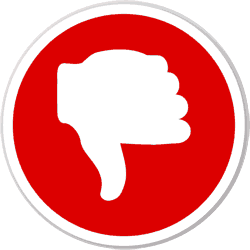 Did you find wrong information or was something missing?
We would love to hear your thoughts! (PS: We read ALL feedback)