Blind spots are areas around the vehicle that drivers can't see clearly when driving despite using the side mirror. These are areas where some parts of the vehicle structure hide during drives.
Vehicles with the least blind spots, however, enable drivers to see their environment clearer, thus, a low chance of getting into an accident.
However, driving a vehicle with too many blind spots can be dangerous, so you'd want to know the SUVs with the most blind spots.
Sub-Compact SUVs With FEWEST Blind Spots
These are some sub-compact SUVs with the fewest blind spots. Since we're talking about SUVs, you should know whether SUVs have more blind spots.
1. Honda HR-V
This Honda's smallest SUV is popular for its tons of modern utilities and smart features for a comfortable drive. The Honda HR-V comes at an affordable price while offering a roomy interior with ample space in both rows.
It also offers great visibility when driving and has the fewest blind spots.
This is owing to a larger and taller greenhouse, door-mounted mirrors, and hidden windshield wipers for enhanced visibility.
To further reduce the blind spots in the 2023 Honda HR-V, the HR-V Sport and EX-L trim come with a blind-spot information system. This system gives drivers more information about both sides of their vehicles to increase driving confidence.
It works when the vehicle is moving forward at about 20 mph and above. The system includes a pair of sensors, one on each rear corner of your HR-V to detect a vehicle in an adjacent lane in these trims, among other features.
All trims also come with a multi-angle rearview system to enhance the awareness of the drivers on the road.
The drivers get to choose from the options, wide view and top-down view (when in reverse) aside from the standard normal view settings of the camera.
2. Volkswagen Taos
The Volkswagen Taos offers enough modern technologies that owners will love when behind its wheels. It comes with a comfortable interior that passengers can easily get in and out of while offering a smooth ride and sharp handling.
This sub-compact SUV is another on our list that comes with great outward visibility to reduce blind spots when driving.
This is owing to the square windows and power-adjustable side mirrors, which offer great coverage with the option to adjust when driving.
For enhanced visibility, there are also full LED headlights, and daytime running lamps. The 2023 Taos also boasts a rear-view camera system that aids visibility and helps protect your vehicle from a crash.
For more safety packages, there is the Volkswagen IQ DRIVE which owners can opt for to include features like the Active Blind Spot Monitor, Rear Traffic Alert, Lane Assist, and more for a safer driving experience.
3. Nissan Kicks
The Nissan Kicks is a stylish SUV with some of the best standard features under the sub-compact category. It is also popular for its high fuel economy and many drivers assist with standard features.
For the blind spots, the Nissan Kicks has just a few of them. The outward visibility is great from the front and sides owing to its large windows and a low hood line.
Visibility in the rear may however not be as good as they have thick rear roof pillars.
There is also the rearview mirror with a built-in LCD monitor to display images from a camera that Nissan installed on the rear of the vehicle.
Depending on the driver's preferences, this Intelligent Rearview Mirror gives them the choice to switch between the LCD monitor and the conventional rearview mirror.
The blind spot warning system also helps enhance visibility when driving. It monitors the black spots areas when driving and offers a warning if it detects vehicles in these areas for safer driving.
4. Subaru Crosstrek
The Crosstrek comes with a comfortable ride, a spacious cabin, and outstanding safety features. It is one of the top safety picks by the Insurance Institute for Highway Safety (IIHS).
It also comes with one of the fewest blind spots in this category owing to the great visibility drivers can access from the elevated driving position.
This includes great outward visibility from the front, sides, and rear.
The 2023 Subaru Crosstrek comes with an Eyesight Driver Assist Technology feature to enhance visibility when driving. Note this feature is only available on some trim levels.
The system employs two cameras to monitor activities on the road ahead to identify dangers and aid the driver when it is most necessary.
There is also the High Beam Assist that enhances visibility by automatically switching from high beam to low beam when approaching traffic. It however switches back to high beam when traffic clears.
However, this feature is only available on trim levels that come with the Eyesight feature.
The Crosstrek includes a front-view camera and a rearview camera to give a clear view of the road ahead for increased visibility and safer driving. However, note that the rearview camera comes standard in your Crosstrek, but not the front camera.
We should also mention there's the blind spot system that warns drivers about vehicles driving in blind spots for enhanced safety.
Compact SUVs With FEWEST Blind Spots
We'd be talking about compact SUVs, so you should know about some compact SUVs with blind spot monitoring and how much they cost.
5. Subaru Forester
The 2023 Subaru Forester comes standard with all-wheel drive and enough driver assistant features. There is also the comfortable cabin passengers will enjoy, especially on long rides, among other features.
As for blind spots, the Subaru Forester has very few owing to its massive windows, low beltline, and thin pillars.
For better forward and reverse visibility, Subaru mounted the side mirrors on the door panels rather than the windows and they come with a sizable glass surface.
It comes standard with the rearview camera to project a clear view of the rear onto the center console screen. There is also the EyeSight Driver Assist Technology feature as standard on all trim levels.
The blind spot monitoring system warns drivers when it senses a vehicle in the blind spot of the Forester.
There is a great deal of other visibility-enhancing features that come with the Forester. You can check the owner's manual to know more.
6. Volkswagen Tiguan
The 2023 Tiguan is one of the few SUVs under this category to offer a third row. Despite this, it still comes with a roomy interior and cargo space while offering a comfortable ride.
This compact SUV also comes with good outward visibility that includes the front, sides, and rear. This is owing to the big side mirrors, tall roofs, and low window sills.
There is also the blind-spot monitoring system on all models except the monochrome editions. It comes with the option for an Overhead View Camera to give you a better view of your environment.
Mid-Size SUVs With FEWEST Blind Spots
In the mid-size segment, these cars take the cake with the fewest blind spots. With that in mind, these are some cars with the least blind spots.
7. Kia Sorento
The 2023 Sorento comes with many standard modern features that owners will love when driving behind its wheels.
There is a user-friendly infotainment system and a spacious cabin and cargo area that is not common to most SUVs in this category.
For visibility, the Sorento offers enough to limit blind spots when driving. This is owing to its big-size windows, excellent sight lines, and the high driving seat position.
It also comes with the blind-spot collision-avoidance system to notify you of another vehicle in your blind spot. This system also helps the driver avoid collision by actively moving the vehicle from the adjacent vehicle.
Every Sorento trim level comes with front and rear parking sensors, and a 360-degree bird's-eye view camera.
8. Volkswagen Atlas
The Volkswagen Atlas is another mid-size SUV on our list that has fewer blind spots compared to other vehicles in this category.
This SUV offers a competent ride and suave handling, a spacious interior, and a quiet cabin among others.
The large window and big windshield make visibility in the 2023 Atlas great for drivers for reduced blind spots.
There is also the rearview camera system for enhanced visibility when driving and a blind spot monitoring system for safety.
Full-Size SUVs With FEWEST Blind Spots
Full-size SUVs have more blind spots because of their large sizes. That's why SUVs in this class with minimal blind spots are impressive.
While you're here, you may also want to know more about full-size SUVs with the best visibility.
9. Mercedes‑Benz EQS SUV
The 2023 EQS SUV offers outstanding quality in the cabin. There is the heated and ventilated seat as standard and soft-touch surfaces and great visual elements.
This full-size SUV also comes with good visibility.
Though the pillars are thick, they do not create serious obstructions for drivers unless they make a sharp left turn.
Also, there is a high driving position and a larger greenhouse that improves visibility.
To enhance visibility, the 2023 EQS SUV comes with a surround-view camera system. There is also the Blind spot system for safer driving.
10. Cadillac Escalade
The last SUV on our list that will offer fewer blind spots is the 2023 Escalade. This SUV offers a refined ride, and an impressive and comfortable cabin even in the third row, which is rare among SUVs in this category.
The 2023 Escalade will also offer outstanding visibility from all windows owing to its high driving position. For improved visibility, the Escalade includes a surround-view camera system.
Cadillac will integrate a camera into the body molding on each door-mounted rear-view mirror, one in the grille, and one positioned on the tailgate from the report.
It also comes with the blind spot monitoring system but is only available as an option on some trim levels.
Was this article helpful?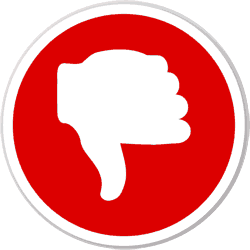 Did you find wrong information or was something missing?
We would love to hear your thoughts! (PS: We read ALL feedback)