The importance of having excellent visibility while driving cannot be emphasized enough. It is the most essential factor you should consider when buying a new vehicle, especially if you are a new driver.
The best SUVs offer excellent visibility all around the car, including the front, side, and rear views, but some models stand out from the crowd.
Here are 4 of the best mid-size SUVs for visibility.
1. Subaru Forester
The Subaru Forester is possibly one of the most popular mid-size SUVs available on the market. It's a versatile vehicle that can be used by many individuals, including families and off-road driving enthusiasts.
While the Subaru Forester features plenty of space and cargo room for you and your passengers, that's not all it offers.
The superb outward visibility of the Forester is among the first things you'll notice while driving it. You can see anyone and everything with its enormous, startlingly wide, tall front and side windows.
In fact, Consumer Reports claims that of all the vehicles they have examined, the 2022 Subaru Forester has one of the most extraordinary outside views.
Additionally, during crowded crossings, it is easy to view other automobiles and pedestrians out of the large side windows, thanks to the low position of the side mirrors.
Regarding rear window visibility, many owners have found that their head restraints may partially hinder the view. That said, the window is still big enough to offer exceptional visibility.
Although the visibility isn't as exceptional out the back window as the rest of the vehicle, it's still better than most other SUVs in the same class.
Ultimately, the Forester has a commanding perspective of the road, thanks to its high seating position and large windows. The thin roof pillars, big side windows, and wide windshield captivate all those in the vehicle.
2. Subaru Outback
It's clear that Subaru is winning in the visibility department.
Like the Forester, the Outback has excellent outward visibility, which makes it easy to see out of all three rows of seats.
Superior visibility is one of the advantages of the earlier versions of this vehicle, and it is improved upon in the 2022 Subaru Outback.
The Outback offers a spacious external perspective thanks to the following features:
High seating position
Sharply sloping windshield
Discreet A-pillars
Front quarter windows
Door-mounted side mirrors
Thanks to its numerous thin roof pillars and broad, large side windows, you're offered a generous view when looking over the hood.
A large third-side window reduces the rear three-quarter blind spots, and the front triangle quarter windows ensure it's simple to see people or vehicles through the side mirrors.
Furthermore, the vehicle is fitted with a large rear window which offers excellent rearward visibility.
Since visibility is about driver and passenger safety, the 2022 Outback offers an award-winning safety technology called 'EyeSight' that is included in all models.
Two cameras are used by the system to keep an eye on what's happening on the road ahead, to help spot potentially dangerous circumstances, and aid the driver when they're most in need.
Below are just a few of the cutting-edge safety features included in EyeSight:
Pre-collision braking
Pre-collision brake assist
Pre-collision throttle management
Adaptive cruise control
Lane centering assist
Lane departure warning
Lane sway warning
Lead Vehicle Start Alert
With all these features available and incredible visibility through the front, side, and rear windows, it's clear why the Subaru Outback is a mid-size SUV that offers superior visibility and safety than its counterparts of the same category.
3. Land Rover Range Rover Sport
The 2021 Land Rover Range Rover Sport is the second entry in the Range Rover hierarchy, and as its name suggests, it is a more compact and sportier mid-size SUV than its larger sibling.
We have a list here of the best and worst years for Range Rover.
The Range Rover Sport offers greater room and comfort than comparable mid-size SUVs made by other manufacturers, even though it isn't as vast and luxurious as its bigger sibling – the full-size SUV Range Rover.
However, the Range Rover Sport lacks a sportiness feeling compared to its competitors, and the fact that it comes at a questionably high price is its downfall.
Nonetheless, the Sport has a captivating design, excellent off-road performance, and a unique selection of engines.
The sitting position is rumored to be 20mm lower than in its older sibling to give it a more sporting sensation. But, drivers still have an excellent, elevated driving position standard on mid-size SUVs.
However, due to this, the windscreen is steeply raked. This allows air to pass the windscreen easily and reduces the aerodynamic drag.
Regarding visibility, the positioning of the steering wheel and pedals makes sense. The front seats and steering wheel both have a broad range of adjustability to assist you in seeing all that's around you clearly.
The dominating driving position of the Range Rover Sport is parallel to its excellent visibility. Enabling the driver to have an uninterrupted view down to the car's hood, even when the seat is in its lowest position.
Therefore, drivers are equipped with a superb perspective out the front windshield. This perspective is also matched in the rear windshield thanks to the large rear windows and helpfully large door mirrors.
4. Honda Pilot
So long as you don't anticipate fireworks, the 2022 Honda Pilot is an efficient and comfortable midsized SUV.
It offers a comfortable and quiet ride by being:
Spacious
Adaptable
Having a feature-rich cabin
Accommodating seating for eight passengers with simple access to all three rows of seats
Regarding visibility, the Honda Pilot is one of the best mid-size SUVs on the market.
The Pilot's front seats are positioned higher than most other SUVs of this class, making it easier to see out of the vehicle and reducing blind spots.
The rearview mirror has a decently wide angle and provides a clear view of what's behind you.
Although the rearview window is not as significant as other mid-size SUVs in this list, the Pilot's standard backup camera can help drivers avoid backing into objects when parking or backing out of a driveway.
The camera displays what's behind you on the touchscreen display.
It can also be used as a spotter when parking on hills or slopes by displaying an image of what's directly ahead of your car, so you know how far back to stop.
The side mirrors also offer excellent visibility.
Large front and side windows and discreet roof pillars provide the Pilot top-class visibility, and the elevated seating position of this SUV ensures the driver has a magnificent perspective of the road.
Overall, the Honda Pilot offers an expansive view of the road ahead and beside you. Its large windows provide excellent visibility in all directions (bar the rear).
What Does Visibility in a Mid-Size SUV Mean?
Visibility is one of the most critical factors affecting your driving safety. Therefore, when looking for a mid-size SUV, visibility is something to consider.
A good view out of your vehicle can make driving easier and safer, and it's essential to have a clear picture of what's ahead.
That said, safety depends heavily on external visibility in all directions and extends beyond what drivers can see via the front windshield.
The views via the side and rear windows allow drivers to move more safely, whether changing lanes, merging onto a highway, or pulling into a parking space.
Ultimately, visibility is the capability of a driver to observe other traffic and their surrounding environment.
Luckily, a mid-size SUV is larger than a standard car, so it's hard to miss on the road and generally has more visibility than cars, thanks to their raised seating positions and more significant front, side, and rear windows.
Final Thoughts
If your previous car was a sedan or coupe, you might be surprised to find how much larger mid-size SUVs are – inside and out.
The reason for their size will immediately appear apparent once you get behind the wheel – a mid-size SUV gives you a much better view of the road ahead.
Not only will this allow you to see more when passing through traffic, but it also lowers your risk of accidents.
Sources
10 Cars With the Best Visibility
Best and Worst Cars and SUVs for Visibility
MotorBiscuit: The Most Satisfying SUVs That People Love Driving and Owning
Was this article helpful?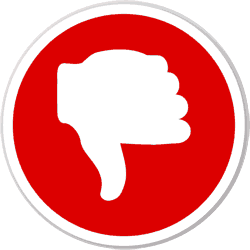 Did you find wrong information or was something missing?
We would love to hear your thoughts! (PS: We read ALL feedback)