The Infiniti QX50 debuted in 2007 as the Infiniti EX, a compact luxury crossover SUV.
It morphed into QX50 in 2015 and entered its second generation in the 2019 model year. Since debuting, the QX50 has achieved a decent level of commercial success, although critical reviews haven't been so stellar. 
Its latest model notched a 7.2/10 rating on U.S. News and a 6/10 rating on Car and Driver. It has been knocked for its unimpressive fuel economy, lackluster handling, and engine noise. 
In this article, we are going to be taking a look at past QX50 (as well as EX) models while pointing out the best and the worst ones. If you are looking to buy a used model, this, right here, is an article that could help. Shall we?
The Best and Worst Years for the Infiniti QX50 Are:
The best Infiniti QX50 models include the 2011, 2012 and 2014 models. These models have the fewest complaints of all EX/QX50 models on the famous complaints aggregator, Car Complaints. 
Meanwhile, the worst Infiniti QX50 models include the 2010, 2015, 2016, 2017, and 2019 models. These models have some of the worst problems reported, and they also have the most problems of the QX50 line.
What Infiniti QX50 Models Are The Most Reliable?
The most reliable Infiniti QX50 are the 2011, 2012, 2014, 2018, and 2020 models. Let's take a look at each of them, one after the other below. Shall we?
1. 2011 Infiniti QX50 (EX35)
The 2011 Infiniti QX50, which was then known as the EX35, is one of the very best model years of the QX50. On Car Complaints, it received zero complaints, which is pretty impressive seeing as the previous year had multiple complaints. 
It has a 77/100 consumer rating on J.D. Power and ranks 4th on the organization's list of the best premium compact SUVs of 2011. It also notched a 4.8/5 rating on Edmunds, and a 4.6 on Kelley Blue Book indicating generally positive reviews. 
Some of the 2011 model's most acclaimed qualities include its sporty steering, quick acceleration, nimble handling, and elegant cabin. This model is so good, it can be argued to be the best QX50 model of all time. 
2. 2012 Infiniti QX50 (EX35)
For the 2012 model year, Infiniti replicated the previous year's stellar quality for the 2012 Infiniti QX50. This model also has zero reported problems on Car Complaints, making it one of the most reliable Infiniti models of all time. 
On J.D. Power, the 2012 QX50 notched a 78/100 consumer rating, which is slightly higher than its predecessor's 77. It also scores 82/100 in the area of resale value on the platform and is ranked #3 on its list of premium compact crossover SUVs. 
The car has an 8.2/10 rating on U.S. News and a 4.4 rating on Edmunds, indicating stellar reviews across the board. Its best features include its sporty handling, quick acceleration, and around-view monitor for better visibility. You won't find many QX50 models that are better than the 2012 EX35. 
3. 2014 Infiniti QX50
The 2014 Infiniti QX50 is also one of the best QX50 models of all time. It received a total of zero complaints on Car Complaints and remains one of the very few models to pull it off on the platform. 
It notched a 74/100 Consumer rating on J.D. Power and ranked 7th on their list of compact premium SUVs. It also got a 4.6/5 rating on Kelley Blue Book, an 8.2/10 from U.S News, and a 3.8/5 from Edmunds. 
Some of its most praise-worthy attributes include its dope handling, potent engine, and simple tech features. According to J.D. Power, its resale value is rated 73/100, which is much lower than the 2011 and 2012 models.
Please also read our article about the best and worst Infiniti QX80 years.
What Infiniti QX50 Years Should You Avoid?
Now that we know the most reliable Infiniti QX50 models, how about the worst ones? We have curated a list of the QX50 models that you should avoid below.
Let's get into it, shall we?
4.  2010 Infiniti QX50 (EX35)
The 2010 Infiniti QX50 is one of the not-so-great QX50 models, especially in terms of the number of issues.
On Car Complaints, it has a total of 5 reported problems, and two of these issues occupy the first and second spot on the list of worst EX35 problems.
One of its worst problems is the steering lock issue, which costs thousands of dollars to fix. It also has a coating issue, which, according to one owner, looks really horrible. 
It, however, manages a 76/100 customer rating on J.D. Power, all thanks to its lively acceleration, dashboard styling, and navigation system. On the flip side, the 2010 QX50 also suffers poor forward visibility and bad second-row seats. 
Talking about poor visibility, you might be interested in learning about SUVs with the most blind spots.
While it isn't a terrible vehicle overall, you might want to avoid this and go for less problematic models.
5. 2015 Infiniti QX50
The 2015 Infiniti QX50 is ranked as the worst model by Car Complaints, even though it has fewer complaints than a couple of other models.
The model suffers premature rotor wear, which is ranked as the worst Infiniti QX50 problem. This problems occurs at an average mileage of 18,000 miles and costs about $500 to fix. 
Owners also complain about poor rear visibility and bad seating in the second row. However, it does have a few great attributes including great acceleration and an improved audio system.
Overall, the 2015 Infiniti QX50 isn't a terrible car, it just happens to have one of the worst problems in the model's history. That alone might be enough reason to avoid and go for more reliable models. 
6. 2016 Infiniti QX50
The 2016 Infiniti QX50 has a total of 4 reported issues on Car Complaints.
The most notable issue is the swamped ICU unit, which costs nearly $2,000 to fix, according to a complainer. The average mileage for this issue is 32,000 miles, which is why it ranked as one of the worst issues. 
Interestingly, besides this disconcerting issue, the 2016 Infiniti QX50 is great in most other departments. Owners and critics have praised its acceleration, improved audio system, and simple folding mechanism for the rear seats. 
If a swamped ICU isn't something you want to risk dealing with, you might want to avoid this model. 
7. 2019 Infiniti QX50
The 2019 Infiniti QX50 has the highest number of complaints of all QX50 models on Car Complaints with 5. That's even more concerning when you realize it is one of the most recent models on the platform.  
Three of these issues are engine problems, two of which have a serious severity rating of 10.0. There were also complaints about the model's front suspension, which reportedly involves serious knocking and rattling. 
Car and Driver gives it a measly 6/10 rating owing to its unimpressive fuel economy and noisy engine amongst other issues. In all fairness though, its cabin is more comfortable than previous model years. 
Overall, the 2019 Infiniti QX50 is one of the worst QX50 models, and while it's not all terrible, we advise avoiding it entirely. 
8. 2021 Infiniti QX50
The 2021 Infiniti QX50 closes out our list of the worst QX50 models to avoid and we are about to see why. While it's not listed yet on Car Complaints, the model caught a lot of flak for some very serious issues.
According to Consumer Reports, the 2020 QX50 model has issues with body hardware, in-car electronics, and power equipment. That explains why it got bad reliability and owner satisfaction ratings on the famed platform. 
If you are looking to buy a recent luxury compact crossover, we advise going for better options than the 2021 Infiniti QX50.
Make sure to also read our article about 5 Infiniti cars with most recalls.
What Are Some Typical Problems With The Infiniti QX50 Models?
Some of the QX '50s most prominent problems include:
Steering lock issues

Engine noise

Premature brake wear

Burnt transmission fluid

Suspension problems
Side Note: The Infiniti QX50 models from 2008 to 2013 were known as Infiniti EX35 as we have dutifully indicated in the article.
Additionally, as you have probably noticed, the Infiniti QX50 generally had very few reported issues on Car Complaints and other such platforms.
This is most likely a result of its "luxury" status, which means low production output and low sales. For some context, the Infiniti Q50 sold a total of 19,196 units in 2021.
Was this article helpful?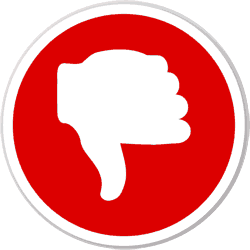 Did you find wrong information or was something missing?
We would love to hear your thoughts! (PS: We read ALL feedback)
ⓘ  The information in this article is based on data from National Highway Traffic Safety Administration (NHTSA) recall reports, consumer complaints submitted to the NHTSA, reliability ratings from J.D. Power, auto review and rating sites such as Edmunds, specialist forums, etc. We analyzed this data to provide insights into the best and worst years for these vehicle models.
---