Toyota began production of its C-HR models in 2016, and it went on sale in 2017 in several countries, including the U.S.  
The Toyota C-HR is a unique car, and that's clear from its nameplate, which could mean "Compact High-Rider or Cross Hatch Run-About.
It is renowned for its fuel efficiency and beautiful exterior, amongst other features.
Now, how about we examine all the problems you are likely to run into if you own a Toyota C-HR?
1. Untimely Transmission Issues
A good number of Toyota C-HR owners have complained about their transmission developing major issues prematurely.
Some owners reported hearing humming sounds from the engine, which later morphed into grinding and whiny sounds.
They only found it was a fault with the transmission when they reported the case to the dealers.
The owners also complained about the transmission issues coming up too early.
One particular owner suspected a transmission issue with her C-HR, which has only clocked 10,500 miles. Some of the other reports involved C-HR models with 35,000 to 100,000 miles.
A few other complaints bordered on the cost of replacing the transmission. Some owners reported having to settle for a used one because of this.
Possible Causes and Solutions
Below are some of the reasons your C-HR may develop early transmission issues and what to do about it.
Low Transmission Fluid
This is perhaps the most common reason many automatic transmissions fail.
Low transmission fluid makes it nearly impossible for the car to run as smoothly as it should. The solution to this is:
flushing the transmission,
fixing the leak,
and revitalizing the system by refilling it with fresh fluid.
A Clogged Filter
Filters are also very crucial to the smooth running of the transmission, and the ugly thing about them is they could get clogged.
It gets uglier when you realize that a clogged filter can lead to outright transmission failure.
The most common way to fix the problem is by getting a new filter.
Defective Torque Converter
The torque converter is the heart of a transmission, seeing as it is responsible for pumping transmission fluid throughout the system.
A defective torque converter hinders the pressure, which leads to erratic behavior.
What to Do
If you detect a transmission issue with your Toyota C-HR, we advise reporting to your dealer or a trusted auto expert.
Not all transmission issues require total replacement; some just need a fluid refill or filter replacement.
It is also important to take servicing and overall maintenance of the transmission seriously. This will be easier for you if you have an annual or bi-annual maintenance plan for your car.
Related: How Long Do Toyota C-HR Last? (Solved & Explained!)
2. Air Conditioner Problems
We also found several reports concerning the Toyota C-HR's air conditioner.
Many of the owners reported that their air conditioners were blowing warm air instead of cold.
Some owners also complained that it was even more frustrating because the issues came up within a few months of purchase.
A few others with new models were grateful because they were able to get it fixed for free under warranty.
We also noticed a complaint about the AC taking up to two minutes before cooling.
Several owners corroborated this complaint, claiming it was on-brand for the Toyota C-HR.
Possible Causes and Solutions
Here are potential causes of the C-HR's AC's problems and solutions:
A Freon Leak
The most likely reason for an air conditioner failing to blow cold air is a Freon leak. Freon is a non-flammable refrigerant that causes the cooling effect of the AC. As you can probably tell already, it is a vital component, and when it leaks, the AC essentially loses its cooling effect.
Early detection often leaves you with the gratuitous and less costly option of repairing a component.
However, if the leak goes on for too long, the moisture could penetrate the system and wreak even more damage.
Blocked Condenser
Another possible reason for a cooling problem with the Toyota C-HR is a blocked condenser. The condenser cools an otherwise hot refrigerant.
It does this intelligently by borrowing the airflow from the front of the car when it is in motion.
However, if the condenser is blocked by dirt or a load of unseen debris, it will be unable to cool the hot refrigerant.
Electrical Issues
Electrical issues, including bad wiring, are often cited as reasons for faults with the C-HR's air conditioner.
This, like most of the other problems, is best handled by an expert. Meanwhile, you can also find out the best and worst Toyota C-HR years.
Defective Cooling Fans
Air conditioners have fans that help supply cooling to the condenser. If the fans are faulty, the car is likely to send out hot air.
The fans can be visually inspected, and the issues are often characterized by cracks.
What to Do
Truth is, air conditioner problems are less worrying than most other vehicle problems.
This is because they are often easy to fix, and repairs do not cost so much.
However, we would advise that the issues are left to the care of an expert.
Related: Toyota C-HR In Snow & Winter Driving? (Explained)
3. Recurrent Battery Issues
Some Toyota C-HR owners have lodged worrying complaints about the vehicle's battery.
The owners claimed that the Toyota C-HR's battery dies after about a day of inactivity.
A couple of owners even reported their C-HR batteries dying twice in one week. These particular owners reported consciously using the car every day, which suggests that the problem goes beyond inactivity.
We noticed that these battery problems were common in the 2017 and 2018 models of the Toyota C-HR. Also, most of the complaints involved cars with at least 20,000 miles on them.
Possible Causes and Solutions
Below are reasons your Toyota C-HR'S battery may weaken faster than usual:
Old Battery
Car batteries are not everlasting and they need to be replaced at some point. If your car battery keeps dying, it could be because the battery is too old and needs to be replaced.
By "too old", we mean batteries that have been used for over 3-4 years.
Corroded Battery Connections
There are terminals connected to the battery to enable it to function properly.
However, these terminals are vulnerable to corrosion, and if that happens, it could hinder your car from starting. To reduce the likelihood of corrosion, experts advise cleaning the terminals regularly.
The terminals could also unfasten over time, which could impede proper transmission of power to and from the battery.
Extreme Weather
A freezing winter weather or blazing hot summer temperature may be the reason your battery has been dying.
New batteries are often resistant to these conditions, but old batteries often shrink or die completely.
Faulty Alternator
The alternator keeps the vehicle's battery charged when it is in motion.
When it is faulty, however, the alternator cannot charge the battery effectively. This could make it insanely difficult to start your car, even if you just stopped for a little while.
What to Do
If you have battery issues similar to what was described earlier, we advise visiting your dealer for a thorough inspection. This will help them figure out what the problem is and find solutions that will ensure you don't have to deal with the same issues again. 
Related: Where Are Toyota C-HRs Made? (Solved & Explained)
General Pros and Cons
Here are some of the advantages and demerits of the Toyota C-HR:
Pros
These are some of the high points of the C-HR:
Affordable
The Toyota C-HR doesn't just offer top-tier features; it offers these features at a relatively low rate.
It is one of the cheapest in its class, although there are some price jumps when you move to a higher trim level.
Reputable Brand
For a vehicle that launched in 2016, the Toyota C-HR has managed to earn the trust of a plethora of owners and critics.
Truth is, that isn't some auspicious happenstance; it is due, in large parts, to the long-standing trustworthiness of the Toyota brand.
Basically, the Toyota behind C-HR, alongside its splendid qualities, has helped catapult it to the top of its class in just a few years.
Fuel Efficiency
Amongst the Toyota C-HR'S many strengths is its excellent fuel efficiency.
It has an estimated 27 MPG in the City and 31 MPG on the highway for a combined 29 MPG. Fuel Economy says C-HR will help you save up to a hundred dollars yearly compared to the average vehicle.
Sure, it doesn't measure up to what you get from a hybrid, but this is fair for the price and the class.
Adjustable Cabin
The Toyota C-HR has seats in two rows, but here is the catch: the back row was designed as a 60/40 split-bench, and you can fold one side of the bench if you need space for more cargo.
Ordinarily, the cargo area measures just 19.1 cubic feet, but using that method, you can increase it to 37 cubic feet.
Premium Infotainment
What's a car like these days without music and general entertainment?
Well, you'll not find the answer to that in a Toyota C-HR, thanks to its wholesome infotainment package.
Standard infotainment features include an eight-inch touch screen, Bluetooth, Amazon Alexa, and the classy Sirius XM, amongst others.
Safety Features
The Toyota C-HR sports a plethora of excellent safety features that help reduce the chances of mishaps and accidents.
These features work hand in hand with the driver to ensure the car and its occupants are safe.
They include:
Automatic High Beams
Cruise Control
Blind Spot Monitoring
Rearview Camera
Forward Collision Warning
Automatic Emergency Braking
Pedestrian Detection
Road Sign Assist
Cons
Untimely Transmission Issues
Air Conditioner Problems
Recurrent Battery Issues
What Do the Reviews Say?
"Countering any downsides is Toyota's excellent reputation for quality and robust resale values, the C-HR's engaging driving manners, and the assurance provided by the numerous standard driver aids."
Source: Kelly Blue Book
"The Toyota CH-R delivers a distinctive, funky look, which is crucial in this image-conscious crossover class. Inside, there are plenty of high-grade materials, and a decent tally of kit, while the layout is good and features plenty of bright colours.
Smartly styled, good to drive, practical and featuring a classy cabin, the C-HR is a tempting alternative to more mainstream crossover models."
Source: AutoExpress
What Is the Resale Value of the Toyota C-HR?
Model Year
Mileage
Price
2018 Toyota C-HR
35,014 miles
$21,590

2019 Toyota C-HR
23,962 miles
$22,590

 

2020 Toyota C-HR
10,159 miles
$25,990
Go Back: Problems for each Toyota model.
Was this article helpful?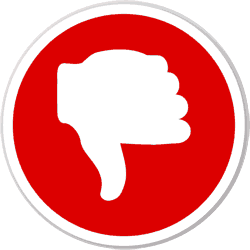 Did you find wrong information or was something missing?
We would love to hear your thoughts! (PS: We read ALL feedback)
ⓘ  The information in this article is based on data from National Highway Traffic Safety Administration (NHTSA) recall reports, consumer complaints submitted to the NHTSA, reliability ratings from J.D. Power, auto review and rating sites such as Edmunds, specialist forums, etc. We analyzed this data to provide insights into the best and worst years for these vehicle models.
---