With its sweeping hood, bold curves, and eye-catching colors, the Toyota C-HR is a head-turner.
But this subcompact SUV isn't about looks alone—it offers athletic handling, a well-designed cabin, and impressive fuel economy.
Read on to find out if the Toyota C-HR has durability as part of its great attributes.
Here is the short answer to how long Toyota C-HRs last:
Being a relatively new model, it's hard to judge the durability of the Toyota C-HR. However, given Toyota's reputation for reliability, we can expect a new Toyota C-HR to last between 150,000-200,000 miles. This means your new Toyota C-HR can stay on the road for another 10 to 15 years.
How Many Miles Can You Expect from a Toyota C-HR?
The Toyota C-HR is, by modern standards, a new model, having got its US release in 2018. Thus, the C-HR models haven't been in use for long that we can accurately predict its lifespan.
But as we said earlier, the automaker responsible for the C-HR, Toyota is renowned for its reliable vehicles. On a USA Today list of cars that last over 200,000 miles, Toyota models took seven out of ten spots!
Based on this, we can safely say it's possible to get over 200,000 miles out of a Toyota C-HR. Toyota is known to use the same engines and transmissions on its models.
Thus, you can expect the same level of reliability you would get on, say, a Camry or a Highlander from your Toyota C-HR.
There's a caveat, though; adequate maintenance is important if your Toyota C-HR is to last beyond 200,000 miles. You have to keep up with coolant changes, oil changes, filter changes, etc., on your vehicle.
Also check our article about where Toyota C-HRs are made.
How Soon Should You Expect Rust on A Toyota C-HR?
The new-model status of the Toyota C-HR means there are few rust-related complaints about it.
We'll advise looking out for rust in the first three to five years of ownership—rust usually appears on vehicles around this time.
Of the rust complaints we found for the Toyota C-HR, one dealt with corrosion in the petrol filler area. According to the customer, the area had not been sprayed during production, thus leaving the metal exposed.
The timeline of rust on your Toyota C-HR mostly depends on where you live. If you live in an area where vehicles get exposed to salt particles, either in form of sea air or road salt, your C-HR will rust early.
Alternatively, living in a place like California where rainfall is minimal and roads don't get salted, your C-HR's chances of rust will reduce.
The best advice we'll give for preventing rust on your Toyota C-HR is to treat it with rust-protection products. Products like Rust Check or Krown are effective at stopping corrosion on vehicles.
Washing your car regularly is another useful tactic for preventing rust. This is even more important in areas where salt particles abound in the air and on the road.
Left unchecked, the particles will stick to your vehicle's components and cause corrosion. Periodic washes will remove these salt particles and preserve your car's pristine look.
How Long Do Toyota C-HR Last Compared to Similar Car Models?
Without doubt the Toyota C-HR is a stellar model; but the subcompact SUV segment is home to many great vehicles.
Just how well does the Toyota C-HR perform against its rivals in the reliability department? Find out as we compare the longevity of the Toyota C-HR to that of similar models.
Look into our article which reads about 3 Most Common Problems With Toyota C-HR
Toyota C-HR vs. Honda HR-V
The Toyota C-HR and the Honda HR-V both offer spectacular fuel economy, nimble handling, and well-designed interiors. And both models have about the same lifespan: 200,000 miles.
The biggest difference between the two models would be acceleration and cargo capacity. Toyota C-HR models are often criticized for being "sluggish" and lacking enough cargo space.
With a peppy engine beneath its hood and its ingenious second-row Magic Seat storage, the Honda HR-V is free from such complaints.
Toyota C-HR vs. Mazda CX-3
The Mazda CX-3's lifespan is around 50,000 miles lower than that of the Toyota C-HR. While you can get only 150,000 miles from a Mazda CX-3, the Toyota C-HR can give you more 200,000 miles of service.
Check this article for more on the Mazda CX-3 (common problems).
Toyota C-HR vs. Chevrolet Trax
From our research, the Chevrolet Trax is one of the more durable models in the subcompact SUV category. As such, it's no wonder that it has roughly the same lifespan as the Toyota C-HR.
You can get more than 200,000 miles out of a Chevy Trax.
Toyota C-HR vs. Buick Encore
From what we can tell, the Toyota C-HR will last you longer than the Buick Encore.
The average mileage you can get out of a new Buick Encore is between 100,000 to 150,000 miles. This is far lower than the 200,000 miles that you can get from the Toyota C-HR.
Please also read our article about how long Toyota Supras last.
How Reliable Is a Toyota C-HR?
As common with Toyota vehicles, the Toyota C-HR has proved largely reliable. Even though it is a new model, some owners are already reaching high mileages with their cars still running perfectly.
Even industry data provides proof of the Toyota C-HR's reliability, with the model receiving better-than-average scores for reliability.
J.D. Power gave the 2018 Toyota C-HR an impressive 4/5 predicted reliability rating. While the 2019 and 2020 models have a lower reliability rating (3.5/5), the C-HR remains one of the most reliable subcompact SUVs available.
The Best and Worst Years for Toyota C-HR
CarComplaints.com, a vehicle complaints aggregator, rates the 2018 Toyota C-HR as the worst model year in the lineup. This is based on the number of complaints received from owners concerning problems on this vehicle.
According to owners, the windshield on the 2018 Toyota C-HR models is prone to chipping and cracking. This isn't the only problem on these models, though.
For instance, owners said the doors on these vehicles rattle while driving, and the gas mileage indicator malfunctions repeatedly.
As far as we can tell, the best model year is the 2019 Toyota C-HR. This model year received virtually no complaints. It also boasts new features, including standard ApplePlay integration.
Note: The 2020 Toyota C-HR has received no complaints yet, but we can't recommend it as the best model year, being a new vehicle. However, if you want to buy a new vehicle, the 2020 Toyota C-HR is a safe bet.
Make sure to read our article about how long Chevrolet Colorados last.
What About Recalls for These Models?
The Toyota C-HR has faced only 4 recalls since its debut two years ago.
This shows that indeed the C-HR models are quite reliable and problem-free vehicles.
Below, we have broken down figures for each model year of the Toyota C-HR:
2018 Toyota C-HR: 1 recall
2019 Toyota C-HR: 3 recalls
2020 Toyota C-HR: 1 recall
Toyota C-HR Model Year List
Here are the model years for the Toyota C-HR:
2018 Toyota C-HR
2019 Toyota C-HR
2020 Toyota C-HR
Are Toyota C-HR Expensive to Maintain?
Whether the Toyota C-HR is expensive to maintain depends on the maintenance activity in question.
According to YourMechanic.com, maintenance costs on the Toyota C-HR ranges between $80 to $1,394. However, basic maintenance on your Toyota C-HR will see you spend about $196 on average.
Based on this, we can say the Toyota C-HR is an inexpensive vehicle to maintain.
Nonetheless, you should keep up with scheduled servicing to forestall severe problems. Such problems often cost two, three times what the regular problem costs to fix and can increase your maintenance bill significantly.
How Long Do the Brakes Last?
Generally, the brakes on Toyota vehicles have a lifespan of 30,000 to 60,000 miles. This may be different for you depending on variables such as frequency/style of use and maintenance.
Our research shows that using your brakes frequently will force them to wear faster.
So, if you drive in heavy traffic that requires repeated braking, your brakes will likely need an early replacement. Conversely, if your C-HR's mileage comprises mostly highway travel, the brakes will last longer.
Regular maintenance will also help extend the life of your brakes. This means you have to bleed brake lines, flush brake fluids, and check your brake pads and rotors regularly.
How Long Do the Tires Last?
Given that stock tires are not the best in terms of quality, we estimate you will get between 30,000 to 60,000 miles from your original tires. Toyota advises rotating the tires at intervals to promote even tread wear and longer tire life.
How Long Do the Transmissions Last?
The transmission on your Toyota C-HR can last up to 120,000 miles, with adequate maintenance. We recommend the following activities to increase the lifespan of your vehicle's transmission:
Flushing transmission fluid
Changing the transmission filter
Changing the transmission fluid
How Long Do the Spark Plugs Last?
The Toyota C-HR uses platinum-tipped spark plugs that can last between 60,000 to 100,000 miles. If you drive frequently in heavy traffic, your spark plugs may need early replacement.
What About Insurance Cost?
The Toyota C-HR costs around $1,092 to insure per year with full coverage.
Tips to Prolong the Life of Your Toyota C-HR
Here are ways to increase the lifespan of your Toyota C-HR vehicle:
Avoid beating up your car. You shouldn't push your engine to the limit in the name of "fun". Doing this will put the engine under undue stress and may cause some components to fail.
Don't overload your car. You shouldn't haul extraordinarily heavy loads with your car. You will only set up your vehicle for eventual breakdown and a shortened lifespan.
Ensure you follow the maintenance schedule.
Resources
https://www.quoteinspector.com/insurance/vehicles/toyota/c-hr/
https://www.cars.com/research/toyota-c_hr/recalls/
Was this article helpful?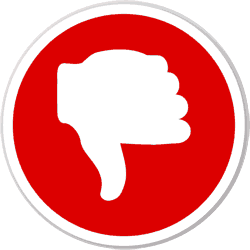 Did you find wrong information or was something missing?
We would love to hear your thoughts! (PS: We read ALL feedback)