Since its debut in 1975, no other vehicle has sold as many units as the Ford F-150; it's the commercial heavyweight that other models want to be like. It has topped the yearly sales chart for 30+ years straight while garnering widespread critical acclaim across its 14 generations.
It notably has an all-aluminum body, ten-speed automatic transmission, 3.0L turbo-diesel engine, amongst other features. However, one question has subtly pervaded the auto market in the U.S. and even globally, and it goes, "Why exactly is the Ford F-150 so popular"?
The question becomes even more pertinent when you realize there are a few trucks that match the F-150's quality but can't seem to replicate its success.
Below is a compilation of the various reasons for the F-150's over-the-top popularity:
1. Vintage American Style
A very important reason the Ford F-150 enjoys immense popularity with buyers is its long history of serving the American public.
Before it officially took on the designation "Ford F-150", the F-Series pickups since emerging in the late 1940s have always carried a "true American" persona with them.
And this is more than just being a fully American brand; it's about the vehicle being a symbol of American tenacity, grit, and honest living.
And through its multiple decades of existence and the several technological advancements that have gone along with it, the F-150 hasn't lost that vibe.
How else do you explain the model still moving close to one million units annually?
Consider this scenario: A millennial grows up watching his father care deeply for his Ford F-150 while also hearing stories of his grandfather being the same way.
It wouldn't be odd to see this millennial buy himself a Ford F-150 to carry on what has become "a family tradition" or legacy, if you will.
While this was a made-up scenario, we are certain a lot of Ford F-150 owners would consider it relatable.
Many of them were dropped off at school in an F-150, took family trips in it, and borrowed it for prom. It is a no-brainer that such people as adults would still be inclined to choose the F-150 over every other truck.
In short, the Ford F-150 owes much of its transcendent success to its classic American vibe and the strong feelings of nostalgia it evokes in buyers.
2. Inclusive Trim Levels
The American society, like most other societies globally, is comprised of different social classes. While some can afford million-dollar vehicles, many others have to lease even the averagely priced vehicles for a long time. The stratification is clear as day.
Besides that, there is a multiplicity of tastes and needs, i.e. we all want and require different things from the vehicles we buy.
The Ford F-150 recognizes these differences, which is why it has multiple trims with different price tags and varying abilities.
There are top trims like the XLT, King Ranch, and Lariat with an array of gorgeous tech features and a commensurate price tag.
Because the F-150 is the most-sold vehicle in the U.S. there is a ton of really cool gear and accessories for each Ford F-150 model.
There is also the more affordable XL trim with less tech features.
Another notable trim level is the F-150 Raptor, tailor-made for off-road enthusiasts who often have to wade through difficult terrain.
There's hardly any pavement or terrain the F-150 Raptor can't take on, thanks to its massive engine and transmission and rugged chassis.
Basically, the Ford F-150 allows everyone to have their pick according to their budgets, needs, and preferences. The best part is, even the base models do not, by any means, lose the raw efficiency that defines a true Ford F-150.
The Ford F-150 also has different cab styles, including regular, extended, and crew and bed lengths ranging from 5.5 feet to 8 feet.
For all of its quality and versatility, the Ford F-150 is also one of the most affordable pickup trucks you can lay your hands on. This is inclusivity at its finest, and it's one of the many reasons the Ford F-150 remains popular and hugely successful.
Related: Ford F-150 Statistics You Should Know (11 Facts & Numbers)
3. Widespread Eagerness For A New Release
The Ford F-150 also remains popular because of the yearly anticipation of a new release.
For a vehicle as popular and culturally significant as the Ford F-150, people are always on the lookout for what's coming. This is especially the case for people who value luxury add-ons.
And if there's one thing the Ford F-150 engineers have succeeded at, it is expertly combining good old ruggedness and modern innovation.
Basically, the Ford F-150 prides itself in being both a vintage workhorse and a modern, innovatory delight.
Hence, it's no surprise that owners/fans are always keen on their anticipation of splendid innovations and facelifts from their favorite truck, which has certainly driven the F-150's popularity.
4. Staying Ahead of the Game
The Ford F-150 was first introduced in 1975 as an addition to the illustrious F-Series during its sixth generation.
The plan was to put it right between the F-100 and F-250 to get around some pressing emission regulations.
Without a doubt, the Ford F-150 is the most popular and successful American car of all time. It has maintained its spot at the top for close to 40 years straight, even with competitors gunning for it left, right and center.
One way the Ford F-150 has been able to do this is by turning up the heat every year on its innovation.
A good example of this is when the F-Series trucks, including the F-150, in 1987, became the first pickup trucks to have standard rear antilock brakes.
Another instance is Ford's $3 billion investment in 2014 to overhaul the truck's steel body and replace it with aluminum. This has helped the F-150 cast off 700 pounds while also improving its gas mileage. It got more popular since then, and many have switched loyalties as a result.
Electric Ford F-150 Lightning
We also have an electric motor making its way into the Ford F-150 lineup.
It was eventually introduced in 2021 as the Ford F-150 Lightning and sales are expected to reach new heights as a result.
All of that, right there, is a big part of Ford's game plan and evolutionary tactics, and boy, has it worked?!
You can also check the engine size per Ford F-150 model here.
5. Ironclad Ruggedness and Reliability
When it comes to ruggedness, there are not a lot of vehicles that can sit at the same table as the Ford F-150.
A statement by Ford's representative revealed that there are more F-Series trucks with north of 250,000 miles on them than any other brand. And if the testimonies of long-term buyers and analyses of critics are anything to go by, there is no reason to doubt that statement.
As a tradition, recent Ford F-150 models go through up to 10 million miles of meticulous trials before going on sale. The trial involves traversing roads and highways across the country whilst hauling weight and towing trailers.
Ford also carries out testing in deserts and not-so-smooth roads with the Ford F-150 pulling through like the off-road giant that it is. These facts and details are proofs of ruggedness and reliability and are enough to win over new buyers and re-assure old fans.
Related: Ford F-150 In Snow & Winter Driving? (Explained)
6. Great Fuel Efficiency
If we are being honest, no one expects splendid, mind-blowing fuel efficiency on heavy-duty pickup trucks like the Ford F-150. And for the longest time, horrid fuel efficiency was, in a manner of speaking, the bane of the Ford F-150.
This was until the last two generations when Ford's brilliant engineers, driven by ingenuity and thirst for perfection, started working at improving fuel efficiency.
The game-changing adoption of aluminum and other measures has helped to reduce the weight by 700 pounds, vastly improving the fuel economy.
Not to mention the 3.5-liter turbocharged EcoBoost engine option, which has greatly improved the F-150's gas mileage without compromising its remarkable power and agility.
With 365 horsepower, 420ft-lbs of torque, and 22 mpg (combined) to go along with it, the Ford F-150 has certainly won over even more buyers.
7. Incredible Hauling and Towing Capacity
You can see here how much cargo capacity each Ford F-150 model has and as you can see below, it also is a towing machine!
Pickup trucks are versatile in that they are perfect for light family drives, and they can also take on heavy-duty tasks.
Amongst many strengths are their incredible hauling and towing capacity, which continues to improve decade after decade.
Despite its recent riddance of 700 pounds and its consequent weight loss, the Ford F-150 remains one of the most efficient pickup trucks for towing/hauling.
The 2.7L EcoBoost twin-turbocharged V6 engine variant boasts a maximum towing capacity of 9000 lbs and a payload capacity of 2,470 lbs.
The 3.0L Powerstroke Turbo-Diesel V6 engine notches a max towing capacity of 11,500lbs. and 2,020lbs. for its payload capacity.
Moving on to the more powerful variants, the 5.0L Ti-VCT V8 engine can tow up to 11,500 lbs. with a payload capacity of 3,270 lbs. to go along with it. The 3.5L EcoBoost twin-turbocharged V6 engine also holds a maximum towing capacity of 13,200 lbs. with 3,230 lbs. in payload capacity.
These are monster numbers, and it's no wonder the Ford F-150's popularity hasn't waned, not even a little.
Related: How Long Do Ford F-150s Last? (8 Important Facts)
8. Thoughtful User-Friendliness
The Ford F-150 genuinely caters to its users, and its incredible user-friendliness is another proof of that.
Ford engineers have carried out an in-depth analysis of how F-150 users interact with the truck and, in response, have installed features to further sweeten the experience.
We see an example of this in the design of the F-150 door handles with sculpted finger holds, which makes the door easier to use for glove-wearing drivers. Isn't that thoughtful?
Other user-friendly features include the finger holds on the steering wheel, which helps improve the driver's grasp. There is also the smart addition of grooves to the tailgate, which lets drivers have a better grip when trying to close the boot with one hand.
These features are not only a testament of the F-150's quality but also an unspoken expression of Ford's dedication to improving driving conditions for F-150 owners.
Related: Ford F-150 And Keys: 12 Questions Answered (For Newbies)
9. Comfort and Infotainment Features
The Ford F-150 also boasts several up-to-date tech and infotainment features and this has played a big role in keeping its enviable numbers up.
These features include a 12-inch horizontal touchscreen and an under-seat storage perfect for items that can't be left in the trunk. Drivers also get optional headrest speakers, which allow them to lean back a bit and feel the thrilling sound of their favorite music.
There is a heated seat option for second-row passengers, keyless access and push-button start, wireless charging, Bluetooth, and satellite radio, amongst others.
The Ford F-150 also takes its American persona to another level by having hidden American flag motifs on the dashboard right around the vents.
It only becomes visible when the door is open and, besides being an expression of pride in its American roots, it is a lovely innovation that exudes great vibes.
To sum it all up, Ford F-150 is a vintage truck that still manages to keep up with the times, and that explains its lasting popularity.
10. Excellent Safety Features and Ratings
The developmental team behind the Ford F-150 prioritizes safety, and this is evident in the sophisticated assortment of driver assistance features available.
Standard safety features on the Ford F-150 include stability control system, tire pressure monitoring, daytime running lights, emergency braking aid, amongst others.
Owners also get a rear-view camera with dynamic hitch assist, hill-start assist and blind spot monitoring system.
For drivers that stay in localities with high crime rates, the passive anti-theft system can effectively forestall any incidences of car jacking. It does this by preventing the engine from starting if the key used is not the correctly coded keyhead transmitter.
These standard safety features, as well as the optional functions available, have all contributed to the F-150's stellar safety ratings.
It notches a perfect 5-star rating from NHTSA as well as generally excellent ratings from the IIHS.
These facts prove the Ford F-150 is one of the safest trucks available in the market, and that's a sure boost to its popularity and already excellent reputation.
Was this article helpful?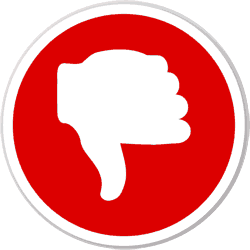 Did you find wrong information or was something missing?
We would love to hear your thoughts! (PS: We read ALL feedback)