Thanks to its affordability, versatility, and high-tech features, the Honda CR-V is a popular choice among many households.
We've already looked at how long the Honda CR-V last as well as some really interesting statistics if you're looking for this model. Now we'll dive into the most seen problems with these models.
While this vehicle is a beauty to behold, you need to understand a few issues it poses, allowing you to handle it better.
Its engine performance, interior design, and comfort will strike you. Perhaps it is why over 300,000 CRV models are sold globally annually.
Notable Honda CR-V Issues
The Honda Cr-V is a significantly reliable car. Its high-tech features and unrivaled engine performance have helped increase its popularity in the crossover SUV section.
Yet, you will expect a few hitches from time to time. While some of these problems are almost negligible, understanding them in advance will significantly prepare you. Meanwhile, also explore the common problems with Honda cars.
They include the following.
Is The Air Conditioner On Vacation?
Sometimes, it feels like the Honda CR-V's air conditioner is on vacation—perhaps more frequently than the average vehicle's air conditioning system.
While this system can function optimally for a significantly long time, it will become a menace once a single problem pops up.
Various drivers have reported a malfunction of the air conditioner.
The system releases a jet of hot air instead of cool, refreshing air in most cases. Undoubtedly, it is an irritating problem.
Yet, you could attribute it to various issues, including:
leaks,
clogs,
and faulty compressors.
A bad blower motor or a defective blend door actuator could also contribute to this malfunction.
Yet, various approaches could help handle this issue. For instance, you could replace or unclog dirty cabin air filters, condensers, and evaporators.
You'll need a professional to deal with refrigerant leaks, faulty blower motors, and defective blend door actuators.
Besides that, this vehicle struggles to produce heat when idle. You'll need to start the engine for the heater to run. This could be a nightmare during cold weather.
However, this problem should not scare you. You can avoid it by keeping the engine running for the entire period.
However, the most-sold compact SUV last year was the Toyota RAV4. You can see the closest competitors to the Honda CR-V here.
The Differential Fluid Takes a Break
Differential fluid is essential in lubricating the gearbox in the Honda CR-V.
It would be best to change this fluid every 30,000 to 60,000 miles on average.
Suppose you do not replace this fluid on time. In that case, expect your vehicle to produce various strange sounds, often similar to groaning.
It is one of the most common issues you will face with this Honda model.
Addressing this problem is pretty straightforward.
Usually, a quick flash or fluid replacement will be enough to deal with the issue. However, multiple experts indicate that the Honda CR-V could produce this sound when a braking system malfunctions.
For this reason, ensure that you handle the issue instantly. If you replace the differential fluid and nothing changes, check the brakes.
Frequent inspection and differential fluid replacement assure you of multiple benefits. For instance, you will significantly minimize metal shavings and grinding in the gearbox.
Is Sensing a Problem?
Every driver looks forward to enhanced safety, which Honda offers through Honda Sensing.
Honda Sensing is a safety system comprising different technologies, including collision prevention, driver assistance, and lane departure warning.
Its comprehensiveness aims at cushioning the driver against various safety issues.
Yet, it is not the most reliable.
The Honda Sensing system will likely suffer a few malfunctions and concerns from time to time.
Various drivers have reported that this system could engage the auto-brakes randomly, causing significant inconvenience on the road. It is also likely to compromise your driving experience during poor weather.
Its costly recalibration could also scare you.
Yet, Honda has made significant steps to address these problems.
The chances are that this issue will be sorted by the time you get your next ride.
RELATED: Honda CR-V & Keys – 13 Answers 
Ever Heard of Oil Dilution?
Oil dilution is a common problem among many cars, meaning it is not reserved for the Honda CR-V.
It is mainly associated with direct-injection engines.
Yet, this issue is prevalent with the 1.5L turbo-charged Honda CR-V engine. You will likely experience it during bad weather or short trips.
Ideally, this problem arises in the CR-V because the engine is efficient. Its unmatched efficiency means it takes longer for the machine to heat up and eliminate gasoline. Yet, you can only eliminate vapors if the engine heats up enough.
For this reason, the engine oil gets diluted, wearing the engine out much faster.
At the same time, this problem will increase the oil level in the oil pan and trigger warning signs. It could also result in a smell that will make the cabin uncomfortable.
If not handled on time, this issue will contribute to substantial engine damage in the long run.
This seems to be a general problem among Honda SUVs.
Will the Denso Fuel Pump Fail?
The seamless transfer of fuel from the fuel tank to the engine ensures that your engine performs optimally. It distributes this fuel to the carburetor under low pressure and to the direct-injection pump under high pressure.
The type of fuel pump you choose determines such performance.
Notably, Honda CR-V settled for Denso fuel pumps, which seem to fail from time to time.
Denso fuel pumps are not an excellent choice for the Honda CR-V. Experts say these fuel pumps have low-density impellers that might have been exposed to a drying agent during manufacturing.
This exposure makes them less reliable and efficient.
They will likely crack, deform, or absorb fuel, translating to a minimal gas supply to the engine.
Fortunately, replacing these fuel pumps could solve the problem. However, you must invest in a premium-quality option to achieve your desired efficiency.
Honda has also taken the initiative to address this problem, ensuring that you do not experience this problem in the future.
Check our list of the best and worst Honda CR-V years.
Sticky Locks Can Be Frustrating
You need an immersive experience every time you are in the Honda CR-V.
But before you get in or out of the vehicle, how easy are the locks? Various reports suggest that multiple Honda CR-V models do not have functional locks.
As long as they are not working correctly, it becomes significantly hard to secure your vehicle.
The locks will likely get stuck in the lock position. If this problem occurs at multiple doors, you will likely not get into your beloved Honda CR-V. Perhaps, you should devise creative ways to get into the vehicle. However, this problem will likely occur after your warranty expires.
In that case, you will need to replace the locks.
A replacement could cost you between $220 and $280.
A massive chunk of this sum goes to purchasing a new tumbler. Notably, replacing the faulty lock tumbler is straightforward. Doing it by yourself will save you a significant amount in the long run
Cracked CR-V Windshields
Enhanced visibility ensures that you have an impressive driving experience. It improves your safety and minimizes the chances of getting into an accident.
Unfortunately, several cases of cracked windshields have sufficed.
Make sure to have a show cover for your windshield also.
We have a good list of the most popular gear and accessories for the Honda CR-V here.
This problem was mostly seen in the 2017 to 2019 variants.
Interior and Cruising
Most people associate the cabin materials in the CR-V with cheapness. While this should not be a big problem, some people will find the materials a sore to the eye.
The materials used are relatively suitable for the budget.
Its infotainment could also be a headache for some people. This system is relatively irritating to control. You will need to concentrate on it for a while to get everything right. With this element, some drivers find it challenging to get entertained without a struggle.
Cruising could also be a slight problem.
You will likely have an issue with its cruisability or handling. This vehicle is associated with subtle vibrations that compromise the cruising calmness you might need.
In turn, your immersive driving experience will remain a mirage.
General Pros and Cons of Honda CR-V
You need to decide on your next crossover SUV.
The Hona CR-V is an invaluable choice in this category. Yet, you must know what it brings to the table before making logical decisions.
The following insights into their pros and cons will ensure that this is a seamless process.
Pros
Spaciousness:
The Honda CR-V has a spacious interior that comfortably accommodates your family. Newer models have an extra row of seats, accommodating two additional people. However, none of the models have 3rd-row seating.
Its cargo capacity is over 39 cubic feet.
This figure changes to 76 cubic feet when you fold the rear seats.
In addition, this vehicle is roomy, guaranteeing excellent legroom.
Unmatched engine performance:
Refined engine performance gives you an immersive driving experience.
This crossover SUV has multiple engine options to suit your needs and preferences. Its average gas consumption is pretty low, making it an excellent choice for anyone looking to save on gas. The latest generations got a boost in engine performance. Check all the engine sizes for the Honda CR-V models here.
Safety Levels:
Honda CR-V does not compromise on safety standards. It offers you multiple safety technologies, including the Honda Sensing. This option assures you of incredible lane departure warning systems, anti-collision warning, and driver assistance features.
Also, you will be sure of enough reliable airbags.
Sleek design:
Suppose you are looking for an attractive, modern, elegant design. In that case, you will not go wrong with the Honda CR-V.
Its sharp design is eye-catching, giving you an appealing vibe.
Yet, it is not too large to intimidate other road users.
Comfort:
Its premium-quality interior assures you of unrivaled comfort.
Noteworthy, this vehicle has a noise-cancellation feature that ensures your cabin is significantly quiet during the drive.
This system filters out frequencies that your ears could be sensitive to—a technology that most competitors do not have.
Cons
Poor quality cabin materials
Poor cruising
You should also check this article about questions around light on the Honda CR-V.
What Do the Reviews Say?
Perhaps your confidence could get a boost after reviews from renowned car review experts.
Here are a few that you might want to consider.
https://cars.usnews.com
The Honda CR-V is an excellent crossover SUV choice for anyone on a tight budget. Its high-tech features make it a competitive option compared to its competitors. This car is designed for a large family, thanks to its enhanced spaciousness, comfort, and safety standards. In brief, this vehicle will offer you value for your money.
www.edmunds.com
Its quick acceleration and thrifty fuel economy are worth loving. This ride offers you unmatched comfort, cargo capacity, and roominess, making it suitable for family. While its towing capacity is below average, this vehicle can handle different terrains without a hassle. Buying this vehicle translates to having an invaluable asset.
Honda CRV offers three critical value additions: high-tech features, enough cargo space, and impressive fuel economy.
You will not regret having it.
Resale Prices
An excellent resale value makes your vehicle a perfect investment.
Fortunately, the Honda CR-V is an ideal fit in this category. It assures you of exceptional returns even after using it for a while.
Yet, this is after enjoying lower average ownership costs. However, the price will often depend on age, condition, and mileage.
The Honda CR-V will depreciate by approximately 39% every five years. Its five-year resale value stands at roughly $21,900.
The following table will help you understand how this figure comes up.
| | | |
| --- | --- | --- |
| Year | Mileage | Price |
| 1 | 12000 | $27875 |
| 2 | 24000 | $26150 |
| 3 | 36000 | $25800 |
| 4 | 48000 | $24785 |
| 5 | 60000 | $21900 |
A ten-year-old Honda CR-V will be an ideal choice in some instances. This vehicle will cost you approximately $12300. At this point, its mileage will be roughly 120000.
However, you will be the one to compare and choose a vehicle that suits your budget and preferences.
Final Thoughts
The Honda CR-V is an invaluable investment, from its versatility and excellent handling power to comfort and affordability.
This vehicle assures you of an incredible driving experience regardless of the terrain.
Its multiple trims make it easier to choose something within your budget, mainly depending on the vehicle's condition.
GO BACK: Honda problems per model.
Sources
https://cars.usnews.com/cars-trucks/best-compact-suvs-for-the-money
https://www.edmunds.com/car-reviews/best-retained-value-cars.html
https://cars.usnews.com/cars-trucks/best-compact-suvs-for-families
Was this article helpful?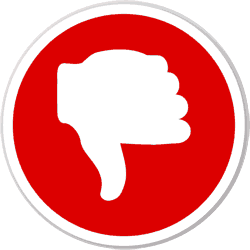 Did you find wrong information or was something missing?
We would love to hear your thoughts! (PS: We read ALL feedback)
ⓘ  The information in this article is based on data from National Highway Traffic Safety Administration (NHTSA) recall reports, consumer complaints submitted to the NHTSA, reliability ratings from J.D. Power, auto review and rating sites such as Edmunds, specialist forums, etc. We analyzed this data to provide insights into the best and worst years for these vehicle models.
---