The Honda CR-V is a compact SUV that is known for being spacious. The vehicle has been on the market since 1997, so it's only natural that it has gone through a lot of changes over the years.
Exploring the seating capacity for 3rd-row seating can be critical to make it usable for families.
Let's have a look.
Check also: 8 Hybrid SUVs with 3rd row seatings.
Do Honda CR-Vs Have 3rd Row Seating?
There have been 25 models of Honda CR-Vs since inception (one for every model year) and none of them have been produced with the optional third row, either as an option or standard. However, it is possible to install the 3rd-row seats yourself.
So, we'll look at some alternative solutions.
What Similar CompactSUVs Offer 3rd Row Seating?
Most compact SUVs don't offer a third row of seating.
The reason is that compact SUVs are designed to be compact.
The moment a third row is added, it increases the length of the vehicle, making it harder to fit into compact spaces.
Many of the compact SUVs within the same class as the Honda CR-V, such as the Nissan Rogue, Mazda CX-5, Chevy Equinox, Subaru Forester, and Toyota RAV-4 do not have the third row.
They offer the same seating capacity as the Honda CR-V.
The only vehicles that are labeled as compact that have had a third row in the past include the Rogue and the RAV-4, though they are not current models.
The manufacturers chose to eliminate the third row in favor of more spacious seating and more cargo space.
How Much Does It Cost to Upgrade to 3rd Row Seating?
The Honda CR-V is currently not available with the third row of seating. As such, you are limited in your options to "upgrade" if you want a third row of seating.
You can choose to upgrade to a Honda Pilot, which offers seating for up to eight.
The 2023 Honda CR-V has an MSRP of $31,110 for a base model.
Meanwhile, the 2023 Honda Pilot has an estimated MSRP of $38,000 for a base model.
Should you want to upgrade from a CR-V to a Pilot so that you can enjoy the third row of seating, the cost will be approximately $7,000.
If you wanted to make some modifications on your own, it is possible, but the cost could vary dramatically depending on whether you were going to do the installation on your own or hire a mechanic.
Can You Install the Extra Seats Yourself?
It is possible for you to install a third row of seats yourself in the Honda CR-V – and there are countless DIY videos and guides online that show you the various steps that are involved.
There are a few things you need to know if you choose to go this route:
You void any warranties on your CR-V
You will lose legroom in the second and third row
You will lose a significant amount of cargo space
There are no aftermarket seats designed specifically for the CR-V
Since you won't find seats that are specifically designed for the CR-V, you will have to find ones designed for another SUV.
It won't be a perfect fit and they won't match perfectly with the rest of your SUV's interior.
However, it is possible.
You will need to use a few tools so that you can remove the carpeting and expose the base metal floor.
From there, you will need to install the tracks of the seats, re-affix the carpeting, and attach the seating to the tracks. You can choose whether you want a bench seat or captain's chairs.
Once complete, you will have the seating, but you will have lost a significant amount of cargo space.
As such, it may be best to wait until the 2024 model year to see if the CR-V gets a third row added.
Which Compact SUV Has the Most Seating?
Compact SUVs are one of many categories of SUVs. It's important to understand the categories before looking at the seating available.
Subcompact SUVs are the smallest of all SUVs and crossovers. They will only have two rows of seating. Compact SUVs typically only have two rows of seating, too.
This is because the wheelbase isn't very long.
Midsize SUVs may have the option for adding a third row. The wheelbase is typically longer than that of a compact SUV.
Full-size/large SUVs typically come standard with a third row. The wheelbase is longer, and the platform is often based on a truck rather than a car, allowing for a higher payload, too.
Note also that SUVs often have better suspension. Specifically the smaller SUVs as they're based on car models.
As you explore what is commonly known as a "compact" SUV, most will only have five passenger seats, including the CR-V.
If you simply want one of the smaller SUVs on the market with a third row, you'll want to explore such models as:
Kia Sorento
Genesis GV80
Honda Pilot
Toyota Highlander
Chevy Traverse
All of the above are considered economy SUVs. If you decide you want a small luxury SUV with three rows of seating, you may also want to explore the Jeep Grand Wagoneer, Acura MDX, and Volvo XC90.
Let's run over the different generations of the CR-V models.
1st Generation CR-Vs
The 1st generation of CR-Vs is when Honda first debuted the compact SUV.
And as mentioned, none of these models have 3rd row seating.
The model years included:
During this time, there were only two rows of seating, providing a total of five passenger seats.
2nd Generation CR-Vs
The 2nd generation of CR-Vs offered five passenger seats across two rows – with no option to add a third row.
Model years included:
In 2002, there was also a redesign to improve the overall aesthetic.
3rd Generation CR-Vs
The 3rd generation of CR-Vs made a few notable changes to the exterior for a sportier look. However, Honda chose to keep the passenger capacity the same without adding a third row.
The model years included in the 3rd generation included:
4th Generation CR-Vs
The 4th generation offered quite a few notable redesigns, which were first introduced in late 2011.
The model years encompassed within this generation include:
All of the CR-Vs were designed with only two rows of seating.
5th Generation CR-Vs
The fifth and current generation of the Honda CR-V had a few new redesigns.
The model years include:
2017
2018
2019
2020
2021
2022
2023
It is anticipated that Honda will be announcing the sixth generation for 2024 at the end of 2023. Leaked designs coming out of China show that there will be the third row, but Honda has yet to confirm this.
For the 2023 Honda, the US models are only available with a second row.
Final Thoughts
The Honda CR-V was built to be spacious. It only offers five passenger seats, but many families find that is plenty.
It maintains two rows so that it can be compact in size while still delivering plenty of room for passengers of all sizes as well as a cavernous cargo space in the back.
There have been 25 model years of the CR-V with only two rows, so it is clear that Honda is focused on spaciousness.
The rumor of the 2024 CR-V containing the third row has yet to be confirmed – the only third row CR-V is currently only available in the Asian markets.
You do have the opportunity to upgrade to a Honda Pilot or to various other three-row SUVs.
Of course, you can also take the DIY approach if you are insistent on having a Pilot with a seating capacity of seven or even eight.
Sources
Was this article helpful?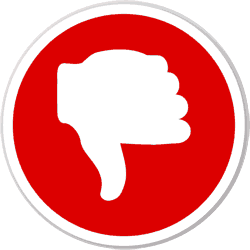 Did you find wrong information or was something missing?
We would love to hear your thoughts! (PS: We read ALL feedback)