If only you could combine your favorite car specs and get the car of your dreams. But comparing competitors according to how they rank for the most important features to you is an excellent start.
In this article, we compare the standard trim of 5 top Honda CR-V competitors and talk about highlights that many buyers look for when shopping for a car.
The table below shows a quick comparison of each Honda CR-V competitor.
Keep scrolling to learn about each competitor in greater detail.
Features
Honda CR-V
Toyota RAV4
Mazda CX-5
Chevy Equinox
Subaru Forester
Nissan Rogue
Engine
190 hp
203 hp
187 hp
170 hp
182 hp
201 hp
Fuel Efficiency
30 mpg combined
30 mpg combined
26 mpg combined
27 mpg combined
29 mpg combined
33 mpg

combined

Safety Score

(out of 10)

9.4
9.1
9.8
9.3
9.6
9.5
Reliability Score

(out of 100)

84
81
81
85
83
82
Notable

Standard Features

Turbo engine and climate control
Satellite radio, steel wheels, wheel covers
Keyless start, remote starting engine
Driver & passenger side light-up mirror, power front seat & lumbar support
Alarm, CD player & HD radio, all-wheel drive
Blindspot monitor, manual and automatic system option
Toyota RAV4
Like the Honda CR-V, the Toyota RAV4 is a sporty compact SUV.
The Toyota RAV4 base model includes more standard features than the CR-V, such as satellite radio, privacy glass, heated mirrors, and more color options.
HD radio comes standard with the RAV4 and other features like wifi hotspot, smart device hookup, Apple CarPlay, and Android Auto. 
It has a 203 hp engine and slightly better highway mpg, which is great if you like to take long road trips.
Other features are nearly neck and neck, with the exception of cargo space and leg room.
The RAV4 has a good 3 to 4 inches less than the CR-V, so if you have long legs it may be something to consider.
Average maintenance costs over a 5-year period are estimated to be about $4,894 for the RAV4, which is around $300 more than the cost to maintain a CR-V.
However, repairs seem to be lower for the RAV4 overall and therefore, may indicate that a Toyota RAV4 is a bit more reliable.
The RAV4 has better infotainment features and the controls are less buggy. It also boasts more standard features overall than the standard CR-V.
Mazda CX-5
A sporty compact SUV, with a nice cabin, and plenty of standard safety features give this model a near-perfect score of 9.8 out of 10 according to car reviews.
If safety is your top concern, then that's what you'll get with the Mazda CX-5.
Unfortunately, it's not so roomy, not for backseat passengers, and not for anything too large in cargo. Its worst scores come from its lack of space and reliability, at least compared to other models on this list.
A lower reliability score is hard to overcompensate, even by throwing in an impressive number of safety and convenience features.
However, it's still one of this competitor's highlights, giving it the upper hand next to the CR-V's underwhelming standard add-ons.
The Mazda CX-5 includes things like
Keyless start-up
Remote engine start-up
Leather-wrapped steering wheel
Remote releasing trunk
In addition, the Mazda CX-5 comes with optional features like interior cargo shade and luggage rack, although the CR-V has this feature as well. The list isn't exhaustive either and did we mention this is merely the vehicle's basic model?
One of the CR-V's optional features that its competitors don't have is rear parking assistance.
Chevy Equinox
According to reviews, the Chevy Equinox is a comfortable, roomy, and reliable ride. And unlike the Honda CR-V, its infotainment system is an easy-to-use, no-frills, straightforward system.
The smaller SUVs often have comfortable suspensions, as they're based on car frames.
If you can bypass the ho-hum interior and low pressing power, then it might be worth it.
The Chevy Equinox has standard front-wheel drive and a 170-horsepower engine.
A 4-cylinder or turbocharged engine is optional. If fuel economy is important to you, then the Chevy Equinox doesn't hold anything special.
With 26 and 31 mpg for city and highway, there are better options, including the Honda CR-V. You do get your pick of transmissions though.
You can choose between automatic, automatic transmission with manual mode, and 6-speed automatic.
The Chevy Equinox gets all the standard safety features like front and passenger airbags.
But with the exception of an optional blind spot monitoring system and cross-traffic alert, the Chevy Equinox's safety features are the same as a standard Honda CR-V.
Perhaps the goal of this standard SUV is to be stripped down because it seems to want to go to the bare minimum. On the plus side, having optional features allows you to customize the car to your liking. For instance, if you don't want an AM/FM radio, don't get it, but it's nice to have the option.
Other features are optional, such as
an entertainment system,
MP3 player,
and auxiliary output are optional.
However, the standard model does include a wifi hotspot and satellite radio.
Subaru Forester
This off-roading Subaru Forester is notable for its spacious cabin design which includes plenty of room for passengers as well as cargo.
The standard comes as an all-wheel drive SUV with good fuel economy.
Where it falls short is a weak engine and a substandard infotainment system. It has a 26 mpg city and 33 mpg highway fuel efficiency and exceptional safety ratings.
It's equipped with all the standard airbag and brake features.
The Subaru Forester is equal to the Honda CR-V in other safety features like lane departure warning, brake assist, and electronic stability control. It has the additional benefit of auto-leveling headlights which can adjust to reflect light at the angle that you need to properly see the road.
That said, the Subaru Forester also has some problems.
That's perfect for off-roading when the ground tends to be uneven.
It's packed with standard or optional features, missing from the standard Honda CR-V, that can make your ride comfortable. 
They include
Electrochromatic rearview mirrors
Variable speed wipers
Remote engine starter
Fog lamps
Alarm
In addition, the Subaru Forester packs a ton of entertainment features, much more than the competition.
Standard models include
CD player
HD Radio
Satellite Radio
Premium sound system
Smart device hookup
Apple CarPlay
Android Auto
All of these features are packed into a standard model for a competitive price and less than you would pay for a Honda CR-V.
The Subaru Forester might be the strongest competitor yet.
Nissan Rogue
Slow acceleration and also a temperamental infotainment system seem to be a common theme among Honda CR-V competitors, including the CR-V.
But the highlights include plenty of space for passengers and cargo, good gas mileage, and you'll feel good driving it with smooth handling.
Its highest ranking score is in safety.
It's a standard front-wheel drive, 3-cylinder engine standard compact SUV with all the same safety features as the Honda CR-V except lane assist.
It does include blind spot monitoring, while the CR-V does not.
Other safety features included with the standard Nissan Rogue include
Brake assistance
Electronic stability control
Daytime lights
Traction control
Child safety locks
Blind spot mon
Lane departure warning
The Nissan Rogue has several more entertainment features than its competition, in addition to standard radio and MP3 systems.
Other features you won't get with the standard Honda CR-V include
Satellite Radio
Smart device hookup
Apple CarPlay
Android Auto
However, when it comes to gas mileage, space, and horsepower, the Honda CR-V is the winner. And for a price that's hard to beat.
Final Thoughts
Most of the vehicles we talked about have features that are also included in a Honda CR-V. Some have a better entertainment system but rank low in performance.
The Honda CR-V includes some of its features on every trim.
190 horsepower
1.5-liter turbocharged 4-cylinder engine that makes 179 lb of torque at 2,000-5,000 rpm.
Continuously variable automatic transmission
It's worth mentioning that other trim levels will have different, often more, features than the stripped-down standard models, with some exceptions.
For instance, the Subaru Forester seems to hit the right points with a high safety rating in addition to an array of features you often see on higher trims.
Again, it depends on what you want.
Sources
Compare Cars and Trucks | cars.usnews.com
Compare Cars Side by Side | edmunds.com
Was this article helpful?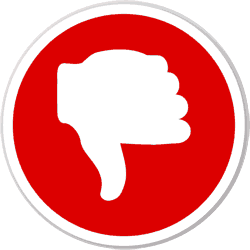 Did you find wrong information or was something missing?
We would love to hear your thoughts! (PS: We read ALL feedback)