Subaru is a beloved brand that has been committed to quality vehicles for decades – and the Forester is no exception. It provides a great mix of adventure, comfort, and class at a price that makes people smile.
However, the saying, "every rose has its thorn" applies to – well – everything, including the most lovable vehicles on the road.¨
Knowing where these thorns are located gives you the upper hand in avoiding them, though.
Below you'll find a guide to the most common thorns – aka complaints – as well as how to address them.
Check also: Subaru models with the most recalls.
1. Air Conditioning Doesn't Always Push Out Air
Some Foresters have a well-known air conditioning issue. It's not unusual to feel the AC blowing out hot air or for there to be an eventual AC system failure.
The truth is, though, that Foresters aren't the only cars to experience such an issue. And it's not all doom and gloom.
Many owners found that simply recharging their system solved the problem.
Others – especially those that took a while to address the issue – needed to replace their condenser.
If you notice that your AC is blowing hot air, a visit to a mechanic early on can often stop the issue and save you a great deal of money on repairs.
2. Sensor Failures That Lead to An Ongoing "Check Engine" Light
Any time electronic components are present, there is the potential for electronic failure.
Foresters sometimes have two types of sensor failures:
oxygen sensor
and knock sensor.
Why Is My Oxygen Sensor Failing?
Has your check engine light come on and you can't seem to figure out what's going on? It might be your oxygen sensor.
Some Subaru Foresters – specifically those made between 1999 and 2014 – have defective oxygen sensors.
This defect causes a crack to develop over time and triggers the check engine light.
When Subaru discovered the issue, they issued a recall on the oxygen sensors.
If you have a Forester that was manufactured during those years, visit a Subaru dealer, as the issue should be taken care of promptly.
What's Going On With My Knock Sensor?
Knock sensors are designed to monitor the engine's combustion process and send the proper signals to the engine to help control that process. When a knock sensor goes bad, it can impact your car's performance and your engine.
You'll typically know it's gone bad when you begin to hear irregular sounds coming from your vehicle or when the check engine light comes on.
Replacing the knock sensor can address the problem immediately – and it's not usually an expensive fix.
3. Fluids Leaking Out From Their Proper Place
It's not uncommon for fluids to leak out of a vehicle.
The following are two of the most common leaks to keep an eye out for with your Subaru.
What's Happening With My Brake Fluid?
If you own a Subaru Forester manufactured between the years of 2009 and 2013, you might have discovered some brake fluid leaks.
According to Subaru, the fuel tank protector seems to have a gap in it, allowing the brake lines to corrode and the fluid to leak out.
If this is the case in your vehicle, a Subaru dealership can check for leaks and replace the brake lines if necessary.
If you're not leaking, they can still reinforce the entire area.
Why Am I Leaking Oil?
Older Foresters – especially those made between 1999 and 2013 – tend to develop oil leaks after reaching about 110,000 miles.
There are a few different fixes that might be necessary, including replacing:
Tube seals
Cover gaskets
Spark plugs
Coils
Ignition wires
A certified Subaru mechanic can determine which of these repairs is necessary to keep your oil where it belongs.
4. Higher Oil Consumption Than Expected
Many Forester owners have complained that their vehicle uses much more oil than it should be – especially 2014 models.
After these complaints were taken to Subaru, the company decided to provide a check on how much oil is being consumed and determine if that fits within the average range.
The reports of the checks completed so far do not show excessive consumption.
Therefore, many owners have chosen to replace their engines or to get a new short block. These solutions have been effective.
Other owners simply choose to keep some extra quarts of oil in their vehicles at all times.
In either case, most owners agree that you'll use anywhere from one-third to one-half of a quart approximately every 1200 miles.
5. Passenger Airbags Not Inflating Properly
Airbags are deployed upon a collision to help keep drivers and passengers safe – when they perform as they should.
Unfortunately, models manufactured between 2010 and 2013 were found to have faulty passenger airbag inflators.
As soon as Subaru became aware of the issue, it released a recall for all Foresters with this issue.
This recall covers free replacement of the airbag inflators when owners carry their vehicle to a Subaru dealer.
6. Trouble With the Transmission
A couple of owner complaints are linked directly to the transmission: intense shaking during gear shifting and moving while in "Park."
What Is This Shaking When I Shift Gears?
The Forester comes with a lightweight yet powerful CVT transmission that provides excellent fuel economy.
However, it does come with some downsides.
2017 models tend to jerk and shudder when drivers try to shift gears. When investigated, Subaru determined that it was due to a defect that prevented the CVT from getting enough fluid.
Being fully aware of the issue, Subaru released a bulletin and extended the warranty to ensure the defect was fixed.
If you notice the shuddering and shaking in your vehicle, head to a Subaru dealer as soon as you can.
Why Is My Vehicle Moving While It's In Park?
Foresters manufactured in 2002 and 2003 were found to have an issue with the transmission parking rod engaging when the vehicle was parked.
This led to the vehicles suddenly moving – obviously when they should not have been.
Fortunately, Subaru takes safety very seriously and issued a recall to replace the entire transmission parking rod assembly.
If you own a Forester from this time and find your vehicle moving when it should be still, visit a Subaru dealer to address the issue immediately.
General Pros and Cons for the Subaru Forester
The Subaru Forester, a compact SUV, is a popular, well-loved vehicle among a diverse group of people.
It has both benefits and disadvantages that you can learn more about below.
Pros
The following are some of the advantages that Forester owners often rave about.
1. Reliable Vehicle From a Reliable Company
Subaru has been a trusted company for years, and it's dedicated to keeping its vehicles on the road longer.
If you take a look around the next time you're riding down the road, you'll notice many older Subaru vehicles – including Foresters – still moving along today.
And J.D. Power has consistently provided high rankings for the Forester for several years in a row. It's hard to go wrong with ratings like that.
2. Safety On the Mind
Subaru is committed to manufacturing safe vehicles. This not only includes issuing voluntary recalls when defects are found but also equipping vehicles with various safety features.
Though these features vary and are updated consistently, the current Foresters come equipped with options like:
EyeSight Driver Assist Technology
High Beam Assist
Brake Assist
Traction Control System
Side curtain airbags
DriverFocus Distraction Mitigation System and more
Additionally, the Forester has good overall outward visibility for an SUV.
3. Space and Versatility for Whatever Is On Your Agenda
The Forester is an all-wheel-drive with all-season tires. It can take on everything from cruises through city streets to journeys off the beaten path.
And it provides the space you need to take your ride comfortably. Consumers love the available leg room and headroom. What's more the Forester is one car with extra wide door openings.
It also gives you more than 74 cu. ft. of cargo space, in addition to extra space with underfloor storage.
4. Good Fuel Economy
With gas prices continuing to rise, it's important to get the best fuel economy possible.
And though no vehicle provides dream gas mileage, the Forester is pretty impressive compared to many other vehicles.
It gives you up to 26 city MPG and 33 highway MPG.
5. Great Technology for Your Convenience
Subaru doesn't just add some great safety features to the Forester. There are also several for your comfort and convenience.
For example, you can start your car and control the climate from your phone.
If you're in an accident, in some sort of danger, or sitting on the side of the road, you can use the available SOS Emergency Assistance by pressing a button. This is especially beneficial if you cannot speak for some reason.
You can also enjoy a built-in WiFi hotspot, multimedia center, and much more.
Cons
Some of the most common disadvantages of the Subaru Forester include:
Issues with the air conditioning
Failing oxygen sensor
Failing knock sensor
Brake fluid leaks
Leaking oil
High oil consumption
Passenger airbag inflator issues
Shaking when shifting gears
Moving while it's in park
What Do the Reviews Say?
"The Forester drives like a Cadillac. The interior is very roomy, and Subaru's Eyesight safety system and AWD come standard on all models… Also gets an average of 28 mpg which is also #1 in the subcompact SUV category. Great Value. Warranty is average. Would buy again!"
Source: consumeraffairs.com
"Very comfortable, great head room, superb views from all windows. Substantial cargo area in hatch. Large glove compartment. Turn signals are not obnoxious, as most vehicles tend to be. Windshield and rear window wipers are large- sweep very well. Steering radius is fantastic!!!"
Source: edmunds.com
What's the Resale Value On the Subaru Forester?
Unlike some vehicles, Subaru Foresters typically don't have massive declines in resale value. And they tend to depreciate at a slow and steady pace.
Though resale values can vary, below are some examples of current resale values according to the year and mileage.
| | | |
| --- | --- | --- |
| Year | Mileage | Price |
| 2015 | 71,371 | $19,990 |
| 2016 | 63,754 | $20,990 |
| 2017 | 71,000 | $21,998 |
| 2018 | 34,012 | $25,990 |
| 2019 | 49,532 | $30,990 |
| 2020 | 54,619 | $26,990 |
| 2021 | 16,470 | $28,929 |
| 2022 | 3,573 | $44,990 |
Final Thoughts
No vehicle is perfect for everyone. And they all come with disadvantages that need to be weighed out prior to purchase.
The Subaru Forester is one that offers a mix of safety, style, space, and versatility without putting too much strain on your budget.
And as they are such long-lasting vehicles, they make a great investment.
As with any investment, the key is understanding the risks and having a plan in place to minimize them.
By understanding the potential issues in this guide and knowing how to address them, choosing a Subaru Forester can be one of the best investments you ever make.
Go Back: Problems per Subaru Model.
Was this article helpful?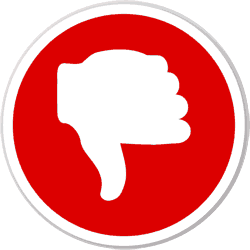 Did you find wrong information or was something missing?
We would love to hear your thoughts! (PS: We read ALL feedback)
ⓘ  The information in this article is based on data from National Highway Traffic Safety Administration (NHTSA) recall reports, consumer complaints submitted to the NHTSA, reliability ratings from J.D. Power, auto review and rating sites such as Edmunds, specialist forums, etc. We analyzed this data to provide insights into the best and worst years for these vehicle models.
---