The compact SUV is a popular vehicle for families and others who need room for four or five passengers and their luggage.
While SUVs are traditionally larger vehicles designed for off-road use, compact SUVs are smaller and more fuel efficient but still offer all-wheel drive and adequate ground clearance.
You can also find many styles and features in this category, from family-friendly crossovers to sporty performance vehicles.
Read on to find out what defines a compact SUV. 
Compact SUVs Are Larger Than Economy Cars but Smaller Than Mid-Size SUVs
Compact SUVs are among the most popular vehicles since they are small but boast a sense of sportiness.
The small size of the cars gives them a lighthearted, approachable feel.
A unibody design is present in nearly all small SUVs. This implies that the vehicle's chassis and body seamlessly integrate into a single interconnected component. 
Compact SUVs are, therefore, suitable for the majority of driving situations.
The unibody structure enables a vehicle to have a reduced weight. Consequently, they become more fuel-efficient.
Compact SUVs with that structure also have a lesser risk of rolling over and provide a comfortable ride due to the unibody's reduced center of gravity.
However, the size or dimensions of compact SUVs are not formally defined.
Let's examine the Toyota RAV4. The 2022 RAV4 sets the standard of the class, being 181 inches long, 73 inches wide, and 67 inches in height. 
Most other models in the compact SUV segment are within a few inches of these dimensions.  
Two rows of seats are standard in every small SUV crossover, and the back rows usually provide enough room for passengers' legs.
A smaller subcompact SUV may well not deliver more space or the same riding quality, but a compact SUV does its best to offer as much space as a medium and a full-size SUV.
Families seeking utility and comfort may find the appropriate vehicle in a small SUV, which provides a roomy interior and an upmarket, comfortable cabin with enough capacity for passengers and luggage.
All-Wheel Drive and the Ability To Tow a Small Trailer Are Typical Features
Compact SUVs typically offer all-wheel drive, a feature you'll find in only about half of their subcompact competitors. All-wheel drive (AWD) benefits drivers who want to use their SUV to tow a small trailer or boat.
All-wheel drive is standard on nearly every new SUV today, but it's particularly prevalent in compact SUVs because these models tend to be lighter and more nimble than their larger counterparts. 
AWD helps provide better traction when driving on slippery roads or off-road terrain – which can be helpful if you live in an area that receives snow or rain during certain seasons.
Compared to a subcompact SUV or economy car, a compact SUV provides greater versatility. 
Typically, you can only purchase a subcompact SUV with front-wheel drive.
In the end, a compact SUV has roomier back seats with plenty of legroom, and the cargo area has additional capacity if you need it for passengers. 
If you have a family, the larger compact SUV cargo area, AWD, and towing capabilities make it a better choice than a subcompact.
Compact SUVs Can Easily Maneuver Narrow City Streets
Small SUVs are an increasingly popular choice for people who need to transport themselves and their families but don't want the bulk of a large SUV. 
Many compact SUVs are also easy to maneuver and park, making them well-suited to urban environments.
With a compact SUV, you can comfortably navigate both off-road conditions and congested city streets. Although it has the impression of a full-size SUV, it is not a bulky vehicle.
Both on city streets and highways, they make the ideal vehicle. However, larger SUVs are not the vehicles you want to get stopped in traffic. 
Until you gradually get used to it, the size of larger SUVs makes them tough to maneuver and drive.
For many American automobile customers, mileage is the most essential factor to consider. In this case, the best fuel-efficient option isn't a bulky SUV. 
Compact SUVs, on the other hand, offer superior fuel economy compared to their larger cousins, whose larger engines consume more fuel.
For comparison, the Jeep Cherokee Trailhawk and Ford Bronco Sport, both geared for off-road driving, have combined fuel efficiency scores of 21 and 23 mpg, respectively.
Ultimately, these vehicles have all the benefits of a larger SUV, but they're smaller and more fuel-efficient than their larger counterparts. 
Compact SUVs Offer Both Practicality and Comfort
The compact SUV is an excellent option for people looking for a vehicle that offers both practicality and comfort. 
Most small SUVs have four doors and two rows of seats accommodating five people. 
With a few configurations, if offered by the model of the vehicle, they provide either three rows as default or let you add a third row as an alternative. 
Note that adults usually cannot sit in the third row of these SUVs.
With the seats up, you may anticipate a cargo volume ranging from the upper 20s and middle 30s cubic feet and anywhere from the high 50s and midway 70s cubic feet with the seats folded down.
This makes them perfect for families with children carrying large items or multiple people to events. 
A compact SUV also has the versatility to be used as daily transportation, weekend road trips, or even off-roading adventures. 
Compact SUVs also typically come with luxurious interiors designed to make passengers feel comfortable while on the go. 
The materials used on these vehicles are often soft and plush, so passengers won't feel uncomfortable sitting in them for long periods. 
Many models also come equipped with advanced technology and driver assistance features.
Although these vehicles are typically smaller than mid or full-size SUVs, they still offer adequate cargo space and room for passengers – they're the perfect family-friendly vehicle.
Compact Vs. Sub-Compact SUV Examples
There are several factors to consider while looking for a new or used car, such as the size which will suit you and your needs best.
The market for compact SUVs has been expanding over the past few years, and a growing number of subcompact SUVs, a reasonably recent segment, are being produced by auto manufacturers.
But what exactly do these labels mean, and how are they different? 
Here is a comparison of two sub-compact and compact SUV models to assist you in navigating the market for small SUVs.
1. Sub-Compact: 2023 Kia Soul
The 2023 Kia Soul is an affordable sub-compact crossover SUV with many standard features, a roomy interior, and controlled handling.
You'll find everything you need throughout this practical SUV, but all-wheel drive isn't included.
Even though the Soul's base price is a little less than $20,000, it still consists of a wealth of standard features, including: 
Apple CarPlay

Forward automated emergency braking

Lane-keep assist
The Soul offers a smooth drive and pretty nimble handling for a sub-compact SUV, and the cabin is roomy enough for passengers and cargo.
When looking for a new SUV on a tight budget, the Soul stands out in the subcompact SUV segment because of its affordability and usability.
However, in terms of embodying the capabilities of what an SUV should be, the Kia Soul falls short. 
Nonetheless, let's examine how it compares to a compact SUV. 
2. Compact: 2023 Subaru Forester
The Forester has a large, well-built cabin with ample room to transport the children to school on weekdays and tackle weekend adventures like camping or off-roading.
Subaru supplies the Forester with a host of driver-assistance technology and provides a user-friendly infotainment system.
Furthermore, this two-row compact SUV comes standard with all-wheel drive, making it comfortable and enjoyable to drive even on challenging surfaces.
Compared to the Kia Soul, the Forester is superior in most categories. This is primarily due to its bigger size, which enables more features. 
Below is a table to demonstrate the key differences between the two vehicles:
Key Differences
Kia Soul
Subaru Forester

Drivetrain

Front-wheel drive

All-wheel drive

Fuel efficiency (mpg)

29 – City

35 – Highways

26 – City

33 – Highways

Height (inches)

63

67.5

Length (inches)

165.2

182.7

Width (inches)

70.9

71.5

Towing (lbs)

N/A

1500

Passenger capacity

5

5

Max. Cargo volume (cubic ft)

62.1

74.2
The above figures show key differences between compact and subcompact SUVs that help us define them, such as: 
Their dimensions (length, height, and width)
Available drivetrain (determines whether the vehicle is suited for off-road use)
Cargo volume
Towing capabilities
It's fair to say that the Forester is superior in almost all the categories expressed in the table – which is no surprise considering it's a bigger vehicle. 
That said, this makes the Forester more capable off-road and overall closer to what we'd expect a Sports Utility Vehicle to encompass. It also sports more standard driving features. 
Sources
What Is The Difference Between an SUV and a Compact SUV?
Compact vs. Subcompact SUV – What's the Difference Between the Two?
Best Subcompact SUVs for 2022 and 2023
Best Compact SUVs for 2022 and 2023
Was this article helpful?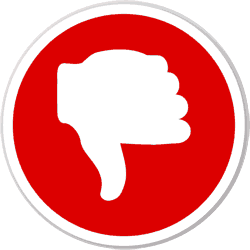 Did you find wrong information or was something missing?
We would love to hear your thoughts! (PS: We read ALL feedback)