The Toyota RAV4 made its debut in America in 1995 as a compact crossover SUV. The engineers behind the RAV4 were looking to change the game by making a sleek combo of SUV features and compact car drivability.
Like a best of two worlds kind of thing.
Launched in early 1996, the Toyota RAV4 is currently in its fifth generation, having enjoyed a surge in sales through a couple of decades and counting. It moved 400,000 units for the first time in 2017 and has maintained upwards of that figure every year since then.
Without a doubt, the Toyota RAV4 enjoys immense popularity, but the question is "Why is the Toyota RAV4 this popular"?
Many people want to know exactly how and why the Toyota RAV4 has a place in the hearts of millions of people around the world.
Well, we have prepared a list of likely reasons below.
Check also our Toyota Rav4 2022 review here.
1. Exceptional Versatility
If one were to describe versatility using a vehicle, the Toyota RAV4 would very well be one of the top options.
History tells us the Toyota RAV4 was specially designed for consumers who wanted an SUV that could be as maneuverable and fuel-efficient as a compact car. So, one could say it was built on versatility and thankfully, it has kept that culture going, which has resulted in the RAV4 being the best-selling crossover SUV.
The RAV4 can seat up to five passengers with relative ease. Even more interesting is the fact that the rear seats can fold with a 60/40 split, making room for both passengers and cargo.
Here's an overview of cargo space on the RAV4 models.
Speaking of the cargo space, with the RAV4, consumers get up to 69.8 cubic feet of cargo space without the rear seats. And even when the rear seats are occupied, you still have about 37.6 cubic feet to make do with.
Those are more-than-respectable numbers for a crossover SUV.
Also, while plenty of cars on the roads only have vents at the front, the Toyota RAV4 takes a different, ingenious approach to this.
At the back, rear passengers of the RAV4 get a whole vent to themselves, which drives up the comfort levels by a lot.
The RAV4 also boasts trims with available heated seats and dual automatic climate control.
These features give maximum comfort and basically charm consumers into an unspoken loyalty pact with the RAV4.
This is one of the top secrets to the RAV4's popularity.
2. BRILLIANT Fuel Economy
We've put this in it's own article: Does the RAV4 models REALLY go 40 MPG?
Spoiler alert: The fuel economy on the RAV4 hybrid models is really good.
3. Caters to Every One
Another reason the Toyota RAV4 hits such enviable sales figures yearly is its inclusivity. It doesn't take a market survey to know that consumers in the auto markets have different budgets and needs.
While some are willing to pay for the best trim there is, some just have enough to purchase a basic trim.
Toyota makes provision for this variation by putting out different models and trims of the Toyota RAV4. The gas models have six trims and the hybrid models have five.
So, whether you are looking for a vehicle with stellar fuel economy or all you care about are luxury tech features, the RAV4 has got you covered.
The hybrid models are particularly interesting because of their five variants, which is unusual.
Hybrid cars have a reputation of being very expensive, however the Toyota RAV4 puts it right at the average buyer's fingertips with base, budget-friendly hybrid trims.
Also, since the Rav4 is one of the most-sold SUVs of it's class across the states, you have LOTS of cool options for custom-made gear and accessories that fits the Rav4.
Imagine getting up to 41 MPG in the city and 38 MPG on the highway without having to break the bank? Well, trust us when we tell you the Toyota RAV4 has made that imagination a reality by putting out five different trims for the hybrid models.
For the non-hybrid models, buyers get to make a choice between six different trims according to their budgets and preferences.
So, for instance, if you are working with a not-so-big budget and you are also something of a technophobe, base trims would be perfect for you.
Not to mention, all models and trims of the Toyota RAV4 are equipped with a solid eight-speed automatic transmission. Isn't that cool?
For all of its variety and inclusivity, the Toyota RAV4 also happens to be one of the most affordable vehicles in its class. Some of its hybrid trims are even less expensive than non-hybrid variants of other models. So, it's not exactly surprising to see it top the charts for crossover sales every year.
4. Fun and Smooth Driving
There are not many cars you'd enjoy driving more than the Toyota RAV4.
It gives you the kind of space you don't get from a compact car and at the same time, it's not nearly as unwieldy as a full-size SUV. It's just perfect; the best of both worlds, like we said earlier.
Also, did you know that there are 8 hidden features on Toyota RAV4 models?
Even though it's a crossover SUV, the RAV4 is packed with features that equip it for light off-road terrains.
These features are tastefully enmeshed in the Toyota RAV4's driving modes. The driving modes include the Sport Mode, Eco Mode, and Normal Mode.
The Sport Mode is the perfect mode to turn on when you are looking to maximize the excitement of driving on a smooth highway. If you are looking to save fuel, however, the Eco Mode is your go-to guy. The Normal Mode is a mix of both modes, i.e. top-level performance and fuel economy.
Besides the driving modes, the RAV4 also comes with varying terrain selections, namely:
Mud
Sand,
Snow,
Rocks
Dirt.
The latter Rav4 models all have four-wheel-drive.
They are useful for tricky terrains where traction is low.
Still speaking of fun, no one likes to cut short their smooth drive by having to fill up their tanks at a gas station. A vehicle with bottom-tier fuel efficiency will do that to you.
Thankfully, the Toyota RAV4 is nothing like that, with its 28 MPG in the city and 35 MPG on the highway. These numbers are, however, not static and largely depend on whether the model has an all-wheel drive.
However, even all-wheel drive models of the RAV4 can still pull up to 27 MPG in the city and 34 MPG on the highway. Not to mention the 38 combined MPG for the hybrid models of the RAV4 with 4WD; this means less time at the gas station and a fun, smooth, and hassle-free driving experience.
Check this article for an overview of engine sizes on each Toyota RAV4 model.
Everybody wants a taste of that, which very much explains why the Toyota RAV4's popularity is through the roof.
Related: Toyota RAV4 In Snow & Winter Driving? (Explained)
5. Advanced Tech, Comfort, and Safety Features
The Toyota RAV4 also boasts an elite collection of tech features that enhance safety and protection while ensuring maximum comfort. This impressive line of advanced features is a major contributor to its coveted position as the top-selling non-pickup vehicle in the country.
There is an 8-inch touchscreen which displays a list of settings that pretty much helps you to control the car.
It is also equipped with the Apple Car Play and Android Auto for smartphone connectivity.
To ensure the best possible convenience, the RAV4 also sports wireless charging as well as a smart key system.
These features, amongst many others, have helped retain consumers' loyalty whilst also growing increasingly popular amongst prospective buyers.
With respect to safety, the RAV4 comes with the Toyota Safety Sense 2.0, which is Toyota's unique array of safety and driver assistance features. These features include the lane-tracing assist, dynamic radar cruise control, automatic high beams, road sign assists, lane departure alert and pedestrian detection, amongst others.
These features aren't just a group of premium but ineffective mumbo jumbo; they are as effective as they are premium. Little wonder the Toyota RAV4 scores such high safety ratings, including a 5-star overall rating from the National Highway Traffic Safety Administration (NHTSA).
These selling points combine to further boost the Toyota RAV4's already stellar rep amongst auto consumers.
Related: 10 Toyota Rav4 Statistics You Should Know (Facts & Numbers)
6. Reliability and Longevity
The Toyota RAV4 is as reliable as they come, and that's a big part of why its consumer base continues to grow.
3rd gen RAV4 model from 2010
Between 2012 and 2018, the Toyota RAV4 enjoyed an unusual streak, earning the highest reliability points from Consumer Reports in each of those years.
It also enjoys a reliability rating of 4.0 out of a possible 5 from RepairPal, which puts it at #3 on the list of most reliable cars in its class.
Findings from several forums on the web also showed that a number of RAV4 users have enjoyed up to 250,000 miles with no serious breakdowns.
Few crossovers can boast that level of longevity, which is one reason the RAV4 continues to reign supreme in terms of popularity.
Related: How Long Do Toyota RAV4 Last? (Solved & Explained!)
Was this article helpful?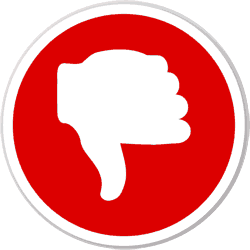 Did you find wrong information or was something missing?
We would love to hear your thoughts! (PS: We read ALL feedback)