The Toyota RAV4 is a reliable, safe, and fuel-efficient vehicle with a large cargo area. However, like any other vehicle, it may require some enhancements to fit your active lifestyle.
Fortunately, there is a lot of aftermarket equipment and accessories you can buy to make your RAV4 more fun to drive and transform it into an all-purpose, practical vehicle for your driving needs.
We scoured the market for some of the best available Toyota RAV4 accessories, from floor liners to roof racks and receiver hitches, to bring you only the best list of accessories on the market.
Here are the top 10 Toyota RAV4 equipment and accessories.
1. MAXXHAUL Heavy-Duty Universal Steel Roof Rack
While the Toyota RAV4 boasts a large cargo area and comfortable interior with up to 70 cubic feet of total cargo space when the rear seats are folded, you can still add storage to the car's roof.
Cross-country road trips, weekend camping, biking, birdwatching, and other excursions require you to take lots of stuff that may not fit the trunk.
That's where a Heavy-Duty Universal Steel Roof Rack comes in.
You can check the prices and features here (Amazon).
This roof rack has a universal cargo basket design with heavy-duty steel construction to hold up to 150 pounds of stuff on your RAV4, freeing plenty of space in the cabin for backseat passengers.
The intuitive design allows you to customize the rack to fit your storage needs. The black powder coat protects the finish from corrosion, making it safe for all-weather travel.
Whether you need to store your bike, large sports equipment, or a small picnic table for your camping, this rack has got you covered.
2. DLOVEG Door Handle Cover
Whether you want to protect your original door handles from scratches or want to decorate your vehicle's appearance, the DLOVEG Door Handle Cover is one of the best options on the market today.
Check it here on Amazon (at a good price point).
It's available in three colors—red, matte black, and glossy black to fit your vehicle color. This handle cover helps give your RAV4 a sporty look, long service life, and efficiency.
It has smart entry keyholes that help maintain smart key sensing on the original handle. It's also easy to install with double-sided tape in the back.
The protective cover can be easily placed on the handle, and when you want to remove it, no damage will occur to the vehicle or handle. Be sure to choose a handle that fits your car model and year.
3. WeatherTech Custom Fit FloorLiner
You don't have to spend thousands of dollars to get a reliable, all-weather floor liner for your RAV4.
Available in four colors—black, gray, tan, and cocoa, the WeatherTech Custom Fit FloorLiner is specifically designed to fit your Toyota RAV4 but not the Hybrid models.
They make the highest quality, best-fitting floor liners you're likely to come across out there. The floor liner protects your vehicle's carpet from:
slush,
mud,
rain,
beverage spills,
sand,
salt,
and any material that can damage your vehicle's carpet.
They contour perfectly with your RAV4's floor pan, as they flow every bend and curve in the sheet steel.
When buying, order the correct one for your vehicle, as every package is customized for specific makes, models, and year ranges.
4. OASIS AUTO Custom Fit PU Leather Seat Cover
If you're looking to enhance the interior look of your Toyota RAV4, OASIS AUTO Custom Fit PU Leather Seat Cover is one of the best ways to keep your car seats stylish and protected.
Toyotas are well-known for their reliability and top-notch engineering that promote high resale values. Therefore, you want to protect your investment by getting some of the most stylish, high-quality faux leather seat covers.
Check them here on Amazon (best prices)
You can install them over your factory seat upholstery to protect them from scratches, fading, spills, and wear.
Unlike the cheap, universal seat covers on the market, the Oasis Auto custom leather seat covers are custom-made for your specific vehicle model and year, ensuring that you get a tight fit with a factory-like appearance.
That means you need a highly qualified professional to install the covers for you. The covers are made from durable polyurethane material with a leather-like texture.
They're easy to clean and maintain and come at an affordable price.
5. TAC 3″ Side Steps Running Boards
You may never know the importance of step bars for your Toyota RAV4 until you have a passenger, pet, or family member who experiences difficulty getting in and out of the vehicle.
The TAC 3″ Side Steps Running Boards add that extra step you and your passengers need to get in and out of the SUV with ease.
If you have a roof rack, running boards make it much easier to load and unload cargo.
They look pretty AWESOME on your Rav4 (Photos on Amazon).
The brackets and bars are made of heavy-duty mild steel with E-coating and A+ grade Heavy Texture black powder-coated finish for anti-scratch and rust-resistance.
The UV-resistant non-slip wide step pads provide a large surface area for your foot while offering the required grip. You can do the installation yourself, as all installation instructions and mounting hardware are included.
These running boards are compatible with 2019 to 2022 RAV4s. The company recommends contacting them to confirm fitment before ordering.
6. Miracase 4-in-1 Cell Phone Holder for Car
Most of us rely on smartphones for navigation rather than the vehicle's in-built navigation system or GPS unit to get where we need to be.
If your RAV4 has Android Auto or Apple CarPlay, you can check your favorite navigation app on the infotainment screen. If you don't, don't worry.
Miracase 4-in-1 Cell Phone Holder for Car allows you to mount your phone on the windshield, dashboard, or vent. It is compatible with some smartphones, notably Samsung and selected iPhones.
Check them here (images on Amazon)
This versatile and universal cell phone holder allows you to mount your smartphone more securely and position it correctly to view directions uninterrupted. It's beneficial for Lyft and Uber drivers.
The super wide adjustable arm design lets you fit any phone size ranging between 4.0 to 7.0 inches and thick phone cases.
The anti-slip sponge, stable support shelf, rubber pads, and the latest generation 2 vent clip enable you to install the phone holder securely on the car without scratching, dropping, or damaging your phone.
7. Covercraft UVS100 Custom Sunscreen
If the interior of your Toyota RAV4 is black, it'll likely get hotter when the sun beats for a couple of hours. Your seats may appear faded, dull, and worn out.
However, that doesn't have to be a problem when you have the Covercraft UVS100 Custom Sunscreen.
This custom sunscreen is designed to fit RAV4s, meaning you will get the right fit.
It's available in:
gold,
silver,
and blue metallic
It fits perfectly on your Rav4 (as you can see here on Amazon)
You're also sure to get superior performance compared to the universal sun shades, which can be too large, saggy, and folded in the middle, while others leave plenty of the dash exposed.
Custom-fit also means other parts of the vehicle's interior are protected from the discoloration resulting from continuous exposure to UV.
The covercraft custom sunscreen is made of durable material, and it's easy to place, remove and store.
8. AUTOCLOVER Dark Smoked Side Window Vent Visor
If you often struggle to maintain fresh air when it rains, worry no more.
These Dark Smoked Side Window Vent Visors are side-window deflectors that help reduce wind noise while driving.
They allow fresh air to circulate, making them ideal for all-weather driving.
When installed, the 1.2 inches of space outside the vehicle window blocks rainwater and helps improve ventilation.
It looks awesome on the car (check it here on Amazon)
The transparent smoked tint allows you to drive stress free without any blocked views and glares.
Installation is pretty simple, as everything is already done for you. The 3m adhesive tape is already cut and molded into the edge of the visors.
That means no drilling or special hardware is required.
If you dislike opening windows because of the wind noise, this side window vent visor helps you solve this pesky problem and enjoy a relaxed drive.
9. WeatherTech Custom Fit Cargo Liner Trunk Mat
The RAV4 models handles show pretty well. But it's nice to get some gear to handle the weather.
If you're an avid hiker, backpacker, camper, or kayaker, you probably know the value of having a reliable liner trunk mat for your SUV.
The last thing you want is to find your chicken soup, soda, or water spilled over your trunk floor.
Since it's almost impossible to control all spills, you may want to use a WeatherTech Custom Fit Cargo Liner Trunk Mat to catch spills and contain them in a high-lip design until you get a chance to clean them.
Check them here on Amazon (very reasonably priced)
It's an excellent accessory even if you're not carrying food or liquids in the trunk, as it can also help keep your trunk clean.
Instead of having to wipe off mud, dust, or dirt on every item after camping, you can place them on the liner and clean them up when you get home.
The liner prevents wear and tear and stains. The non-slip surface helps prevent items from sliding, falling, and knocking on each other, causing a mess.
Like other Weathertech liners, this trunk liner is tailor-made for specific RAV4 models and year ranges, providing a perfect fit.
10. CURT 13416 Class 3 Trailer Hitch, 2-Inch Receiver
Your Toyota RAV4 can tow up to 3,500 pounds when well-equipped. If you're looking to tow a trailer, you can use this 2-Inch Receiver to do it.
Check it here on Amazon (best price)
This hitch receiver is affordable, durable, and versatile, with thick-gauge steel construction to prevent corrosion. It also has a UV-fighting dual-stage finish with a 2″ by 2″ square receiver.
The installation process is easy as it comes with a model-specific design that ensures complete compatibility with your vehicle.
It's an excellent addition for RAV4 owners who enjoy being outdoors, as it allows you to pull anything, including carts, cargo carriers, and bike racks.
Since it's model-specific, be sure to customize your order to ensure you're getting the right fit.
Sources
Was this article helpful?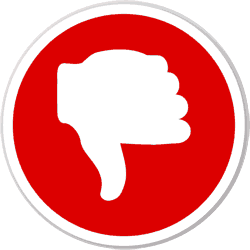 Did you find wrong information or was something missing?
We would love to hear your thoughts! (PS: We read ALL feedback)