SUVs are a great vehicle option for those looking for something bigger than a car. However, not everyone wants a giant SUV either, making a compact SUV the right move for many people.
RAV4s are a very popular choice among many Americans for their size and capabilities, but is it the right choice for you and all your activities?
Can this compact SUV really carry all you need it to?
How Much Cargo Space Do Toyota RAV4s Have?
Toyota RAV4s provide anywhere from 9.3 cu. ft. of cargo space to 73.4 cu. ft. depending on the generation. You can also tow up to 4,400 lbs, depending on the trim and whether you have the proper towing equipment.
RAV4 Cargo Capacity By Generation
Toyota has been working to create the perfect compact vehicle that still offers plenty of performance and cargo.
To do so, it has improved its design with each generation.
We also have an article featuring how much each Toyota Rav model can tow.
Below, you'll find information on available cargo space and towing abilities for each of their five generations.
1st Generation (1999-2001)
When Toyota first introduced its RAV4s, it was committed to providing a smaller vehicle for its customers – and it did this well.
The three-door model was a bit too small, offering just over 9.3 cu. ft. of cargo space with all the seats in place.
You could choose to fold down that second row, though, which gave you 34.7 cu. ft. of cargo. Unfortunately, this was still not quite enough space to do much with – except maybe throw in a picnic basket or a couple of small suitcases.
They then introduced the five door model, which gave 26.8 cu. ft. of space with the seats up and 57.9 cu. ft. with them down.
Even with the smaller internal cargo space, though, the first generation RAV4s could tow between 2,645 lbs and 3,307 lbs, depending on the trim.
2nd Generation (2002-2006)
As the first generation was a bit lacking in the cargo department – and was beaten by competitors – Toyota decided to rectify it with the second generation.
RAV4s made from 2001 to 2005 were offered only as five-door vehicles in the US to ensure they could extend the space. This allowed for 29.2 cu. ft. of cargo storage with the second row in place and 68.3 cu. ft. when it was folded down.
It gave enough room for some basic shopping and some light moving, but that was about the extent.
Nothing out of the ordinary.
They also added things like shopping bag hooks, side bins, and more so that owners could make use of every inch. And the second-generation RAV4s were also designed to tow up to 3,300 lbs.
3rd Generation (2007-2012)
The 3rd and 4th generations feature some of the best years for Toyota Rav4.
As other vehicles were still in the lead, Toyota decided to add some additional cargo space with its third-generation RAV4s, which cover the years 2006 to 2012.
The available space took a jump to allow for 37.2 cu. ft. with the seats in place and up to 73.0 cu. ft. with them folded down.
Such a space allows owners much more freedom to haul things around.
With the second row out of the way, you can easily transport all you need for a day at the park, like a cooler, some sports equipment, a picnic basket, and more.
Or you can move several pieces of smaller furniture.
Additionally, 3rd generation RAV4s tow anywhere from 3,300 lbs to 4,400 lbs, depending on the trim and specifications.
So, as long as you keep up with how much you're packing, you could move most of your home in a few trips.
4th Generation (2013 -2018)
The 4th generation RAV4s cover the years 2013 to 2018, and they come with reasonable cargo space for a compact SUV.
If the second row of seats are in place, you're looking at about 38.4 cu. ft. of space. Without the second row, you get up to 73.4 cu. ft. of cargo space.
With the second row seats down, you can get more than 70 inches in length of cargo space.
A twin mattress is about 75 inches long. If you're looking for a vehicle you can camp out in, take note that many people have been able to squeeze in a twin mattress into this cargo space.
Of course, you want to keep the weight here at about 1,000 lbs.
If you need more, the 4th generation allows you to tow up to 4,400 lbs, depending on the trim you choose. Most, however, tow a maximum of 3,500 lbs.
5th Generation (2019- present)
The 5th Generation RAV4s include the 2019, 2020, 2021, and 2022 models. These compact SUVs are a great companion for most regular – and some irregular – tasks.
The trunk space provides 37.6 cu. ft. of cargo space, which is enough for most grocery runs, light travel, and more.
If you put the second row of seats down, that extends to 69.8 cu. ft. That provides up to 40 inches between the trunk door and the front seats.
To put that into context, you could easily squeeze in a desk that is about three feet long. Or you can fit in:
several suitcases,
bicycles,
sports and outdoor equipment,
and more.
You're not likely to fit a whole couch, but you still have a good amount of space for moving smaller items.
Generally, the 5th generation RAV4s can hold about 1,200 lbs of cargo. With the proper equipment, you can tow up to 3,500 lbs.
That makes the new Rav4 models ideal for road trips and long trips.
How Much Cargo Space Do Similar Compact SUVs Have?
Overall, RAV4s rate pretty well with the amount of space they provide.
The following are some other vehicles in this class to give you an idea of how well they compare.
Honda CR-V: 
The closest compact SUV is a Honda CR-V. The CR-V offers 39.3 cu. ft. with the seats in place and 76.5 cu. ft. when they're not.
Mazda CX-5: 
RAV4s definitely offers more space than the Mazda CX-5, which provides just over 29 cu. ft. with the seats in place. That increases to just 59.3 cu. ft. when the seats are folded down.
Chevy Equinox: 
The Equinox is similar to the Mazda CX-5 when the seats are in place, offering just under 30 cu. ft. of space.
However, when you fold the seats down, you can get up to 63.9 cu. ft. of cargo space.
Subaru Forester: 
The Subaru Forester does not offer much space when all the seats are in place – topping out at 28.9 cu. ft. With the seats folded down, though, that increases to 74.2 cu. ft.
Nissan Rogue: 
A Nissan Rogue provides up to 36.5 cu. ft. behind the seats or up to 74.1 cu. ft. with the seats folded down.
If you feel that these do not provide the space you need but would like to stick with a Toyota, the Highlander gives you about 10 cu. ft. more of cargo space. That's enough to move some larger furniture or fit in several extra suitcases.
Can You Mount a Rooftop Box On a Rav4?
You can add a rooftop box to your RAV4 for additional cargo space. They are available with as low as 9 cu. ft. or as large as 22 cu. ft.
Keep in mind, though, that Toyota suggests adding no more than 176.4 lb of cargo on the roof – and that should be factored into the maximum towing capacities mentioned above.
How Big a Trailer Can RAV4s Tow?
This can vary slightly depending on the RAV4 you have. Generally, you do not want to exceed 1,700 lbs.
However, some models – like the RAV4 Adventure – give you a little more leeway. To be safe, always double check your owner's manual for specifics.
Which RAV4 Model Has the Most Cargo Space?
If you're looking for the RAV4 with the most cargo space, choosing a model from the fourth generation is your best bet.
These are the 2013 to 2018 models – all of which come standard with 38.4 cu. ft. of cargo space in the trunk and 73.4 cu. ft. with the seats folded down.
Which Compact SUV Has the Most Space?
Of all the SUVs that fit the "compact" group, the Mitsubishi Outlander gives you the most space, with up to 79.7 cu. ft. if the second and third rows are folded. The Honda CR-V is the runner up with as much as 75.8 cu. ft. for cargo.
Final Thoughts
RAV4s are useful vehicles for most people who carry out normal activities.
They provide enough cargo space for regular grocery shopping trips, outings, small camping trips, and road trips that only require a few bags.
However, if you're looking to carry out some more heavy duty activities– like moving your entire apartment or enjoying massive shopping trips – a bigger vehicle might be necessary.
Was this article helpful?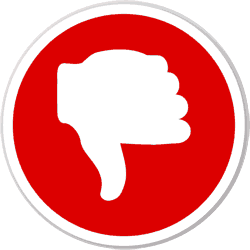 Did you find wrong information or was something missing?
We would love to hear your thoughts! (PS: We read ALL feedback)