The best Toyota RAV4 years are: 2009, 2010, 2016, 2017, and 2018.
The worst RAV4 years are: 2002, 2007, 2008, 2013, and 2019.
We also have an extensive test and review of the Toyota RAV4 here.
Here Are The Best Toyota RAV4 Years
Let's start with one of the best years: the 2018 model.
2018 Toyota RAV4
The 2018 RAV4 is one of the most reliable RAV4 models ever. It has class-leading 88/100 quality and reliability rating on J.D. Power – while also scoring 84 for its resale value. It also gets a 4.0 reliability rating on RepairPal.
The 2018 RAV4 also has some of the fewest complaints. It is a solid contender for the most dependable and unproblematic RAV4 model of all time.
Related: 10 Toyota Rav4 Statistics You Should Know (Facts & Numbers)
Other features that attract praise include its maneuverability, and a slew of standard/optional interior systems, amongst others.
2016 Toyota RAV4
The 2016 Toyota RAV4 is a legit contender for the most reliable RAV4 model ever made.
While it only managed above-average ratings for its features, time has shown just how beastly the 2016 Toyota RAV4 is.
It scored an excellent 86/100 for its quality and reliability on J.D. Power while also ranking as the best compact SUV of 2016 on the platform.
On RepairPal, it notched a reliability rating of 4.0 out of 5 and its average annual repair cost was $429, which is excellent.
The 2016 Toyota RAV4 has only had 37 complaints so far, according to CarComplaints, which is one of the fewest on the platform. It is one of the most reliable and unproblematic RAV4 models you'll ever find.
2017 Toyota RAV4
The 2017 Toyota RAV4 boasted lots of features, including the Toyota Safety Sense, which was made standard for all trims.
However, many critics rated several vehicles in its category above it for a number of reasons.
Despite all that, one thing the 2017 Toyota RAV4 can brag about is its reliability and dependability. On J.D. Power, it scored an excellent reliability rating of 87/100 and an 85/100 for its resale value and low depreciation rate.
On RepairPal, the model maintained its 4.0/5 rating, with an average annual repair cost of $429. U.S. News projections for its ownership costs totaled $4,450 per year and $22,300 in five years, which is lower than the class average.
It has only 56 complaints so far according to CarComplaints, which is one of the fewest by far for any model on the platform.
No doubt, the 2017 Toyota RAV4 makes a legitimate case for a top spot on this list.
2009 Toyota RAV4
Endowed with a powerful V6 four-cylinder engine, the 2009 Toyota RAV4 was one of the highest-rated cars in its class.
Owners heavily favored its cargo space, third-row seat option, and safety.
In terms of reliability, the 2009 Toyota RAV4 is one of the best, with a quality and reliability rating of 83/100 on J.D. Power.
It also notched an 88/100 score for its resale value on the platform.
This model year also scored a 9.4/10 reliability rating on SureCritic, with owners praising its longevity and inexpensive ownership costs.
The model has only had 67 complaints on CarComplaints and most of the complaints are relatively mild, with inexpensive repair costs.
It certainly deserves a place on this list.
2010 Toyota RAV4
Much like its predecessor, the 2010 RAV4 received mostly favorable ratings from critics who have praised its engine, cargo space, safety ratings, and reliability.
Speaking of reliability, the 2010 Toyota RAV4 has an incredible quality and reliability rating of 88/100 on J.D. Power. The platform also gives it another 88/100 for its resale value and ranked it second on its list of best compact SUVs in 2010.
It earned a 9.3 reliability rating on SureCritic, with some reviewers praising its impressive performance even after 200,000 miles on the odometer.
The 2010 Toyota RAV4 has had 75 complaints on J.D. Power, with none of them being particularly damaging, expensive, or recurrent.
These numbers very much explain why the 2010 Toyota RAV4 closes out our list.
Related: Toyota RAV4 In Snow & Winter Driving? (Explained)
What Toyota RAV4 Years Should You Avoid?
What we have below is a list of Toyota RAV4 models to avoid if you are looking to buy a great model:
2019 Toyota RAV4
The 2019 Toyota RAV4 appears to be an unworthy successor to the 2018 model.
While it has only had 97 complaints, CarComplaints has named it the worst model year of all time because of its ridiculous repair costs and the average mileage at which severe faults occur.
Its worst problem is the tendency to hesitate and lurch at low speeds and the average mileage for this issue is 3,350 miles. The typical repair cost, according to CarComplaints, is a whooping $20,000.
Another horrible problem is the fuel gauge never showing full and the average mileage for this is 1,100 miles.
The numbers above show that the worst issues with this model show up even before 5,000 miles.
Its place on the list just can't be argued.
2013 Toyota RAV4
The 2013 Toyota RAV4 is another model to steer clear of if you are looking to get a fantastic driving experience.
It has 128 total complaints listed on CarComplaints and it made this list because of the severity and average mileage of its issues.
According to CarComplaints, the worst problem with the 2013 RAV4 is a sudden, unprovoked acceleration which has led to crashes. The average mileage for this issue is 22,150 miles, and it costs about $13,100 to fix.
Other problems with the model include navigation display issues, which happens at an average mileage of 3,000 miles.
There was also a problem with the stench from the ventilation system, which occurred at an average mileage of 6,000 miles.
2002 Toyota RAV4
The 2002 Toyota RAV4 has the most complaints amongst Toyota RAV4 models, with 519 on record.
That alone guarantees it a place on this list.
Its #1 worst problem, according to CarComplaints, is its transmission shifting issue. This problem occurs at an average mileage of 97,400 miles and typically costs about $2,250 to repair.
The model also has a jerking problem, which often occurs at low speeds.
There have been 125 complaints about this and the average mileage of occurrence is 98,800 miles, with a $2,050 repair cost.
A computer and transmission failure problem is also amongst the worst 2002 Toyota RAV4 issues. It occurs around 97,650 miles and an average repair cost of $3,210.
2007 Toyota RAV4
The 2007 Toyota RAV4 has no less than 349 complaints on CarComplaints, making it one of the most faulted RAV4 models ever.
The 2007 Toyota RAV4 models were the first with 3rd-row seating. Something families with more than two kids really appreciate.
Its worst problem is excessive oil consumption, which garnered 163 complaints and an average mileage of 104,500 miles. The average repair cost is $1,920, which is considered very expensive for such an issue.
Other problems include clunking noise at the steering wheel and engine failure with average mileages of 50,000 miles and 75,000 miles, respectively.
2008 Toyota RAV4
The 2008 RAV4 wasn't any better than its predecessor other than the fact that it had 197 complaints compared to the 2007's 349.
CarComplaints also named excessive oil consumption as its worst problem and the average mileage this happens is 105,750 miles.
Another very serious problem with the 2008 Toyota RAV4 is its airbag non-deployment issue.
The problem has a severity rating of 10.0 "really awful" on CarComplaints and the average mileage is 15,000 miles.
No better RAV model to close out our list of the very worst models than this one.
What Are Some Typical Problems With Toyota RAV4 Cars?
Below are some typical problems with Toyota RAV4 models:
Powertrain and Transmission Issues
Engine Problems
Steering Problems
For in-depth analysis of these issues, please read our article about the most common Toyota RAV4 problems.
The Toyota RAV4 debuted in America in 1995 as a crossover SUV, single-handedly starting what would become one of the best-selling vehicle classes.
It has gone on to become one of the most successful vehicles in American history.
Go back: Best/Worst years for all Toyota models.
Was this article helpful?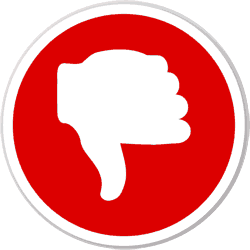 Did you find wrong information or was something missing?
We would love to hear your thoughts! (PS: We read ALL feedback)
ⓘ  The information in this article is based on data from National Highway Traffic Safety Administration (NHTSA) recall reports, consumer complaints submitted to the NHTSA, reliability ratings from J.D. Power, auto review and rating sites such as Edmunds, specialist forums, etc. We analyzed this data to provide insights into the best and worst years for these vehicle models.
---