The Toyota RAV4 is a compact SUV manufactured by Toyota since 1994. It debuted in the United States in 1995 and has been in production for five generations so far.
As a compact SUV, the RAV4 combines the benefits of an SUV and a compact car. This means an increased cargo room, 4WD option, alongside excellent fuel economy and maneuverability.
It is rated highly by critics and boasts decent reliability scores on multiple platforms.
In this article, we'll be exploring the most common problems with the Toyota RAV4, as well as the causes and optimal solutions.
Check also our complete hands-on review of the RAV4 here.
Powertrain and Transmission Issues
On Carproblemzoo, RAV4 owners have reported up to 1,148 powertrain-related problems, making it the most common.
The problems include automatic transmission issues, transmission solenoid issues, and transmission noise issues, amongst others.
Let's break them down.
#1 Automatic Transmission Issues
There were about 354 reports concerning the Toyota RAV4's automatic transmission. Many of the owners reported their vehicles jerked/hesitated while they were trying to accelerate.
There may be numerous reasons why your car won't accelerate at high speed.
Some owners who took their vehicles in for diagnosis confirmed that this was a problem with the transmission and the ECM unit.
We also found that this problem was most common with 2001-2003 RAV4 models.
Check the most common problems across Toyota SUVs here.
#2 Transmission Gear Slipping Issues
Many RAV4 owners have also lodged several complaints regarding the transmission slipping gears without warning.
This has been met with various lawsuits, which have now forced the manufacturer to acknowledge the issue.
Toyota has also expanded the warranty on this problem to 10 years/150,000 miles.
#3 Transmission Solenoid Issues
Another commonly reported transmission problem with the RAV4 is its solenoid.
Several RAV4 owners have complained about a check engine light coming on randomly while driving. That is coupled with the vehicle stalling intermittently.
Our research showed that this problem is often a result of a faulty solenoid that is due for immediate replacement.
#4 Unpleasant Transmission Noise
Scores of RAV4 owners have also complained about an unpleasant grinding noise that sometimes emerges during acceleration or deceleration.
Some others reported that this happens right after the vehicle is placed in reverse or when switching from FWD to 4WD.
This problem has been reported in new as well as older RAV4 models.
Possible Causes and Solutions
Below are causes and solutions for some of the powertrain and transmission issues listed above:
#1 Faulty Needle Roller Bearings:
Needle bearings are components that stop gears in the torque converter from grinding unnecessarily. If the needle bearings wear out, it could cause grinding noises from your Toyota RAV4.
#2 Low or Contaminated Transmission Fluid:
Vehicles with either manual or automatic transmission need sufficient and clean transmission fluid to keep them going.
Without the appropriate amount of clean transmission fluid, your transmission could overheat, and your gears may start slipping or surging out of control.
#3 Clogged Transmission Fluid Filter:
The Toyota RAV4 has a transmission fluid filter responsible for letting the right amount of clean fluid through.
A clogged filter will hinder its functioning and eventually grind the transmission to a halt.
What to Do
Transmission issues can render your vehicle completely useless when poorly handled. In view of that, we advise that you get your vehicle to a trusted auto technician for inspection, diagnosis, and a proper fix.
You can also try reaching out to your dealer if you still have a few miles/years left on your warranty.
Related: Toyota RAV4 In Snow & Winter Driving? (Explained)
Car Engine Problems
RAV4 owners have reported about 980 engine-related problems on Carproblemzoo.
Let's have a quick look at some of the most common engine-related problems.
#5 Excessive Engine Oil Consumption
Owners of the Toyota RAV4 have expressed their frustrations regarding the vehicle's excessive consumption of engine oil.
3rd generation RAV4 (2010)
Some of these owners report exhausting 2-3 quarts of oil every 800-1,000 miles.
This problem is common with vehicles north of 90,000 miles on the odometer.
#6 Check Engine Light Illumination
Some RAV4 owners also noticed their check engine lights coming on while driving, usually between 10-35 mph.
Some also reported that, besides the engine light illumination, the vehicle seemingly lost power.
#7 Water Pump Leaks
Another commonly reported engine problem is the water pump leak on the Toyota RAV4.
Multiple owners complained that the water pump leaked fluid without warning, and this was sometimes accompanied by a loud noise from the engine.
The Toyota RAV4 develops these water pump issues as early as 25,000 miles.
#8 Engine Exhaust Problems
A considerable number of complaints have also been lodged concerning the Toyota RAV4's engine exhaust. Multiple RAV4 owners reported smelling a strong burning odor and exhaust fumes emerging from the cabin.
We found that this problem is most common with pre-2010 Toyota RAV4 models.
Possible Causes and Solutions
Defective Piston Rings:
If your piston rings are damaged or worn out, the engine oil will seep through and gain entry into the internal combustion chamber.
This will burn the oil, leaving carbon deposits on the rings and cylinders.
Worst of all, you'll have to refill the oil way more frequently than you used to.
Worn Out Gaskets:
One reason your vehicle may be leaking oil is a defective crankshaft seal or valve cover gasket.
That would mean having to top off the engine oil now and then to forestall damage.
A faulty crankshaft seal or gasket is also one of the major reasons for coolant leaks from your vehicle's water pump.
Failed Oxygen Sensor:
If your check engine light comes on intermittently or has stayed on for a while, it is likely the result of a failed oxygen sensor.
Loose Fuel Cap:
The fuel cap is crucial to the smooth running of the fuel delivery system.
If your check engine light is on, it could be because of a loose fuel cap.
Faulty Catalytic Converter:
Catalytic converters are anti-pollution components that help convert toxic exhaust fumes into more innocuous ones.
Worn out or overheated catalytic converters will bring about a bad, sulphuric smell from the exhaust.
What to Do
Engine-related issues may be resolved by replacing piston rings, catalytic converters, gaskets, and some other components.
However, we advise taking the car to your dealer or a trusted mechanic for proper diagnosis and workable solutions.
Related: How Long Do Toyota RAV4 Last? (Solved & Explained)
Issues With the Vehicle's steering
Several RAV4 owners have also reported issues regarding the vehicle's steering. First, make sure your tires are a good fit for your RAV4.
Let's take a look at some of these issues.
#9 Steering Noise Issues
A good number of RAV4 owners have complained about unpleasant clicking noises emerging from the steering column.
This mostly happens when the driver makes a turn at low speeds or tries to reverse.
#10 Steering Wheel Failure
Some RAV4 owners have also reported steering wheel failure while driving, which led to crashes in some cases.
The failure mileage was often north of 50,000 miles, and the failure was with pre-2010 Toyota RAV4 models.
#11 Power Steering Light On
Another commonly reported steering problem was the power steering light coming on abruptly.
In addition to this, owners reported that the steering wheel became incredibly difficult to maneuver.
We found that this problem occurred even in RAV4 models with just about 4,000-5,000 miles.
Possible Causes and Solutions
Below are some of the potential causes of steering-related problems:
Contamination of Power Steering Fluids
Worn Out Steering Belts
Leaking Fluids
Bad Tie Rod Ends
Defective Column Bearing
Faulty Steering Racks
Bad Ball Joints
What to Do
Driving with steering wheel problems is as dangerous as it gets, and we strongly advise against it.
Instead, it would be best if you got a trusted mechanic to inspect the vehicle, give recommendations, and get a lasting solution.
Related: 10 Toyota Rav4 Statistics You Should Know (Facts & Numbers)
Toyota Rav4 Issues Per Year
Let's break down the most common issues per year for the different generations.
We also have a list of the best and worst years of the RAV4 models.
First Generation: 1996, 1997, 1998, 1999, and 2000
If you happen to own a Rav4 from 1996-to 2000, chances are you're not paying too much attention to alerts in the dashboard.
After all, you're dealing with a car that has more than 20 years on the road already.
There have mostly been reported issues with mechanic parts such as a door that won't shut or rust, which is to be expected from such an old lady.
You should also expect problems with the clutch and the battery.
Second Generation: 2001, 2002, 2003, 2004, and 2005
With these models, there have been issues with the automatic transmission. This can cause the gear shifts to be a little rash and it should primarily be an issue with the 2.0 liter models.
There are both 2.0 d4d and 1AZ-FE engines with the Rav4.
Third Generation: 2006, 2007, 2008, 2009, 2010, 2011, and 2012
In these years, there have been reports of problems with the exhaust system. There have been incidents with a strong odor from the exhaust which could point to other issues.
This can mean problems with exhaust leaks which must be handled pretty quickly.
It's always important to pay attention to leaks from the exhaustion system.
This can also lead to lower mileage and therefore bad fuel economy.
Fourth Generation: 2013, 2014, 2015, 2016, 2017, and 2018
This generation of Rav4 has been reported to have issues with battery defects.
It's important to pay special attention to the state of the battery pack as a bad battery can lead to starting problems and trouble on the road if the car dies.
Some Rav4 owners also reported a sour smell from the air conditioning system. This could be due to issues with the air filter itself.
Fifth Generation: 2019, 2020, 2021, and 2022
As these Rav4 are pretty new there have been few reports on these cars.
The most-reported problems with these late models are issues with the transmission when started from a complete standstill.
This can happen after the engine has been running for a while and you need to set it in gear at a cross-section.
Now the Rav4 may be hesitating and slow to get into speed and when you press the pedal, it will suddenly burst into gear and fly out of the cross-section.
Not optimal.
However, this can be fixed at a car shop as it's a programmatic issue with the computer.
General Pros & Cons
Here are the general advantages and disadvantages of the RAV4:
6 Pros
The following are some of the selling points of the Toyota RAV4:
1) Variety of Trims
The Toyota RAV4 has a wide range of trim levels for prospective owners with varying tastes. The LE trim would be very well appreciated by those who like their things simple and basic. There is also the Limited trim, XSE, Adventure, TRD Off-Road, and XLE.
In addition, the RAV4 outdid itself with the introduction of the hybrid variant with two different plug-in versions.
We have a LONG list of gear and equipment made for the Rav4 because it's one of the most-sold SUVs.
2) Outstanding Fuel Efficiency
Anyone with a tiny bit of knowledge about modern cars knows the hybrid variants of the RAV4 would have excellent gas mileage.
The Toyota RAV4 Prime boasts a massive combined MPG of 90 when running on gas and Electricity and 38 when it's just gas.
Its counterpart, known as the Toyota RAV4 hybrid, has a combined MPG of 40.
The non-hybrid variants of the Toyota RAV4 also have decent fuel economy numbers, with combined MPGs ranging from 28 to 30.
3) All-Wheel Drive
When you have to drive on not-so-smooth roads, the All-Wheel Drive can make all the difference.
Thankfully, the Toyota RAV4 comes with an All-Wheel Drive system coupled with the intelligent Multi-Terrain Select Option. This allows drivers to choose from different drive modes like snow, sand, mud, rock, and dirt.
With these options, owners are assured that the Toyota RAV4 will hold its own even on tricky roads.
4) Sophisticated Infotainment System
A car without a proper infotainment system is vulnerable to dryness and boredom. Nobody wants that, especially not when there are passengers.
The Rav4 infotainment system is advanced for its class.
It sports:
Wireless charging,
JBL speakers
Android Auto
Apple Car Play
and the Amazon Alexa.
5) Snug and Cozy Cabin
Lower trims of the Toyota RAV4 have fabric seats that afford great comfort.
The higher RAV4 trims, however, raise the bar with the SofTex leather seats known for warmth, comfort, and durability.
Every ride on the RAV4 promises coziness at the highest level.
6) World-Class Safety Features
The Toyota RAV4 is very big on safety, and it backs this up with its elegant line-up of safety features.
The RAV4 also notched the coveted 5/5 safety score from the National Highway Traffic Safety Administration.
Below are some of the Toyota RAV4's safety features:
1. Lane Keep Assist
2. Rear View Camera
3. Pedestrian Detection
4. Adaptive Cruise Control
5. Forward Collision Warning
6. High-Beam Headlights
7. Blind Spot Monitoring
8. Surround-view parking camera system
9. Automatic Emergency Braking
10. Road Sign Recognition
Cons
Powertrain and Transmission Issues
Car Engine Problems
Issues With the Vehicle's Steering
What Do the Reviews Say?
"Needless to say, there's a RAV4 for just about anyone, and it's safe to say the RAV4 should remain near the top of the market for years to come."
Source: AutoTrader
"The RAV4 is a … genuinely satisfying crossover. Remarkably pleasant to drive, very functional for everyday life, and generously equipped with safety technology, the … Toyota RAV4 would make a great addition to anybody's garage."
Source: CNET
What Is the Resale Value of the RAV4?
| | | |
| --- | --- | --- |
| Model Year | Mileage | Price |
| 2014 Toyota RAV4 | 112,585 miles | $17,999 |
| 2015 Toyota RAV4 | 69,649 miles | $20,499 |
| 2016 Toyota RAV4 | 60,173 miles | $24,990 |
| 2017 Toyota RAV4 | 39,035 miles | $23,640 |
| 2018 Toyota RAV4 | 31,279 miles | $27,879 |
| 2019 Toyota RAV4 | 21,969 miles | $32,999 |
Go Back: Problems for each Toyota model.
Was this article helpful?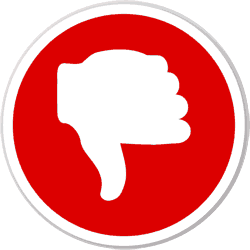 Did you find wrong information or was something missing?
We would love to hear your thoughts! (PS: We read ALL feedback)
ⓘ  The information in this article is based on data from National Highway Traffic Safety Administration (NHTSA) recall reports, consumer complaints submitted to the NHTSA, reliability ratings from J.D. Power, auto review and rating sites such as Edmunds, specialist forums, etc. We analyzed this data to provide insights into the best and worst years for these vehicle models.
---