The Toyota RAV4 is a popular compact SUV with various features that make it a good choice.
However, if you're looking for a compact SUV with 3rd-row seating, you'll want to check out the options below.
Let's dive in!
Do Toyota RAV4s have 3rd Row Seating?
The 2007 Toyota RAV4s can seat up to seven passengers thanks to a 3rd-row seat. however, most RAV4s created from 1996 to the present don't offer a 3rd-row seat. It's essential to look at the different trims in each generation to determine whether the vehicle features a 3rd-row.
Let's look closer at each generation to see which offer the option for 3rd-row seating.
Before we start – Check our recent test of how good is the RAV4 here.
We start with the first generation.
1st Generation Toyota RAV4 (1996-2000) Seating
None of the first-generation Toyota RAV4s created from 1996 to 2000 offer 3rd-row seating.
Instead, all model trims in this generation offer four seats total.
2nd Generation Toyota RAV4 (2001-2005) Seating
The 2nd generation of the Toyota RAV4 released from 2001 to 2005 was slightly more significant than their first-generation predecessors.
But, none of the 2nd generation RAV4s feature a 3rd row for seating.
However, seating increases from 4 to 5 in the second generation.
3rd Generation Toyota RAV4 2006-2012 Seating
For the 3rd generation, Toyota completely overhauled the Toyota RAV4, which garnered the attention of a variety of car buyers and compact SUV enthusiasts.
The first thing people notice about the 3rd generation RAV4s is that they have more significant changes than previous generations. There are also a lot of variants in the 3rd generation regarding seating.
The 2006 Toyota RAV4 was the first release in the 3rd generation. While it is more important than previous models, it only allows room for up to 5 people.
The 2007 Toyota RAV4 is the first in the line to offer more than 5 seats. This model is also the Toyota Rav4 model with the most cargo space.
But, not all 2007 RAV4s were created with a 3rd row. Instead, just the Base and Limited trims feature the 3rd row. The 2007 Sport trim only seats five.
The 2008, 2009, 2010, 2011, and 2012 Toyota RAV4 models continue like the 2007 release.
The Base and Limited model has seven seats, and the Sport model only offers 5 seats. Seven seats is possible with the addition of a 3rd row of seating.
4th Generation Toyota RAV4 (2013-2018) Seating
Five years after the 3rd-row seat was introduced, it was discontinued in 2013.
All RAV4 models released from 2013 to 2018 seat five and have no 3rd-row seating.
Check also: Best Hybrid SUVs with 3rd row seatings.
5th Generation Toyota RAV4 (2018 to 2022) Seating
The fifth generation of the Toyota RAV4 does not have a 3rd-row seat.
Toyota discontinued 3rd-row seating in 2013 and did not bring it back because it wasn't popular with car drivers or buyers.
Part of the reason Toyota discontinued the 3rd-row seat was because it was small, especially the middle seat of the 3rdrow. It wasn't ideal for adult-sized passengers.
What similar compact SUVs offer 3rd-row seating?
The compact SUV market is extremely competitive and crowded.
Some of the most popular compact SUVs in this category include:
the Honda CR-V,
Mazda CX-5,
the Chevy Equinox,
the Subaru Forester,
and the Nissan Rogue.
Below, we will go over these popular compact SUVs and explore their seating options.
It is important to note that two rows of seating is the most popular configuration for the compact SUV industry.
Honda CR-V
The Honda CR-V was first released as a compact SUV in 1997. However, from 1998 to 2022, the CR-V was only sold with two rows of seating.
The 2023 release of the Honda CR-V offers third-row seating.
Mazda CX-5
The Mazda CX-5 has never been created with standard or optional third-row seating.
Chevy Equinox
Across all generations and all line-ups, the Chevy Equinox has never had more than two rows of seats.
It has permanently been configured with two rows of seating and room for up to five passengers.
Subaru Forester
The Subaru Forester has never been created with a third-row seat. Instead, it is configured to fit five passengers comfortably.
Nissan Rogue
Nissan has never released a Rogue model with standard or optional 3rd-row seating.
But every Rogue model has a comfortable cabin and lots of legroom to comfortably keep up to five passengers.
How much does it cost to upgrade to 3rd-row seating?
It is possible to add a 3rd row of seating to a compact SUV. But, the cost associated with this aftermarket addition is costly.
It costs a great deal of money to install the 3rd row because the seat must be adequately secured to the vehicle's frame. If the seats aren't secured to the frame, huge safety concerns can become an issue.
Can you install the extra seats yourself?
If you have a compact SUV listed above, and you want to add extra seats, such as the 3rd row of seats, you may be able to make this modification yourself.
However, to be successful and to ensure the seating is safe, you'll need a general knowledge of how a vehicle frame is constructed and some power tools, like an electric drill.
If you don't know how a vehicle frame is created and access to power tools, installing a third row of seats is probably a job better suited for a professional mechanic.
Which compact SUV has the most seating?
3rd generation Toyota RAV4s with a 3rd-row seat offers the most seating in the compact SUV market.
Toyota only offered these 3rd-row seating options for a few years, so the models that feature this configuration remain famous for car enthusiasts.
Final Thoughts
The compact SUV market is crowded with great options, which makes it challenging to choose which make and model is suitable for you. However, if passenger seating is essential to you, you'll be glad to know that most options offer room for up to five.
The search is a bit more difficult for those looking for room for more than five passengers.
Toyota offered more seating in the compact SUV RAV4 for a few years but ultimately discontinued it because it wasn't popular with drivers and car shoppers.
Sources
Was this article helpful?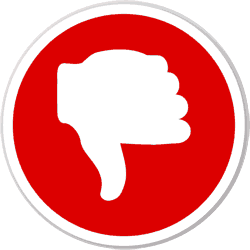 Did you find wrong information or was something missing?
We would love to hear your thoughts! (PS: We read ALL feedback)