When buying a new car, you may be tempted to go with a domestic brand over a foreign one. After all, American automakers have a reputation for building quality vehicles that last. 
But there is no denying that many foreign brands have made considerable strides in recent years. These days, there are quite a few excellent SUVs manufactured by non-American companies. 
In fact, some of the best SUVs on the market today come from companies based overseas. Read on to find seven of the best foreign-made SUVs all drivers are guaranteed to love. 
Sub-compact SUVs
The subcompact SUV is a growing segment that's attracting more and more buyers every year.
With their small size and relatively low price point, these vehicles are ideal for people who want something more than a car but don't need the utility of a larger vehicle. 
If you're in the market for one, check out these foreign-made subcompacts rated highly by drivers worldwide.
2023 Mazda CX-30
The Mazda CX-30 maintains the company's competitive advantage for engaging driving characteristics while combining the essential practicality of a crossover with all-wheel drive. 
It's also affordable, equipped with many standard features, and has excellent cabin craftsmanship.
Global production occurs in Mazda's Hiroshima plant in Japan, while North and South American production occurs in Salamanca, Guanajuato, and Mexico. 
Seven trim levels are offered for the 2023 Mazda CX-30:
2.5 S

2.5 S Select

2.5 S Preferred

2.5 S Carbon Edition

2.5 S Premium

2.5 Turbo Premium

2.5 Turbo Premium Plus
The four-cylinder engines in basic models are naturally aspirated, while the four-cylinder engines in Turbo models are turbocharged. All trims come equipped with AWD as well as a six-speed automatic transmission.
As an exceptionally reliable vehicle, the CX-30 currently tops the subcompact SUV charts.
It exhilarates with adept handling and a potent turbocharged engine (if you opt for it). But the standard engine is not too shabby either. 
The cabin is furnished with high-end materials and is loaded with active safety and infotainment technology – there is genuinely nothing terrible about this vehicle. 
While the Subaru Crosstrek and Honda HR-V are segment rivals that offer more space, they lack the CX-30's sophistication and appeal.
Overall, if you require less room than a bigger SUV but still want a stylish and enjoyable car with superior functionality than a sedan, the CX-30 is a good option. 
2023 Volkswagen Taos 
The 2023 Volkswagen Taos, unveiled in October 2020, is a solid option for a sub-compact SUV and is manufactured in three factories:
General Pacheco plant in Argentina
Puebla plant in Puebla, Mexico
Nizhny Novgorod plant in Russia
The Volkswagen Taos satisfies a more current customer yearning for economical fuel efficiency.
Every Taos idles achieves exceptional real-world fuel economy owing to a frugal, 158-hp 1.5-liter turbocharged four-cylinder engine available in front or all-wheel drive.
There is enough baggage capacity inside the Taos to efficiently handle shopping duties, even with the rear seats occupied.
Still, since the Taos lacks a hitch for towing, upgrading to the bigger Tiguan is recommended if you need to haul a trailer.
The Taos is not particularly unique on the inside. The components and styling are similar to other VW models' contemporary designs.
Every dash is equipped with a digital gauge cluster, and fabric covers are customary for the two-tone seats. However, leather upholstery, as well as leatherette, are options for drivers upon purchasing the vehicle.
Additionally, there are plenty of well-liked features that are available for the Tao's interior, such as: 
A panoramic sunroof
Heated steering wheel
Heated and ventilated front seats
Dual-zone climate control
An eight-way power driver's seat
Configurable ambient lighting
With a wide range of additional features, excellent fuel economy, and improved utility, Volkswagen's entry-level SUV has swiftly become one of the most popular models from the German manufacturer.
Compact SUVs
The compact SUV market is booming, and every automaker is trying to cash in. 
While many of these vehicles are built in America, several foreign-made compact SUVs offer the same reliability and versatility that we commonly associate with American-made models. 
Fortunately for you, we've researched and found two of the best foreign-made compact SUVs drivers love.
2023 Subaru Forester
The Subaru Forester is a compact SUV with an impression of ruggedness and a functional cabin.
Having been manufactured at assembly plants in Ota, Gunma Prefecture, Japan, all Foresters available in North America have undertaken a long journey across the Pacific ocean.
On dirt roads or simple to intermediate off-road tracks, the Forester excels.
This is primarily due to having a selectable X-Mode drive setting that adjusts Forester's powertrain and traction control for driving on dirt and boasting an 8.7-inch ground clearance.
The Forester also allows you to travel comfortably, regardless of whether you have long daily commutes or a relaxing getaway planned. 
The suspension readily mellows road imperfections, while the front seats provide adequate cushioning and support.
Apart from its sluggish acceleration, the Subaru Forester has a lot of positive characteristics. 
This SUV offers buyers a pleasant interior, many features for the cost, and the rough character they desire.
Considering how much Subarus can endure and how long they last, Japanese automakers are definitely building high-quality vehicles.
2023 Mitsubishi Outlander
Mitsubishi Motors, a Japanese automaker, manufactures the Mitsubishi Outlander and advertises it as a mid-size SUV. 
With seating accommodations for up to seven people, despite the third row being a tight squeeze, the 2023 Outlander is a unique vehicle in its segment.
The 2023 model has mostly recovered relevance thanks to its steady handling, elegant cabin, sizable overall space capacity, and modern equipment.
However, the engine is slightly unimpressive.
An automatic transmission is coupled to a 2.5-liter four-cylinder engine producing 181 horsepower and 181 pound-feet of torque as the only available powertrain for the 2023 model.
While the engine's power is enough to commute around town, it requires some time to reach highway speeds, and you need to put the pedal to the medal to merge lanes or overtake other cars.
Although the driving experience is more inconsistent than most vehicles of this class, the Outlander can handle winding roads reasonably well.
On the other hand, the cabin features luxurious details throughout, and the overall design is sleek and stylish.
The Outlander is one of the most affordable new three-row compact SUVs available on the automotive market, just after the Volkswagen Tiguan. 
It's a genuine contender if having enough room for up to seven passengers is your top priority.
Mid-size SUVs
If you're looking for a reliable and fuel-efficient SUV, you'll find plenty of options in the foreign-made mid-size SUV class.
These vehicles are typically roomier than smaller crossovers but not as big as full-size SUVs. That makes them excellent choices for families or anyone who needs to haul cargo regularly.
Here are some of the best foreign-made mid-size SUVs drivers love:
2023 Mazda CX-9 
The Mazda CX-9 is a mid-size Sports Utility Vehicle that Mazda has been manufacturing at its Ujina plant in Hiroshima Prefecture, Japan, since 2006.
Despite being manufactured in Japan, the export-only CX-9 is not offered on the country's domestic market because it violates stringent Japanese restrictions regarding engine size and dimensions. 
This resulted in the Mazda CX-9 being made into a popular vehicle for North Americans and Europeans alike.
As one of the more striking three-row mid-size SUVs, the Mazda CX-9 prioritizes driving pleasure and flair.
Also, it gets the nearest to catching up to the premium brands thanks to the luxurious components and design of the interior.
However, it falls short in cargo capacity, practicality, and third-row space – all crucial considerations for buyers of mid-size SUVs.
If you value driving performance and require the minimum utility that the CX-9 provides, you should consider it. 
Even the base model, which has a hefty price for the category, boasts a high-quality cabin and a comprehensive list of standard features. 
Overall, this Mazda is highly appealing in an extremely competitive segment.
2023 Toyota 4Runner
Toyota manufactures the 4Runner in Japan at its Tahara factory and the Hamura site of its affiliate Hino Motors. Therefore, the 4Runner was built in Japan and shipped to the United States across the Pacific.
It's essential to keep in mind that the Toyota 4Runner is a limited edition model. Toyota made only 4,040 of these special editions available in the US market.
Nonetheless, you won't be disappointed if you can get your hands on one, particularly if you're an avid off-roader. 
The Toyota 4Runner is a robust, traditional body-on-frame mid-size SUV that has succeeded in a market dominated by fashionable, car-based SUVs loaded with features.
Although it isn't high-tech, luxurious, or incredibly fuel-efficient, it is admired for its rugged aesthetics, off-road pedigree, and adaptability. 
Ultimately, the 4Runner excels off-road, has a ton of towing capacity, and has a good amount of cargo room. 
If you're the kind who likes to go off-roading to adventure or go camping, the 4Runner turns into a world-class player. 
The 4Runner is an option to consider as a competent vehicle, making it a feasible alternative to other off-roaders.
Full-size SUVs
The US is the home of the full-size SUV, but we're not the only ones who love them. Full-size SUVs are popular worldwide, and many foreign auto manufacturers have taken to designing their own models too.
While it's hard to beat the ability of a full-size SUV to haul people and cargo, it's also challenging to find one that doesn't have some sort of compromise in terms of fuel economy or handling.
Below you'll find a full-size SUV manufactured outside the US that is an excellent choice for buyers who want room for seven passengers and their stuff without compromising much else.
2023 Audi SQ7
The SQ7 is a full-size luxury SUV manufactured by the German automaker Audi. This seven-seat SUV see's its production at the Volkswagen Bratislava Plant in Bratislava, Slovakia.
Being a luxury-performance SUV, the SQ7 has a host of desirable components, including:
Seven seats
500-horsepower V-8 engine
Desirable driver-assistances aids
Modern, sporty interior, and much more
It has many advantages and very few drawbacks. 
Three rows of seats and several technologically advanced display screens can be found within. Its cousin, the Q7's, best features are also there, only with more strength and presence.
The SQ7 completed the 0 to 60 miles-per-hour sprint in only 3.5 seconds and comes standard with an eight-speed automatic transmission, including Quattro all-wheel drive.
Audi's SUV delivers a faultless drive while comfortably serving as a family SUV, considering its performance capabilities.
Given that it's a heavyweight, handling is nothing short of astounding – it handles curves easily and rarely feels unsteady.
Overall, the SQ7 handles beautifully, combines outstanding performance with luxurious comfort, and has a suitably upscale, aggressive appearance. 
Sources
Best Subcompact SUVs for 2022 and 2023
Best Compact SUVs for 2022 and 2023
Best Midsize SUVs for 2022 and 2023
Was this article helpful?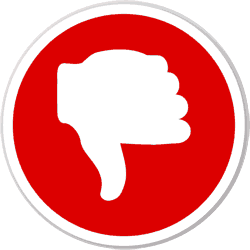 Did you find wrong information or was something missing?
We would love to hear your thoughts! (PS: We read ALL feedback)