Honda, like its Japanese rival Toyota, is known for reliability and dependability. It understands the unique preferences of its clients and delivers accordingly.
While these feats get truer every day, even the most reliable car would have a few weaknesses.
So, although they're more reliable than several other cars, let's discuss some terrible problems that have plagued them over the years.
Check Also: 349 names for Honda cars.
1. Abrupt Transmission Failure
Occupies the first, second, and third spot for worst reported Honda problem on Car Complaints. Interestingly, it is common with the Honda Civic and Accord which are the most troublesome models to have.\
Failure typically occurred within the 90,000 to 110,000-mile range. This is terrible given that transmissions are supposed to last an average of 150,000 miles or more. Some even last the entire life of the car.
While some trannies last just about 100,000 miles, it isn't something we expect from a reliable brand like Honda.
Besides, should this be the case, you wouldn't get 100,000 miles of optimal usage. Instead, problems may develop between 60,000 and 90,000 miles before failure ultimately occurs.
Read Also: Honda owner demographics.
2. Airbags Not Properly Installed
There were complaints about the airbags in some models not being properly installed. Experts discovered that the United States dealers failed to appropriately install the inflators in some Honda models.
In such cases, Airbags wouldn't inflate properly, causing them not to deploy when necessary and this could cause injuries to the people in the car.
The affected car models are Honda Accord, Pilot, Odyssey, Fit, and Ridgeline.
3. Power Window Switch Overheating
Drivers have complained about water gaining access to the switch because the plastic cover failed to stick to the surface properly.
The water causes the circuit board to melt, leading to the overheating of the switch. Once this happens, it could trigger a fire outbreak.
The Honda Fit seems to be the most affected model, and that's not all. Though it's a great car to own, there are other common problems with the Honda Fit.
4. Defective Ignition Interlock Causes the Car to Move Away
A modification with the ignition switch ensured its rotation from 160° to 125°.
Regrettably, the automakers did not adjust the ignition blocking mechanism to make room for the design modification. This is more common with the Honda Pilot.
This impact caused damage to the mechanism when the driver put more force when removing the key while the gear selector was not in Park mode.
5. Failure of The Power Steering Hose
Each time the power steering fluid drops on the hot catalytic converter, it causes smoke and can cause a fire beneath the vehicle.
Exposure to protracted high-power steering fluid temperatures can spoil the power steering hose. The hose will have cracks, leading to power steering fluid leakage from the car.
This anomaly mostly affected drivers with the Honda Accord. That's right, even the Honda Accord has some troublesome problems.
6. Possibility of the Lock Up of Automatic Transmission
In the Honda Pilot, Accord, and Odyssey, drivers have experienced heat because of the accumulation between the second gears of the secondary shaft and the countershaft. This is clear in the automatic transmission.
When the oil flow cannot disperse the heat, using the vehicle will lead to reduced material strength. It could lead to gear breakage and cause the chipping of the gear tooth.
There's also a possibility of a lockup of the automatic transmission system when the gear fails. This could lead to a crash.
Check also the issues and best and worst years for Honda PRELUDE.
7. Fuel Pump Experience Abrupt Loss of Power
This problem stems from the manufacturing procedure caused by a cracked die punch that led to collapsed terminals in the main fuse box of the Honda Accord and Odyssey models.
If the terminals are affected, they cannot deliver sufficient contact to the vehicle's fuel pump relay. When these vehicles are manufactured, Honda applies the sealant to the fuel pump relay terminal.
If the sealant makes contact with the relay and the coil, it could affect the wire end of the coil thread and break the thread wire in the long run.
The result will be an intermittent loss of power to the fuel pump, inevitably leading to engine stalling. This situation will cause a crash if not properly checked on time.
8. Soft Brake Pedal Feel
In the Honda Odyssey and Element, the vehicle's VSA modulator enables a vacuum condition that allows air access to its modulator pump.
As time goes by, the air makes the brakes feel softer, negatively affecting how drivers operate their automobiles. This problem makes the vehicle risky to drive.
9. Short-Circuiting of the Automatic Transmission
Due to some adjustments made in the secondary shaft bearing outer race material and shape to ensure the engine torque is properly handled, the automaker did not modify the automatic transmission control module software.
This problem is peculiar to the Honda CR-V and there are other issues with the Honda CR-V you should know about.
Drivers who experience this issue usually witness the breaking of the secondary shaft bearing.
They may also experience unnecessary noise because of the defective outer race. This leads to contact between the idle transmission gear and the electric sensor housing.
Once this happens, there'd be engine stalling and short-circuiting of the automatic transmission.
10. Electrical Issues and Faulty Brake Rotors
Drivers of the Honda Accord models have complained about electrical problems involving the gleaming and flashing of their dashboard lights. Other problems have to do with dimming climate control lights, and faulty air conditioning.
Some other issues that plague the Honda Accord include premature brake rotor failures, transmission fluid leaks, and unwarranted oil consumption.
11. Clogged Fuel Injectors, Failure of Valve, and Idle Air Controls
Owners of the 2016 Honda Pilot must cope with clogged fuel injectors, idle air control failures, and the failure of the exhaust gas recirculation valve.
They also struggle with a differential fluid breakdown which is a common problem for most Honda users.
Furthermore, if you plan to own a model of the 2010-2013 Honda Pilot, you may have to cope with flawed low beams because of overheating electrical wiring controls.
General Pros and Cons
While every car brand has its fair share of pros and cons, Honda remains a top brand for wallet-friendly driving. Here's why.
Pros:
Above average reliability
Commendable resale values
Best-in-class fuel efficiency
More affordable than rivals in its class
Admirable safety ratings
Cons:
Improperly installed airbags
Power steering hose failure
Defective brake systems
Abrupt loss of power
Defective ignition interlock
What Is the Resale Value of Honda Models?
We've already established that Hondas have great resale values. Let's see how models compare with each other.
| | | |
| --- | --- | --- |
| Model | Approx. Mileage (Miles) | Price ($) |
| Honda Accord | 71,315 | 29,394 |
| Honda Civic | 71,315 | 24,353 |
| Honda Clarity | 71,315 | 29,489 |
| Honda CR-V | 71,315 | 32,907 |
| Honda Fit | 71,315 | 15,047 |
| Honda Ridgeline | 71,315 | 32,457 |
| Honda Pilot | 71,315 | 32,882 |
| Honda Odyssey | 71,315 | 33,185 |
| Honda Insight | 71,315 | 14,995 |
| Honda HR-V | 71,315 | 23,445 |
We approximated average mileage using Kelley Blue Book's estimate of 14,263 miles driven annually. It's difficult to determine what models have the best resale values, so we'd select the top two.
The Honda Civic and CR-V have the lowest depreciation rates of just 16% and 18% respectively after 5 years. That provides more than enough room for easy car replacement.
What Do the Reviews Say?
The Honda Odyssey is JD Power's "Best Minivan of 2022" with an overall rating of 81 out of 100. However, that's just one model where a Honda excels. Let's review the entire brand.
Honda has a reliability rating of 4.0 out of 5.0 on RepairPal. Hence, it's ranked 1st out of all 32 car brands. So, RepairPal even ranks it higher than Toyota in terms of reliability.
Also, a Honda's average annual repair cost is about $428. This is low when compared to the average of $652 across all car brands.
Final Thoughts
Sure, we've mentioned a handful of problems on Honda. However, its popularity may also be the reason so many problems are reported.
Now you know what models to buy and the ones to be cautious of. Ultimately, if you somehow end up with a problematic model, you'd be sure to take precautionary maintenance steps.
Was this article helpful?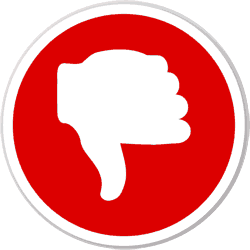 Did you find wrong information or was something missing?
We would love to hear your thoughts! (PS: We read ALL feedback)
ⓘ  The information in this article is based on data from National Highway Traffic Safety Administration (NHTSA) recall reports, consumer complaints submitted to the NHTSA, reliability ratings from J.D. Power, auto review and rating sites such as Edmunds, specialist forums, etc. We analyzed this data to provide insights into the best and worst years for these vehicle models.
---