Mixing the brand's refined styling with a cushy ride and practical storage space, the Audi Q3 sits comfortably in the luxury subcompact SUV range.
If your aim while seated in the driver's seat is to almost forget you're driving at all, the Q3 will likely be an attractive option.
But which Q3 model years will give you the best value?
We've compiled our research on the best and worst years for the Q3 below.
The Best And Worst Years For Audi Q3 Are:
For a top-tier Q3, try to choose a model from 2017, 2019, or 2021, which all have impressive reliability and great standard features. The years you'll want to avoid include those from 2015, 2016, and 2020, which tended to have a greater number of complaints.
What Audi Q3 Years Are The Most Reliable?
2017
2017 is a great choice for a used Q3 model, with few reported issues and a strong performance in reviews.
J.D. Power gave the model a 79 rating overall, and a 77 in the Quality and Reliability category.
The review praises the Q3 for toeing the line between being compact enough for everyday city driving and providing enough room for extra passengers and cargo. While the model's driving isn't exactly thrilling, its still sure to provide a smooth and easy ride.
The 2017 model also performed well in safety and reliability. It saw only four complaints on the NHTSA site, one of the lowest for all the Q3 models.
The 2017 Q3 also received the highest IIHS safety rating, and scored a 10 out of 10 in the U.S. News & World Report safety category.
2019
2019 was a redesign year for the Q3, as the model entered its second generation.
Updates included a new platform which created increased room in the interior, along with a slew of added features to the already impressive technology offerings.
The result is that 2019 model is one of the strongest years for the Q3.
Edmunds gave the model an improved review, rating it 7.8 out of 10 stars, compared to the previous year's rating of 6.9. The review highlights the Q3's quiet and comfortable ride, as well as its cutting edge technology.
2019 also saw the Q3 receive an official 5-star safety rating from the NHTSA, so you can be extra certain of the vehicle's reliability in the event of a crash.
While you might expect a new release to have some glitches to work out, the model's record is fairly clean, and it saw only about half as many complaints as the 2018 version.
2021
2021 saw the Q3 bounce back strong from a slightly disappointing year in 2020.
In 2021, the Q3 jumped to a 77/100 in the J.D. Power Quality & Reliability category, up from a 67/100.
It also went from the number five to the number three spot in their small premium SUV category.
It continued to receive praise for its high-quality interior, as well as its ultra-comfortable ride.
Its state of the art technology includes a 10-inch touchscreen, a customizable digital gauge display, and wireless Apple CarPlay and Android Auto.
In addition, it's a highly reliable model year, with only four registered NHTSA complaints, most of them fairly minor.
What Audi Q3 Years Should You Avoid?
2015
As the first car in the Q3 lineup, the 2015 model showed Audi where they needed to improve their latest SUV addition.
Edmunds takes off points for its lack of interior cargo space, as well as its lackluster driving performance. The dial for the screen control was also not a feature favored by many, due to its awkward placement and unintuitive operation.
Electrical problems have also proven to be a sore spot for many Audi Q3s, and the debut model was no exception. It faced several recalls relating to the closure of the sunroof and erratic behavior of the side lights.
Some drivers also reported a loss of power for certain features while driving, such as control buttons and door locks.
A more serious issue that also tended to crop up was failure of the engine timing chain. 
The chain is responsible for sequencing the operations of the engine, and a failure can lead to even more severe engine damage.
Think of the 2015 model as a test run, and go with one of the more recent models to get the most from your Q3
2016
This model year also saw issues with the electrical system, with many owners reporting malfunctions with the lights, window controls, rear back-up camera, and radio.
Three recalls were also issued regarding problems with the Q3's lights, having to do with the possible failure of turn signals, side marker lights, and emergency parking brake lights.
Another problem that was frequently reported was a cracking windshield.
CarComplaints.com shows several complaints of instances where the windshield cracked inexplicably, sometimes after already being replaced.
The Q3's ratings also dipped slightly across the board, down to 8.5 from 8.6 out of 10 on U.S. News & World Reports, and to 81% from 84% in J.D. Power's estimate.
Altogether, 2016 is a year to avoid if possible.
2018
2018 saw a dip in performance for the Q3.
Edmunds gave it only 6.9 out of 10 stars, their lowest expert rating for any Q3 model. Consumers rated it a 4.1 out of 5, down just slightly from the previous year.
Points of criticism included low fuel economy considering its more compact size, as well as disappointing handling capabilities when compared to rival SUVs.
As far as safety and reliability, the 2018 model wasn't as bad as some others, but it wasn't great, either. It received fourteen complaints and one recall by the NHTSA, with many complaints centering on – you guessed it – electrical issues.
Several drivers also reported a sudden shattering of their sunroof, which Audi has not addressed.
2020
While there were only two recalls that affected the 2020 model year, it received forty-three complaints on the NHTSA site, nearly triple the number seen in any other year.
One of the most common problems that plagued the model was rainwater leaking from the top of the car, either from the sunroof or near the interior overhead lighting.
The leaks caused electrical system issues for some drivers, who reported short-circuiting lights and loss of power to charging stations and outlets.
What's worse, many Q3 owners state that they were disappointed in Audi's response to the issue, and were left to deal with the issue themselves.
Most of the other issues had to do with the electrical system, as well, with some drivers reporting glitches which caused their vehicles to stop operating while driving.
The other top common problems had to do with the engine and propulsion system, with drivers experiencing something called "limp mode".
This occurs when a fault with the engine or transmission is sensed by the vehicle, and triggers an automatic function where the vehicle slows down, with the aim of reducing the risk of a high-speed crash.
While limp mode is designed to prevent hazards, problems with the system can sometimes create them. In the case of many drivers, limp mode was activated by a false alarm due to an issue with their vehicles software.
What Are Some Typical Problems With The Audi Q3 Models?
When things go wrong with the Audi Q3, it tends to have issues with the following:
Transmission & shifting problems
Electrical system malfunctions
Leaking sunroof leading to water damage
Malfunctional rearview camera
We have a full overview of common problems across all Audi SUVs.
Final Thoughts
The Q3 tends to be a reliable model in general, but our top model years are certain to be your best bets for getting a great value on a used Q3.
Hopefully, our list will help you achieve the Q3's luxurious and sleek ride, without having to hop on the latest model.
Was this article helpful?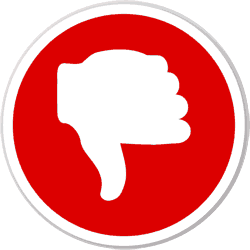 Did you find wrong information or was something missing?
We would love to hear your thoughts! (PS: We read ALL feedback)
ⓘ  The information in this article is based on data from National Highway Traffic Safety Administration (NHTSA) recall reports, consumer complaints submitted to the NHTSA, reliability ratings from J.D. Power, auto review and rating sites such as Edmunds, specialist forums, etc. We analyzed this data to provide insights into the best and worst years for these vehicle models.
---