SUVs come in categories that are based on their available space. However, the bigger the space, the more expensive they are so it isn't easy to get a full-size SUV at a cheap rate.
Yet, if you need a full-size SUV that is affordable, we got you covered. Join us as we explore 5 of the cheapest full-size SUVs in the US with their prices.
Check Also: the demographics of full-size car owners.
1. Hyundai Palisade
The Palisade is one of Hyundai's most popular models since its inception. Also, the 2023 model has seen some noteworthy changes from the previous models.
These upgrades have added to the overall quality and driving experience of the driver. They have also kept the Hyundai Palisade among the best three-row full-size SUVs.
Its interior includes high-quality materials with the choice to choose between all-wheel drive and front-wheel drive.
Further, the new Palisade offers a 291-horsepower V6 engine and an eight-speed transmission just like previous models.
It can also tow up to 5,000 pounds and includes features like Wi-Fi Hotspot, USB-C ports, massaging driver's seats, and more. We consider its overall comfort and driving experience to be one of the best in its category.
Competently, the Palisade's interior is quite spacious with enough legroom in all three rows. More notably, this SUV has one of the most affordable prices.
Its price ranges from $36,545 to $52,310, depending on the trim you choose. So far, this is quite cheap compared to other models in this category.
Ensure you check our article about full-size SUVs with the best visibility.
2. Cadillac XT6
The 2023 XT6 offers lovely styling with many standard modern features for comfort. These features include a spacious cabin that is fitting for big families as seats accommodate seven to eight people.
However, the rear may not be comfortable for adults owing to limited space.
The XT6's infotainment offers standard modern features like Apple CarPlay, Android Auto integration, onboard Wi-Fi, and more. However, its interior may not be up to expectations because of its down-market materials.
It also comes with limited cargo space, but owners can fold the seats for more room. You then get access to heated and ventilated front seats.
There's also the option to choose from either a 237-hp turbocharged 2.0-liter four-cylinder or a 310-hp V-6 engine.
However, both engines come with a nine-speed automatic with the option to choose either front-wheel drive or all-wheel drive.
There are three trim levels available, namely:
Luxury,
Premium Luxury,
and Sport.
The Luxury and Premium Luxury are more about comfort, while the Sport trim features enhance its performance.
We have a list here of the best and worst years for Cadillac XT6.
These features include super-responsive steering and a torque-vectoring rear differential.
The 2023 XT6 comes as one of the cheapest on our list, with a starting MSRP of $49,990 for the Luxury base level. However, note that you can get the car for a lower price as this is a retail price.
3. Buick Enclave
This full-size SUV comes with seating for seven passengers with a generous cabin space.
It is quite roomy with enough cargo space for those whose primary concerns include space. Owners would also enjoy practical and attractive interior designs.
However, while the quality of the material is not as good as those of the competing models, there are many features owners can love about the infotainment system.
Also, not only is the infotainment system user-friendly, but the interior also offers Wireless Apple CarPlay and Android Auto as standard.
There is still an onboard Wi-Fi hotspot with two USB ports in all three rows for charging.
The Enclave models include a 3.6-liter V-6 engine and come with a nine-speed automatic transmission. There is also an option to choose between the front-wheel or all-wheel drive.
For a full-size SUV, it is quite fast, though not the fastest. So far, drivers can make it to 60 mph in 6.5 seconds.
Despite the fast ride it offers, the Enclave leaves the cabin undisturbed.
This SUV smooths out rough effects from the road, so passengers can enjoy a calm ride. Also, the 2023 Enclave can tow up to 5000 pounds if owners equip them properly.
It is one of the cheapest SUVs compared to competitors with a starting MSRP of $46,195 for the Essence base-level trim.
4. Nissan Armada
The 2022 Armada offers luxurious features savvy car buyers will appreciate.
The cushy and spacious interior contributes to the classy offer of this SUV. Also, it offers a calm ride that owners will appreciate on rough and bumpy roads.
Further, it comes with three-row seats that can accommodate up to eight passengers. However, if owners opt for the optional second-row captain seats, the vehicle would only accommodate seven people.
It then comes with enough legroom for passengers' comfort and seats can fold down for more cargo space. Regarding cargo space, the Nissan Armada is quite popular for its big trunk.
The 2022 Armada comes with an infotainment system that includes a rotary control for volume and tuning.
We have an overview here of what Nissan Armada years are best and worst.
Also, owners get to enjoy the availability of Wireless Apple CarPlay and standard Android Auto. Add wireless smartphone charging and buying the Armada might just be an easy decision.
Regarding safety, drivers can drive in every model of this trim while appreciating many standard driver-assistant features.
Still available are the standard automated emergency braking, standard lane-departure warning, lane-keep assist, standard blind-spot monitoring, and rear cross-traffic alert.
Should you opt for the Armada, you'd get a powerful 5.6-liter V-8 engine with a seven-speed automatic tranny.
Also, it offers a 400-horsepower engine with 413 pound-feet of torque on premium fuel and different models can tow up to 8,500 pounds.
This SUV is one of the cheapest on our list with a base price of  $51,595.
5. Toyota Sequoia
The 2022 Sequoia has a very spacious passenger space, with enough legroom on all rows unlike other SUVs in this category. Thus, adults can seat comfortably in all rows.
Also, Toyota equipped the Sequoia with many safety features and driver assistant technologies.
The interesting thing is most of these features come standard in the base Sequoia, unlike most rival models. However, the interior materials may lag other brands in quality.
Key features include standard adaptive cruise control, lane departure warning and lane-keeping assist, forward collision warning, and automated emergency braking, among others.
However, it lacks some modern features that are popular in new cars. They include heated steering wheels, massaging front seats, and others.
For the infotainment, the Sequoia comes with a touchscreen infotainment system and also includes Apple CarPlay and Android Auto. Also available is a Wi-Fi Hotspot and a rear-seat entertainment system.
The 2022 Sequoia engine is quite reliable, this is owing to a 381-hp V-8 engine and a six-speed automatic transmission. Also, there is an option to choose between rear-wheel drive or front-wheel drive.
This SUV can tow up to 7,400 pounds, which is okay, although competitors can tow up to 8,000 pounds.
However, its fuel economy isn't bad for an SUV its size. Compared to many SUVs in its segment, it saves owners money in fuel costs.
For that reason, the Sequoia is among cheap SUVs with the best mileage.
So far, the 2022 Sequoia is another full-size SUV that comes at an affordable base price. The starting price opens at $59,895.
Final Thoughts
In every segment, you'd always find budget-friendly vehicles. However, they may not always meet up to your expectations.
If you're really keen on cutting costs, focus on what you want from a vehicle and find an affordable one that excels in that area. For example, if you're an off-road enthusiast, find an affordable SUV that has awesome towing capabilities and high ground clearance.
The catch is; such an SUV wouldn't excel in other areas like comfort and infotainment.
Sources
20 Best Full-Size SUVs for 2022 & 2023 Ranked | TrueCar
Was this article helpful?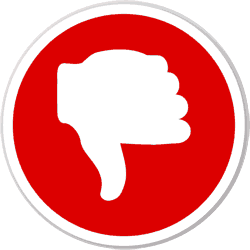 Did you find wrong information or was something missing?
We would love to hear your thoughts! (PS: We read ALL feedback)