The Honda CR-V is a 5-door compact crossover SUV that was introduced to the US market in 1997 and is currently Honda's best-selling vehicle worldwide.
It shares common design and engineering elements with the Honda Civic and has evolved over six generations.
The following guide explores each generation to help you figure out which Honda CR-V models are the best purchases and possible models and versions to avoid.
Best Years for Honda CR-V
Expert ratings reflect a favorable year for the 2022 Honda CR-V model, calling it a quality vehicle with a competitive price among its class of crossover SUVs.
The following lists the top 5 best years for Honda CR-Vs based on the fewest number of consumer-reported issues, overall least serious reported problems, and standard or optional features.
2022
Electrical issues are most commonly reported, like a malfunctioning infotainment system. All in all, the 2022 model has high ratings and is considered to be the best Honda CR-V model year, according to its high expert ratings.
The 2022 model is considered to be a top Honda CR-V for the money.
The 2022 Honda CR-V also has the biggest engine across the many generations and models. We have an article here about engine sizes for all Honda CR-V models.
When looking into cargo space and how much stuff you can bring in your SUV, the 2022 model is also the CR-V model with the most cargo space.
Check this article for a full overview of cargo capacity for all Honda CR-V models.
2021
Window and windshield issues are the most commonly reported problems.
Otherwise, the 2021 model is spacious, has great fuel economy, and is overall comfortable to drive, making 2021 one of the best years for the Honda CR-V.
2020
The car has reportedly failed to start or may suddenly slow down while driving on the freeway.
The issues with the 2020 model are small compared to its stellar ratings which closely compare to the 2021 model.
2008
Consumers noticed significant paint chipping, premature wearing of tires, and malfunctioning door locks. If you're looking for a reliable, no-frills, used Honda CR-V, then the 2008 model could be it.
The 2008 model has one of the highest-rated years for safety and reliability and more than enough cargo space. If you don't need a super-powerful engine, a manual transmission, or third-row seats, then there are virtually no cons.
2007
Malfunctioning power door locks and a failing air conditioner were the most frequent complaints.
The 2007 year model actually scores better overall than 2020, 2021, and 2022. 
It scores the lowest for its interior, presumably because it doesn't allow for a third row like some of the other models.
But it's still roomy enough, incredibly safe, and hasn't reached its 20-year peak yet.
That's something to consider since some car experts assert that 20+ years is the cutoff age for purchasing a used car. Overall, a good car with minimal issues.
Honda CR-V Years to Avoid
All 2002 to 2011 CR-V models were recalled due to potentially deadly Takata airbags which needed to be removed and replaced.
The following are 5 of the worst Honda CR-V years based on models having some of the most consumer-reported complaints and generally more costly repairs or issues that pose a high risk to safety.
For these years, it's better to look at some of the other compact SUV competitors to the Honda CR-V.
2013
Engine problems were common as well as electrical problems. Other common reports complained of a grinding noise, excessive oil consumption, a dead battery, and the engine failing to start.
2015
The 2015 Honda CR-V had the highest number of complaints compared to all other years (other sources may show slightly different figures).
These problems are the most common:
engine idling,
powertrain vibrations,
and slow acceleration
With an average reliability rating, the 2015 model is also more pricey compared to the higher-rated 2013 and 2014 models.
2017
Quite a few issues with this model caused consumers to file reports and 24,000 vehicles to be recalled early on. The recall was a response to the 2017 model's faulty fuel line resulting in a potential fire hazard among other serious outcomes.
Engine problems take the lead and mainly include reports of high oil levels.
Other significant issues include electrical problems, interior accessory issues, and heater or air conditioning malfunctions.
2018
Engine problems similar to the 2017 model overfilled oil levels and a smell of gas in the cabin as a result.
Others complained of unexpected acceleration while braking, shutting down unexpectedly, and losing power while driving.
The second biggest complaints were electrical issues, specifically a drained battery or a malfunctioning audio panel and lane warning system.
2019
A dead battery is the most common problem followed by a malfunctioning infotainment system. This model has a near-perfect safety score, which is often the most important feature.
Unfortunately, 5 recalls are a headache to deal with already, but because one of them can cause the engine to stall while driving, 2019 just isn't the best year for the Honda CR-V.
1st Generation: 1997—2001
The Honda CR-V began with a much sportier compact SUV look compared to the sleeker look of its future models.
The first generation Honda CR-V models were introduced at the 1996 Chicago Auto Show and went on sale in February of the following year with one trim level option, the LX.
It had a 126 horsepower engine and front or all-wheel drive options. The 2000 models saw improved engine performance with 147 horsepower and a combined 23 mpg fuel economy. The 2000 SE featured a leather interior, CD and cassette deck, and navigation system.
The LX safety rating fared less than average.
2nd Generation: 2002—2006
The second Honda CR-V generation models maintained similar features as the first generation vehicles except with added engine power, an upgraded look, and more cabin space.
Reclining seats were introduced and certain trims included a sunroof.
The 2004 Honda CR-V saw some new features, including:
manual or automatic transmission options
and real-time four-wheel drive.
The 2006 model included four-wheel or all-wheel drive options and side-impact airbags.
Some features saw the end with the second-generation Honda CR-V.
It was:
The last generation to offer a manual transmission.
The last generation to include a fold-out picnic table.
3rd Generation: 2007—2012
In its third generation, the Honda CR-V got a facelift with a brand-new design, improved safety features, and better handling.
All third-generation models boast a five-speed automatic transmission and the 2009 and 2010 models come with the option to install a navigation system and backup camera.
The 2010 Honda CR-V kicked up to 166 horsepower and gave slightly better gas mileage than previous models.
The 2011 Honda CR-V featured five seats, allowing for more passengers than the previous four-seat models. The third-generation models also upgraded certain trims with optional features like leather seats, Bluetooth streaming, and Pandora compatibility.
4th Generation: 2013—2016
The redesign of the fourth generation Honda CR-V models didn't stray far from the third generation models, featuring softer angles and an overall sleek exterior.
The engine improved, albeit slightly, from a 166 to a 185 horsepower engine.
All models retained a five-speed automatic transmission with the exception of the 2014 model which came as a four-cylinder vehicle.
What was optional in the third generation was now standard, including Bluetooth connection and a backup camera.
Several safety features like collision warning and automatic braking are available on some trims. Fourth-generation optional features include:
Rear seat DVD entertainment system
Dual automatic climate control
5th Generation: 2017—?
Once again, with a new generation, the Honda CR-V saw an updated exterior and more interior features.
Generation five CR-Vs have all-wheel drive and hold two four-cylinder engines in addition to a larger body than previous models. The combined miles per gallon is the highest compared to older generation Honda CR-Vs at 27-30 mpg combined city and highway.
Apple CarPlay and Android Auto are available as additional features.
Several notable features are highlighted in the 2019 and 2020 Honda CR-Vs including
CVT (Continuously variable transmission)
Automatic emergency brake system
Choice of two four-cylinder engines
However, the most significant addition to the Honda CR-V line comes with the 2021 and 2022 models.
With the 2021 CR-V, you have the option to choose a hybrid drivetrain, meaning better fuel efficiency.
The 2022 CR-V introduced the turbo four-cylinder engine and gas-electric drivetrain options.
Both models have better fuel efficiency compared to older models at 29–30 mpg. You can read more stats about Honda CR-V models here.
Which Honda CR-V Generation Should You Buy?
The 2020 Honda CR-V has the highest ratings when it comes to safety, space, and fuel economy. It's a winner if you want to get the most for your money.
The 2022 and 2021 models score similarly and have fewer consumer complaints.
With the exception of the 2017 and 2018 models, the best Honda CR-V generation is the fifth because it's the most up-to-date and several cars in this family have exceptional safety and fuel ratings.
What Year is the Most Reliable Honda Cr-V?
If you're looking for an older model, then the top pick is the 2010 model year. It scores high in safety and has a perfect five out of five score for reliability.
The 2010 Honda CR-V won the 2010 best compact crossover for cost, comfort, and gas efficiency.
But, don't expect miracles when it comes to acceleration or engine power as the 2010 CR-V is fairly average, but if you're looking for reliability, it's one of the best.
What are the Most-Common Problems With Honda Cr-Vs?
Some of the most commonly reported Honda CR-V problems according to consumer complaints include
Air conditioner issues
Accelerating unexpectedly
Oil consumption
We have a full list of problems across the Honda CR-V models.
Consumers complain that the A/C blows warm air or doesn't work at all, as is the case for the 2002 model specifically. A/C issues have been reported for Honda CR-V model years ranging from 1997–1999 and 2001–2016.
How Many Miles will a Honda Cr-V Last?
How well the Honda CR-V is maintained is one-half of the equation, in addition to the average miles driven per year. Otherwise, a Honda CR-V driven an average number of miles per year can make it to 200,000 miles at least.
Many Honda CR-Vs survive to 250,000 miles and some may get up to 300,000 miles when maintained well.
We have more here on how long a Honda CR-V lasts.
What are the Closest Competitors to the Honda CR-V?
Other compact SUV vehicles are close in competition with the Honda CR-V and may be suitable alternatives.
The Honda CR-Vs' closest competitors include similar features, some better and some worse, relatively, depending on which features are most important to you.
Competitors include:
Toyota RAV4: More infotainment features but less cargo space.
Subaru Forester: Very similar to the CR-V, with slightly less impressive engine performance.
Volkswagen Tiguan: More passenger space with a seven-seat option as well as more features like heated front seats and a sunroof.
How Long do the Transmissions Normally Last on These Models?
Factory design flaws, how fast you drive, and how well you maintain your Honda CR-V all play a part in determining how long a Honda CR-V transmission will last before it needs to be replaced.
According to transmission repair sources, the average lifespan of a Honda CR-V transmission is between 130,000 and 180,000 miles.
Sources
Honda CR-V Model Year Comparison | carcomplaints.com
2010 Honda CR-V | cars.usnews.com
Honda CR-V Transmission Problems & Cost | transmissionrepaircostguide.com
Was this article helpful?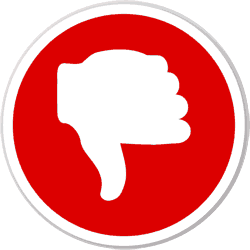 Did you find wrong information or was something missing?
We would love to hear your thoughts! (PS: We read ALL feedback)