Audi is a world-famous automotive brand known for manufacturing luxury vehicles. Headquartered in Bavaria, Germany, Audi is a subsidiary of the Volkswagen group and it was founded in 1909.
The German automaker has a range of vehicles including compact cars, SUVs, coupes, full-size luxury cars, and sport cars. It has produced and sold millions of units across the world, making it one of the top automotive brands on the market right now.
While Audi vehicles are generally praised for their suaveness and quality, there have been several complaints about functionality. Audi often attempts to look into these complaints by recalling the vehicles.
Based on data from the ARFC and NHTSA, Audi vehicles have been recalled 868 times since 1977.
If you are looking to cop an Audi soon, we have prepared a list of Audi vehicles with the most recalls. This would help you figure out which models to stay away from.
1. Audi A6
The Audi A6 is an executive car produced since 1994. It is now in its fifth generation and enjoys immense commercial success across the globe.
It also boasts an excellent rating of 8.5/10 on CarandDriver and an 8.7 critics' rating in US News.
Number of Recalls
The Audi A6 has the most recalls amongst Audi models with 112, which is about 12.9% of all recalls from Audi since 1977.
Of the 112 recalls, the 1998 Audi A6 alone accounts for 10, making it the most recalled Audi A6 model. That puts it atop the list of A6 models to watch out for.
Other models with worrying recall numbers include the 1999 A6 (9), the 2012 A6 (8), and the 2001 and 2003 A6 (7 each).
We have a list here of the worst and best years for Audi A6.
The 2019 and 2020 models have the joint fewest recalls with just 1 so far, which is an auspicious number for A6 enthusiasts. Other models with relatively few recalls include the 1996 model (2), 1997 (2), 2018 (2), and 2016 (3).
Below is a compilation of the most common reasons for Audi A6 recalls through the years:
Electrical system problems (starter assembly faults, wiring flaws, possible short circuit because of wrongly placed connector pins)
Airbag problems (manufacturing flaw, possible rupture, and explosion of inflator, improper deployment, or outright non-deployment)
Fuel system problems (possible leakage of left and right fuel rails, vulnerable compression point, fuel pump defects)
Engine cooling issues (possible blockage of the electric coolant pump and overheating)
2. Audi Q5
The Audi Q5 belongs to the compact luxury crossover SUV class. It debuted in 2008 for the 2009 model year and entered the second generation in 2017.
This car has some of the most impressive annual sales figures amongst SUVs in its class and has received raves from critics.
Number of Recalls
While the Audi Q5 is one of the least recalled SUVs in the top section, it is contrastingly the second-most recalled Audi model.
You can see here what years to avoid for the Audi Q5.
With 71 recalls, the Q5 alone holds 8.2% of the total recalls for Audi models.
You can see an overview here of how few problems there are with Audi SUVs.
The 2018 Audi Q5 notches the topmost spot with 8 recalls so far. This figure suggests a fundamentally faulty vehicle, and it's one to watch out for. Other models with not-so-great figures include the 2015, 2009 and 2012 models, all of which have 7 recalls.
Also notable are the 2016 and 2017 models with 6 recalls each and the 2019 model with 5.
The 2020 Audi Q5 has only one recall so far. The 2008 Q5 also has 2 recalls, making it one of the most reliable Audi Q5 models.
Below are the most common reasons for Audi Q5 recalls:
Structural problems (possible detachment of rear wheel arch cover trim)
Visibility issues (weak sunroof drainage system and possible corrosion of canister due to leak)
Engine cooling issues (possible debris infestation and blockage of the electric coolant pump and overheating)
Fuel system defects (possible crack of fuel pump flange and resultant leakage)
Airbag defects (likely corrosion of control units, excessive international pressure, and inflator rupture/explosion)
Related: 5 Chevrolet Models With Most Recalls (Avoid These!)
3. Audi A4
The Audi A4 is the company's line of compact executive cars. It was first launched in 1994 and now has five generations under its belt.
Though the Audi A4 has problems, it is known for its powerful engines and consistent and ingenious facelifts, the Audi A4 is one of the top cars in its class.
Number of Recalls
Since 1996, when the first recall was issued, the Audi A4 has had 69 recalls. It accounts for 7.9% of all Audi recalls and sits very far up on the list of Audi vehicles with the most recalls.
Of the 69 A4 recalls, the 2017 Audi A4 holds the top spot with 10. Considering how recent it is relative to several other models, the 2017 A4 is definitely one to stay away from. Other models with 5 or more recalls include the 1997 and 2008 models.
Besides the three models mentioned above, every other Audi A4 has below 5 recalls, which means they can be considered as options.
The 1995 and the 2005 models have the fewest recalls with just 1 so far.
Common reasons for Audi A4 recalls through the years include:
Ignition issues (possible fracture of the plastic ignition switch housing and reduction of spring force required to start engine)
Airbag defects (output of static electricity in low humidity conditions, abrupt activation, and manufacturing flaw)
Fuel system issues (non-functional fuel pump and blockage of fuel supply)
Engine cooling problems (debris infestation of the electric coolant pump and likely overheating).
Electrical issues (internal corrosion of connector and possible damage to heater)
Related: 8 Honda Models With The Most Recalls (Avoid These)
4. Audi A3
The Audi A3 is classified as a compact executive car and was first launched in 1996 for the 1997 model year. It has been built in four generations and has racked up multiple awards, including the World Car of the Year in 2014.
Although the Audi A3 has problems too, it has also garnered above-average ratings from critic publications while placing 18th on WhatCar's list of 24 reliable family cars.
Number of Recalls
The Audi A3 is one of the most recalled Audi models, with 54 recalls in its name. That's roughly 6.2% of all Audi recalls ever recorded.
7 total recalls land the 2015 Audi A3 the #1 spot amongst the most recalled A3 models. That's one model you want to make sure is out of or at the bottom of the list of your preferred models. Next in line is the 2009 model with 6 recalls so far.
Also notable are the 2018, 2016 and 2010 models with 5 recalls each.
The 2005 and 2019 A3 models have the joint-fewest recalls with just 1 each. The 2007, 2008, 2013 and 2017 models are also among the least-recalled models with 3 each. These are models you could consider if you are intent on copping an A3.
Below are issues with multiple appearances across Audi A3 recalls:
Airbag defects (possible inflator explosion, improper electrical contact, possible deactivation of passenger airbag, and inapt deployment)
Fuel system issues (possible fuel leak, damaged suction pump, improper fuel flow into the evaporation emissions system, and stressed fuel lines)
Seat issues (missing latching pins for rear seat head restraint and improperly stitched covers of either front seat)
Related: 5 Buick Models With The Most Recalls (Avoid These)
5. Audi 5000
The Audi 5000, also known as Audi 100 or 200 in other parts of the globe, was manufactured between 1968 and 1997. It had four generations until Audi discontinued the vehicle in 1997.
It enjoyed tremendous success and popularity for nearly three decades and was succeeded by the earlier mentioned Audi A6.
Number of Recalls
During its time, the Audi 5000 was recalled no less than 50 times, which is about 5.8% of total Audi recalls.
8 of the 50 recalls were issued for the 1986 Audi 5000, making it the most-recalled Audi 5000 in history.
The 1985 model follows closely with 7 recalls and the 1984 Audi 5000 is third with 5 recalls. The 1990 and 1991 models have the fewest recalls with 1 each and the 1989 model follows with just 2 recalls.
Below are some common Audi 5000 issues as mentioned in the recall announcements:
Power train issues (constant evaporation, loss of transaxle oil and resultant differential failure and sudden acceleration while shifting gears)
Fuel system issues (hardening of fuel injection seals, likely fuel escape into the engine, and reduced expansion space within the tank)
Service brake defects (cracks and possible loss of brake fluid and possible binding and overheating of calipers)
Speed control problems (internal malfunction of idle control unit and abnormal activation of idle stabilizer valve)
Was this article helpful?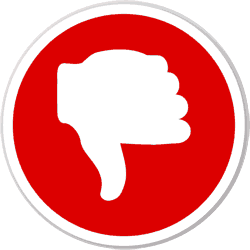 Did you find wrong information or was something missing?
We would love to hear your thoughts! (PS: We read ALL feedback)