In 2001, Honda launched an instant classic.
The Honda VT750, also known as the Honda Shadow Aero, was a V-twin cruiser motorcycle, a liquid-cooled V2 four-stroke with a top speed of 94 miles an hour fueled by a single overhead cam.
The Shadow Aero is widely considered one of the best starter motorcycles in the game, but what are the most common problems with the Honda VT750 Shadow Aero?
We've shadowed the forums to bring you the common issues and troubleshooting solutions of the Honda VT750―let's fly into it!
1. Starter Relay Failure
One of the most common issues discussed in the VT750 Shadow Aeros forums is described like this:
Shadow riders start their bike up, and the starter relay clicks, but the cycle doesn't start. Instead, the headlight and indicator display lights all die. 
Once dead, Shadow owners report the lights don't re-illuminate.
These troubled VT750 rippers are sure to note that they're firing up their ignition in proper sequence.
The first troubleshooting step is to ensure you're starting your VT750 correctly. 
The proper starting sequence for a VT750 Shadow Aero is:
Turn the Key
Make Sure the Bike Is in Neutral
Make Sure the Fuel Is On
Make Sure the Kill Switch Is Off
Pull in the Clutch
Lift the Side Stand
Push the Starter Button
But for the troubled VT750 riders, nothing happens. 
Sometimes, they say, the Shadow Aero will fire up and then die.
Other VT750 owners report that if they mess with the battery terminals, unhooking and rehooking them, the Shadow Aero will fire up like nothing's wrong. 
Unfortunately, this isn't a sustainable solution, so let's look at the culprit and how to fix the most common problem with the Honda VT750 Shadow Aero.
The first clue comes from riders who've purchased a new battery. Sometimes this fixes the problem temporarily, while in other cases, the same thing continues to happen-VT750 won't start, and if it does start, it dies. 
Some riders are stumped, while others inspect their Shadow's relay connections only to find out that they don't know what they're looking for. What exactly does a bad starter relay connection even look like?
Like most motorcycle owners, VT750 Shadow Aero riders don't overthink about what happens when they push that starter button.
Your Shadow's electronic system sends a signal to trigger the spark that ignites your engine. 
This electronic daisy chain requires several components. Each one of these electrical parts plays a unique and critical role in breathing life into the engine of your Honda VT750 Shadow Aero.
The source of this common problem with the Honda VT750 is a part we call the starter relay. 
There are two main ways that your Shadow Aero's Starter Relay can fail. Let's look at the process. 
You should also be reading our article which talks about 3 Most-Common Problems With Honda CTX700
i. Your Honda VT750 Shadow Won't Start
The most obvious symptom of a failing starter relay in a Honda VT750 Spirit Shadow is the whale reason you're here in the first place. The motorcycle won't start. 
While various issues can cause your Aero not to fire up, bad batteries and charging system components are easy to test with a voltmeter. If you've eliminated the fundamental battery issues, your Aero's starter relay is likely to blame, especially considering the frequency of this issue on Shadow Aeros from the early 2000s.
To get a clear picture of how the relay fails, let's consider how it functions:
Your starter relay sends a signal to your battery as you push your starter button. 
That signal triggers your battery to fire a jolt of electricity.
The energy your battery releases zaps your starter motor, triggering the spark that turns your engine over. 
The electrical impulse that ignites the whole process can't reach the starter motor without passing back through the starter relay. 
The starter relay boosts the Aero's battery current to complete the electrical circuit required to ignite the bike's engine. 
If your VT750's starter relay fails, the energy impulse won't make it from the battery to the starter motor, and your Shadow's engine won't turn over. Your lack of ignition may be accompanied by a noticeable clicking noise, the sound of a failing starter relay.
ii. Your Honda VT750's Starter Motor Runs Well Past Ignition
This failure is the opposite of the dreaded "Aero won't start" problem described above, though it's less common. 
Rather than failing to open the bike's electrical circuit, a faulty starter relay on a VT750 may fail to close the signal. This less-common failure can result in your Aero's starter motor running even after your engine ignites.  
In extreme cases of this type of starter relay failure, your starter motor may keep running even after you've pulled the keys out of your Shadow Aero's ignition.
Not only can this type of relay failure result in severe starter damage, but it can also wear out your transmissions flywheel too.
Solution: Replace Your Honda VT750's Failing Starter Relay and Any Corroded Wires
You or a Honda literate mechanic should test your VT750 Aero's starter relay to make sure it is indeed the culprit behind this issue. If it is, it's simple as swapping out the old for a new starter relay. 
In some circumstances, Shadow Aero owners realize that the relay itself is bad, but the problem is corrosion on the wiring. 
Faulty relay wiring causes the starter relay to receive an electrical ground even when the key isn't in the ignition. 
Cleaning your VT750's wires of any corrosion could fix the problem, but we recommend just replacing the faulty wires with fresh ones to resolve the issue entirely.  
Related: 4 Most-Common Problems With Honda Shadow 750
2. Failing Bank Angle Sensor—Causes Engine Stall (Solved via Recall)
In 2016, Honda recalled over 22,000 Honda Shadows that left the factory between 2011 and 2016. 
This was during the glory days of the VT 750 line, and unfortunately, the Aeros, Aces, and Phantoms were all affected.
The VT750  models involved in the 2011-2016 recall were: 
2012-2014 VT750CA
VT750C2 and VT750C2F
2011-2016 VT750C
2013-2016 VT750CS
2010-2016 VT750C2B 
2013-2014 VT750C2S 
What was the reason for this massive recall?
Engine vibration.
According to Honda's recall documentation, engine vibration could cause the bank angle sensor wiring to contact the wiring harness joint connectors, resulting in friction. Enough friction could cause the bank angle sensor to lose its sensor signal, causing the engine to stall.
A stalling engine is more than a frustrating inconvenience; if your 750's engine stalls while riding, you risk a collision. 
This recall impacted 22,142 VT750s in North America alone, and for engine vibration? Engine vibration is part of standard motorcycle operation—how could Honda possibly rectify this?
Honda's engineering team is widely recognized as a leading force in motorcycle innovation, and they came quick with a solution. 
Instead of focusing on the engine vibration, Honda honed its research and development on the friction itself, reducing the contact between the sensor and the joint connector by relocating the standard connector.
Honda instructed dealerships to relocate the joint connector on all VT750 built between the year models of 2011 and 2016. The dealerships also replaced any bank angle sensors that incurred any friction damage. 
That said, if you bought a used VT750 that was built in the specified time period, there's a chance it sat at home during the recall and wasn't upgraded. 
If you are experiencing engine stalls on a 2011-2016 Honda VT750 Shadow year model, stop by the dealership for your free upgrade. 
Related: How long Do Honda Shadows Last? (With 3 Examples)
3. Dripping Fuel Leak
Unfortunately, the incident described above wasn't the first time Honda had to recall a VT750 model. 
Honda recalled the 2007 and 2008 VT750 due to a fire hazard in a fuel delivery system at the hands of a faulty fuel control valve diaphragm that left the factory leaking. A fuel leak is a dangerous occurrence on anything with an engine.
Here's a sample of Honda's official recall document:
Build Years / Make / Models

2007-2008 HONDA / VT6002007-2008 HONDA / VT7502007-2008 HONDA / VTX1300

Recall Number: 08V141000

Summary:

HONDA IS RECALLING 38,934 MY 2006-2007 VT600 AND MY 2007-2008 VT750 AND VTX1300 MOTORCYCLES. THE MOTORCYCLES MAY HAVE AN IMPROPERLY MANUFACTURED FUEL CONTROL VALVE DIAPHRAGM AND THE FUEL VALVE MAY DRIP FUEL.

Consequence:

IN THE PRESENCE OF AN IGNITION SOURCE, DRIPPING FUEL POSES THE RISK OF FIRE.

Remedy:

DEALERS WILL REPLACE THE FUEL CONTROL VALVE DIAPHRAGM ASSEMBLY, FREE OF CHARGE. THE RECALL IS EXPECTED TO BEGIN ON OR ABOUT APRIL 10, 2008. OWNERS MAY CONTACT HONDA AT 1-866-784-1870.

Notes:

HONDA RECALL NO. Q75. CUSTOMERS MAY ALSO CONTACT THE NATIONAL HIGHWAY TRAFFIC SAFETY ADMINISTRATION'S VEHICLE SAFETY HOTLINE AT 1-888-327-4236 (TTY 1-800-424-9153)

https://www.motorcyclecruiser.com/honda-vt750s-recalled/
Related: How Long Do Honda VT 1100s Last? 5 Examples
General Pros and Cons of Honda VT750 Shadow
Here are some pros and cons of the Honda VT750 Shadow:
Pros
The following are some upsides of the VT750 Shadow:
Low-slung solo saddle with a detachable pillion for passengers; roomy for a medium cruiser.
Steel-tube frame.
Classic-retro cruiser style.
Stylish tank-mounted speedometer with internal indicator lamps.
Outstanding fuel economy with an average of 47 mpg gives riders over 130 miles before reserve tank must be used.
Reserve tank provides an extra 40+ miles of riding.
Rear drum brake is true to the retro Shadow style; the VT750 Aero still equips a single front disc brake to pick up rear drum brake slack
Forward mounted front foot controls
Wide and low handlebars are stylish bur rubber-draped-riser-mounted for hand and mirror vibration reduction.
Cons
Dripping Fuel Leak(Solved Via Recall)
Failing Bank Angle Sensor—Causes Engine Stall (Solved Via Recall)
Starter Relay Failure
What Do the Reviews Say?
Steering is light and stable and the bike tracks well through corners, which should build confidence, especially in new or re-entry riders. Spoked wheels carrying 120/90-17 rubber in front and a 160/80-15 rear gummy continue the traditional look. Traction is good wet or dry, and the tires don't wiggle in rain grooves, but the footpegs touch the pavement rather easily in tight turns.

What you get is a buttoned-down, well-sorted cruiser combining new styling with a proven powerplant, along with excellent fit and finish.

So, if you want the lowest seat in the house, or are just in the market for a well-made cruiser in the lower-displacement range, be sure to take a look at the Aero.

https://ridermagazine.com/2004/01/29/2004-honda-shadow-aero-vt750-road-test/
What's the Resale Value On a Honda VT 750?
| | | |
| --- | --- | --- |
| Year | Mileage | Price |
| 2001 | 6,500 | $4,000 |
| 2004 | 21,245 | $2,999 |
| 2004 | 48,671 | $2,995 |
| 2007 | 8,497 | $3,999 |
| 2015 | 20,610 | $4,999 |
Sources
Honda VT750s Recalled | motorcyclecruiser.com
2004 Honda Shadow Aero VT750 | Road Test Review | ridermagazine.com
Was this article helpful?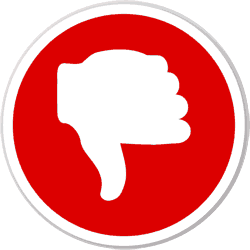 Did you find wrong information or was something missing?
We would love to hear your thoughts! (PS: We read ALL feedback)
ⓘ  The information in this article is based on data from National Highway Traffic Safety Administration (NHTSA) recall reports, consumer complaints submitted to the NHTSA, reliability ratings from J.D. Power, auto review and rating sites such as Edmunds, specialist forums, etc. We analyzed this data to provide insights into the best and worst years for these vehicle models.
---