Audi stands as one of the most recognized brands in the world of luxury carmakers. This is partly due to its high-profile presence in the world of entertainment and motorsport.
Suppose you've been looking to purchase a luxury sports sedan. In that case, you may have come across the legendary Audi A6, which comes complete with high-quality infotainment features, excellent performance, and a plush cabin.
Since its debut in 1994, the A6 is still in production. As you'd expect, it has undergone significant improvements over the years, making it one of the market's most reliable and efficient luxury cars.
You can find quality Audi A6 options, both new and used, but not all are worth buying.
It's crucial to know which model years did well to select the best possible year to buy, and that's precisely what we're here for.
In this guide, we will tell you the best and worst years for Audi A6 and their faults to help you make an informed choice.
The best and worst years for the Audi A6 are:
The best Audi A6 years to buy include 2023, 2022, 2020, 2018, 2017, and 2010. On the other hand, the worst Audi A6 years to avoid include 2019, 2013, 2012, 2003, and 2001.
It's important to note that other years not mentioned here are similarly great options to buy, as they don't have significant issues.
While they may not stand out as the best model years, these models also offer value for your money.
In general, the Audi A6 is a remarkable vehicle that has been successful since its debut.
What Audi A6 years are the most reliable?
The Audi A6 can last up to 200,000 miles on average if adequately maintained. Some even last up to 250,000 miles.
If you drive an average of 12,000 miles per year, you'd expect 16 years of reliable service before requiring any significant repair.
The reliability rating of the Audi A6 is 3.5 out of 5.0, according to RepairPal. Let's now look at the most reliable Audi A6.
2023 Audi A6
The luxurious 2023 Audi A6 provides you with composed handling, brawny engine options, and an upscale cabin.
It has an excellent infotainment system that requires some learning to use and comes with the latest features to improve your comfort and confidence on the road.
Since this vehicle is relatively new in the market, we may not know how good and reliable it is as there haven't been any complaints so far.
However, with the significant improvement the automaker has made over the years, we're confident that the 2023 year model is a good buy.
2022 Audi A6
The 2022 Audi A6 was another successful production that involved making the optional 10.1-inch touchscreen and the Virtual Cockpit digital instrument standard.
Overall, it's a good luxury midsize car with excellent ride quality, intriguing powertrain, and a high-end cabin.
It has good safety and reliability ratings as it's equipped with many driver assistance features like parking sensors, adaptive cruise control, night vision assistance, rearview camera, and many others.
2020 Audi A6
The 2020 Audi A6 is one of the best-used cars in its class. Apart from good mileage, a handsome and spacious interior, high-tech features, and a potent engine, this vehicle has excellent safety and reliability ratings.
IIHS gave the 2020 version the highest rating in all six crash tests due to highly innovative driver assistance features.
It ranks 4th among 11 luxury midsize cars and gets a 7.9 out of 10 from the U.S. News rating.
2018 Audi A6
Other than airbag problems, the 2018 Audi A6 is another reliable used luxury car. It comes with three powerful engines, a luxurious interior, and a ton of technology.
In other words, this vehicle was designed to suit all types of drivers.
You will also like the vehicle's fuel efficiency, excellent safety features, and mileage.
Reliable driver assistance features include blind spot monitoring, lane-keep assist, night vision assistance, automatic emergency braking, a 360-degree parking camera, and more.
The 2018 Audi A6 received an impressive reliability rating of 82 out of 100 from J.D. Power.
2017 Audi A6
With only three recalls past the five-year mark, the 2017 Audi A6 is easily one of the best-used Audi A6.
Buying this version not only gives you value for money, but also provides the best reliability.
With its stellar performance, great looks, and luxury features, the 2017 A6 competes favorably with its rivals.
It also has outstanding safety and decent fuel efficiency ratings, making it more affordable to buy and maintain.
If you're in doubt, you should check the impressive reliability rating of 85 out of 100 that the 2017 Audi A6 gets from J.D. Power.
2010 Audi A6
The 2010 Audi A6 is another celebrated model year you should consider buying if you want a used car.
With a refined, spacious interior, excellent safety scores, and powerful engine options, the 2010 Audi A6 ranks 2 out of 18 in 2010 luxury midsize cars on U.S. News.
RepairPal gives the 2010 A6 a 3.5 out of 5 stars. This is good enough to rank it at 8th out of 30 luxury cars.
The 2010 has a slight facelift from the earlier  third-generation A6 models:
It's also worth mentioning that the older Audi A6 models are some of the cars that rust the least.
What Audi A6 years should you avoid?
The vehicles listed below performed poorly as they were dotted with extensive issues such as brake issues, engine problems, and transmission failures.
For instance, most of the Audi A6 models mentioned in this category had issues with the airbag.
If you want to avoid issues with your used Audi A6, you may want to skip the following years:
2019 Audi A6
The 2019 Audi A6 is not the most athletic car in its class. However, it boasts a plush interior, a potent engine, decent fuel economy, and composed handling.
Despite Audi's efforts to improve the A6 with this version, the 2019 model was marked with many problems. NHTSA has issued the 2019 Audi A6 four recalls so far.
The recalls addressed issues with airbags, the electrical system, particularly the starter assembly, the instrument panel, and the fuel gauge.
Other issues noted include burning oil, digital display failure, and vibration when braking.
2013 Audi A6
The 2023 Audi A6 is a comfortable executive car focusing on ride quality and comfort.
However, this vehicle has many issues you may want to know before buying. Among the issues include six recalls.
Most drivers who bought this vehicle in 2012 or 2013 didn't experience any issues until December 2015.
This recall was issued when experts found that the passenger airbags did not deploy in an accident, increasing the likelihood of occupants getting injured.
The subsequent recall was issued in September, and it occurred due to a fuel leak under the hood, increasing the risk of fire.
2012 Audi A6
2012 wasn't a very good year for the A6 as the vehicle was subjected to eight recalls, according to the National Highway Traffic Safety Administration.
A recall was issued only a month into 2012 because experts found that the airbag didn't deploy correctly.
Five years later, a recall was also issued after drivers found that the vehicles' electric coolant pump overheated due to debris collecting in the cooling system.
2003 Audi A6
Repairpal recorded a total of 17 issues with the 2003 Audi A6. Seven of these were recalls.
The first recall came in October 2002 after finding out that the driver's side airbag may have faulty igniters and may fail to deploy in case of a crash.
The next recall was issued in March 2004 when car experts discovered that an electrical short may occur in the car's left dashboard.
Other common problems reported include oil leak from the transmission output shaft seal, overheating caused by a failing thermostat, digital display on the instrument cluster failing, check engine light due to a faulty torque converter, and the ABS light on due to ABS control module failure.
2001 Audi A6
The 2001 Audi A6 was another problematic vehicle that received seven recalls over the years.
One recall was issued in May 2001 after experts found the vehicle's fuel gauge faulty. It would indicate that the fuel tank had sufficient fuel when, in reality, it was empty.
A month later, another recall was issued. The car's overlapping wiper blades would get entangled and stop working.
Two years later, another recall was issued when car experts found that the calculated vehicle's average load exceeded the allowable weight determined for the axle.
What are some typical problems with the Audi A6 models?
Here are the most common problems with the Audi A6 you should know:
Airbag problems
Throughout its history, the A6 has had several issues with airbags, most of which resulted in recalls.
The oldest recall affected 30,587 A6 Sedans produced between 1998 and 2000.
The poorly engineered airbags would allow moisture to build up, which causes them to deploy without force, affecting the overall protection of occupants.
The German automaker addressed the issue by replacing the inflator.
Audi also recalled 132,249 sedans, including 2012 to 2018 models, that had faulty sensors preventing the front passenger airbag from deploying in a crash.
There are other airbag recalls issued over the years. It's a good idea to check and see if the car you're buying is affected before buying.
Electrical system malfunction
The display warning "electrical system malfunction" on Audi A6 vehicles is not new.
This problem is common in 2017 models and leaves most drivers stranded as the vehicle will become inoperable and need to be towed.
This problem is caused by the failure of the D.C. to D.C. voltage that drops from 48 to 12 volts.
Drivers can fix the issue by taking their vehicles to the nearest dealer to replace the 48 V battery and the generator.
Brake issues
The 2014 and 2015 Audi A6 drivers reported their vehicles vibrating and shaking while braking.
This would happen when braking at higher speeds and was most noticeable in the front brake pads.
While worn-out tires or warped rotors mainly cause this problem, the main culprit for this problem in the A6 is a pad material that leaves deposits on the surface of the rotors when hot.
Burning oil
Another common complaint among Audi A6 drivers is that the vehicle consumes large amounts of oil.
While Audis are known to consume a fair amount of oil, excessive oil consumption means something is wrong.
The problem was reported in 2012 to 217 Audi A6 models with 2.0-liter turbocharged engines.
The issue is attributed to insufficient lubrication that causes piston ring fragments to flow through the engine, causing damage.
Replacing the pistons, the piston rings, and the connecting rod bearings can solve the issue.
Digital display failure
Vehicles made between 1996 and 2006 may have digital display issues.
Many drivers reported that the whole instrument had lines or the light didn't come on, which made it difficult to see.
Since this was a recall, the automaker fixed the issue by replacing the entire instrument cluster. 
Was this article helpful?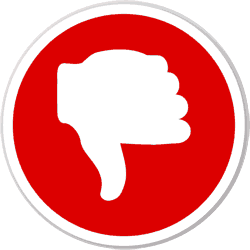 Did you find wrong information or was something missing?
We would love to hear your thoughts! (PS: We read ALL feedback)
ⓘ  The information in this article is based on data from National Highway Traffic Safety Administration (NHTSA) recall reports, consumer complaints submitted to the NHTSA, reliability ratings from J.D. Power, auto review and rating sites such as Edmunds, specialist forums, etc. We analyzed this data to provide insights into the best and worst years for these vehicle models.
---