Are you thinking about purchasing an Audi Q5 for your next vehicle?
Generally speaking, Audi is a pretty impressive car brand, so owning one is not a bad idea.
However, like every other model on the road, the Audi Q5 has some great years, some bad ones, and some that land right in the middle.
Before you decide to buy, it's important to know which models fit into each category.
This guide lists the best and worst models to help you make the right choice.
Any models not listed here fit in the middle, so be sure to research them in more detail if you're interested in one.
The Best and Worst Years for Audi Q5 Are:
After a comprehensive analysis, we found that the best years for the Audi Q5 are the 2009, 2017, 2019, 2020, and 2021 models. On the other hand, the 2011, 2012, 2013, and 2014 models need some work.
 
Be sure to take these years into account when making your final purchasing decision.
What Audi Q5 Years Are the Most Reliable?
We consider the most reliable years to be those with fewer complaints, good reviews, and good rankings.
The following are the model years we found to fit this category, along with some additional characteristics that people love.
2009 Audi Q5
The 2009 Audi Q5 is one of the best older models and a great option for those on a budget.
This sportier version of the Q7 was a favorite among drivers, who praised the tech, performance, comfort, space, and design.
Though it had pretty average fuel economy, it was definitely better than several other vehicles.
The NHTSA gave it a 5-Star Crash Rating, consumers gave it a 4.7 out of 5 on Edmunds.com, and it received 4.4 out of 5 stars on Kelly Blue Book.
U.S. News gave it an 8.4 out of 10 and ranked it as #3 in the 2009 Luxury Compact SUV lineup.
Additionally, it has fewer complaints on Car Complaints than every model year prior to 2017.
2017 Audi Q5
After some rough years, Audi worked to fix many of the issues that plagued previous models.
The 2017 Q5 was redesigned to provide incredible interior style and comfort, more space, and a greater towing capacity.
Many owners praised its superior steering and handling, as well as upgraded safety features.
Consumers rated it 4.3 out of 5 on Edmunds.com and 4.8 out of 5 on Cars.com.
J.D. Power gave it 82 out of 100 for quality and reliability.
While it's not the newest model year, the 2017 Q5 is definitely one to consider – especially when you're working with a tighter budget.
2019 Audi Q5
Audi just keeps improving – and it's evident in the 2019 Q5.
It comes with some great new features, like a power liftgate, AWD and heated front seats as standard, wireless phone charging, a turbocharged four-cylinder engine, and more.
Owners raved about the interior design and quality, the infotainment system and the dashboard that were impressive for the time, and the comfort.
These owners gave it a 4.4 out of 5 on Edmunds.com and a 4.7 on Cars.com.
J.D. Power ranked it as 76 out of 100 for quality and reliability and listed it as #4 in the Best Compact Premium SUC of 2019 lineup.
U.S. News gave it 8.5 out of 10 and ranked it #3 in both the Used Luxury Compact SUVs $25K and Up and 2019 Luxury Compact SUVs categories.
All of these facts – along with few reports of problems on Car Complaints – lead us to believe it's a top choice.
People also love that the Audi Q5 is one of the SUVs with Apple Carplay.
2020 Audi Q5
The 2020 Q5 didn't quite measure up to the 2019, but it's still one of the better years.
The interior style and comfort always tend to impress, but some do complain about that there isn't enough cargo space.
Owners and experts report getting more than the estimated 24 mpg – and better gas mileage is never a bad thing.
They also love that the engine provides up to 367 hp, AWD comes standard, the infotainment system is rather impressive, and it offers a really smooth ride.
Due to these incredible features, it received 4.0 out of 5 on Edmunds.com and 4.7 out of 5 on Cars.com.
J.D. Power gave it an overall rating of 72 out of 100, and U.S. News ranked it 8.0 out of 10 overall as well as #2 in the 2020 Luxury Compact SUVs category.
2021 Audi Q5
The 2021 Q5 might need a bit longer for comprehensive ratings, but so far, it seems to be on par with the 2020 model.
In fact, there aren't that many updates, aside from a larger touch screen, Sportback body, and new exterior style.
Owners do love how quiet the ride is, its comfort, the cargo space, and the headroom.
U.S. News gave it 8.2 out of 10 and Edmunds experts gave it 7.5 out of 10.
Owners gave it 4.6 out of 5 on Cars.com and J.D. Power rated it 71 out of 100.
At this time, there is only one report on CarComplaints about an electrical malfunction.
Overall, it seems like a pretty good vehicle, though you might want to wait for some additional reviews before deciding to purchase it.
What Audi Q5 Years Should You Avoid?
Sometimes, a vehicle just isn't up to par – no matter the manufacturer.
The Q5 is no exception, with a few of its models being some you should really consider avoiding. There's a lot more to know about Audi Q5 problems.
To be transparent, we take into account the number of complaints about each model, the type of complaint, and the severity of those issues when deciding if a model belongs in the "avoid" category.
2011 Audi Q5
Though many owners gave the 2011 Audi Q5 pretty high marks, the numbers and complaints tend to negate them.
When you dig into those reviews and complaints, you can see that too many of these need a full engine replacement due to excessive oil consumption.
Many owners report needing oil on an average of every three weeks.
So basically, it seems you can choose to either constantly spend money on oil or make a big lump sum investment in a new engine.
Additionally, there are complaints of premature wearing of the brakes, engine defects, timing chain issues, and more.
Unless you have money to blow, you might want to leave the 2011 Q5 on the car lot.
2012 Audi Q5
The 2012 Q5 was beaten only by the 2014 in the number of complaints.
Unfortunately, most of the issues are the same issues that the 2011 suffered – only there are many more reports on them.
Excessive oil consumption is by far the worst complaint with the 2012 Q5, and the fix is still either a replaced or rebuilt engine.
There have even been reports that owners have to add up to two quarts of oil each time they fill the tank.
There are also complaints of squealing brakes and shattering sunroofs.
Needless to say, this feels like a model year that's best left alone.
2013 Audi Q5
The 2013 Q5 has fewer complaints than the 2012 and the 2014, but it still feels a bit like repetition at this point.
Excessive oil consumption is still an issue, as is the timing chain belt.
There were reports of the 2013 Q5 just quitting – one time when the driver was pulling out into traffic.
Obviously, this is dangerous and not something you expect from such a vehicle.
In short, it fits pretty well into the avoid category.
2014 Audi Q5
The 2014 Audi Q5 has the most overall complaints of any Q5, which is enough to give cause for concern.
Add to that the fact that most of these complaints revolved around engine problems, and we find it a bit harder to ignore.
And among these is the same engine problems. The main one is that it dies while driving – and the "fix" is total engine replacement.
There are also transmission problems, many reports of excessive oil consumption, and issues with the timing belt chain.
All of this leads us to feel that the 2014 Q5 is definitely one to avoid.
What Are Some Typical Problems With the Audi Q5 Models?
Audi's buyer demographics are upper-class Americans. With luxury cars, you'd expect very few problems – and you're right. That said, not all Audi Q5 models have the same issues, so don't automatically assume that these will be present in each one.
However, the following are some of the most common issues that we've come across in our research.
Excessive oil consumption
Failed running lights
Issues with the timing chain
Leaky fuel pump flanges
Engine failure
Shattered sunroof
For more information, you can check out our detailed, in-depth guide to common Audi SUV problems.
Go Back to the overview of best and worst year per Audi model.
Was this article helpful?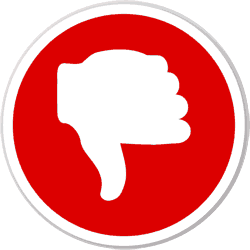 Did you find wrong information or was something missing?
We would love to hear your thoughts! (PS: We read ALL feedback)
ⓘ  The information in this article is based on data from National Highway Traffic Safety Administration (NHTSA) recall reports, consumer complaints submitted to the NHTSA, reliability ratings from J.D. Power, auto review and rating sites such as Edmunds, specialist forums, etc. We analyzed this data to provide insights into the best and worst years for these vehicle models.
---