The Lincoln Navigator has had some pretty good years, some not-so-pretty good ones, and some that lie right in the middle.
Overall, it's a beautiful, luxurious, and spacious vehicle, but it doesn't always perform at its best.
In this guide, we list some of the best years, as well as several you should definitely aim to avoid.
Any models not mentioned here fall into the "okay" category, so be sure you do some additional research on those before making a purchasing decision.
The Best and Worst Years for Lincoln Navigator Are:
Some of the best Lincoln Navigators to own include the 2002, 2007, 2018, 2019, and 2020 models. When possible, consider avoiding the 2003, 2004, 2015, 2016, and 2017 models ad they tend to be more problematic.
Keep these years in mind and be sure to check the VIN for any Navigator you purchase to ensure you pick the best one possible.
What Lincoln Navigator Years Are the Most Reliable?
The following are some of the best years for the Navigator – the years that show what the Navigator is really made of.
2002 Lincoln Navigator
The 2002 Lincoln Navigator is definitely one of the best older models.
It received consumer ratings of 4.7 out of 5 on Edmunds.com, 4.4 out of 5 on Kelly Blue Book, and 4.3 out of 5 on cars.com.
Among these reviews, comfort, reliability, and design get the top ratings.
It is actually one of the model years with the fewest complaints on Car Complaints, too, with the most issues being bad spark plugs and a water leak inside of the vehicle.
Some of the specific features it's praised for include an incredible amount of legroom, luxury design, comfortable seating for eight, decent gas mileage, and a powerful V8 engine.
If you only have the budget for an older model Lincoln Navigator, the 2002 is an overall awesome option.
Fun fact. Did you know that the Lincoln Navigator is one of the cars with the most cup holders?
2007 Lincoln Navigator
The 2007 Navigator is the first of the third generation of Navigators, which normally means the "kinks" haven't yet been worked out.
However, that seems not to be the case with this one.
The most common reports on Car Complaints revolve around the interior accessories, which can be frustrating but don't really impact reliability or performance.
Consumers tend to love that all three rows are very roomy, so the third row doesn't have to be used by only children.
Other praised features include a powerful V8 engine, a great sound system, the luxurious interior, and the smooth ride.
Owners have ranked it 4.7 out of 5 on Edmunds, 4.4 out of 5 on Cars.com, and 4.7 out of 5 on Kelly Blue Book.
J.D. Power gave it 83 out of 100 for quality and reliability, as well as #2 on their list of Best Large Premium SUVs of 2007.
2018 Lincoln Navigator
The 2018 Navigator was a bit of a redesign that came with some pretty awesome features, including forward collision warning, pedestrian detection, driver attention monitoring, and surround-view parking camera.
That last feature is very helpful, considering that one of the downsides of driving such a large vehicle is difficulty parking it safely.
Aside from that, the 2019 model provides plenty of cargo space, comfortable third-row seating, an impressive navigation system, and 450 hp.
U.S. News ranked it #1 in the 2018 Luxury Large SUVs lineup and J.D. Power ranked it #2 in the Best Large Premium SUV of 2018.
It's rated:
4.3 out of 5 on Edmunds.com,
4.5 out of 5 on Cars.com,
and 81 out of 100 on J.D. Power.
2019 Lincoln Navigator
The 2019 Navigator gets pretty high ratings across the board.
Owners are delighted with the high-quality materials used for the interior, the incredible space for up to seven adults, and the massaging seats.
It has a 3.5-liter twin-turbocharged engine, giving you plenty of power beneath the hood.
The fuel economy isn't too impressive, but it beats many of its competitors in this category.
As far as safety features, the 2019 Navigator comes with blind-spot monitoring and has several other features you can add on.
Owners also love the cargo space, with 19 cu. ft. when all seats are in use and up to 103 cu. ft. if you fold the third and second rows down.
Though J.D. Power hasn't yet rated it for quality and reliability, consumers haven't been shy in this department.
It received 4.1 out of 5 on Edmunds, 8.4 out of 10 on CNET, and 4.8 out of 5 on Cars.com.
U.S. News ranked it #4 in the 2019 Luxury Large SUV category.
And there are few reports on Car Complaints for this model year.
If you're looking for a newer model, this just might be the perfect vehicle for you.
2020 Lincoln Navigator
As the 2020 Navigator is still pretty new, it doesn't have quite as many ratings and rankings as the older models, but there is still some information to go on.
Both the 2018 and 2019 models were definite improvements on earlier designs, and the 2020 Navigator seems to be following in those footsteps.
U.S. News gave it an overall rating of 8.0 out of 10, praising its powerful engine, spacious cabin, comfortable seating, and more. It's also placed at #1 in the U.S. News 2020 Luxury Large SUVs lineup.
Edmunds.com gave it an expert rating of 8.4 out of 10, based on its performance, comfort, interior, technology, and storage.
The NHTSA gave it five stars for overall safety, which is definitely a great thing to consider.
From the current information, it seems like the 2020 is one of the best Navigators available, but there's nothing wrong with waiting for some reliability ratings to come out before you decide to purchase.
What Lincoln Navigator Years Should You Avoid?
Every car brand has some "bad" years – even those that are generally great vehicles.
Also, the Lincoln Navigator had quite a few recalls. Here's more on the Lincoln models with the most recalls.
The following are some Navigator models that fall into the not-so-great category and it's typically safer to avoid them.
2003 Lincoln Navigator
The 2003 Navigator is potentially the second-worst overall Navigator.
At this time, only the 2004 model is considered worse.
There are various issues reported on Car Complaints, including spark plug issues, lack of control over the vehicle, suspension airbags deflating, engine trouble, and more.
On Edmunds, owners share several issues that seem to happen all at once or back to back, including dying suddenly while driving or at traffic lights, and ignition coil problems to name a few.
When you take a look at the amount they spend fixing the vehicle, you can imagine their frustration – especially after investing so much to purchase it.
It seems best to look at another model so that you can protect your bank account.
2004 Lincoln Navigator
The 2004 Navigator wins the rank of worst overall year for several reasons.
1.) It has more complaints than any other Navigator on Car Complaints, including reports of the air suspension not working, the rear window shattering while driving, engine problems, electrical problems, and more.
2.) Though consumers give it some okay ratings, their reviews paint quite a different picture – one of which called it a "ticking time bomb," thanks to the constant, expensive repairs they had to make.
3.) One thing that was great about the Navigator is the interior design. However, owners are complaining about the interior materials with the 2004 model, saying that they are cheap.
In short, it's probably best to avoid the 2004 Navigator at all costs.
2015, 2016, and 2017 Lincoln Navigator
We're placing these together for a very important reason.
All three of these years could actually belong in the "best years" category. They have really nice reviews, great features, and few reports on CarComplaints.
So why do we suggest you avoid them? That would be due to the fact that Ford Expeditions and Lincoln Navigators of these years have had sudden, seemingly random fires break out at the glovebox.
It turned out that it was an issue with the blower motor, which would stop, causing the surrounding plastic and other components to melt and catch on fire.
Though not all of the 2015 to 2017 vehicles caught on fire, there were enough complaints to make it a serious concern.
Fortunately, there was a recall that covered the installation of a new blower motor.
If you are going to go with one of these models, be sure that the one you choose was serviced after the recall or take it into a dealer immediately.
You can determine if it's been serviced by checking the VIN on the Kelly Blue Book website.
Or better yet, just play it safe and look at a different model year.
What Are Some Typical Problems With the Lincoln Navigator Models?
Different models typically have some differences, but the following are some that tend to pop up on several models:
Air suspension issues
PCV vacuum leaks
EGR system issues
Leaking coolant and overheating
Corrosion on the ends of the battery cables
Head gaskets leaking oil
Spark plug issues
A/C issues
You can read more about these issues and more in our detailed guide.
Back To overview of best/worst years for Lincoln.
Was this article helpful?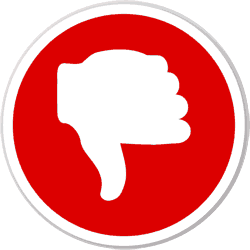 Did you find wrong information or was something missing?
We would love to hear your thoughts! (PS: We read ALL feedback)
ⓘ  The information in this article is based on data from National Highway Traffic Safety Administration (NHTSA) recall reports, consumer complaints submitted to the NHTSA, reliability ratings from J.D. Power, auto review and rating sites such as Edmunds, specialist forums, etc. We analyzed this data to provide insights into the best and worst years for these vehicle models.
---