The Toyota RAV4 is a compact crossover SUV and one of Toyota's top-selling cars ever. It is known for masterfully mixing compact car and SUV features and is one of the best vehicles in its class.
Given its massive sales figures, including over a million units in the last 3 years, the Toyota RAV4 enjoys widespread acceptance. It also enjoys a decent level of recognition from critics and pundits who have more to say about its top-shelf features than its minor faults.
However, it would seem that some stakeholders in the auto market are of the opinion that the Toyota RAV4 is expensive.
In this article, we'll be discussing in detail the pricing and features of the RAV4 as well as providing answers to the question of the RAV4's cost.
Here's the Short Answer to Whether Toyota RAV4s Are Expensive:
The Toyota RAV4 doesn't have a particularly expensive price tag, especially if we are comparing it to some of its competitors. That being said, possible reasons for its current pricing include reliability, reputation, quality, safety package, and fuel efficiency, amongst others.
Is the Toyota RAV4 Overpriced?
The Toyota RAV4 is the best-selling non-pickup vehicle in the States, so not many people think it is overpriced. However, in delivering our verdict on whether it is overpriced, let's look at the starting MSRPs for trim levels of the Toyota RAV4:
RAV4 LE: This is the base trim, and it starts at $26,525, minus a destination fee. Popular features include automatic high beams, power mirrors, flat-folding rear seats, remote keyless entry, Apple CarPlay, Android Auto, and Toyota Safety Sense.
RAV4 XLE: It starts at $27,995 with features like 17-inch alloy wheels, automatic headlights, color-keyed exterior, dual-zone climate control, and rear cross-traffic alert.
RAV4 XLE Premium: The RAV4 XLE Premium has a starting price of $30,885 and striking features include leatherette upholstery, power liftgate, and a power sliding moonroof.
RAV4 Adventure: The Adventure has a starting price of $32,780 with standard all-wheel drive, multi-terrain select, 19-inch wheels, and a panoramic backup camera, amongst others.
RAV4 TRD Off-road: The RAV4 TRD Off-road starts at $36,465 and boasts massive exterior accents, 18-inch wheels, and an all-terrain suspension as some of its popular features.
Hybrid Variants: The Hybrid LE starts at $30,290, the XLE at $31,760, the SE at $32,945, the Premium at $34,650, the XSE at $36,270, and the Hybrid Limited at $38,790. They sport all the features of its non-hybrid variants with better gas mileage to go along with it.
Please note that the starting prices may vary and these prices above were derived from TrueCar estimates.
Now that we have an inkling of the Toyota RAV4's pricing, we'll be analyzing its basic features to determine whether it is overpriced.
Fuel Economy
The Toyota RAV4 delivers about 27 MPG in the city and 35 MPG on the highway, which makes for excellent gas mileage. All-wheel drive variants of the Toyota RAV4, however, get lesser figures with 25 MPG in the city and 32 MPG on the highway.
As expected, the hybrid variants do way better with 41 MPG in the city and 38 MPG on the highway. These fuel-economy figures solidify the RAV4's place as one of the best vehicles in its entire class.
Engine/Power
The basic RAV4 sports a 2.5-liter 4-cylinder gas engine with 203 horsepower and 184 pound-feet of torque. It cranks out more power than many of its competitors. However, a little engine noise on the highway is one of its drawbacks.
Meanwhile, the hybrid variants offer even better efficiency with 219 horsepower and 163 pound-feet of torque. The electric motor gives it a better, quicker, and less noisy acceleration.
Reliability and Ownership Cost
The Toyota RAV4 enjoys an excellent reliability rating of 81/100, according to U.S. News. On RepairPal, it earns a 4.0/5.0 reliability rating and ranks 3rd on their list of 26 compact SUVs.
Besides that, it boasts an average annual repair cost of $429, which is pretty splendid.
Overall, the Toyota RAV4 is one of the most reliable compact SUVs on the market, judging by every available metric.
Handling and Maneuverability
Riding on the Toyota RAV4 is as comfortable as it gets. While it's not the lightest vehicle in the compact SUV category, it has a decent composure. Its suspension takes on massive road bumps with relative ease, although it could get real noisy inside.
The RAV4 can also get some off-roading done with up to 8.6 inches in ground clearance and features like a front skid plate and hill descent control.
The Off-road trim also sports unique suspension tuning and there's a multi-terrain system for different driving conditions.
Safety Features and Ratings
The Toyota RAV4 is also one of the safest in its class.
It boasts a top-tier safety system known as the Toyota Safety Sense 2.0, which incorporates several advanced safety technologies, including:
Lane Tracing Assist,
Road Sign Assist,
full-speed range dynamic radar cruise control amongst others.
Optional features include blindspot monitoring, rear cross-traffic alert, rain-sensing windshield wipers, and automatic parking assist.
In addition to this elite lineup, the Toyota RAV4 also boasts a perfect five-star rating from the NHTSA. The IIHS has, however, not conducted a comprehensive crash test for the latest Toyota RAV4 model.
Related: 10 Toyota Rav4 Statistics You Should Know (Facts & Numbers)
Critic Ratings/Reviews
The Toyota RAV4 enjoys a lot of good press from critics and pundits in the auto airspace. On U.S. News, it notched a critics' rating of 8.2/10 and they had a lot of praise for its spacious cargo and class-topping fuel economy.
CarandDriver also gave it a splendid 8.5/10 rating while praising its rugged styling and sophisticated range of driver-assist features.
Edmunds wasn't as generous though, with an above-average score of 7.7 out of 10 while faulting its bland steering and not-so-impressive acceleration of the standard power plant.
Pricing/Affordability
The Toyota RAV4 starts at $27,740 and its priciest trim carries a $38,573 price tag.
Its rivals include:
Honda CR-V ($27,625),
Ford Escape ($27,225),
Mazda CX-5 ($27,125),
and Jeep Cherokee ($29,590).
It is more expensive than many of its class rivals, as mentioned above. However, the difference is only a few hundred dollars. The Jeep Cherokee is, however, a lot more expensive and would cost an extra $2,000 plus.
For its price, features, reliability, and popularity, the Toyota RAV4 is reasonably priced and we believe calling it "overpriced" would be an unfair stretch.
Related: What Are The Best & Worst Years For Toyota RAV4? (Explained)
How Much Has the Price Increased Year for Year?
Below are the initial MSRPs for models of the RAV4 over the last 10 years:
2013 Toyota RAV4: $24,160
2014 Toyota RAV4: $24,435
2015 Toyota RAV4: $24,580
2016 Toyota RAV4: $25,345
2017 Toyota RAV4: $25,405
2018 Toyota RAV4: $25,755
2019 Toyota RAV4: $26,770
2020 Toyota RAV4: $27,125
2021 Toyota RAV4: $27,565
2022 Toyota RAV4: $27,740
From the list, we can see that over the last ten years, the starting MSRP for the Toyota RAV4 has only increased by a little over $3,000.
And over the last three years, the difference in price has only been about $600.
Why Does the Toyota RAV4 Cost More Than Other Similar Cars?
The Toyota RAV4 costs a little more than some other similar cars as we've seen before now.
While the differences aren't so massive, reasons boil down to the RAV4'S above-par reliability, fuel economy, safety ratings to mention a few.
Related: 3 Most Common Problems With Toyota RAV4 (Explained)
Why Are Used Toyota RAV4 Models So Expensive?
Toyota RAV4 models are known for their class-leading quality and this has affected prices of used models on the market.
According to Edmunds, a used 2019 Toyota RAV4 LE with 16,169 miles on it goes for $26,609, which is almost as expensive as a brand new one. Here are some reasons used Toyota RAV4 models sell for that much:
Global Chip Scarcity
Generally, Toyota models have become more expensive because of a worldwide chip shortage, which appears to have hit the auto industry hard.
This has led to a limited supply and while some consumers are reverting to the USED section of the markets, sellers are raising the prices as well.
Longevity and Reliability
The Toyota RAV4 is one of the most reliable models in its class.
The average Toyota RAV4 model with proper maintenance can last up to 250,000 miles. Some sellers take advantage of this and raise the prices of used cars, especially those with low mileage.
For about six years straight, the RAV4 earned a perfect "five" in reliability score from Consumer Reports. It also has a 4.0 out of 5.0 rating on RepairPal, where it is ranked #3rd out of 26 compact SUVs. Not to mention its ownership cost ($429), which is way below the industry average.
These numbers contribute to the surge in prices for used Toyota RAV4 models.
Long-Standing Reputation
The Toyota RAV4 has a long-standing reputation, which is why its immense success continues till this day. However, it would appear that sellers of used models are taking advantage of this and selling at inflated prices.
After all, it is the most popular and best-selling SUV in the U.S.
Related: 5 Reasons The Toyota RAV4 Is So Popular (Explained)
How Much Should You Pay for a Brand New Toyota RAV4?
If you are looking to cop a brand new Toyota RAV4, here's how much you should pay:
Loan/Lease
For loan payments, a $2,500 down payment over a term of 60 months is common.
For lease payments, however, $2,000 is due at signing over a term of 36 months and a yearly mileage of 12,000 miles.
Full Payment
If you are looking to pay in full, however, the starting MSRP for the Toyota RAV4, as mentioned before, is $27,740, and the starting market average is $28,644.
Does the Toyota RAV4 Hold Its Value?
The Toyota RAV4, like most Toyota models, holds its value better than most cars on the market.
According to CarEdge estimates, the Toyota RAV4 will only depreciate 40% after five years. Vehicle History also estimates a 39% depreciation rate for the Toyota RAV4.
That very much explains why the used Toyota RAV4 models are sold at very dear prices.
Was this article helpful?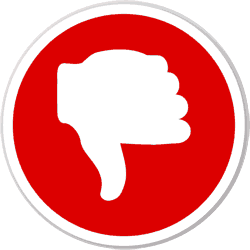 Did you find wrong information or was something missing?
We would love to hear your thoughts! (PS: We read ALL feedback)