Cars are changing and the way drivers get information is changing along with it.
Slowly, the days when analog dials provided drivers with vehicle information are gradually giving way to digital controls.
Now, some vehicles have digital speedometers that make it easy to view speed information.
This article discusses popular cars with digital speedometers. Let's go!
1. Porsche Panamera
Once upon a time, a Porsche-badged sedan would be considered a sacrilege.
But times have changed, and now you have the Porsche Panamera—a sedan that blends German luxury and mind-blowing performance to create an attractive package.
Not that the Panamera was received with open hands, though; it got its fair share of backlash at inception.
However, both brand loyalists and new buyers have now accepted the Panamera as an excellent sports sedan.
The Panamera itself features a slew of impressive digital technologies that increase its attractiveness.
For example, it has a digital speedometer that provides a readout of your vehicle's speed while driving.
2. Audi A4
Compact luxury sedans are great options for those who want practicality with a dash of luxury. Though the Audi A4 has problems, if you need a great compact luxury model, it is one of the better options out there.
The Audi A4 is equal parts sport sedan and family car. Beneath the hood, the A4 sedan makes a healthy 201-260 horsepower that's sure to satisfy performance enthusiasts.
You also get a posh cabin that balances style with functionality, featuring quality interior materials and easy-to-use technology.
Buyers who have "digital speedometer" in their checklist may want to consider the Audi A4. It has an optional digital display called Virtual Cockpit that offers a digital speedometer for drivers.
The Audi A4 has other features that make driving easier. For example, it comes with the MMI system that offers easy access to maps, vehicle control, and multimedia.
Please also read our article about how much Porsches can tow.
3. Lincoln Continental
The Lincoln Continental rides and feels like one of those luxury cars that used to be the preserve of business executives in the past.
However, compared to those models, the Lincoln Continental is much cheaper and combines passenger comfort with somewhat decent performance.
The Lincoln Continental isn't your average sedan. It has a tastefully finished interior, along with better-than-average engine performance.
This is interesting, as most luxury sedans offer a trade-off between comfort and performance.
The Lincoln Continental is one of the luxury cars with a digital display system that includes a digital speedometer.
Unlike a traditional needle-style design, the digital speedometer makes it easier to gauge your speed while driving.
4. Audi A8
Another Audi model on the list, the Audi A8 is a luxury sedan a business executive would love. It has plain-but-decent styling, responsive driving dynamics, and decent cargo space.
While the A8 has some problems of its own, thanks to its innovative design, it is one of the most comfortable vehicles you'll ever drive.
Things like adjustable air suspension and driver-adjustable dampers mean the A8 rides smoothly without transmitting road vibration to riders.
An extensive sound-silencing system further helps make the A8 popular for being comfortable. Simply turn the windows up and road wind and noise will disappear while you drive.
Instead of the analog speedometer common on older Audis, the A8 sedan has a digital speedometer. This system lets you monitor vehicle speed easily.
Here are few examples on our article that you should know about Audi's & Depreciation: Numbers
5. Mercedes Benz S-Class
Like every other Mercedes-Benz model, the S-Class screams luxury, featuring high-quality materials and a spacious cabin.
Yes, it's quite expensive—but you'll be getting considerable value for your money.
Mercedes-Benz models are not known to be tame, and the S-Class series continues in that tradition.
Everything on this model is designed to push the envelope to the max and offer maximum value. Which is why we are not surprised the 2020 model got a rare 10/10 rating from Car and Driver.
As said before, the S-Class has a great interior that will satisfy anyone who prizes luxury. Beyond its luxury trappings, the S-Class is replete with examples of advanced technology.
For example, you get a digital dashboard that comprises a digital speed readout, among other features.
Here are few examples on our article that you should know about Mercedes & Depreciation: Numbers 
Infotainment features on the S-Class series run the gamut from standard Apple CarPlay/Android Auto to optional features like on-board Wi-Fi and Burmester radio system.
6. Honda Clarity Fuel Cell
Hydrogen fuel cell vehicles are some of the most advanced models on the road today.
So, it only makes sense that a fuel-cell model like the Honda Clarity features a digital speedometer.
Like its hybrid cousin, the Clarity Fuel Cell sports an intuitive instrument panel that includes a large digital speedometer.
Besides the expansive digital speedometer, the Clarity's dash features an odometer, trip meter, and ambient temperature gauge.
While it's full of high-tech offerings, the Clarity doesn't do badly in terms of comfort or performance. It's not what you'll get on most sedans, but it's impressive enough for an alternative-fuel vehicle.
Also read our article about how long the Honda Clarity lasts.
7. Chevrolet Volt
Wondering why we have so many alternative-fuel vehicles on the list? Simple; they always have innovative technology.
The Chevrolet Volt, one of the best hybrids available, is no different and offers high-tech features, including a digital speedometer.
Like similar models, the Volt's digital speedometer is part of a larger LCD display which you can configure to deliver other vehicle information. At its most basic, however, you'll get speed readings and its EV range.
Unlike other hybrids, the Volt has an impressive electric-only range (53 miles), which is good enough for driving around town.
The Volt also has an attractive passenger-car styling and doesn't have the strange look of some hybrids.
8. Tesla Model 3
For the last decade or so, Tesla models have led the way to provide users with the best tech features. With the Model 3, Tesla takes "high-tech" to a new level.
This vehicle has no physical dashboard.
Instead, it uses an iPad-like screen to provide drivers with driving information. You get a readout that displays your vehicle's speed and electric driving range.
Asides its futuristic technology, the Model 3 has an electric motor that provides surprisingly quick acceleration.
It is also quiet compared to regular gas-engine models, so rides are more comfortable.
If you want to join the world of Tesla owners, the Model 3 is a great place to start. It is easily the most affordable vehicle in Tesla's lineup—that is if you don't start adding pricey options.
Make sure to read our article on 11 Ford E-Series statistics you should know.
9. Toyota Mirai
The Toyota Mirai is another of the alternative-fuel vehicles on our list. It is a close rival of the Honda Clarity and runs on hydrogen fuel like the latter.
What sets the Mirai apart from many 'green' vehicles is that it has considerable ride comfort and useful utility features. Thus, it is no different compared to traditional models.
Nevertheless, the Mirai still has more cutting-edge gadgetry than the sedan next door.
For example, it lacks the typical physical speedometer found on most cars. Rather, it comes with a futuristic instrument panel that displays a digital speedometer, odometer, and tachometer.
The only problem with Mirais is that hydrogen refueling stations are even less common than electric charging stations.
As such, the car is sold only in California and Hawaii—two places with sufficient hydrogen refueling stations.
10. Tesla Model S
The Tesla Model S is regarded as the vehicle that paved the way for Tesla dominance of the electric-car market. While some may argue this, the Model S remains one of the best cars to come out from Elon Musk's car company.
For an electric vehicle, the Tesla Model S is incredibly fast, offering 0-60mph speeds as low as 2.4 seconds. The low center of gravity and balanced steering also make the Model S a fun-to-drive model.
If there was ever a car made for tech enthusiasts, its name would be 'Tesla Model S'. This vehicle packs more tech than the average sedan, contributing to its futuristic feel.
Instead of getting a physical instrument cluster complete with an analog speedometer, what you get is a gigantic touchscreen display that provides real-time driving information.
This includes a digital speed gauge, electric driving range, and so on.
Was this article helpful?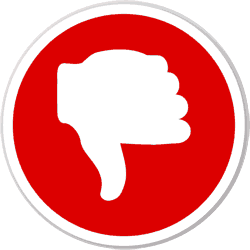 Did you find wrong information or was something missing?
We would love to hear your thoughts! (PS: We read ALL feedback)