Xenon headlights, also called High Intensity Discharge (HID) lights, have become common on modern cars.
Unlike traditional halogen lights, xenon headlights are brighter and last longer.
With vehicle safety hinging on headlights quality, xenon lamps are advisable for drivers.
Read on to find out cars with xenon headlights.
1. Ford F-150
This list would never be complete without the famed F-150 truck. Why? It was the first truck to have xenon headlights way back in 2013.
The F-150's xenon headlights are a product of Ford's collaboration with Osram Sylvania Automotive Lighting, the world's largest supplier of mercury-free HID headlights.
According to our research, the xenon lights on the F-150 are 4x brighter than traditional halogen lamps.
More importantly, F-150's xenon headlights have been calibrated to withstand extreme vibration.
This means you can use your truck in uneven road situations (e.g. off-road) without your headlights suffering damage.
But you must know that the xenon headlights are not standard across all models in the F-150 lineup.
It is standard only on the Premium and Limited trims while you have to pay to get it on the Raptor, Lariat and King Ranch trims.
2. Ford Escape
The Escape is one of the smallest in Ford's SUV lineup. Nonetheless, it makes up for its small dimensions with excellent offerings for buyers.
While the Escape isn't as fuel-efficient as some rivals, it drives better than most. This is mostly due to its well-tuned suspension and gusty engine.
It also has a fairly luxurious interior replete with tasteful furnishings, power-operated memory seats, and the SYNC 3 infotainment system.
The safety system isn't the most impressive out there, but at least you'll get xenon headlights on some trims.
3. Audi A3
The A3 might share the same underpinnings with the Volkswagen Golf but it looks and feels like an Audi inside and out.
Not only is it incredibly stylish, it offers exceptional performance for drivers.
Beneath the hood of the A3 is a 2-liter V4 engine that pumps out anywhere between 186 to 220 horsepower, depending on which you buy.
Even so, the ride remains remarkably composed while the steering is responsive and precise.
Buyers get a bevy of high-tech safety features including automatic emergency braking and forward collision warning.
Depending on which model you buy, the Audi A3 comes with xenon (HID) headlamps. Thus, you can count on your lamps to provide maximum visibility on night trips.
Please also read our article about whether KC lights are street legal in the U.S.
4. Toyota Avalon
Even as sedans are rapidly going out of fashion in the US, the Avalon continues to post decent sales numbers.
It's easy to see why Avalons are popular; they offer a mix of luxury, utility, and fuel efficiency.
The base Avalon model comes under $40,000, making it an attractive option for budget-conscious buyers.
Even with the affordable pricing, it offers amenities like Apple CarPlay, Wi-Fi Hotspot, and a high-tech infotainment system.
The Avalon boasts an impressive collection of safety technologies, which explains the 2019 model's IIHS Top Safety Pick+ rating. Blindspot monitoring, rear cross-traffic alert, and emergency braking are some standard safety features.
Your safety is further enhanced by xenon headlights on select Avalon trims. Xenon headlights typically provide better illumination at night and are the better bet to keep you safe while traveling.
Make sure to also read our article about how long the Toyota Avalon lasts.
5. Lexus IS
The Lexus IS is one of the sportier models in the luxury sedan segment. Many people view it as a bittersweet vehicle. Hence, explore the Lexus IS best and worst years to be certain.
In particular, its precise steering, innovative chassis design, and tuned suspension make it a joy to drive on roads.
The IS models feature the same luxury looks common on Lexus models. Among other things, you get soft surfaces, aluminum accents, and leather-covered seats.
Luxury aside, the Lexus IS offers peace of mind with its various safety features, like standard lane-departure warning and lane-keeping assist.
You can also opt for the optional High Intensity Discharge a.k.a xenon projector headlights.
Also read our article about where Toyota Siennas are made.
6. Subaru Legacy
The Subaru Legacy is a family sedan in the same class as the Toyota Camry, Mazda 6, and Honda Accord. But it manages to stand out, thanks to its standard all-wheel drive and unique engine.
The Legacy models feature a roomy cabin that provides seating comfort for occupants. More importantly, it features considerable cargo capacity, making it a practical option for families.
In terms of driver safety, the Subaru Legacy is among the best there is. The 2019 model received a five-star safety rating from the NHTSA and a Top Safety Pick+ rating from the IIHS.
If you can pay for an upgrade, Subaru will get you a Legacy sedan that has xenon headlights. It's advisable to get these lights, especially if you tend to do a lot of night driving.
7. Subaru Outback
The Subaru Outback is the vehicle for practical buyers who care less about performance and more about utility. Buyers will love its standard all-wheel drive, considerable towing capacity, and generous cargo room.
Thanks to AWD and a higher-than-average ground clearance, the Outback can handle adverse driving conditions. In fact, it is better than most station wagons at driving in off-road situations.
If you are a stickler for vehicle safety, the Outback is something you'll want. Not only did it get the coveted NHTSA 5-star rating, it was designated a Top Safety Pick+ by the IIHS.
For increased safety, the Outback has optional xenon headlights. With this, you can drive at night without running into other vehicles on the roads.
8. Genesis G80
Genesis is the automaker that makes luxury vehicles for those on a budget. The G80 sedan is no different, offering typical luxury-car features at a bargain price.
The G80 features a range of V6 and V8 engines that offer varying levels of performance. Ride dynamics are, however, fairly stable across the lineup, thanks to a specially tuned suspension and balanced design.
Safety is one of the G80's strong suits, and it features standard safety tech like lane-keep assist and emergency braking. High Intensity Discharge (xenon) headlights are also available if you want higher visibility at night.
We should add that the G80 has the best warranty in its class. This should convince those who might be wary about buying a lesser known brand.
9. Volvo S60
Compromising luxury for performance and vice versa is something many models in the sedan class do. Not the Volvo S60, though; this model blends performance and ride comfort in equal amounts.
In terms of performance, the Volvo S60 has engines that produce between 250 horsepower and 415 horsepower.
Performance enthusiasts will also love the S60's impressive cornering ability, quick and precise steering, and responsive handling.
The S60 is particularly big on its safety credentials, featuring many driver-assistance technologies. This is why the S60 ranks as one of the few models with a Top Safety Pick+ rating from the IIHS.
If you buy the right trim, you'll get HID (xenon) projector headlights that offer better visibility at night.
10. Volkswagen Tiguan
The Volkswagen Tiguan is one of the best compact SUV for the money. Not only did the 2020 model get a near-perfect 9.5/10 rating from Car and Driver, it made the publication's "Editor's Choice" list of best models.
The Tiguan offers excellent fuel economy and nice driving dynamics. And it has something many compact SUVs lack: an optional third row.
The third row increases seating space significantly, making it the ideal family SUV.
It will delight safety-conscious buyers that the Tiguan comes with xenon headlights—at least, on select trims. This guarantees you'll get increased visibility while navigating roads, especially on dark winter nights.
11. Volkswagen Jetta
The Volkswagen Jetta is a sedan that offers decent performance and utility for buyers. As is typical of German cars, the Jetta has trappings of luxury, some of which come at a cost.
But the Volkswagen Jetta is more than a luxury sedan; it has impressive safety-focused features.
For example, some trims in the Jetta lineup have available HID (xenon) headlights for safer night driving.
Was this article helpful?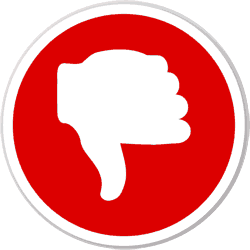 Did you find wrong information or was something missing?
We would love to hear your thoughts! (PS: We read ALL feedback)