Road trips are so popular these days and a great way to spend time with family.
We see so many explorers and families choosing this mode of urban adventure to explore unknown places.
However, just because you can take any car on your trip doesn't mean you should.
Let's see if the Honda Accord can match your passion for that long road trip you so desire.
Here's the short answer to whether Honda Accords are good for road trips:
The Accord is one of the most established sedans on the market and is consistently preferred for long trips. It offers an attractive combination of ride comfort, spacious cargo area, fuel efficiency, standard safety equipment, competitive prices and long-term reliability.
With that in mind, it is arguably one of the best sedans for a road trip.
We also have an article on the best and worst years for the Honda Accord.
How Comfortable Is a Honda Accord for Long-Distance Road Trips?
Well, the Honda Accord is a grand car and a good buy if you're looking for an affordable family sedan.
It features a spacious, luxurious interior with comfortable seating and a well-positioned headrest. It also has an easy-to-use infotainment system, and a range of standard technology and safety features.
The Touring trim of the 2022 Accord has heated front and rear seats. It also comes with cooled seats, which more than provides for a snug road trip no matter the weather.
The cabin provides uninterrupted visibility.
In addition, noise cancellation contributes to a silent cabin. The included wireless mobile phone charger provides a convenient area to juice up compatible mobile phones.
The versatile center console compartment provides a secure place to store your belongings while maintaining a classic appearance.
Check also our list of the most common issues with a Honda Accord.
How Much Stuff Can You Pack in the Trunk of a Honda Accord?
The Honda Accord has a massive 16.7 cubic feet of trunk space. This means it has one of the best cargo space of the average family sedan.
Its trunk is also uniquely high, allowing you to organize and match four large bags. Interestingly, you can fold the rear seats down if the need to haul longer or more luggage arises.
Does It have GPS Built-In?
Honda's navigation system uses GPS technology and a powerful database to track the vehicle's location. It gives precise directions to the desired location and provides information about points of interest along the way.
An available onboard navigation system increases driver confidence and saves time by avoiding traffic jams. It serves as your eyes and ears in the sky. This is because you'll be able to know the traffic conditions of your potential routes before you even get there.
Hence, you don't have to worry about using the slowest route anytime you're driving, while reducing the chances of getting lost.
Can You Drive Cross-Country in a Honda Accord?
The Honda Accord is an excellent ride for cross-country trips.
Fun fact: When talking about "Cross-Country" features – the 2010-2011 Honda Accord Crosstour model actually was the only Honda Accord ever with 4WD.
For a modest sedan, the well-rounded Honda Accord offers a superb powertrain and great handling. It also has a great exterior design which provides you with the capabilities for an aggressive enough drive.
You can select from three different driving modes, including Sport, ECO, and EV modes.
The ECO mode regulates inputs for maximum efficiency, while the sport mode improves throttle response. The EV mode allows you to drive the car on electric traction, reducing noise and emissions.
These features enable the Accord to provide excellent handling on a wide range of terrains. This means for rough terrains, the Honda Accord can provide a smooth enough ride.
However, the Accord is only available in front wheel drive, which makes it vulnerable in slick road conditions.
How Reliable Is a Honda Accord Over Long Distances?
The Honda Accord is one of the most reliable midsize cars on the market. It has been among the best-selling family cars for over 15 years. Its reliability will save you time and money for sure.
RepairPal gives the Honda Accord a 4.5 out of 5.0 reliability rating. This ranks it 1st out of 24 for midsize cars. It also costs as little as $400 to maintain annually.
These ratings and figures alone puts it ahead of all other sedans in its class.
Thanks to the safety details and the best performance it offers, you can avoid incessant breakdowns on the road.
Honda also equipped the Accord with innovative and advanced driver assistance technology. This means you have all you need to minimize collisions and accidents while traveling long distance.
For car buyers who value fuel economy and quality, the Accord is a superb choice for long drives.
However, despite its high reliability ratings, the Honda Accord has had some reliability issues in the past, the major issues being transmission problems.
Related: 11 Honda Accord Statistics You Should Know (Facts & Numbers)
How Long Can a Honda Accord Drive With No Breaks?
With a 14.8-gallon gas fuel tank, a regular Accord can travel up to 562.4 highway miles with just one tank of fuel.
If you opt for the Accord Hybrid, the fuel tank drops to 12.8 gallons. Despite that, you'd get nearly 615 highway miles before needing to stop at a gas station.
With such features, any Honda Accord should deliver 500 miles on a full tank or full charge. We don't want you pushing your car to its limits, as that'll do more harm than good.
No matter where the road goes, you'll get to your destination with ease on the Honda Accord.
Related: Honda Accord In Snow & Winter Driving? (Explained)
How Long Will a Honda Accord Last If You Use It for Road Trips?
A Honda Accord can last 250,000 to 300,000 miles if properly cared for. The Accord is one of the most likely cars to last so long.
This sedan is one of those models that can go well beyond 200,000 miles. It's not uncommon for this model to last over 400,000 miles.
When you frequently use it for road trips, it should still deliver over 250,000 miles.
Road trips are not known to shorten car longevity at all. In fact, they're better for your car's health for many reasons, including the reduction of frequent braking.
Just take care of your car in terms of regular maintenance and timely repairs and it'll last donkey years.
To extend the life and mileage of the vehicle, consider:
Following the maintenance schedule: Oil changes, filter changes, tire rotations, and general inspections. These all contribute to extending the life of the car. An untimely oil change can lead to premature engine wear.
Using Honda parts: Use only Honda-made parts as replacement, as aftermarket spares can seriously affect the life of your Accord. Also, make sure you are using the correct fuel and transmission fluid.
Driving properly: Reckless driving habits affect every part of your car. To use your Accord for as long as possible, drive calmly and carefully.
Monitor other fluids, such as transmission and power steering fluid. Also check and top up your windshield wiper and engine coolant at the prescribed intervals.
As long as you follow your maintenance schedules, your car would hardly need major repairs.
Related: How Long Do Honda Accord Last? (Solved &Explained)
Does a Honda Accord Offer Good Mileage Over Long Distances?
The variation of the fuel economy of a Honda Accord depends on the selected trim. Driving every day is fun and sporty, and the turbocharged engine has great fuel economy despite its performance.
The LX and EX-L trims deliver 50 MPG on the highway, while the Sport and special edition deliver 32 MPG. The touring 2.0T trim has a rating of 26 MPG. Hybrid trims like the Hybrid EX, and Hybrid EX-L trims offer 48 MPG.
Also, on highways, the Hybrid touring trim has a rating of 43 MPG.
Mileage depends on how you drive and maintain your vehicle, driving conditions, battery condition and other factors. For road trips, the Hybrid EX-L may be your best option. This is because its battery can keep you mobile for as long as 47 miles.
With all these capacities, the Accord Hybrid trims deliver better mileages when going on a long drive.
How Many People Can Comfortably Go on a Road Trip in a Honda Accord?
The Honda Accord accommodates up to five passengers with standard seats and 105.6 cubic feet of passenger space.
It can, however, comfortably accommodate 2 passengers in the rear seats. This space gives adult passengers the freedom to stretch their legs and arms.
For taller passengers, the overhead space in the rear seat is not uncomfortable either.
Going on a road trip in an Accord is bound to be a comfy ride. Both the front and rear seats are quite spacious and have enough room. This means whether you're the driver, passenger, kid or adult, long drives have no negative impact on your comfort.
Related: Honda Accord Problems: 15 Common Issues (Explained)
What Are the Best Cars for Long Road Trips?
Here are examples of the best cars for long road trips:
Honda Accord
Audi A4: The A4 is a large family sedan that emphasizes comfort. The executive class A4 further demonstrates this point. It's perfect for long business or family trips.
Kia Soul: As expected from an SUV, the Kia Soul is perfect for road trips. Its major attractions are modern tech and comfort, which are essential for road trips, anyway.
Nissan Altima: This is another sedan that delivers exceptional passenger comfort. Other than comfort, its infotainment system is straightforward to understand and simple to use.
Kia K5: Class, luxury and style is not all the Kia K5 brings to the table. It also has outstanding performance, especially on road trips. Like the Audi A4, it's perfect for business trips.
The Honda Accord is so impressive that it's on Car and Driver's "2022 10Best" and "Editors' Choice" lists. They had this to say about it; "The Accord boasts a spacious trunk that will make grocery runs a snap and a back seat is commodious enough for two adults for long road trips."
The roomy interior also easily accommodates multiple child seats for growing families.
Final Thoughts
From the above details, the Accord is no doubt a magnificent car to go for. But surely if you are a cross-country driver, you ought to explore other cars with All wheel drive (AWD) drivetrain.
Not that the Accord wouldn't perform well on a cross-country trip. It only means there are better options, since we have cars designed for this specific purpose.
However, your trip may only involve highway driving and you'd not be towing a house or a boat or whatever. If that's the case, stick with the Accord.
Sources
Honda Accord | caranddriver.com
Honda Accord Reliability | repairpal.com
Was this article helpful?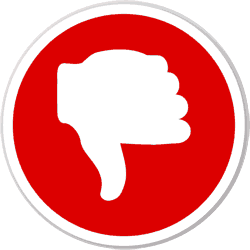 Did you find wrong information or was something missing?
We would love to hear your thoughts! (PS: We read ALL feedback)