The true heavyweights in the large-displacement engine category are the motorcycles in the 2,000cc range.
In fact, this engine size range is the biggest that motorcycles offer.
Although some might say that these chrome-clad megaliths are excessive in size (and price), these motorcycles are a testament to the inventiveness of our fellow human!
In this article, we discuss the top speed of 2,000cc motorcycles and provide a list of the most popular models.
Why Do Some Riders Prefer 2,000cc Motorcycles?
Engine size is measured in 'cc' which is an abbreviation of cubic centimeters.
This is the unit of measurement that the volume of an engine is calculated with.
Some bikes manufactured for American companies will measure the volume of their engines in cubic inches, or 'ci,' although it is more common to refer to your motorcycle's engine size in CCs. 
The higher the number of CCs, the more volume inside the cylinder where the air/fuel mixture is ignited. This means that an engine with a higher volume will essentially have bigger explosions. 
This results in quite a bit more speed, horsepower, and torque, as well as greatly lowered gas mileage. The larger explosions made within the combustion chamber create this greater power, but it burns more fuel, more quickly.
Some 2,000cc motorcycle riders simply prefer a bike that has a higher weight because it cuts against the wind at high speeds, while others enjoy the incredible torque, smoothly performing engines, and incredible top speeds of heavyweight 2,000cc motorcycles.
How Fast Do 2,000cc Motorcycles Go?
2,000cc motorcycles are very fast bikes that can maintain a top speed of 120-145 mph.
This is because the large-displacement combustion chambers allow for quick air/fuel consumption that drastically improves power, torque, and speed specifications. Here are some examples of such bikes:
Triumph Rocket 3
The Triumph Rocket 3 is the largest displacement engine available in the consumer market.
At 2,500cc, this incredible liquid-cooled inline 3-cylinder engine packs quite a punch when it comes to torque, horsepower, and high speeds. 
The weight and heft of a bike this size are impressive-a wet weight just shy of 800 pounds is certainly something to consider when thinking about how much torque and horsepower is needed to carry along the weight of the Rocket 3.
Although there are slight variances in different models, such as the GT or R models, the most current Rocket 3 is the TFC, which features the largest torque in the world at 221 Nm.
In addition, the bike is capable of generating 170 HP. And finally, the Triumph Rocket 3 has a whopping top speed of 145 mph! 
Taking into consideration this motorcycle's weight, it is an absolute necessity for the engine to be able to create maximum torque.
We assumed that a Triumph Rocket 3 would handle like a bouncy house that's being deflated, but according to riders who have had the pleasure of riding these behemoths, they actually handle amazingly well!
Make sure to keep a little extra green in your wallet for road trips-this 4.8-gallon fuel tank will need refilling every 150-200 miles. 
Related: 5 Most-Common Problems With Triumph Motorcycles
Kawasaki VN2000
Kawasaki designed the 2,053cc VN2000 to compete in the high-displacement V twin category. This 52-degree V twin is a liquid-and air-cooled 4-stroke engine.
A behemoth in the huge twin category, it boasts the largest cylinder bores available widely to consumers today.
The VN2000 is basically Kawasaki's Vulcan on steroids. With a massive capability, the engine's specs give the Yamaha Road Star and big-bore Harleys a run for their money.
Even at a wet weight of 814 lbs, the low-mid range torque of Kawasaki's VN2000 is rated at 141 ft.-lbs (around 3,000 RPMs) which is enough to start you off easily and zip around with surprising quickness.
Sporting over 100 HP, it's no surprise how popular the Kawasaki VN2000 is!
Finally, the Vulcan 2000 is fast as ever-with a top speed of 120 mph!
Honda Goldwing 1,832cc
Perhaps one of the front runners for the large-displacement competition, in both heritage and performance, is Honda's Goldwing. The 1,800cc Goldwing is almost eponymous with touring, and for good reason!
Because the Goldwing was engineered to comfortably pull passenger and luggage weight, the engine was designed with incredible horsepower and torque. At 835.5 lbs wet, the engine specs must match the high-weight, long-distance travel that these bikes are designed for.
And they do-with 125 HP and 130 ft.-lbs of torque, the Honda Goldwing could basically climb a cliff in 1st gear. 
But the torque and power specifications aren't the only thing impressive that Honda cranked out.
With an insane top speed of 140 mph, trumping the category in every way, the Honda Goldwing is the fastest 2,000cc cruiser/touring bike on the road in North America!
Related: How Long Do Honda Gold Wings Last? (with Examples)
Harley Davidson CVO Lowrider S 1,802cc 
Harley-Davidson's contribution to the cruiser-style touring arena is the CVO Lowrider S.
A subcategory in the Softtail model, this 1,802cc classic is powered by a beautiful air-cooled, 4-stroke Screamin' Eagle Twin Cam engine.
With a shockingly low (for this category) wet weight of 698 lbs, the torque and power specs ride right along with the weight just fine.
With a power rating of 10 horsepower at 5,600 RPMs and torque specs that show an impressive 105 ft.-lbs of torque at 3,000 RPMs, this sleek and stylish offering from Harley-Davidson rumbles along easily at top highway speeds. 
Pacing just fine other large-capacity engines from their line, the Harley-Davidson CVO Lowrider S has a top speed of 120 mph.
Related: 7 Best Harleys For Women (And What To Consider!)
Indian Chief Dark Horse
At 1,890ccs, Indian proffers up the incredibly powerful Thunderstroke 3 engine.
Delivering 119.2 ft.-lbs of torque and 97 horsepower, this 116ci twin-cylinder American classic pulls up alongside the other cruiser/touring bikes that make up our 2,000cc category.
One way that the Dark Horse may stand out when compared to the other motorcycles in this category is its weight. The 647 lb dry weight puts it in the lowest end.
Fortunately, the relatively small Indian Chief Dark Horse can rip faster than its competitors at 125 mph.
Suzuki M1800
Suzuki's M-series engines are known for their reliability and durability, so the M1800 is no exception to the rule. A water-cooled, 53-degree V twin engine, the M1800 puts out a massive 125 horsepower as well as 119 ft.-lbs of torque.
This massive Suzuki cruiser is a masterpiece of engineering.
With the midrange wet weight of 727.5 lbs, the relatively high horsepower and torque help the rider get up and go, as well as offering awesome handling, acceleration, and soft riding at the higher speeds that large-capacity engines are famous for.
The Suzuki M1800 is capable of a whopping top speed of 124.5 mph.
Yamaha Midnight Star XV1900
Yamaha began manufacturing the Midnight Star XV1900 in 2006, but this heavy-weight Goliath is preferred well-enough to still be manufactured to this day. A 4-stroke, 1,854cc V twin powers this 5-speed, belt-driven custom cruiser.
With spec readings that include 99 horsepower and 123.8 ft.-lbs of torque, the Midnight Star is incredibly efficient at maintaining high speeds with little to no vibrations reported by riders who have nothing but good things to say in their reviews!
Weighing wet at 768 lbs, we are getting into the heavier side of motorcycles with large-capacity engines, but the low-mid range torque and horsepower can easily make up for the extra poundage. 
As heavy as it is, the Yamaha Midnight Star XV 1900 has been clocked at a top speed of 125 mph.
What Is the Average Top Speed of 2000cc Motorcycles?
The average top speed of 2000cc motorcycles is 125 mph.
Although some contenders in our heavy-weight championship are slightly above or below the mark, this is where their mean speed sits.
What Are the Fastest 2000cc Motorcycles?
Although considering the Triumph Rocket 3's 2,500cc engine is pushing it at the very top end of what we would consider a 2,000cc motorcycle, its recorded top speed is 145 mph, making it the fastest in the category.
An honorable mention by top speed specs is the Honda Goldwing.
The Goldwing's 1,800cc engine is comparably fast with a top speed of 140 mph. This is especially impressive given the 700cc difference between the Goldwing and Triumph's Rocket 3. 
Can Complete Beginners Ride a 2,000cc Motorcycle?
Complete beginners should not make the mistake of trying on a 2,000cc motorcycle.
In fact, beginners are often started out on motorcycles in the small-displacement category, which features engine displacement ten times smaller than these honkers. 
We must warn anyone foolish enough to think they can start on a bike this size that attempting this can result in serious injury. 
Sources
Triumph Rocket 3 TFC | AutoEvolution.com
The Bigger Chief: Indian's 2022 Chief Dark Horse | WebBikeWorld
Was this article helpful?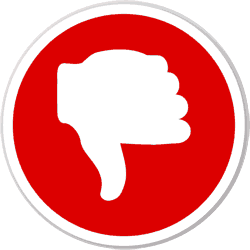 Did you find wrong information or was something missing?
We would love to hear your thoughts! (PS: We read ALL feedback)