In the past, women riding Harleys were a rare sight. Harley's motorcycles were essentially the preserve of men who used them to boost their macho image.
However, things have changed, and more women are buying Harley motorcycles, attending Harley owner meetings, and taking part in group riding sessions.
Contrary to popular belief, there is no such thing as a "girl's bike." However, there are certain Harleys that have features to make them more comfortable for women than men!
In this article, we will review the best Harley motorcycles for women!
What Type of Harley is Best For a Woman?
These bikes are typically lightweight and have a low center of gravity, making them easy to maneuver for women [especially beginner riders].
The best Harleys for women are:
Street Glide Classic
Sportster 883 SuperLow
Softtail Deluxe
Sportster 1200 Custom
Street 500 & 750
Softtail LowRider
Softtail Slim
These Are The Most Popular Harleys For
Women
The most popular Harleys for women are usually the cruiser and Sportster models.
Because these motorcycles have reduced seat height/width, they are easier to ride for females, who often have a shorter leg length, compared to males.
Below we review the bestselling Harley motorcycles among women:
1. Harley Sportster 883
SuperLow
For years, people have described the Harley Sportster as the best Harley bike for beginners, and we couldn't agree more.
The SuperLow has an 830cc motor that produces 52 horsepower, making it suitable for riding but not so powerful that you can't control the bike.
What makes this Harley bike ideal for female riders is its overall design. First, the low seat height of 25.5 inches allows women to keep both feet on the floor and protects them from toppling while riding.
The deep bucket seat design also allows women, who often have a smaller body compared to men, to straddle their motorcycles with minimal discomfort. The narrow seat design puts less strain on your legs, making long rides more comfortable.
Besides, the handlebars are designed in such a way that you do not have to lean into the bike to grab them. They are designed to come to you. This way, you can easily operate the bike without the fear of backaches.
The SuperLow is comfortable to ride, thanks to a responsive suspension design that absorbs shocks with ease. The presence of foot-pegs further improves ride comfort and, along with the excellent suspension, makes the SuperLow a joy to drive over long distances.
Newer female riders often desire motorcycles they can control easily without crashing.
With its lightweight design and low center of gravity, the SuperLow is easy to maneuver and helps build up new riders' confidence.
2. Harley
Sportster

1200

Custom

One of the sportier models in the Sportster lineup, this bike is perfect for female riders with considerable riding skills.

Like other Sportsters, it offers a reduced seat height [28.5 inches] and has a deep bucket seat design that minimizes discomfort while riding.

The only difference between this bike and other Sportster models is its higher power output. Its 1200cc motor can deliver 71 pounds of torque [20 more pounds than what the SuperLow produces] and 58 horsepower.

Despite its large engine, this bike weighs 562 pounds, only 20 pounds more than the SuperLow, giving it an impressive power-weight ratio. The lightweight design also makes it quite easy to maneuver on both city streets and highways.

The Sportster 1200 Custom is popular among female intermediate and advanced riders who want a more powerful bike but do not want the larger touring models.
3. Harley
Softtail
Deluxe
Since its release in 2005, the Softtail Deluxe has remained a favorite for women motorcyclists. At first glance, this bike looks like another imposing macho machine not meant for women. However, with some riding, this notion is dispelled.
The Softtail Deluxe has a low seat height [24.5 inches], making it suitable for female riders, especially the average-sized ones. You can further reduce the height of your bike by using aftermarket lowering kits produced by Harley-Davidson itself. H-D also offers a Reach Seat that has a deeper bucket design for short women bikers who may find the stock seat too high.
The bike's impressive ergonomic design makes it comfortable to ride, especially over long distances. Scooped seats provide great lumbar support, and pullback handlebars mean you do not have to bend forward to control the bike.
Additionally, you can rest your legs on the floorboards. These features make for a comfortable riding experience.
The Softtail Deluxe has lots of power and is a favorite for expert female riders who have mastered the art of riding and want to join the big leagues. Although a heavy bike [it weighs over 700 pounds], the Deluxe is easy to move around, thanks to a low center of gravity.
The 1746cc Big Twin motor produces around 109 pounds of torque, giving you all the power you need to carve those canyon roads with ease.
4. Harley
Softtail

Low

Rider

At 661 pounds, the Low Rider is one of the lightest motorcycles in the Softtail family. It is also one of the most powerful, and its 1745cc engine can produce up to 86 horsepower and 110 pounds of torque at a max of 5020 rpm. This explains its popularity among women riders who desire bikes with an impressive power-to-weight ratio.

The Low Rider fulfills most of the ergonomic needs of women motorcyclists. Its relatively low seat height of 26.2 inches allows even average-sized women to place both feet on the floor, giving them a sense of control. The curved handlebars bring the grips right to riders, creating a comfortable riding position.

Urban female riders will find the Low Rider's impressive turning ability exceptional, and its high-performance suspension that absorbs shocks with ease. Ladies with a sense of aesthetics will also love the Low Rider's eye-catching color design.
5. Harley Street 500 & 750
The Street 500 and 750 are part of the newer "Dark Custom" Harley models targeted at younger riders. They have been popular, particularly with urban female riders who desire a sportier, more aggressive, and lightweight ride.
Seat height on the street models is around 25 inches, and they both weigh a little above 400 pounds. This, combined with the narrow profile and broad handlebars, allows riders to handle the bike with relative ease. Although the riding position is more front-leaning than other models, foot-pegs beneath the knees make for a comfortable riding position.
The engine is another attractive feature of the Street models. The Revolution X engine [based on Harley's V-Twin engine design] uses liquid cooling, as opposed to the air-cooling in most H-D engines. Therefore, the engine is less likely to overheat when the bike is in city gridlocks compared to the air-cooled engines.
Beginner female riders prefer the Street models as they are easier to ride compared to the larger Harley motorcycles. This is partly because of the reduced power output of both bikes. The Street 500 has a 489cc engine, while Street 750 comes with a 790cc engine. The lower performance allows even novice riders to handle these bikes with confidence.
More importantly, the Street models are some of the cheapest Harleys on the market. Take, for instance, the 2020 Street 500 model sells for $7,600. That's some $10,800 lesser than the price of the 2020 Softtail Deluxe. The affordability of these bikes is a major reason they are the go-to pick for young women looking for Harleys that can handle daily driving.
6. Street Glide
Classic
We wouldn't consider a heavyweight motorcycle like the Street Glide Classic as a bike made for women in the past. However, thanks to improvement in motorcycle design, large bikes, like the Street Glide Classic, are now easier for smaller riders to handle.
Weighing 829 lbs., the Street Glide Classic is not the lightest of Harley motorcycles. What makes handling a bike this large an easy task, even for small women, is the low seat height [26.1 inches], which can be reduced further through suspension modifications. The bike's low center of gravity also increases its ease of handling.
The Street Glide Classic is popular among female riders, especially the experienced ones who do a lot of long-range riding. The two custom saddlebags mounted at the motorcycle's rear makes for increased storage capacity, and riders can pack all the items needed for those long rides. With decent fuel efficiency, riders do not have to stop for fuel frequently while cruising on the highway.
Although better enjoyed while cruising, the Street Glide Classic doesn't do badly on city streets. Its excellent suspension system absorbs nasty speed bumps and other road obstacles. In addition, Brembo brakes [optional equipment] provide the excellent stopping power needed to navigate urban roads safely.
The Street Glide's 114 Milwaukee Eight engine produces up to 123 ft-lbs of torque, making riding at low speeds effortless. This, combined with an infotainment system that allows riders to listen to favorite tunes while riding, makes the Street Glide a pleasure to drive both on city streets and on freeways. With all its creature comforts, its popularity among women, motorcyclists are no longer surprising.
Can You Be Too Short To
Ride A

Harley?

Unless you are below 4 ft [which is the average height for adults], you are not too short to ride a Harley motorcycle. To start with, Harley motorcycles are some of the lowest you'll find on the market. So they are popular among women who often have a shorter leg length.

Yes, there are some Harley motorcycles, such as the large touring models, you cannot hope to ride if you are short. However, the range of Harleys available for short people is extensive. Sportsters, Softtails, Streets, Heritage Classics, and Street Glides are suitable models for vertically challenged individuals.

These models have a reduced seat height compared to their counterparts and are easier for short people to ride. Moreover, the low center of gravity of these bikes makes it easy for even the shortest of riders to control them with relative ease.
How To Ride Harleys As A Short
Person
You can easily adjust the seat height of most Harley motorcycles by reducing the suspension. Exercise caution because changing the suspension can affect handling negatively. When it is time to lower your suspension, take it to a Harley-certified mechanic shop, and ensure they use only Harley-produced suspension modification kits.
Another hack for making your Harley easier to ride if you are average-sized is to use shorter rear shocks to further lower the bike's profile. Swapping your stock handlebars for pullback variants can also make it easier to grip and control your bike while riding.
You may also consider investing in an aftermarket Reach Seat. This seat is deeper and narrower than your motorcycle's stock seat and makes for a more comfortable riding position.
However, you can save yourself a ton of money if you learn how to ride a Harley, even with your short height. You don't need to be tall or have both feet touch the ground before you feel confident enough to ride a Harley. If you look around, you'll find small-sized women riding large bikes with surprising ease. It's not rocket science; all it takes is a commitment to regular learning and practice.
Many online instructional videos can teach you techniques and tricks that will make riding big bikes easy. Once you've mastered the basics, it is only a matter of time before you start riding like a pro and forget about your small stature.
Online forums are another great source of help for short riders. Members can offer practical advice and answer questions you have based on their own experiences. You can also seek other Harley owners, especially experienced ones, as they can teach one or two things that can help improve your riding skills.
What's The Best Harley For Short Girls?
What Harley is best for a short girl? Most Harleys have a low seat height, which makes them perfect for shorter riders. Moreover, you can reduce the seat height of almost all Harley models via suspension mods. Modifying the suspension, however, can affect the suspension and is not advised.
If we were to recommend a Harley motorcycle for a small-sized girl, we'd pick the Softtail Slim model. With a seat height of 23.8 inches [laden], the Softtail Slim is one of the lowest full-sized bikes on the market and is perfect for girls with short inseams.
Another Harley bike suitable for short female riders is the Fatboy Lo. This model has a seat height of 24.3 [laden] and is another bike we'd recommend for short girls. The Softtail Deluxe comes close with a seat height of 24.5 inches [laden] and is also worthy of consideration.
Other Harley models that are worth looking into [if you are an average-sized girl] are the Sportster 883 SuperLow and the various Street models.
What's The Best Harley For A Female Beginner?
Price, power, comfort, and usability are the most important things you should take into consideration when buying your first Harley.
As a female beginner, you'll want a bike that is lightweight, easily controlled, and can accommodate your size.
You'd also want to ensure that your new bike does not produce more power than you can handle.
Based on the above-listed considerations, here are some of the best Harley motorcycles for novice female riders:
1. Street
500
Many consider the Street 500 as Harley's entry-level model, and rightly so.
This model has a 494cc engine that produces a tame of 29.5 pounds of torque and 34 horsepower. While pro riders may turn up noses at such performance specs, it is perfect for new riders trying to build confidence in their skills.
The Street 500 is also affordable, meaning you don't have to break the bank on your first motorcycle purchase.
It is considerably lightweight and is easy to handle, even when turning tight corners. Its low seat height and upright seating position allow newbies to ride with minimal discomfort.
Street 500 is the model used to train new riders at Harley-Davidson's Rider Academy, replacing the Buell Blast.
2. Street
750
Street 750 is the other half of Harley's new entry-level motorcycle family.
It is like the Street 500 in terms of design but has a more powerful 749cc motor.
Despite the higher power output, the Street 750 is easy to control and is a good pick for anyone looking to master basic riding skills.
3. Sportster 883
SuperLow
Before introducing the Street models, the Sportster line served as Harley's entry-level motorcycles.
Even though they are no longer entry-level Harleys, the Sportsters still make for a great beginner bike because of their low profile and impressive ergonomics.
In particular, the SuperLow is a good option for beginner riders who have the basic skills and want to practice on more powerful bikes. With a max of 52 hp, you can hardly tear up the road with the SuperLow, but you will increase your biking skills.
4. Iron 883
Another motorcycle from the Sportster line, the Iron 883, is for beginners who want a more aggressive bike to start their Harley journey. All the design elements, from the blacked-out painting to the drag-style handlebars, give it a fierce look that attracts attention.
Like other bikes in the Sportster line, it has a reduced seat height, a feature that beginner female riders will appreciate. It is also lightweight [it weighs 562 lbs], making it easy to maneuver over different terrains.
The only disadvantage of this bike is its low fuel-holding capacity, which stands at 3.3 gallons [1.2 gallons lower than the SuperLow].
However, if you will be using this bike for short training sessions and not long trips, this should not be a problem.
Which Models Are Easiest To Ride For Women?
As we said at the beginning of this article, there is no such thing as a girl's bike.
However, some bikes are considered better for female riders for several reasons. One such reason is that women generally have a shorter leg length ["inseam"] than men. This makes it hard for them to ride tall bikes, hence the preference for motorcycles with low seat height.
Besides seat height, another factor that makes a bike easy to ride is the weight. Women generally find large, heavy bikes difficult to handle and prefer Harleys with minimal weight. This is why lightweight Harley motorcycles, such as the Street models, are popular among women motorcyclists.
However, a female rider may not always choose a lighter Harley to ride. Large motorcycles like the Street Glide Classic are popular, particularly among advanced female riders. What makes these women able to handle such heavy motorcycles is their low profiles. As these bikes are closer to the ground, they have a lower center of gravity and are easy to maneuver.
Unlike in the past, motorcycle companies are increasingly considering females when designing their motorcycles. This usually means lower seat heights, lower center of gravity, and easy-to-grip handlebars. These are the most important features that determine if a bike is women-friendly or not.
With its female customer base increasing, Harley-Davidson has made efforts to make its bikes more women-friendly by improving the design to accommodate the female figure. Models such as the Street 500 and Street 750, for instance, are part of Harley-Davidson's efforts to make Harleys more accessible to female bikers.
Per reports from female bikers, both beginner and advanced, the following Harleys are the easiest to ride for women:
Street 500 & 750
Sportster 883 SuperLow
Sportster 1200 Custom
Softtail Slim
Softtail Deluxe
Softtail Low Rider
Iron 883
What Harley Models Weigh The Least?
Harley is known worldwide for producing heavy, expensive bikes.
However, not all Harleys are heavy, and some are lightweight.
These lightweight models are usually favorites for both beginner and advanced female riders as they are easy to operate and handle.
Below is a list of the most lightweight Harleys on the market:
Street 500 – 492 lbs
Street 750 – 492 lbs
Iron 883 – 543 lbs
Sportster 883 SuperLow – 545 lbs
LiveWire – 549 lbs
Sportster 1200 Custom – 562 lbs
4 Things To Think About Before Getting A
Harley
Here are the top five factors to consider before getting a Harley motorcycle:
1. Price
Before buying a motorcycle, it is important to know how much you want to spend so you don't end up overspending.
Remember, you do not have to break the bank on your first purchase. It is better to get something that costs less to purchase and repair, especially if this is your first Harley.
A large percentage of novice riders often "drop" their bike during the initial training sessions. How well would you be able to handle repair costs on a bike like the Ultra Glide Classic if you dropped it while training?
Another financial consideration when buying a Harley is whether you are buying used or new. A new bike will likely come with a warranty and the assurance that you are getting a bike with no faults. Although the more expensive option, it may save you from costly repairs in the future.
Used motorcycles can have hidden faults that may not manifest until after you've paid. Sometimes pre-purchase inspections can miss some glaring problems, and you may bear the costs for a problem you did not cause.
However, if you are ready to commit time to properly inspecting and examining used bikes, you may get a good Harley bike at a bargain.
2. Performance
Power output is another factor that influences what kind of Harley you end up buying.
If you are a beginner, we'd advise you to ride motorcycles with engines in the sub-600cc range. The reason being that with your lack of riding skills, it is difficult to handle a more powerful bike, and you may even crash it.
What you need at the initial stages is a Harley that produces low to mid-range power and easy handling. This bike will give you the chance to build confidence in your riding skills and prepare you to handle bigger and more powerful bikes.
Once you have mastered the basics of motorcycle riding and feel confident enough, you can opt for the larger and more powerful Harleys. These types usually offer greater power output [more torque and horsepower] and deliver a great riding experience.
3. Weight
After power and price, the next important consideration is the weight.
We'd advise you to buy a lightweight bike [that is, if this is your first Harley]. Lightweight motorcycles are typically easier to balance and maneuver on the road. They are also less stressful to unload/offload and offer a better fuel economy compared to their larger counterparts.
Bigger bikes [except those with a low center of gravity] are often difficult to control while riding. They also consume more fuel and are typically more expensive to insure, all of which can create a strain on a beginner rider.
Besides, small mistakes made on these big bikes can easily snowball into a bigger problem and cause more damage than it would do on a smaller model. Take dropping your motorcycle, for example.
If you drop a small model like the Street 500, you may escape with just a few scratches on your bike. Drop something bigger like a Road King, and both you and the bike will suffer significant damage.
Still, bigger bikes have their advantage, too. They often offer more storage and fuel-holding capacity.
Go for a Harley that is not too heavy for you to handle and not so lightweight that it is unstable on the road.
4. Comfort &
Ergonomics
When choosing which motorcycle to buy, it is important to get one that offers considerable ride comfort. You don't want to feel pains in your neck, arms, and back after a long day of riding, would you?
There are few things that you need to check to determine the level of rider comfort a particular model offers.
The seat height is usually a good place to start. If a bike's seat height is too high, you may find it hard to sit comfortably in the saddle, especially if you are of average stature. The case is the same if the bike has a low seat height and you are tall.
It is pertinent that you buy a Harley whose seat height matches your leg length. This way, you will decrease the discomfort and fatigue when riding your motorcycle.
Handlebar height is another big part of your bike's ergonomics. It affects rider posture, which affects the level of comfort you experience while riding. The handlebars must be designed in such a way that you do not have to lean too far to grip the bike.
This will help you maintain an upright stance that allows you to stay comfortable and alert as you ride.
Was this article helpful?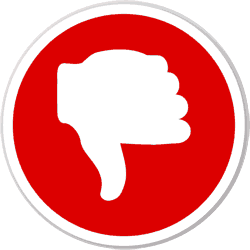 Did you find wrong information or was something missing?
We would love to hear your thoughts! (PS: We read ALL feedback)