The Chevrolet Suburban has been a fixture on the American market for many decades.
In that time, it has become the favorite luxury full-size SUV for many families due to its storage space and cabin room.
Buying a Chevrolet Suburban can be tasking, especially if you don't have the information you need.
This article contains important statistical information for the Suburban models. You'll get recall figures, theft data, fuel consumption numbers, and so much more!
How Many Chevrolet Suburbans Have Been Sold in the US Per Year?
General Motors has always sold enough Suburban models for it to make a profit.
Sure, sales have declined over the years—but the Suburban remains one of the highest-selling full-size SUVs in the US. At some point, annual sales of the Chevrolet Suburban reached six-digit figures.
We have data on the best and worst Suburban models here.
However, the rise of fuel-efficient vehicles affected the Suburban's dominance in the late 2000s.
In particular, Suburban sales dropped to an all-time low of 41,055 units in 2009.
But the Suburban's sales performance has improved in recent years, as gasoline prices become cheaper.
Moreover, more families are demanding vehicles that are great for hauling people and cargo. The Suburban fits the bill, explaining its decent sales.
While Suburban sales haven't reached levels seen in the early 2000s, they have averaged over 50,000 units yearly.
Moreover, automakers make more profit on higher-priced vehicles, so GM doesn't need to sell many models to make profit.
Here are annual sales figures of the Chevrolet Suburban since 2000:
| | |
| --- | --- |
| Year | No. Of Units Sold |
| 2000 | 133,123 |
| 2001 | 154,782 |
| 2002 | 151,056 |
| 2003 | 135,222 |
| 2004 | 119,545 |
| 2005 | 87,011 |
| 2006 | 77,211 |
| 2007 | 83,673 |
| 2009 | 41,055 |
| 2010 | 45,152 |
| 2011 | 49,427 |
| 2012 | 48,116 |
| 2013 | 51,260 |
| 2014 | 55,009 |
| 2015 | 50,866 |
| 2016 | 60,082 |
| 2017 | 56,516 |
| 2018 | 60,633 |
| 2019 | 51,928 |
What Year Did Chevrolet Start the Suburban Model?
The Chevrolet Suburban is one of the longest-running nameplates in the US.
Chevrolet started manufacturing the Suburban as early as 1935. Then it was marketed as the "Carryall Suburban"—a vehicle resembling a station wagon and designed to have enough space for people and gear.
The Chevrolet Suburban has undergone myriad changes since its arrival on the US market.
For example, it has received a better suspension design that makes it easier to absorb road bumps. This is why newer Suburbans are more comfortable compared to older models.
So far, the Chevrolet Suburban has gone through 11 iterations since it started production.
The latest iteration of the Suburban will debut in 2021 with even newer features.
Here are the various generations of the Chevrolet Suburban:
First generation (1935-1940)
Second generation (1941-1946)
Third generation (1947-1954)
Fourth generation (1955-1959)
Fifth generation (1960-1966)
Sixth generation (1967-1972)
Seventh generation (1973-1991)
Eighth generation (1992-1999)
Ninth generation (2000-2007)
Tenth generation (2007-2014)
Eleventh generation (2015-2020)
Check out this article about how well the Suburban handles snow.
How Is the Fuel Economy on Chevrolet Suburbans?
You won't see large SUVs like Chevrolet Suburban winning awards for fuel-efficiency because they consume gas in large amounts.
The Suburban itself uses a range of V8 engines that are fuel thirsty. No wonder it is considered one of the biggest gas guzzlers on the US auto market.
Within the Suburban lineup, the most fuel-efficient models are the two-wheel-drive models.
One of the 2WD models gets 22 mpg on the highway and 15 mpg in the city for a combined 18 mpg. This is the best gas mileage you'll see on any Chevrolet Suburban.
By comparison, the four-wheel-drive versions of the Suburban are heavier on fuel. The best gas mileage we found for a 4WD Chevrolet Suburban is a combined 16 mpg.
We should also note that the Suburban has available 'flex-fuel' variants.
These vehicles can use ethanol fuel (E85), which is cheaper than regular gasoline. However, you must remember that ethanol fuel dries up faster than regular gasoline.
How Quickly Do Chevrolet Suburbans Depreciate?
The Chevrolet Suburban remains one of the large SUVs with better-than-average resale values.
High demand (by families, mostly) means used Suburban models tend to command good resale values. The Suburban is an incredibly versatile model, so families tend to ask for it in dealerships.
The Chevrolet Suburban has a five-year depreciation rate of 51%.
Based on this, your Suburban should about 49% of its value after five years of use.
In 2020, the Suburban made the list of J.D. Power's large SUVs with the best resale values. This is further proof that the Suburban has good resale values.
Did Chevrolet Recall Any of the Suburban Models?
The Chevrolet Suburban has been recalled 67 times in its long production run. The 2000 models have been involved in 11 recalls, which is the highest for any Suburban model.
The next models on the most-recalled list are the 2015 and 2001 models with 10 and eight recalls, respectively.
It is advised to avoid models with high recalls, as they often have many problems and cost a lot to maintain.
Here is a table showing number of recalls for Suburban model years since 2000 till date:
| | |
| --- | --- |
| Model Year | No. Of Recalls |
| 2000 | 11 |
| 2001 | 8 |
| 2002 | 4 |
| 2003 | 7 |
| 2004 | 6 |
| 2005 | 7 |
| 2006 | 1 |
| 2007 | 2 |
| 2008 | 2 |
| 2009 | 2 |
| 2010 | 0 |
| 2011 | 1 |
| 2012 | 2 |
| 2013 | 2 |
| 2014 | 2 |
| 2015 | 10 |
| 2016 | 6 |
| 2017 | 4 |
| 2018 | 3 |
| 2019 | 2 |
| 2020 | 2 |
How Much Do the Suburban Models Pollute?
Large SUVs are some of the worst vehicles in terms of carbon emissions.
Because they consume a lot of fuel, they tend to release higher-than-average amounts of greenhouse gases during operation.
Not all the Chevrolet Suburban models have the same level of CO2 emissions, however. We found that the 2WD Suburbans emit lesser greenhouse gases than the 4WD options.
So, if you want a somewhat eco-friendly Suburban SUV, the best option is to get a 2WD model.
Here are some emissions figures for the Chevrolet Suburban based on data from the Environmental Protection Agency (EPA):
| | | |
| --- | --- | --- |
| Model | Greenhouse Gases Per Mile | Emissions Rating |
| Chevrolet Suburban 5.3L, 8-cyl. (2WD) | 505 grams | 3/10 |
| Chevrolet Suburban 6.2L, 8-cyl. (2WD) | 517 grams | 3/10 |
| Chevrolet Suburban 5.3L, 8-cyl. (4WD) | 543 grams | 2/10 |
| Chevrolet Suburban 5.3L, 8-cyl. (4WD) | 547 grams | 2/10 |
| Chevrolet Suburban 6.2L, 8-cyl. (4WD) | 557 grams | 2/10 |
How Much Do the Suburban Models Tow?
One major reason the Suburban remains popular among Americans is its impressive towing ability.
The Suburban has impressive towing capability, thanks to its rugged construction, strong engine, and advanced trailering technology.
Currently, GM offers two 8-cylinder engines with the Suburban models: one 5.3-liter variant and another 6.2-liter variant.
Surprisingly, the smaller 5.3-liter variant offers greater towing capacity; you can tow up to 8,300 lbs with it. The 6.2-liter engine can only tow up to 8,100 lbs.
The Chevrolet Suburban models are replete with features that make towing easy for drivers. For example, all Suburban trims come with the Max Trailering Package.
The features included in the Max Trailering Package differ across each trim.
Nonetheless, you'll get a 3.42 rear axle ratio and an integrated trailer brake controller on every trim equipped with the Max Trailering Package.
There's also the Trailer Sway Control feature that stops your trailer from swaying dangerously while towing.
In addition, StabiliTrak protects you against loss of control while towing.
Make sure to also read our article about 11 Ford Expedition facts and statistics.
How Reliable Is a Chevrolet Suburban?
Although the Chevrolet Suburban gets good scores in other areas, its reliability performance leaves a lot to be desired.
For the most part, the Suburban has average reliability ratings.
J.D. Power gives the Chevrolet Suburban a little-above-average reliability rating of 3.5/5.
The Suburban fares worse on RepairPal's reliability rankings, where it receives a 3/5 reliability rating. RepairPal also ranks it 11th out of 15 full-size SUVs for reliability.
As with most models with poor reliability, the Suburban has high maintenance costs.
According to RepairPal, it costs around $944 to service the Suburban in a year. This is higher than the average for all vehicles, which is around $660.
Also read our article about cars with the most driver legroom.
How Safe Is a Chevrolet?
Families often choose full-size SUVs because they have plenty of standard safety features. This often makes for safer driving and ensures the whole family can drive without accident.
The Chevrolet Suburban may have poor reliability, but it impresses in the safety department.
It gets good reliability ratings; the NHTSA gives it an above-average four-star overall safety rating.
The only safety concern with the Suburban is that its size makes it prone to rollover crashes.
Large SUVs like the Suburban have a high center of gravity that makes it easy for them to lose balance.
Nevertheless, newer Suburbans are much safer and offer more protection against crashes (rollover crashes included).
Electronic Stability Control is an example of a safety feature that prevents loss of balance and stability.
Other safety features that are available on the Chevrolet Suburban include the Lane Departure Warning System, Brake Assist, Lane Keep Assist system, and Anti-lock Braking System (ABS).
Please also check our article about how long the Chevrolet Tahoe lasts.
What Is the Typical Buyer Demographic For this Model?
According to our research, buyers of the Chevrolet are generally young families.
The median age for Suburban buyers is 48 years, which is below the average for full-size SUV buyers (53 years).
Those who buy the Suburban SUVs are mostly affluent with a high annual income.
Our research shows that the average annual income among Suburban buyers is $120,000 per year.
Factors like fuel efficiency and environmental friendliness are less of a concern for Suburban buyers.
On the other hand, things like utility and performance are high on the list of considerations for most Suburban buyers.
Chevrolet Suburban Theft Numbers
The NHTSA Theft Rate Database has no data available for the Chevrolet Suburban.
However, the Suburban's sibling (the Tahoe) has made a couple of most-stolen vehicles list—so we assume the Suburban has a similar appeal to thieves.
In the past, full-size SUVs like the Tahoe and Suburban were attractive to thieves who often made off with their parts.
However, GM added improved security features, ultimately leading to a drop in thefts.
Still, you need to make efforts to prevent your fancy SUV from being stolen.
Invest in anti-theft/immobilizer devices. Remember to take your key after parking your vehicle. Try to garage your vehicle if you can.
References
https://cars.usnews.com/cars-trucks/chevrolet/suburban
Chevrolet Suburban U.S Sales Figures
Was this article helpful?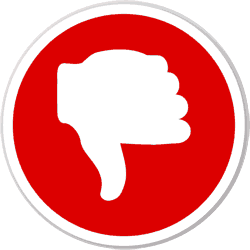 Did you find wrong information or was something missing?
We would love to hear your thoughts! (PS: We read ALL feedback)