The Chevrolet Tahoe is America's trusty family hauler. With three rows of seating, the Tahoe can carry people around with ease.
A more than enough storage area means it can haul large cargo around, too.
Besides, it has exceptional towing capacity and boasts a beastly V-8 engine that delivers impressive performance.
But does it last long? Let's find out.
Here is the short answer to how long the Chevrolet Tahoe lasts:
Various reports suggest the Chevrolet Tahoe is a model built to last. Adequately maintained, a Chevrolet Tahoe should have no trouble going 250,0000 to 300,000 miles with minimal repairs. This adds up to 16 to 20 years on the road for your Chevrolet Tahoe.
How Many Miles Can You Expect from a Chevrolet Tahoe?
For the last two years, the Chevrolet Tahoe has been the highest-selling full-size SUV on the American market.
One could attribute the Tahoe's impressive sales figures to different factors–rising demand for large vehicles, the model's offering of comfort and utility, etc.
But there's really only one quality fueling sales: the Tahoe's reputation for reliability. The Chevrolet Tahoe is one of the most reliable vehicles on the road today.
Some suggest the truck-based design of the Chevrolet Tahoe may be responsible for the model's impressive durability.
Whatever the reason, the Tahoe's longevity means you can get to enjoy its exceptional qualities for long.
An iSeeCars study ranked the Chevrolet Tahoe among models that can clock 200,000 miles. But you can definitely get more than that from your Tahoe. In fact, you get over 300,000 miles out of your Chevrolet Tahoe.
How Soon Should You Expect Rust on a Chevrolet Tahoe?
The average Chevrolet Tahoe doesn't rust early, and you may not notice any signs of rusting until your vehicle is well past 100,000 miles.
This may vary in your case as location often influences the incidence of rust on vehicles.
For example, living somewhere like North Carolina where roads get salted every winter will increase your chances of getting rust.
Some Chevrolet Tahoe owners living in similar cold-weather areas have reported noticing rust earlier than their counterparts in other regions.
Here are some common rust-prone areas on the Chevrolet Tahoe:
Frame/undercarriage
Brake lines
Tailgate area
Fuel filler door area
Please also read our article about driving the Chevrolet Tahoe in snow and winter.
How Long Do Chevrolet Tahoe Last Compared to Similar Car Models?
The Chevrolet Tahoe models are quite durable. However, how do they stack up to the competition in terms of durability?
We answer that question as we compare the Chevrolet Tahoe's lifespan to that of similar vehicles in the full-size segment:
Chevrolet Tahoe vs. Ford Expedition
Like the Chevrolet Tahoe, the Ford Expedition is based on a truck–the F-150, and possesses excellent reliability. From what we can tell, the Ford Expedition has the same lifespan with the Chevrolet Tahoe.
Give it proper maintenance and a Ford Expedition will last 300,000 miles or more–same as the Chevrolet Tahoe.
Chevrolet Tahoe vs. GMC Yukon XL
The Yukon XL is produced by General Motors, owner of Chevrolet, which means it shares some ancestry with the Chevrolet Tahoe. Both models also share the reliability that's characteristic of GM's full-size SUVS.
Based on what owners say, the GMC Yukon XL can last 300,000 miles with proper maintenance. This is roughly the same mileage you will get from a Chevrolet Tahoe, so your choice between both cars may boil down to other factors.
For example, if price is a consideration, the Chevrolet Tahoe may be the better bet. The 2020 Chevrolet Tahoe base model costs $46,800, while the 2020 GMC Yukon base model costs $49,600–that's a $2,800 difference.
Chevrolet Tahoe vs. Nissan Armada
The Nissan Armada is among the bestselling full-size SUVs, although it can't quite match the Chevrolet Tahoe's phenomenal sales numbers.
But it can match the Tahoe's longevity, with owners getting upwards of 300,000 miles from their Nissan Armada.
This puts it level with the Chevrolet Tahoe in terms of longevity and shows it can hold its own against the big models.
Make sure to also read our article about how long Ford Expeditions last.
How Reliable Is a Chevrolet Tahoe?
As we indicated earlier, the Chevrolet Tahoe is a very reliable vehicle. On forums dedicated to the Chevrolet Tahoe, many of the owners reported getting high miles out of their vehicles with minimal repairs.
Given that the Tahoe is one of the longest-held vehicles, we believe these owners 100%.
On a ranking of most reliable American SUVs, the Chevrolet Tahoe placed second, just behind its sibling, the Chevrolet Suburban. The model has also received stellar ratings for reliability from other publications.
For instance, model years 2016 through 2019 received a 4.5/5 reliability rating from J.D. Power. The previous models were even more reliable, with the 2013 and 2014 model years received a perfect 5/5 reliability rating.
The Best and Worst Years for Chevrolet Tahoe
Based on the number of problems plaguing it, the 2015 Chevrolet Tahoe has to be the worst model year on record for the Chevrolet Tahoe. This model has some of the highest number of complaints among the Tahoe models and the most recalls in the lineup.
Many have suggested the 2015 Tahoe have widespread problems because the model underwent a major redesign that year. It is common for newly redesigned models to have issues, many of which are fixed in later years.
If you can, avoid the 2015 Chevrolet Tahoe. But if you want to buy it, here are the common problems afflicting those models so you know what to prepare for:
Air Conditioner failure: Many of the 2015 Chevrolet Tahoe had their A/C units fail within 1 to 3 years. For owners, this made the vehicle uncomfortable, especially in the hot summer.
A fix suggested by owners for this problem includes replacing the condenser, the compressor, or evaporator.
Engine issues: The engines on the 2015 Tahoe models hardly ran smoothly and were prone to several problems. These include pronounced engine vibrations, excessive oil consumption, poor acceleration, and recurrent ticking noises.
Interior accessories problems: Several in-cabin components were reportedly prone to erratic performance. One such was the interior dome light, which would come on when drivers pressed the brakes or switched on the turn signals.
Drivers complained the lights were distracting and particularly dangerous at night.
The 2015 may be the worst model year, but the subsequent models have shown enormous improvement such that we'd call them the best model years so far.
Particularly, model years 2017 through 2019 have few recalls and reported problems, and also have exceptional reliability ratings.
Also check our article on how long the Chevrolet Malibu lasts.
What About Recalls for These Models?
Since its debut, the Chevrolet Tahoe has been involved in 51 recalls. On the average, older Tahoe models have more recalls compared to the newer models.
However, there are odd ones like the relatively recent 2015 model year, which has the highest number of recalls in the lineup.
Here are recall numbers for the model years of the Chevrolet Tahoe:
2015: 11 recalls
2000: 10 recalls
2001: 8 recalls
1995: 8 recalls
2003: 7 recalls
2005: 7 recalls
2002: 6 recalls
2004: 5 recalls
1996: 5 recalls
1998: 4 recalls
2016: 4 recalls
2006: 4 recalls
1999: 3 recalls
2011: 3 recalls
2007: 2 recalls
2014: 2 recalls
2009: 2 recalls
2008: 2 recalls
2013: 2 recalls
1997: 2 recalls
2010: 1 recall
2012: 1 recall
2017: 1 recall
Chevrolet Tahoe Model Year List
Here are the model years for the Chevrolet Tahoe:
First Generation
1995 Chevrolet Tahoe
1996 Chevrolet Tahoe
1997 Chevrolet Tahoe
1998 Chevrolet Tahoe
1999 Chevrolet Tahoe
Second Generation
2000 Chevrolet Tahoe
2001 Chevrolet Tahoe
2002 Chevrolet Tahoe
2003 Chevrolet Tahoe
2004 Chevrolet Tahoe
2005 Chevrolet Tahoe
2006 Chevrolet Tahoe
Third Generation
2007 Chevrolet Tahoe
2008 Chevrolet Tahoe
2009 Chevrolet Tahoe
2010 Chevrolet Tahoe
2011 Chevrolet Tahoe
2012 Chevrolet Tahoe
2013 Chevrolet Tahoe
2014 Chevrolet Tahoe
Fourth Generation
2015 Chevrolet Tahoe
2016 Chevrolet Tahoe
2017 Chevrolet Tahoe
2018 Chevrolet Tahoe
2019 Chevrolet Tahoe
2020 Chevrolet Tahoe
Are Chevrolet Tahoe Expensive to Maintain?
The Chevrolet Tahoe costs an average of $744 to maintain annually, which isn't totally bad for a full-size SUV. Similar models are more expensive to maintain.
For example, the GMC Yukon XL costs $843 in average maintenance expenses, which is close to a $100 difference.
Also, the average maintenance cost for full-size SUVs is $784 per year, so the Chevrolet Tahoe is actually cheaper to maintain than most full-size SUVs.
How Long Do the Brakes Last?
The brakes on your Chevrolet Tahoe can last between 30,000 to 60,000 miles depending on the following factors:
Driving habits
Frequency of maintenance
How Long Do the Tires Last?
On average, the stock tires on your Chevrolet Tahoe can last anywhere between 30,000 to 50,000 miles. This means your tires have a lifespan of two to four years.
How Long Do the Transmissions Last?
The transmission on the Chevrolet Tahoe can last between 130,000 to 180,000 miles.
How Long Do the Spark Plugs Last?
If you have iridium or platinum spark plugs on your Chevrolet Tahoe, you can expect them to last up to 100,000 miles.
What About Insurance Cost?
The Chevrolet Tahoe is a bit on the high side when it comes to insurance costs.
On the average, you can expect to spend about $2,028 annually on insurance for your Chevrolet Tahoe. This translates to monthly insurance payments of $169.
Tips to Prolong the Life of Your Chevrolet Tahoe
Here are ways to improve your Chevrolet Tahoe's longevity:
Invest in a transmission cooler; especially if you do a lot of hauling or towing. It will prevent your transmission from overheating and failing.
Be careful to perform all maintenance activities recommended in the service manual.
Ensure your Tahoe is serviced only by qualified mechanics.
Treat your Chevrolet Tahoe with anti-rust products to prevent it from turning into a rust bucket. You can have the rustproofing done by a professional if you want to ensure it is done right.
Resources
https://www.iseecars.com/articles/most-reliable-american-cars
https://repairpal.com/reliability/chevrolet/tahoe.amp
https://www.cars.com/research/chevrolet-tahoe/
Was this article helpful?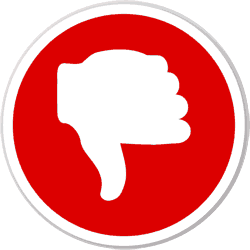 Did you find wrong information or was something missing?
We would love to hear your thoughts! (PS: We read ALL feedback)