According to the Insurance Institute for Highway Safety, about half of accidents in the US are caused by low lighting.
Strong headlights are now part of any car's safety arsenal, as they can significantly reduce crash risk.
We have scoured the internet to bring you 9 models whose headlights outshine the competition.
1. Tesla Model 3
Tesla cars have always been at the forefront of cutting-edge automotive technology. So the Model 3 making the list is hardly surprising.
The Model 3's headlights are so strong they earned a 'Good' rating from IIHS — the highest possible rating.
The Tesla Model 3 has fog/driving lights, daytime running lights (DRLs), and LED headlamps.
It also uses Automatic High Beam technology, which switches between high and low beams to maintain visibility on the road.
The Tesla Model 3 headlight system is bright enough to provide visibility, even in adverse weather. For example, the fog lights activate on frosty nights where visibility is limited.
2. Honda Insight
The Honda Insight is among the six cars—out of 156 models tested in 2020—to receive a 'Good' rating for headlight safety from the IIHS.
This alone shows that the Insight has some of the strongest headlights in the game.
The Insight lighting system comprises LED headlights, Daytime Running Lights, and LED taillights.
You also get Auto High-Beam headlights, which can dim and brighten based on oncoming lights and vehicles.
With its strong headlights, the Insight can keep everything on the road in your sight.
You will see ahead of you and avoid any obstacles that could lead to a crash. Other drivers will see you as well and avoid hitting you.
Please also read our article about popular cars with taillight bars.
3. Genesis G70 & G80
Genesis may not be a famous carmaker, but it sure makes a lot of good cars.
In particular, its luxury sedans have garnered praise for their advanced design and technological features that improve safety, comfort, and ride quality.
Genesis cars have some of the brightest headlights among sedans on the market. The G70 sedan was among the few models to receive a stellar headlight safety rating from the IIHS in 2020.
Genesis' G80 also joined the select few that got 'Acceptable' ratings for their headlights from the IIHS.
The G70 sports sedan has many lamps ranging from Daytime Running Lights to LED headlights to 'Dusk-Sensing Headlamps.' Despite its luxurious features, the Genesis G70 has its best and worst years too.
Meanwhile, the G80 midsize sedan has something similar, featuring Dusk-Sensing Headlamps and Daytime Running Lights.
However, it goes one step further by offering Xenon High-Intensity Discharge Headlamps.
Generally, Xenon HID headlights are among the strongest on the road and are noted for emitting intense illumination at night.
Also, check out the best and worst Genesis G80 years.
4. Hyundai Nexo
The Hyundai Nexo is a fuel-cell SUV that runs on hydrogen.
Even though it's an alternative-fuel vehicle, it's like every other model and has similar creature comforts.
According to estimates, the Hyundai Nexo can run more than 300 miles on a single charge.
If those miles come at night, you can depend on the Nexo's bright headlights to provide significant visibility throughout.
The Hyundai Nexo has a healthy lighting system that includes LED Headlamps and Dusk-Sensing Headlamps. As such, you are sure of seeing—and been seen—clearly while you drive.
The 2020 Hyundai Nexo received a 'Good' rating for its headlights from the Insurance Institute for Highway Safety. This is the highest possible rating any car can receive from the IIHS.
Also read our article about cars with ISOFIX on the front seat.
5. Lexus NX
The Lexus NX is a crossover that offers a comfy interior filled with lush seating and exciting infotainment features. It has enough legroom for passengers and offers reclining rear seats for even more legroom.
The Lexus NX has strong safety credentials, as evidenced in its Top Safety Pick+ rating from the IIHS.
Top Safety Picks must have strong headlights, and the NX doesn't disappoint in this area. It has bright LED headlamps that provide maximum visibility during night travels.
The NX lighting system also includes Dusk-Sensing Headlamps, Fog/Driving Lights, and Daytime Running Lights.
With its assortment of headlights, the NX ensures you can see clearly while driving to avoid mishaps.
The Lexus NX is among the few cars that got a 'Good' rating for headlight performance from the IIHS. Therefore, you can be sure that this model indeed has the best headlights on offer.
6. Subaru Crosstrek Hybrid
Subaru is the king of small SUVs, and the Crosstrek Hybrid is proof of that. The crossover combines carlike driving dynamics with SUV-esque cargo capacity and utility.
The Crosstrek Hybrid also has a unique safety system designed to minimize the risk of an accident.
An essential part of this are bright headlights that enhance drivers' road vision and ensure they don't hit something.
Check also: Common problems with Subaru Crosstrek.
This model's lighting equipment includes Dusk Sensing Headlamps, LED Headlamps, and Fog/Driving Lights. It even has Adaptive Headlights, considered some of the best on cars.
Traditional headlights shine straight ahead, even when cornering, and cannot provide adequate illumination in such situations.
Conversely, adaptive headlights are flexible and adjust based on your car's direction and speed to provide better visibility.
If your car turns right, adaptive headlights will angle to the right. If it turns left, adaptive headlights will also curve towards the left.
This technology means adaptive headlights provide better vision around curves and bends at night.
Make sure to also read our article about cars with xenon headlights.
7. Nissan Maxima
The full-size sedan segment is hardly notable for performance models, making cars like the Nissan Maxima special.
The Nissan Maxima has an energetic V-6 engine coupled with a tuned suspension that guarantees thrilling yet comfortable rides.
The Maxima also takes top honors when it comes to headlight safety. It received an 'Acceptable' headlight safety rating from the IIHS.
While that is lower than other models on the list, it's still better than most vehicles.
The Maxima lighting system consists of LED Headlamps, Dusk-Sensing Headlamps, and Front Fog/Driving Lights. You also get Daytime Running Lights for increased visibility while driving.
Make sure to also read our article about cars with built-in Wi-Fi hotspots.
8. Toyota Camry
For years, the Toyota Camry has remained the choice sedan for families. This is understandable considering that the Camry is practical, fuel-efficient, and affordable.
The Camry also boasts a unique safety system, of which strong headlights are a part. These headlights are rated 'Acceptable' by the IIHS, meaning they are better than most models.
The Camry's lighting system includes LED Headlamps, Dusk-Sensing Headlamps, and Daytime Running Lights.
The assortment of bright headlights on the Camry allows you to see everything ahead of you while driving, protecting you from collisions and crashes.
Was this article helpful?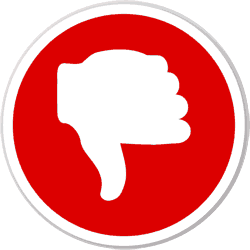 Did you find wrong information or was something missing?
We would love to hear your thoughts! (PS: We read ALL feedback)