Having debuted in 1995, the Chevy Tahoe has been in the market long enough to understand consumer needs and produce vehicles that match buyer needs and solve buyer problems.
However, like any other vehicle with a long lineup, the Tahoe has its list of the best and worst years.
If you're looking to save by buying a used Chevy Tahoe, you may want to know which years to look at and which to avoid.
That's exactly what we will help you do in this post.
The Best and Worst Years for the Chevrolet Tahoe Are:
The Chevy Tahoe has a long list of best years, such as 1995 -1998, 2000-2003, 2006, 2010-2014, and 2016-present. The worst years of the Chevrolet Tahoe include 1999, 2004, 2005, 2007-2009, and 2015.
Most Chevy Tahoe years are incredible. It all depends on the features you want and your budget.
Generally, older models have lower price tags than the latest models.
How Reliable Are Chevrolet Tahoe Years
The Tahoe is a reliable vehicle with excellent reliability ratings. For instance, RepairPal gives the Chevrolet Tahoe a 3.5 out of 5.0 reliability rating. J.D. Power gives the 2023 Chevy Tahoe a reliability rating of 80 out of 100.
It's not uncommon for them to go over 450,000 miles and last more than two decades.
There are 1995 models that are still on the road and running in near-perfect condition.
Owners have also reported owning their Tahoes for more than ten years without any significant issues except maintenance.
Since it was designed for the outdoors, the Tahoe maintains an excellent shape even after being subjected to tough conditions.
When it comes to maintenance, the Tahoe has an annual repair cost of $744, according to Repair Pal, which is considered average.
What Chevrolet Tahoe Years Are the Most Reliable?
The best Chevy Tahoe years are considered safe to buy and will serve you well on short and long drives.
Here are the most reliable Tahoe years to buy.
1995-1998 Chevy Tahoe
The first generation of Chevy Tahoe was pretty impressive.
There weren't many changes, so it makes sense why people liked them equally and rated them well.
This vehicle featured an extremely horizontal yet boxy design as it was established on full-size trucks.
The main reason why these models became so successful was that consumers would use the vehicles for work and day-to-day commutes.
They were also comfy for all five passengers and provided enough room for luggage. Moreover, the 1995 to 1998 Tahoes could tow up to 7,000 pounds, another big reason many people purchased them.
The fact that we see these older models on the road shows that the Chevrolet Tahoe can last a long time!
Finding one of these models is not easy due to their age.
However, if you need a more affordable, rugged vehicle for work and play, these Tahoes may suit your needs.
Just be sure to conduct a thorough inspection. Check for damage and maintenance reports. Compare mileage with the price provided and make your decision.
Generally, there have been very few complaints about these years, which is a great sign.
2000-2003 Chevy Tahoe
The second round of Tahoes came out even better than the first generation.
The changes made in these years make them stand out, particularly the 4×4 capabilities.
The models came with several other exciting features that drove the automotive industry.
Such features include:
side impact airbags,
pass lock II theft-deterrent system,
a driver message center,
an up-level 9-speaker audio system,
and much more.
Another significant aspect was the new 4.8-liter standard V8 engine that made the models respond better and provide reliable and smooth rides.
The vehicles used computer-controlled adaptive systems that would change based on circumstances on the road.
2006 Chevy Tahoe
With the large seating and cargo room, the 2006 Chevy Tahoe makes the perfect weekend getaway companion.
Apart from its two powerful V8 engines, this model handles cargo and passengers well by keeping everyone comfortable on rugged terrain.
According to owners, the 2006 Tahoe is comfortable and reliable with a satisfying experience.
Customers also reported:
smooth operation,
efficiency,
and overall excellent performance as the reasons they purchased it.
The 2006 Tahoe can go anywhere you want, whether it's picking mangoes around your ranch, vacationing in the deep, rugged forests, taking long road trips, or simply commuting to work.
2010-2014 Chevy Tahoe
2010 was an excellent year for the Chevy Tahoe as it was the beginning of a long lineup of successful production.
In fact, all the years leading to the current 2023 model have been great except for the 2015 model, which got the worst rating and the most complaints.
Chevrolet focused on fixing all past issues and refining the vehicle to provide a high-quality cabin that improves safety and comfort.
Many users praised the interior, which appeared more luxurious and spacious. The performance also improved massively.
The vehicle offered a smooth ride and excellent handling than older versions.
By 2014, the Chevy Tahoe had won awards and was recognized as one of the safest vehicles available in the market. The four models were also given the title of the most refined Tahoe Models.
Customers also reported fewer problems with these models, making them more reliable.
2016 Chevy Tahoe-Present
The fourth generation of the Chevy Tahoe was also successful, just like the third, with the best years starting from 2016 to 2021.
The 2022 and 2023 Tahoes are great vehicles, but we feel they are too new to conclude.
We included them in the list because customers haven't reported issues with them so far.
In fact, 2023 is doing so well that it ranks 2 out of the 7 large SUVs in its class. The U.S. News gave it a rating of 8.2 out of 10.
Several changes were made to make the vehicle more reliable and provide a better riding experience.
These vehicles offer:
plenty of passenger and cargo room,
a balanced ride,
excellent handling dynamics,
fuel efficiency,
and plenty of standard features.
They can seat up to eight people, and the latest model delivers 277 to 420 horsepower depending on the trim level.
If you're looking to purchase a used Tahoe that's not too old, we recommend the 2021 year model, as it comes with some of the latest features.
It is also fuel efficient and will likely cost less than the newer models.
What Chevrolet Tahoe Years Should You Avoid?
Now that you know the best years of Chevy Tahoe, it's crucial for you also to know the worst.
It's worth mentioning that Chevy has done an excellent job working on the issues reported and improving the overall reliability of the latest vehicles.
We also have a post here about problems with the different Chevy Tahoe models.
With that said, here are the worst Tahoe years to stay away from.
1999 Chevy Tahoe
The 1999 first-generation Chevy Tahoe was tainted with five major problems.
The primary issue most Tahoe owners reported was the fuel pump which caused the vehicle to run out of fuel faster, lack power, and stop working.
Another issue was the intake gaskets that led to oil leaking into the coolant, causing damage to the engine.
The windshield wiper boards would also stop working due to moisture.
Drivers also reported issues with faulty interior and exterior door handles. The latch would bind up, causing the doors to fail.
2004 Chevy Tahoe
Many 2004 Chevy Tahoe raised various concerns that led to the vehicle being listed as one of the worst.
A total of 163 complaints were reported due to serious defects in the interior and exterior accessories of the car.
People reported malfunctioning parts and components and broken or worn-out components.
For instance, the 2004 model suffers from an inaccurate speedometer, which provides wrong information.
Fixing most of these issues can cost lots of money, and there's no guarantee that it will not happen again.
2005 Chevy Tahoe
Some of the 2004 problems carried to the 2005 models, and that's how it landed on this list. The handling is not stable, which makes it dangerous to drive, particularly in harsh conditions.
The National Highway Transport Safety Administration (NHTSA) has recalled the model seven times due to the high number of complaints.
Some issues include:
poor lock actuators,
incorrect speed motors,
and faulty radio systems that disrupt ride quality.
2007- 2009 Chevy Tahoe
The 2007 model is by far the worst.
It was the most reported, with over 200 complaints. 2008 wasn't any better and the situation carried on to 2009.
Apart from the alarmingly high number of complaints in 2007, 2008, and 2009, Chevy Tahoes also experienced serious issues that threatened the lives of drivers, passengers, and other motorists.
These models were reported to have engine problems.
They would fail to climb up a hill because of a lack of power. The intake gasket issues made things worse as they contributed to the deterioration of the engine.
The 2007-2009 Tahoes also experienced excessive oil consumption. That means they would require more oil to perform, which significantly impacted their performance.
Most of the complaints reported about these vehicles could cost you thousands of dollars, and that's why they're not worth buying.
2015 Chevy Tahoe
According to Consumer Reports, the 2015 Chevy Tahoe received 1 out of 5 on predicated reliability, which is practically the worst rating it can ever receive.
It also got a 77 out of 100 reliability rating from J.D power.
These ratings were due to:
suspension,
climate system,
and power equipment issues.
Some sites reported over 600 complaints about radio outages, flashing interior lights, and rattling noises from the dashboard.
Other issues reported include:
failing AC temperature,
faulty power door lock,
broken rear window defogger wire terminals,
failing sunroof,
faulty sensors on the 4WD transfer case,
and more.
Some owners said their 2015 Tahoes stopped working when they reached the 30,000-mile mark due to failing condensers.
Experts also noted that the Tahoe would face problems such as:
failing seatbelts,
transmission,
airbags,
ignition,
electronic steering,
and brakes once it reached 95,000 miles.
What Are Some Typical Problems With the Chevrolet Tahoe Models?
The most common problems with the Chevy Tahoe models include the following:
Excessive oil consumption in the 5.3- liter engine
Shuddering brakes on high mileage
Fuel tank failure in high mileage models requiring tank replacement
Broken rear window hinge occurring over 90,000 miles
Intake gaskets issues causing misfiring
Faulty door handles
Cracked dash panel
Water pump failure leading to coolant leak
Low oil pressure caused by sensor or damaged O rings
Final Thoughts
The Chevy Tahoe is a three-row SUV named after Lake Tahoe to show its outdoor and off-road capabilities.
This king full-sized SUV is an ideal choice for large families.
Check out these cool stats about the Chevy Tahoe.
It has a luxurious exterior and innovative interior features, making it a popular choice for many people.
The Chevy Tahoe dominates rivals like Sequoia, Expedition, and Armanda due to its combination of cargo space, comfort, towing capabilities, and smooth handling.
The Chevy Tahoe has faced many challenges throughout the years. Some years faced more problems than others, which is why you should carefully go through each model and learn its issues before deciding to buy.
These issues should not be taken lightly, and recalls are there to help.
Nonetheless, the Chevy Tahoe is of the best family SUVs in the market today.
Sources
Go Back: Best & Worst data on all Chevrolet models
Was this article helpful?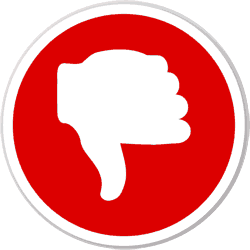 Did you find wrong information or was something missing?
We would love to hear your thoughts! (PS: We read ALL feedback)
ⓘ  The information in this article is based on data from National Highway Traffic Safety Administration (NHTSA) recall reports, consumer complaints submitted to the NHTSA, reliability ratings from J.D. Power, auto review and rating sites such as Edmunds, specialist forums, etc. We analyzed this data to provide insights into the best and worst years for these vehicle models.
---