Nissan NV is a full-size passenger and cargo van with plenty of interior space, peppy engine options, and good fuel economy.
Since its debut in 2012, NV's compact length, easy maneuvering, and affordability make it a top choice for drivers looking for a hearty and no-nonsense van.
Like any other vehicle, this van has the best and worst model years.
This article discusses the best Nissan NV years and the ones to keep off to avoid disappointments and unexpected costs in the future.
The Best and Worst Years for Nissan NV Vans 300
The best Nissan NV vans in history are 2021, 2018, and 2012. On the flip side, the worst years are 2016 and 2014. Knowing this van's best and worst models is crucial, so you make an informed decision during the purchase.
The best Nissan NV models entice buyers with several attributes.
First, NV has a relatively high-reliability score of 4.0 out of 5.0, among the best in the commercial vans class. RepairPal ranks the Nissan NV200 first out of 21 commercial vans tested.
Second, Nissan NVs are low maintenance.
You can expect to spend $906 annually to maintain a Nissan NV, less than the average cost of $963 per year for an average van. In the current slow economy, saving more than $50 on car maintenance is much welcomed.
Second, well-maintained Nissan NVs get between 150,000 and 300,000 miles, translating to 10-20 years of useful and stress-free service.
While Nissan NVs are renowned for being good workhorses, some model years should be avoided to prevent:
headaches,
high repair bills,
and premature van replacement.
We have a full list here of the most seen problems with Nissan NV vans.
This way, you avert particular safety and performance issues like engine and transmission problems that may harm your vehicle ownership journey.
Safety issues should never be ignored because they jeopardize the wellbeing of the driver, passengers and other road users.
Also, avoiding the NV model years that consumers regularly complain about ensures you don't fail culprit of the problems previous owners have experienced.
Notably, if you own a problematic model year, you can anticipate issues and learn how to tackle them.
What Nissan NV Vans Years Are the Most Reliable?
2021
The 2021 Nissan NV tops the list as the most outstanding and reliable model year.
It's not uncommon to see Nissan NV vans go up to 300,000 miles! We have more here on how long a Nissan NV van lasts.
Whether you need to carry a bunch of stuff or ferry many people, the Nissan NV does not disappoint.
It offers passenger space for up to 12 people or around 300 cubic feet of cargo space. Reviewers perceive the 2021 Nissan NV as a pickup truck with a van costume due to its RWD configuration, available V8 engine, and intuitive technologies.
The 2021 Nissan NV Cargo is a favorite for shoppers looking for a commercial cargo van.
With the optional V8 engine, this van has exceptional hauling and towing capacities of 3,720 and 9,400 pounds, respectively. 
In addition, the van has good gas mileage and gets 25 mpg in the city and highway combined.
Among the features that make this model year popular include the following;
Powerful V6 and V8 engines:
the 2021 Nissan NV comes standard with a 261hp V6 engine and an available 375hp V8 engine.
Both engines are dutiful to ferry the NV in town and the countryside.
Excellent handling and driving impression:
As a hardworking cargo van and a comfortable human-moving van, the NV has a smooth drive and feels planted on the road.
Numerous features:
In passenger configuration, the NV has decent amenities
Including:
a 7.0-inch infotainment system,
leather-trimmed seats,
a power-adjustable driver's seat,
and air vents.
No complaints:
While the 2021 Nissan NV is still in its infancy, it has not been complained about.
So far, no owner has issued a complaint against this van, making it an exception among vans. Some vehicle models received tens, if not hundreds, of complaints within the first year of release.
2018
The 2018 Nissan NV is a legit contender in the list of the most reliable NVs ever made, and with good reason. 
Here are a few reasons why.
#1 An array of configurations:
This model year is available in cargo and passenger variants to meet the needs of diverse van buyers. The passenger variant can carry up to 12 passengers in 324 different seating configurations.
High roof options and interior flexibility make the 2018 NV one of the most versatile vans on the market.
#2 Two choices of powerplants:
The 2018 NV3500 lets you choose between two dependable powertrains; 261hp V6 for small and medium tasks and 375hp endurance V8 for all the heavy weight lifting.
Tons of standard features: the 2018 model year gains a plethora of standard features, including:
a 5-inch color display,
a rearview camera,
Bluetooth,
and remote keyless entry.
#3 Numerous positive reviews: 
This NV has received positive reviews due to its excellent combination of comfort, practicality, and performance.
2012
If you want to buy a preowned Nissan NV, the 2012 Nissan NV is an excellent choice.
Debuting for the first time in the American market, the 2012 NV brought Nissan's exceptional commercial vehicle heritage into the van sector with comfort, style, and smart functionality that suits owners' needs.
When the 2012 NV entered the market, it impressed reviewers, buyers, and car enthusiasts with:
modern interiors,
comfortable seats,
and good fuel economy.
Also, its power and maneuverability positioned it way above rivals like the GMC Savana and Chevrolet Express.
With three models, three trims, and two roof heights –standard and high top, this segment-busting vehicle appeal to many commercial users and fleet operators.
Although the 2012 NV lags behind competitors with an odd exterior style and no all-wheel drive option, its utility, interior comfort, and price make it a worthy competitor in its class.
Please also read our article about the best and words years of the Nissan Serena. 
What Nissan NV Van Years Should You Avoid?
2014
Shoppers looking for a good van for their work and play needs should steer clear of the 2014 Nissan NV.
The most common problem for this model year is engine problems.
Several owners recall the engine shutting off when driving, throwing them into a panic mode. In one instance, the owner reported that the engine was running, but the accelerator did not respond.
The problem recurred several times before being fixed.
A 2014 Nissan NV200 owner affirms their van's engine could not shut off, something they experienced a couple of times at 24,000 miles. While one owner contends they had a mechanic examine and rectify the engine problem, they were worried about the problem recurring.
Numerous factors account for engine problems in the Nissan NV, including:
faulty oxygen sensors,
dirty engine coolant,
poor lubrication,
and damaged oxygen sensors.
Nissan NV owners also complain about premature tire wear.
One owner complains about replacing tires at 25,000 miles, while another says they replaced them at 20,500 miles.
Many things cause premature tire wear, such as:
incorrect tire pressure,
heel damage,
improper alignment,
and aggressive driving.
Transmission problems like delayed shifts, shakiness, whistling noises, and burning smells are rampant for 2014 NV.
Luckily, these problems can be tackled when detected early before they harm your van's efficiency and performance.
Service routines like changing the transmission fluid and regular inspection can prevent and detect transmission issues early.
2016
The 2016 Nissan NV has:
robust engine options,
attractive pricing,
and a broad range of body styles.
That said, it has many problems and negative reviews, making it one of the worst NV model year.
According to Car Complaint, the 2016 Nissan NV has received numerous complaints from car owners, including engine problems and roof leaks within a few thousand miles.
When buying a van, many people consider not only its performance but also its safety.
However, the 2016 Nissan NV face intense criticism due to its safety concerns, leading the Japanese automaker to recall some of its vans. The NV 200 had front seat passenger Occupant Classification System (OCS)issues whereby an adult passenger would be classified as a child or unoccupied.
While this seems like a small problem, it worsens in a crash. The passenger frontal airbag would not deploy, leading to increased injury risk.
What are Some Typical Problems with the Nissan NV Van Models?
Here are some common problems with Nissan NV vans:
Leaks in the door seal, windows, and sunroof, which damage the interior
Brakes –noisy or not working optimally
Airbag problems increase injury risk in a crash
Clogged EVAP systems resulting in poor engine performance
Electrical issues causing the infotainment system and lights to stop working
Suspension problems lead to a rough ride and uneven tire wear
Back to best/worst years for all Nissan models.
Was this article helpful?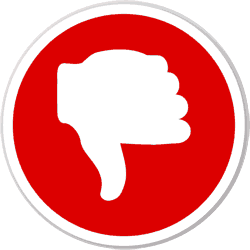 Did you find wrong information or was something missing?
We would love to hear your thoughts! (PS: We read ALL feedback)
ⓘ  The information in this article is based on data from National Highway Traffic Safety Administration (NHTSA) recall reports, consumer complaints submitted to the NHTSA, reliability ratings from J.D. Power, auto review and rating sites such as Edmunds, specialist forums, etc. We analyzed this data to provide insights into the best and worst years for these vehicle models.
---