One of the true full-size SUVs, millions of Chevrolet Tahoes have plied the world's roads since 1991.
The Tahoe is built on a truck chassis and has a body on frame construction, making it tough.
Add in a wide range of available trim levels, available four-wheel drive, and various engine sizes, and the Tahoe can go up against any SUV on the market.
We've previously looked into how long the Chevy Tahoe lasts and also listed some interesting statistics and facts on the Tahoe models. Now, let's look at the most common problems with the Tahoe models.
The Tahoe is one of the most reliable SUVs you can own.
However, it can also have problems affecting it, and the top nine common issues are discussed below.
We especially saw some problems and issues on the yearly models of Chevy Tahoe. Here are the good and bad years for Chevrolet Tahoe.
1. The transfer case, position sensor switch, or selector switch may fail.
When the transfer-case encoder motor position sensor or the selector switch fails, it will cause a fault code.
The failure of either of these parts may cause a 'service the four-wheel-drive code' to appear.
Knowing, with certainty, that your four-wheel drive is engaged or disengaged is essential.
Four-wheel drive warning light
An automotive technician can diagnose the issue with the fault code(s) displayed on your vehicle. Then, using a computer, they can determine what the exact code means and repair the problem with your transfer case.
However, replacing the encoder motor or the selector switch is not an inexpensive undertaking.
You will be without your car for a day, at the very minimum.
This repair ranges from $500 to $600 when performed by a trained technician. It affected every model year from 1995 to 2012.
2. Cracks in the upper dash
Although they are ugly, a cracked dash does not affect a vehicle's performance. However, it can lower its resale value. As a result, an entire industry has arisen from cracked dashboards that make covers to fit every car.
The problem with a dash that is not repaired is that the soft backing will disintegrate quickly once it is exposed to the sun. The padding lies below the outer cover and is there to protect you in an accident.
The loss of foam is not only ugly; it can be a safety issue and may be especially so in the event of an accident. Padded dashes are designed to protect you properly.
A dashboard without foam loses that ability and can become problematic.
However, General Motors has not issued a recall for cracked dashboards. Instead, they have offered hefty reimbursements for replacing the dash.
So if you have a GM product with a cracked dashboard, check with your local dealer before shelling out the money for a repair.
3. Air delivery, mode door actuators may fail in the heating and AC systems.
Any vehicle's air conditioning and heating system use doors to direct the cool and hot air to where it needs to be.
They are made to open and close to control and mix hot and cold air to give you perfectly blended air at a preset temperature.
The actuator is the switch that opens and closes these doors, and if one fails, the entire system may not function properly.
Indicators of faulty air conditioning actuators:
Banging noise from your AC vents
The warm air that should be cold
The cold air that should be hot
Inconsistent airflow from the vents
Clicking noises from the vents
The temperature won't stay set
This problem is found in Tahoes built between 1995 and 2017. GM has had recalls of specific models due to this issue.
So again, if you think your Tahoe has this problem, check with your local dealer to see what recall repairs have been made to your vehicle.
4. The ABS speed sensors on the front wheels may fail.
The anti-lock brake system (ABS), as well as the front-wheel speed sensors, may fail.
The failure may trip an ABS warning light on the instrument cluster. Even more dangerous, your ABS can behave erratically with no indication beforehand.
This problem was found on Tahoes from 1995 to 2012.
There have been recalls by General Motors to correct the issue with the Tahoe's ABS. So, check with the local dealer to see if the repairs have been made.
They keep records of everything that Chevrolet has repaired and can tell you if your vehicle has other issues that need to be seen to.
How do I know if my ABS has a problem?
The anti-lock braking system on your car prevents the brakes from locking up in a hard stop situation or when on slick surfaces.
If your ABS is not working correctly, your brakes could lock up, even on dry pavement.
If it happens on a wet road, you could lose control of your car.
Have your vehicle serviced immediately if your brakes feel different, make clicking noises, or the ABS light on your dash comes on. Brakes are critical safety equipment on your car, and any issues need to be addressed.
5. Erratic speedometer and instrument panel gauges
Unlike the recall of the ABS for the Tahoe, gauge cluster malfunctions are not a recall item with GM.
Although it has been determined that speedometers become erratic and other gauges fail, any expense for repairing this issue is left up to the vehicle owner.
Besides, other pertinent information is supplied on the instrument cluster of your Tahoe.
A faulty instrument panel can give you false information, or none, which can lead to speeding tickets or even a ticket for going too slow!
Also, guessing one's gas mileage can be stressful, and running out of gas, even more so.
The issue with the instrument cluster of the Tahoe was prevalent between 2001 and 2008. If you have a Tahoe of this vintage or are considering purchasing one, replacing the dash cluster will cost $750 to $900.
6. Power door locks may quit working
The actuators that control the electric door locks of your SUV may get to where they work slowly or not at all. This problem occurred in models built between 1995 and 2015 and occurs at about the 100,000-mile mark.
Sometimes an actuator will give you a sign it is getting weak, while at others, it will simply quit working.
The average cost to replace a door lock actuator is about $300.
7. Door handles may break
A broken door handle is not only a hassle; it can be a safety issue if you need to enter or exit your vehicle in a hurry.
Although your car will still run safely, replacing a faulty handle should be done as soon as possible for your safety and your passengers.
8. Fuel Sensor Failure
This problem was sometimes found in Tahoe built between 1995 and 2009 and is caused by a faulty fuel sensor gauge in the gas tank.
The cost of the part isn't too high, but the repair will cost close to $400.
This problem tends to rear its head at about the 150000-mile mark and is an issue you need to note if you haven't already run into this problem.
9. Gas cap causes check engine light
Your car's fuel system is under pressure, and a fuel cap that no longer fits properly can cause a check engine light to illuminate.
This issue has shown up on Tahoes from 1996 to 2013. Although it is a simple fix that can cost less than $30, diagnosing the problem can cost a little over $100.
The gas cap problem on Tahoe's tends to occur at about 116,000 miles, yet it has happened to vehicles with less than 20,000 miles.
As with every part of your vehicle, you never know which piece was made on the wrong day.
Pros and Cons
The Tahoe receives an above-average rating for a full-size SUV.
In addition, the average annual repair costs are around $750, which is impressive for a vehicle of this size and is a great big plus.
Pros
Ten-speed automatic transmission
Available all-wheel drive on all models
Roomy third-row seat
It is spacious.
It has enough power to pull a load and carry up to nine passengers.
It is available in several trim levels.
It is available with several engine options.
Newer models are available with diesel engines.
Large cargo area
Cons
It rides like a truck
Interior is dated
Fuel mileage could be better
The shift knob on new models is in an odd place.
It's a bear to park, but multiple cameras on newer models fix that issue.
Quote Reviews
"The enormous cabin is eerily quiet for such a large vehicle. Controls are very easy to use, except for the tricky gear selector."
"It sports a distinctive exterior design and a spacious cabin well-suited for hauling families and cargo."
"The redesigned Tahoe has big improvements in ride comfort, technology, and convenience features."
Resale Prices
The Tahoe loses most of its value in the first six and a half years.
After that, its replacement cost flattens out to about 30 percent of its original value.
| | | | | | |
| --- | --- | --- | --- | --- | --- |
| Years Old | Depreciation | Residual Value | Resale Value | Mileage | Resale Year |
| 1 | $16,398 | 75.29% | $49,965 | 12,000 | 2022 |
| 2 | $20,679 | 68.84% | $45,684 | 24,000 | 2023 |
| 3 | $20,891 | 68.52% | $45,472 | 36,000 | 2024 |
| 4 | $22,683 | 65.82% | $43,680 | 48,000 | 2025 |
| 5 | $27,222 | 58.98% | $39,141 | 60,000 | 2026 |
| 6 | $30,819 | 53.56% | $35,544 | 72,000 | 2027 |
| 7 | $41,430 | 37.57% | $24,933 | 84,000 | 2028 |
| 8 | $42,532 | 35.91% | $23,831 | 96,000 | 2029 |
| 9 | $46,554 | 29.85% | $19,809 | 108,000 | 2030 |
| 10 | $47,071 | 29.07% | $19,292 | 120,000 | 2031 |
Go back to see problems for all Chevrolet models.
Final Thoughts
Today's market is a seller's game.
Many used SUVs, pickup trucks, and other vehicles are priced higher than market value. So whether you are buying or selling a car, research it thoroughly.
You may be selling yourself short before you price a Tahoe or look for one to buy if you don't know its current value.
Was this article helpful?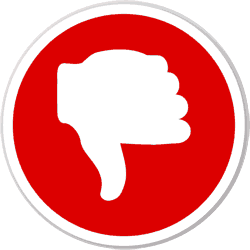 Did you find wrong information or was something missing?
We would love to hear your thoughts! (PS: We read ALL feedback)
ⓘ  The information in this article is based on data from National Highway Traffic Safety Administration (NHTSA) recall reports, consumer complaints submitted to the NHTSA, reliability ratings from J.D. Power, auto review and rating sites such as Edmunds, specialist forums, etc. We analyzed this data to provide insights into the best and worst years for these vehicle models.
---