The Chevrolet Tahoe is a model that's part of General Motors' full-size SUV lineup.
As with its siblings, the Chevrolet Tahoe offers buyers considerable towing ability, superb utility, and middling fuel efficiency.
Buying a Chevrolet Tahoe? Then you'd want numbers related to this model.
In this article, you'll get Tahoe-related numbers, including sales figures, gas mileage stats, safety ratings, theft data, and pollution numbers. Let's go!
How Many Chevrolet Tahoe Have Been Sold in the US Per Year?
Full-size SUVs have been some of the better-selling GM vehicles in the US, and the Chevrolet Tahoe reinforces this fact.
Since it started selling in 1996, the Tahoe has consistently posted six-digit annual sales.
The only time sales of the Tahoe dropped below six-digit figures in a year was during the 2008-2015 period.
The rise of fuel prices between late 2007 and early 2008 affected sales of gas-guzzling SUVs like the Tahoe.
This saw GM record its worst sales year for the Tahoe in 2012, when it sold only 68,904 models.
However, the reduction in gas prices led to a rebound in sales of the Tahoe SUV in the US. From selling under 70,000 models some years back, GM sold over 100,000 Tahoe models in 2019.
For most of its pre-2008 era, GM sold over 100,000 Tahoes per year.
We have a full overview here of the best and worst Chevy Tahoe years and models.
But, in recent years, the average has dropped mostly to 90,000+ units. The best sales year for the Tahoe was in 2002, when it sold 209,319 models.
The table from carsalesbase.com shows annual sales for the Chevrolet Tahoe in the US market:
| | |
| --- | --- |
| Year | No. of Units Sold |
| 1996 | 124,038 |
| 1997 | 124,125 |
| 1998 | 133,235 |
| 1999 | 122,213 |
| 2000 | 149,834 |
| 2001 | 202,319 |
| 2002 | 209,319 |
| 2003 | 199,065 |
| 2004 | 186,161 |
| 2005 | 152,305 |
| 2006 | 161,491 |
| 2007 | 146,256 |
| 2008 | 73,254 |
| 2009 | 73,254 |
| 2010 | 75,254 |
| 2011 | 89,257 |
| 2012 | 68,904 |
| 2013 | 83,502 |
| 2014 | 97,726 |
| 2015 | 97,726 |
| 2016 | 103,306 |
| 2017 | 98,961 |
| 2018 | 104,153 |
| 2019 | 101,189 |
What Year Did Chevrolet Start the Tahoe Models?
Introduced in 1996, the Tahoe was hardly a new model.
Rather, it was simply a rebadged version of the Chevrolet Blazer full-size SUV.
The Chevrolet Tahoe is related to the GMC Yukon, itself a rebadged version of the GMC Jimmy full-size SUV (check the best years to buy for GMC Jimmy).
As is common with full-size SUVs, the Tahoe shared its architecture with a full-size truck.
In this case, the Tahoe shared underpinnings with the Chevrolet Silverado pickup.
That explains the Tahoe's rugged construction, great towing ability, and high ground clearance.
At inception, GM offered the Tahoe SUV in a front-engine, rear-wheel-drive/four-wheel-drive layout. The model has maintained this layout to this day, including the new-generation 2021 model.
The Tahoe has undergone several redesign efforts since it started production.
In some cases, these have been major redesign efforts that led to new generations of Tahoe models.
Here are all generations of the Chevrolet Tahoe:
1st generation (1996)
2nd generation (2000-2006)
3rd generation (2007-2014)
4th generation (2015-2020)
5th generation (2021-?)
How Is the Fuel Economy on Chevrolet Tahoe?
If there's one thing common to all full-size SUVs, it's the poor fuel economy.
The Tahoe sits pretty among vehicles you would call "gas-guzzlers", especially in comparison with smaller, more fuel-efficient cars.
The best gas mileage available on any Chevrolet Tahoe is a combined 18 mpg.
If you're bent on buying the Tahoe but want an efficient option, the two-wheel-drive models are your best bet. Compared to their four-wheel-drive counterparts, the 2WD Tahoes are a bit more efficient.
Also, Tahoes with smaller engines are more efficient than those with bigger engines. For instance, a Tahoe with a 5.3-liter eight-cylinder engine gets better fuel economy than one with a 6.2-liter eight-cylinder engine.
Here are gas mileage figures for some 2020 Chevrolet Tahoe models, courtesy of the Environmental Protection Agency (EPA):
| | | |
| --- | --- | --- |
| Model | City/Highway MPG | Combined MPG |
| Chevrolet Tahoe C1500 5.3L, 8-cyl. (2WD) | 15/22 | 18 |
| Chevrolet Tahoe K1500 5.3L, 8-cyl. (4WD) | 15/21 | 17 |
| Chevrolet Tahoe C1500 6.2L, 8-cyl. (2WD) | 14/23 | 17 |
| Chevrolet Tahoe K1500 6.2L, 8-cyl. (4WD) | 14/22 | 17 |
Note: There's a "Flex-fuel" Tahoe model that can use ethanol fuel (E85), which is cheaper than regular gasoline. You can choose this for greater savings on fuel.
How Quickly Do Chevrolet Tahoes Depreciate?
The Chevrolet Tahoe is regarded as one of the least-depreciating SUVs in the US by automotive experts.
Used Tahoes are highly demanded because of the model's excellent safety ratings, good towing ability, and reasonable maintenance costs. Thus, they don't lose value quickly like some of their rivals.
The average Chevrolet Tahoe depreciates by 45% after its first five years of use. This puts it among some of the best full-size SUVs in terms of resale value.
Even J.D. Power, known for ranking resale value of cars, attests to the Tahoe's better-than-average depreciation rate.
The publication ranked the Tahoe as the large SUV with the best resale value in 2020, ahead of rivals like the GMC Yukon and Toyota Sequoia.
Did Chevrolet Recall Any of the Tahoe Models?
Since it started production in 1996, the Tahoe has been recalled 54 times.
With 13 recalls, the 2015 Tahoe remains the most-recalled model year in history. The 2000 Tahoe follows closely, having been involved in 10 recall actions.
As engineering processes improve, recalls for the Tahoe have continued to drop. This explains why recent years (2018, 2019, and 2020, etc.) have such low recalls.
In fact, the 2019 Tahoe is one of the least-recalled models, with just one recall.
Here are recalls of Tahoe model years since commencement of production:
| | |
| --- | --- |
| Model Year | No. of Recalls |
| 1996 | 5 |
| 1997 | 2 |
| 1998 | 4 |
| 1999 | 3 |
| 2000 | 10 |
| 2001 | 8 |
| 2002 | 6 |
| 2003 | 7 |
| 2004 | 5 |
| 2005 | 7 |
| 2006 | 4 |
| 2007 | 2 |
| 2008 | 2 |
| 2009 | 2 |
| 2010 | 1 |
| 2011 | 3 |
| 2012 | 1 |
| 2013 | 2 |
| 2014 | 2 |
| 2015 | 13 |
| 2016 | 6 |
| 2017 | 3 |
| 2018 | 2 |
| 2019 | 1 |
| 2020 | 2 |
How Much Do the Tahoe Models Pollute?
The Chevrolet Tahoe models use a lot of fuel, so it only makes sense that they have high carbon emissions.
If you want to save the earth, this is the last vehicle you should consider.
In terms of CO2 emissions, the 2WD Tahoe models are the preferable option.
On average, the highest-polluting models in the Tahoe lineup either have four-wheel-drive (4WD) or a big engine (6.2-liter V8s).
We have compiled pollution figures for some of the 2020 Tahoe models using data from the EPA database in the table below:
| | | |
| --- | --- | --- |
| Model | Greenhouse gas emissions | Emissions rating |
| Chevrolet Tahoe C1500 5.3L, 8-cyl. (2WD) | 505 grams per mile | 3/10 |
| Chevrolet Tahoe K1500 5.3L, 8-cyl. (4WD) | 525 grams per mile | 3/10 |
| Chevrolet Tahoe K1500 6.2L, 8-cyl. (4WD) | 527 grams per mile | 3/10 |
How Much Do the Tahoe Models Tow?
For anyone who does a lot of towing, the Tahoe is the perfect vehicle. On the 2020 Chevrolet Tahoe lineup, you can get a model that tows up to 8,600 lbs— hat's better than some trucks!
While the maximum towing ability is 8,600 lbs, the capacity on individual models varies. Engine size plays a huge role in determining how much your Chevrolet Tahoe can tow.
For example, Tahoes using the standard 355-horsepower 5.3L V8 engine can tow only 6,400 lbs. This increases to 8,400 lbs when buyers get the optional Max Trailering Package.
Using the optional 6.2L V8 engine with 2WD/4WD and the Max Trailering Package nets you the maximum towing capacity of 8,600 pounds.
We advise choosing this option if you tow heavy objects like RVs, trailers, and so on.
Also read our article about where Chevrolet Tahoes are made.
How Reliable Is a Chevrolet Tahoe?
The Tahoe is a mixed bag when it comes to reliability. It has excellent reliability ratings in some places and poor ones in other areas.
J.D. Power gives the latest 2020 Tahoe an excellent 5-star predicted reliability rating.
This easily puts it among the most-reliable large SUVs on the market, according to J.D. Power.
However, RepairPal (which uses repair data to determine reliability) gives the Tahoe average ratings for reliability.
It rates the Tahoe 3.5/5.0 for reliability, ranking it 21st out of 26 midsize SUVs for reliability.
For a large SUV, the Chevrolet Tahoe has average repair and maintenance costs.
The average Tahoe costs around $744 to service in a year—more expensive than a regular car, but reasonable for a full-size SUV.
As with all cars, how well you maintain your vehicle will determine its reliability. Proper maintenance (checking oil, cleaning filters, etc.) will prevent your Tahoe from breaking down.
Make sure to also read our article about the Chevrolet Tahoe in snow and winter driving.
How Safe Is a Chevrolet Tahoe?
Given its pedigree as a family vehicle, it only makes sense that the Tahoe is big on safety of passengers.
The Tahoe has a combination of excellent safety ratings and technology to prove it's a safety-focused model.
The National Highway Traffic Safety Administration gave the 2020 Chevrolet Tahoe a 4-star overall safety rating.
The only iffy thing about the Tahoe's safety performance is its poor rating for rollover crash protection.
The NHTSA gave the Tahoe a 3-star safety rating for rollover risk. However, this is not peculiar to the Tahoe; other large SUVs tend to have increased rollover risk due to a high center of gravity and uneven weight distribution.
Safety features on the Chevrolet Tahoe include:
Airbag protection system
Anti-lock braking system
Forward collision alert
Lane keep assist
Side blind zone alert
Automatic emergency braking
What Is the Typical Buyer Demographic For this Model?
Demographic data suggests many buyers of the Chevrolet Tahoe are female, higher than the average for full-size SUVs.
Also, Tahoe buyers are younger than most large SUV buyers, with their median age being 55 years (against the segment's 57 years).
Those who buy the Chevrolet Tahoe are affluent, although lesser than most large SUV buyers.
Their median annual income is around $151,786, which is lower than the segment's average ($157,498).
Another fact about the Tahoe's buyer demographic is that they prize practicality, fuel efficiency, and environmental friendliness.
These factors make them stand out in the full-size SUV segment where fuel economy and eco-friendliness are rarely considered.
Please also read our article about how long the Chevrolet Tahoe lasts.
Chevrolet Tahoe Theft Numbers
The Chevrolet Tahoe is one of the most-stolen large SUVs in the US.
There are no theft numbers for the Tahoe in the NHTSA Theft Rate Database, as the database doesn't monitor thefts of full-size SUVs.
However, the Tahoe is present on many most-stolen lists, which only goes to show it is an attractive model for thieves.
In light of this, we'll advise that you buy additional anti-theft technology for your Chevrolet Tahoe.
References
https://carsalesbase.com/us-chevrolet-tahoe/
Was this article helpful?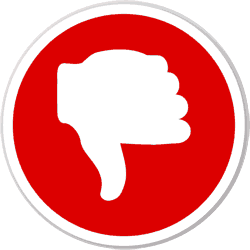 Did you find wrong information or was something missing?
We would love to hear your thoughts! (PS: We read ALL feedback)