The Chevrolet Silverado competes in the full-size truck segment against rivals, including the GMC Sierra, Ram 1500, and Ford F-150.
Like the models mentioned, the Silverado blends quiet luxury with superb hauling and towing capabilities.
While the Silverado is sometimes outshone by some of its peers, it's still recommendable for anyone looking for a nice, affordable truck.
This guide contains statistics relating to the Silverado truck, including recall figures, annual sales, emissions figures, and many more. Let's go!
How Many Chevrolet Silverados Have Been Sold Per Year in the US?
For decades, the Chevrolet Silverado has remained one of the bestselling trucks in the United States.
The truck is also among General Motors' highest-selling vehicles in the US.
From an average of 500,000 units sold during the Silverado's early years, the number grew to over 600,000 units after 2000.
In 2001, GM managed to sell 716,051 Silverado models, which is its highest annual sales figure ever.
RELATED: Commons Issues With Chevy Silverado's
Sales of the Silverado trucks were affected by the fall in demand for trucks during the 2008-2014 period.
It was during this period that GM sold its lowest number of Silverados in a year (316,544 units) in 2009.
The Silverado trucks have experienced better sales in recent years, as the pickup craze in America continues.
Still, annual Silverado sales have not reached their pre-2008 levels, with the average remaining above 500,000 units sold yearly.
Here is a table showing the sales figures for the Chevrolet Silverado since the start of the millennium:
| | |
| --- | --- |
| Year | No. of Models Sold |
| 2000 | 642,119 |
| 2001 | 716,051 |
| 2002 | 652,646 |
| 2003 | 684,302 |
| 2004 | 680,768 |
| 2005 | 705,980 |
| 2006 | 636,069 |
| 2007 | 618,257 |
| 2008 | 316,544 |
| 2009 | 316,544 |
| 2010 | 370,135 |
| 2011 | 415,130 |
| 2012 | 418,312 |
| 2013 | 480,414 |
| 2014 | 529,755 |
| 2015 | 600,544 |
| 2016 | 574,876 |
| 2017 | 585,864 |
| 2018 | 585,581 |
| 2019 | 575,603 |
Check also: demographic pickup truck buyer profile.
What Year Did Chevrolet Start the Silverado Models?
General Motors, which owns Chevrolet, started production of the Silverado models way back in 1999.
That makes the Silverado one of the oldest truck brands in the United States.
The Silverado shares a similar architecture with another GM model—the GMC Sierra.
Since its introduction, the Silverado has undergone several redesign efforts to improve its appeal.
Usually, a redesign heralds the start of a new generation of models. To date, GM has released four generations of the Silverado models:
First Generation (1999-2007)
Second Generation (2007-2014)
Third Generation (2014-2019)
Fourth Generation (2019-present)
We have a good overview of the cargo capacity for each Chevy Sliverado here.
How Is the Fuel Economy on a Chevrolet Silverado?
The Chevrolet Silverado is a full-size truck, and no one buys full-size trucks for great gas mileage.
Depending on the powertrain options, fuel economy on the Silverado can vary wildly.
Among the Silverado models, the rear-wheel-drive (2WD) models have better-than-average fuel economy.
Their 4WD counterparts have poorer gas mileage on average, which only makes sense.
In addition, engine size plays a role in gas mileage ratings for each model in the Silverado lineup. For example, four-cylinder variants have better gas mileage compared to their eight-cylinder counterparts.
Here are some gas mileage figures for the 2020 Silverado models
| | |
| --- | --- |
| Model | Average Mileage Per Gallon (MPG) |
| Chevrolet Silverado 3.0L/6-cyl. (2WD) | 27 |
| Chevrolet Silverado 2.7L/4-cyl. (2WD) | 25 |
| Chevrolet Silverado 5.3L/8-cyl. (4WD) | 19 |
| Chevrolet Silverado 5.3L/8-cyl. (2WD) | 20 |
| Chevrolet Silverado 3.0L/6-cyl. (4WD) | 25 |
How Quickly Do Chevrolet Silverados Depreciate?
Demand for trucks have risen in the last couple of years, thanks to the penchant of the vehicles for extreme reliability and practicality.
High demand means pickup models like the Chevrolet Silverado often retain their values even after several years of use.
Our research shows that the average Silverado model has a five-year depreciation rate of 42%. So, if you a new Silverado, it will hold around 58% of its value after the first five years of use.
Top automotive authorities like J.D. Power have also given the Chevrolet Silverado great scores for its resale value.
The Silverado ranked among the top three "Large Light Duty Pickups" with low depreciation rates on the 2020 J.D. Power Resale Value Awards ranking.
Only the Toyota Tundra had a much better rating than the Silverado.
Did Chevrolet Recall Any of the Silverado Models?
According to chevroletproblems.com, GM has recalled the Silverado models 43 times since they started production.
The most-recalled models in the Silverado lineup are the 2015 and 2016 models.
Both model years have eight recalls apiece, which is the highest for any Silverado model year.
Below is a table showing recall figures for Silverado model years starting from 2011:
| | |
| --- | --- |
| Model Year | No. of Recalls |
| 2011 | 2 |
| 2012 | 5 |
| 2014 | 2 |
| 2015 | 8 |
| 2016 | 8 |
| 2017 | 6 |
| 2018 | 2 |
| 2019 | 5 |
| 2020 | 4 |
How Much Do the Chevrolet Silverado Models Pollute?
The Chevrolet Silverado is a hulking full-size truck primed for rigorous performance.
As such, environmental friendliness was likely not a priority when designing the vehicle.
This would explain the copious amount of greenhouse gases emitted into the air by the Silverado models.
Literally every model in the Silverado lineup has higher-than-average carbon emissions.
But there are still some differences in the pollution data for the model.
For instance, rear-wheel-drive (2WD) models have lower CO2 emissions than 4WD models on average.
Let's see how much the Silverado models truly pollute in the table below:
| | | |
| --- | --- | --- |
| Model | Greenhouse Gas Emissions | Emissions Rating |
| Chevrolet Silverado 3.0L/6-cyl. (2WD) | 383 grams per mile | 5/10 |
| Chevrolet Silverado 3.0L/6-cyl. (4WD) | 405 grams per mile | 4/10 |
| Chevrolet Silverado 2.7L/4-cyl. (2WD) | 422 grams per mile | 4/10 |
| Chevrolet Silverado 5.3L/8-cyl. (4WD) | 477 grams per mile | 3/10 |
How Much Can the Silverado Models Tow?
The Chevrolet Silverado can tow a class-competitive 13,400 pounds of weight.
This impressive towing capacity of the Silverado is down to its rugged construction, advanced towing features, and powerful engines.
However, not all Chevrolet Silverado models can really tow up to 13,400 pounds.
Subsequently, we'll break down the towing capacity of the many Silverado models based on their engine:
1. 7-liter turbocharged engine: This is the base engine in the Silverado lineup, and it can produce 310 horsepower and 348 pound-feet of torque.
Silverados equipped with this engine can tow up to 7,000 pounds.
2. 3-liter V6 engine: Silverados powered by this engine can tow up to 7,900 pounds. The engine itself makes about 285 horsepower and 305 pound-feet of torque.
3. 3L V8 engine: Get this engine and your Silverado will benefit from a power output of 355 horsepower and 383 pound-feet of torque. Once you have this engine, you can pull stuff weighing up to 11,600 pounds.
4. 3.0 L V6 turbocharged diesel engine: Fitted with this engine, the Silverado can make 260 horsepower and 460 pound-feet of torque. With it, you can tow 9,400 pounds of weight.
5. 2L V8 engine: This massive V8 engine can produce up to 420 horsepower and 460 pound-feet of torque. Also, this engine allows you to tow up to 13,400 pounds.
The Chevrolet Silverado also has features aimed at making towing an easier task.
A good example is the Trailering Package, which is standard on all models.
It includes a seven-way sealed connector with seven-wire harness, automatic locking differential, four-pin connector, two-inch receiver, and a trailering hitch platform.
There's also the optional Max Trailering Package for Silverado models. Getting this means your Silverado will get a Handling/Trailering Suspension Package, upgraded rear springs, improved shock tuning.
You can also get the optional Tow Mirrors for better visibility (and improved safety) while towing.
Please make sure to also read our article about the Chevrolet Silverado in snow and winter driving.
How Safe Is the Chevrolet Silverado?
A major reason pickup trucks are popular is because they tend to be safer than many vehicles on the road.
Take, for example, the 2020 Chevrolet Silverado truck.
Not only does the vehicle have outstanding safety features, it has better-than-average safety ratings to back up its credentials.
The Silverado has a comprehensive airbag setup that's capable of safeguarding passengers in a crash.
Included in the Silverado are front-impact airbags, side-impact airbags, and overhead airbags.
There's also the anti-lock braking system that helps you brake safely, especially in slippery conditions.
The ABS makes sure your vehicle remains stable while coming to a halt.
The Silverado has an advanced stability control system that aids safe driving in adverse conditions. If it detects a potential loss of control, the system will reduce engine speed to restore vehicle stability.
The National Highway Traffic Safety Administration (NHTSA) gave the 2020 Silverado an overall safety rating of four-out-of-five stars. This is better than the average for most vehicles.
Make sure to also read our article about how long the Chevrolet Silverado lasts.
What's the Typical Buyer Demographic For this Model?
Like most full-size trucks, most Silverado buyers are men.
On average, they are older than similar full-size truck buyers, with the median age being 57 years.
Besides, they are less affluent than other full-size truck owners, earning an average annual household income of $102,542.
Another insight about the Silverado's buyer demographic is that they prize practicality over performance.
They are fiercely patriotic, and an overwhelming majority say they prefer an American-made vehicle.
Typical buyers of the Silverado often consider gas mileage before buying vehicles. In addition, they tend to avoid vehicles they think will cost a fortune to keep on the road.
If you love buying American trucks, you will like our article about where the Chevrolet Silverados are made.
Chevrolet Silverado Theft Rates
Being a popular model, it's not surprising that the Chevrolet Silverado is among the most-stolen vehicles in the US.
In fact, the Silverado made the 2019 list of top 10 most-stolen vehicles released by the National Insurance Crime Bureau.
On that list, the NICB showed that more than 32,583 Silverados were stolen in the US.
Of that figure, the 2004 model year had the highest percentage of Silverado thefts. Only the Ford F-150 witnessed more thefts in the period under review.
Knowing this, it is in your best interests to secure your vehicle against thieves.
Newer Silverados have anti-theft technology that prevents unauthorized movement of your car.
Still, you should arm your truck with immobilizers, alarms, kill switches, and other anti-theft devices. This will help reduce the susceptibility of your vehicle to theft.
References
https://carsalesbase.com/us-chevrolet-silverado/
Was this article helpful?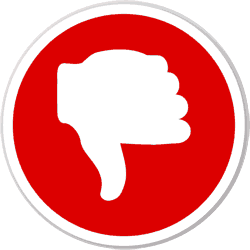 Did you find wrong information or was something missing?
We would love to hear your thoughts! (PS: We read ALL feedback)