The Nissan Murano is more than a luxury SUV.
It's also a reliable vehicle with decent cabin space and advanced auto technologies for most of your needs.
When it was unveiled in 2003, it surprised most people because of its powerful engine, smooth handling, and sleek looks that set it apart from other SUVs in the same class.
Because of this, most people in the market for an SUV consider this vehicle.
As much as other SUVs have joined the market since then, the Nissan Murano still holds its place.
But even with that said, some models have failed to meet the expectations of car buyers.
The article below delves into some of the best and worst Nissan Murano years.
The Best and Worst Years for Nissan Murano Are
Owing to their high-reliability scores and sturdy construction, the best Nissan Murano models are the 2006, 2013, 2016, 2019, and 2021 years. However, consumers should avoid the 2004, 2005, 2007, 2009, and 2015 model years as they've been plagued by recalls and safety concerns. 
When shopping for a Nissan Murano, take note of these years to ensure you get value for your money. The Nissan Murano is also among the cars with zero-gravity seats.
What Nissan Murano Years Are the Most Reliable
You'll have a great riding experience when in the Nissan Murano. And even better, the car can go more than 250,000 miles before needing major repairs.
Take a look at some of the best years if you're in the market for this car.
2006 Nissan Murano (1st Generation)
In the first generation, we have the 2006 Nissan Murano. This likable SUV blends excellent styling with a spacious and comfortable interior, giving it a fun-to-drive character.
The fact that we have so many older Murano models on the streets attests to the fact that a Nissan Murano generally lasts long.
You can get this model in either an all-wheel or front-wheel drive system. With a 3.5-liter V6 engine that delivers 245 horsepower, the car's performance is quite good.
According to reliability statistics from J.D. Power and Consumer Reports, the 2006 Murano has a strong track record for reliability, with many owners reporting trouble-free driving experiences.
In terms of safety, Nissan didn't disappoint.
The car has some standard safety features, such as four-wheel anti-lock disc brakes, head-protecting side curtain airbags, and front seat-mounted side airbags.
According to NHTSA crash tests, when it came to protecting the driver and the front passenger from impact, the Nissan Murano scored five stars out of five.
The driving experience is great, with sharp handling compared to other crossover SUVs.
Buyers can choose between:
the SE,
S,
and SL models.
Unless your goal is to drive your car fast on a curvy road, get the SL model, as it provides day-to-day comfort.
Immediately you get inside the car, you'll notice the amazing dashboard with a floating design and the easy-to-read gauges that glow orange.
The lockable console box is roomy enough to accommodate a laptop, and the door pockets and other nooks and crannies can hold:
your phones,
sunglasses,
books,
and coins.
The doors are pretty wide which makes it popular among elderly. It's one of the cars that are easy to get in and out of.
2013 Nissan Murano (2nd Generation)
When the Nissan Murano debuted in 2003, its form was a bit different, and most people found the design a bit off-putting.
However, the design evolved ten years later and was no longer basic.
But more than styling, the 2013 Nissan Murano has some great features that make it one of the most reliable midsize crossover SUVs.
The 3.5-liter V6 engine powering this model produces 260 horsepower.
The engine and the transmission are mated, and you can choose between an all-wheel drive or a standard front-wheel drive system.
When it comes to safety, the Nissan Murano features an anti-lock brake system (ABS), traction and stability control, front-seat side-impact airbags, active front head restraints, and full-length side curtain airbags.
The Insurance Institute for Highway Safety (IIHS) rated this model as good (good is the highest score) for frontal-offset and side crash tests.
According to reliability statistics, the 2012-2013 model years have a reliability rating of 4 out of 5, indicating that they are considered to be reliable vehicles.
The interiors might not be eye-catching, but they are still attractive. The high-quality materials used in the interiors enhance the appealing aesthetics of this car.
The in-car technology, such as the iPod and the navigation, operate intuitively, elevating your driving experience.
Lastly, the 2013 Nissan Murano has well-tuned suspension and steering that delivers smooth handling of the vehicle. Plus, the ride quality is decent, especially for models that don't have 20-inch wheels.
2016 Nissan Murano (3rd Generation)
Another reliable Nissan Murano is the 2016 model. This pleasant and versatile midsize SUV is a great choice for someone looking for a V6-powered crossover with a sleek roof line and dramatic curves.
Aside from its powerful engine, its fuel economy stands at 24 mpg, which is better than what you'll get from other crossover SUVs using V6 engines.
Just like the 2006 and the 2013 models, this vehicle comes with plenty of safety features, including:
anti-lock braking systems
traction control
and stability control.
Both the SL and Platinum trim levels come with additional safety features such as:
rear cross-traffic alert,
blind spot systems,
and a 360-degree camera system that comes in handy when parking.
The car scored well in Insurance Institute for Highway Safety (IIHS) and government crash tests.
Consumer Reports, for instance, gave the 2016 Murano a reliability rating of 4 out of 5, indicating that the vehicle is above average in terms of reliability. 
The 2016 Murano also received high marks for reliability from J.D. Power, which ranked it as the second most reliable midsize SUV for 2016.
The interiors are also something to behold.
The seats may not catch your attention at first, but they will leave an impression. That's because this model has zero gravity seats, designed to contour to whatever position the body takes.
Since they support the lower and mid back, you'll still be comfortable during long rides and won't feel too tired after your trip. Also, explore the best and worst Nissan Cube years.
2019 Nissan Murano (3rd Generation)
Also, from the third generation, we have the 2019 Nissan Murano as another reliable year.
Like the other models, it's powered by a 3.5-liter V-6 that delivers 260 horsepower.
Although the standard is four-wheel drive, an all-wheel drive option across the four trim levels is available.
Another thing we love about this car is the above-average fuel economy and the sleek looks. The LED headlights and taillights and the bold front grill will have you falling in love with this car.
There's also adequate cargo space behind the rear seats, making it a good car for running errands. In terms of safety, the car did well in crash tests, just like its predecessors.
Despite the vehicle having large 20-inch wheels, the ride is still smooth and quiet.
Big wheels usually lead to jolts and jostles in the cabin, but that's not the case with the 2019 Nissan Murano.
2021 Nissan Murano (3rd Generation)
Lastly, we have the 2021 model, which is one of the most comfortable cars of this generation.
The quiet cabin and cushy seats make for a relaxing driving experience.
Also, this model received a good score in crashworthiness tests, which makes us feel confident in this vehicle's safety features.
Other features we love include:
the forward collision warning,
lane departure warning,
automatic high beams,
front and rear automatic emergency braking,
blind-spot monitoring,
pedestrian detection,
and rear cross-traffic alert.
When it comes to comfort scores, Edmund gave the 2021 Nissan Murano an eight out of ten.
The front and rear seats are comfortable, supporting passengers, especially during long rides.
The standard dual-zone climate control and the quiet AC provide an extra driving experience.
For extra comfort, go with the Platinum trim, whose seats have heating and cooling features.
What Nissan Murano Years Should You Avoid?
Not it's time to look into some of the Nissan Murano with problems. We have a full list here of typical problems with Nissan Murano models.
Here are some of the Nissan Murano years that weren't exactly the best, and you may want to avoid them.
2004 Nissan Murano (1st Generation)
To start us off, we have the 2004 Nissan Murano.
This car saw numerous complaints regarding:
the body and paint,
interior accessories,
and engine issues.
The NHTSA also complained about the electrical components, drivetrain issues, and windshield and window problems.
For the body and paint issues, the undercarriage rusts quickly, and the chrome paint on the grill peels off easily. Such issues give the car an aged appearance, yet it's still fairly new.
The main complaint about interior accessories was that the sun visor broke easily and the power lock kept getting stuck.
The last issue with this model, which was quite serious, has to do with the engine.
Users complained of:
excessive oil consumption,
faulty catalytic converter that led to engine failure,
loss of acceleration,
oil leaking,
and engine stalling when driving.
Unfortunately, engine issues are costly to fix compared to other problems.
This has led to several recalls by Nissan, including one in 2006 for faulty fuel tanks that can cause leaks and pose a fire hazard, and another in 2015 for defective airbag inflators that can rupture and cause injury.
2005 Nissan Murano (1st Generation)
Most car owners reported failing engine mounts.
The faulty part made the engine move freely, resulting in unusual noises, abnormal vibration, and engine damage.
At the same time, with the engine not being secure, it could damage the surrounding components and lead to other issues affecting the vehicle's safety and performance.
It's advisable to go to an auto repair if your Nissan Murano starts displaying signs of a failing engine mount.
Once your mechanic confirms the issue is caused by faulty engine mounts, replace them to prevent drivability problems and costly repairs.
2007 Nissan Murano
The 2007 Nissan Murano has been known to have reliability issues, as evidenced by its below-average scores in several reliability metrics. 
Consumer Reports gave the 2007 Murano a reliability rating of 2 out of 5, citing problems with:
Engine
Transmission
Electrical system
Additionally, the 2007 Nissan Murano has been subject to several recalls, including one for a potentially dangerous issue with the vehicle's brake pedal. 
This recall affected over 180,000 vehicles and required dealerships to inspect and, if necessary, replace the brake pedal assembly.
Another recall for the 2007 Murano involved the vehicle's fuel system, which could potentially leak fuel and cause a fire hazard. This recall affected over 200,000 vehicles.
While not every 2007 Murano will experience these issues, they are common enough to make the vehicle a risky choice for those in the market for a used midsize crossover SUV.
2009 Nissan Murano (2nd Generation)
The 2009 Nissan Murano may be the worst year for the Nissan Murano.
According to consumer reports, the owner satisfaction rating for this car was lower, with only 65% of owners saying they would get it again.
About 118 people complained about the 2009 Murano.
Most of the complaints were in the brake category. Some complained of a soft brake pedal, others complained of a malfunctioning ABS controller.
The soft brake issue is serious hen you factor in things like:
mileage,
repair cost,
and severity,
According to Car Complains, the issue would start when the car reached about 90,950 miles, and fixing the problem would cost about $2000.
2015 Nissan Murano (3rd Generation)
Although the third generation came with more reliable cars than the previous generations, there were a few troubled years.
One of them is the 2015 Nissan Murano.
One of the most concerning issues with this car was the CVT. Car owners noticed a jerking motion whenever they tried accelerating from a complete stop.
Unfortunately, this problem can start at low mileage, with some car owners complaining of unusual acceleration from 10,000 miles.
Although such a repair might be covered under warranty, used cars tend to lack coverage.
Additionally, some 2015 Murano models have been affected by a recall related to the vehicle's airbag system. According to the National Highway Traffic Safety Administration (NHTSA), the airbag control unit in the 2015 Murano may malfunction.
When purchasing a used 2015 Nissan Murano, ask for the service history and call your mechanic to inspect the car for signs of damage.
When you take the car for a test drive, pay particular attention to acceleration to be sure the car won't give you issues in the future.
What Are Some Typical Problems With the Nissan Murano Models?
Despite the Nissan Murano having some fantastic features, it also comes with a few problems.
Some of the common problems with these models include the following.
Engine mount failure
Issues with CVT transmission
Some interior accessories are faulty
While these issues are common with the Nissan Murano models, they are not necessarily present in every vehicle. 
Regular maintenance and prompt attention to any warning signs or symptoms can help prevent many of these problems from occurring and can keep your Nissan Murano running smoothly for years to come.
Back to best/worst years for all Nissan models.
Was this article helpful?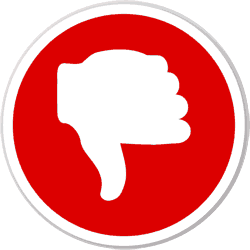 Did you find wrong information or was something missing?
We would love to hear your thoughts! (PS: We read ALL feedback)
ⓘ  The information in this article is based on data from National Highway Traffic Safety Administration (NHTSA) recall reports, consumer complaints submitted to the NHTSA, reliability ratings from J.D. Power, auto review and rating sites such as Edmunds, specialist forums, etc. We analyzed this data to provide insights into the best and worst years for these vehicle models.
---