If you're looking for a lightweight version of the Lincoln Navigator, the Aviator might be the right car for you.
It first premiered in the early 2000s, but it was only manufactured for a few years.
After more than a decade, the Aviator was relaunched in 2020.
What's changed and which years are the best?
We'll talk about each category below.
The Best and Worst Years for Lincoln Aviator Are:
The earlier versions of the Aviator – including the 2003, 2004, and 2005 – are the worst ones to purchase. The 2020, 2021, and 2022 versions address some of the issues, making these years the best to choose from.
What Lincoln Aviator Years Are the Most Reliable?
Lincoln took some care to try to improve on their old Aviator designs, which makes their newer versions the better options.
Check also our list of facts around buyer demographics or Lincoln cars.
Let's take a look at how owners and experts feel about each.
2020 Lincoln Aviator
To be honest, it was a bit difficult to decide whether the 2020 Aviator would be considered a "best" or "worst."
However, it's definitely a much better year than those listed below in the ones you should avoid, so we'll give it a pass.
It received an overall rating of 74 out of 100 on J.D. Power, with a 70 out of 100 for quality and reliability.
Though that's not the greatest, it's considered average.
Consumer ratings are average to good, with a 3.7 out of 5 on Kelly Blue Book and an 84 out of 100 for driving experience on J.D. Power.
It was ranked #7 out of 20 cars in the 2020 Luxury Midsize SUV category, according to U.S. News.
Owners praise the performance, comfort, and both interior and exterior style.
It gets about 17 to 18 mpg in the city and 24 to 26 mpg on the highway.
It comes in three different trims, and depending on the package you choose, the V6 engine provides 400 to 494 HP.
It also has some great safety features, and you have the option of having up to 28 speakers.
In short, it's not a "bad" vehicle, and it's certainly not one of the worst years for the Aviator, but one of the next options might be a better choice for you.
This was also a good year for the Lincoln Nautilus.
2021 Lincoln Aviator
2021 brought some improvement to the Lincoln Aviator.
It seats up to seven, which owners love, and it has the distinctive Lincoln look.
You can get up to 77.7 cu ft of storage space with the second and third rows flat and the various pockets and consoles provide plenty of storage.
The infotainment system comes with a large touchscreen and several incredible technological features.
Depending on the trim you choose, you can get anywhere between 400 HP and 494 HP.
One downside seems to be that there isn't much headroom – something most owners aren't happy with.
J.D. Power provided a ranking of 75 out of 100 for quality and reliability, with an overall ranking of 77 for the 2021 Aviator.
The company also placed it as #5 in the Upper Midsize Premium SUV.
U.S. News gave it an overall rating of 8.2 out of 10 and Edmunds.com gave it a 7.7 out of 10.
2022 Lincoln Aviator
The 2022 Aviator is still fairly new, so there isn't as much information to go by.
However, there is enough to get the general idea that it currently fits into the "best years" category.
Edmunds.com experts give it a 7.7 out of 10, with an 8.5 for comfort, an 8.0 for storage, and a 7.5 for its value, technology, and interior.
They do point out that the third row is pretty small, making it better for small children than anyone else.
Consumers on Edmunds.com seem to agree, giving it 3.6 out of 5 stars.
Some of their top complaints were some paint defects, a rattling sound, issues with the Sirius radio, and trouble with the fuel gauge.
However, these owners love the technology and the beauty that comes with the vehicle.
It's rated 3.7 out of 5 stars on Kelly Blue Book, with the highest points for its style, comfort, and performance.
J.D. Power ranked it 81 out of 100 for quality and reliability, while U.S. News gave it an 8.3 out of 10.
Read more here on the Lincoln Corsair: best and worst years for Lincoln Corsair.
What Lincoln Aviator Years Should You Avoid?
The early years weren't very kind to the Lincoln Aviator.
Various customer complaints lead us to believe that you would be better off steering clear of the following versions.
2003 Lincoln Aviator
The 2003 Lincoln Aviator is a beautiful, luxury SUV that is generally loved.
In fact, consumers on Kelly Blue Book rated it 4.5 out of 5, and owners on Edmunds gave it 4.7 out of 5.
So why isn't it listed in the best years? Well, there are a few issues that can be concerning.
The first is transmission problems, including 16 reports on CarComplaints about everything from rough shifting to the gear shifter getting stuck.
Unfortunately, these issues have been responsible for at least one crash, which is enough to leave one questioning how safe the 2003 Aviator might be.
If you can afford to have the full transmission system addressed when you purchase the vehicle, you should definitely consider doing so.
There have also been complaints of an exhaust leak that needs to be repaired immediately before it damages the catalytic converter. –
Other complaints include constant overheating, smelling coolant, a superficial crack on the liftgate, other body and paint issues, leaking valves on the cylinder, and the need for constant maintenance.
In short, though it's a beauty, it can cost a pretty good bit to keep it functioning properly.
2004 Lincoln Aviator
Sadly, the 2004 Aviator wasn't much better. In fact, it might have been worse.
The crack on the rear panel was still present, and Lincoln didn't provide a solution for it.
A superficial crack might not seem like a big deal, but who wants to worry about such a thing on a luxury vehicle?
And if the crack were the only issue or wasn't an ongoing issue, we wouldn't point it out so much.
In addition to the annoying crack are some engine issues and a faulty AC and heating system.
As far as the heating and cooling go, the only reported solution is to replace the system for around $4,000.
This seems a bit unfair when you invest in a luxury vehicle.
One of the engine valves tends to burn out and needs to be replaced by the time the 2004 Aviator hits 50,000.
Additionally, somewhere around 130,000, the vehicles would simply stop while the owners were driving them.
That's a bit more than unfair – it's downright dangerous.
2005 Lincoln Aviator
We're really sorry to say that the 2005 Aviator is another to avoid.
Sadly, many of the same issues are just being repeated.
For example, more than 100 people reported the gear shift lever getting stuck.
Additionally, the exhaust leak that needs immediate attention is still present, as is the smell of coolant, the constant need for maintenance, a damaged impeller causing overheating, and cracked paint.
Oh, and that pesky crack is still present in the 2005 Aviator.
Owners also complain that it's a very noisy vehicle and that their AC had to be replaced too quickly after purchase.
It's no surprise that sales declined.
These ongoing issues are a large part of why Lincoln stopped manufacturing the Aviator for more than a decade.
What Are Some Typical Problems With the Lincoln Aviator Models?
While it certainly depends on the year you choose, the following are some of the most common problems with Lincoln Aviators:
Radio
Infotainment system
Cracked rear panel
Some engines turn off while driving
Broken shifter rod
Cracked tailgate glass
Failed rear wheel bearing
Read more about these and other typical Lincoln Aviator problems in our full-length article.
Back To overview of best/worst years for Lincoln.
Was this article helpful?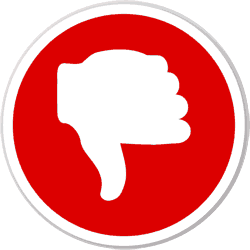 Did you find wrong information or was something missing?
We would love to hear your thoughts! (PS: We read ALL feedback)
ⓘ  The information in this article is based on data from National Highway Traffic Safety Administration (NHTSA) recall reports, consumer complaints submitted to the NHTSA, reliability ratings from J.D. Power, auto review and rating sites such as Edmunds, specialist forums, etc. We analyzed this data to provide insights into the best and worst years for these vehicle models.
---