In recent years, Buick Encore has been a best-selling model for the brand across the United States.
People prefer it to large SUVs as it can easily maneuver through tight parking spaces and narrow streets while keeping all five occupants comfortable.
However, that doesn't mean that this little Buick hasn't had its fair share of problems. Most Buick Encore issues are costly and can cause serious safety risks.
That's why you may want to read on and find out which are the best years to buy and avoid buying a lemon vehicle.
The best and worst years for Buick Encore are:
The best Buick Encore years include 2018, 2019, 2020, 2021, and 2022. On the other hand, the worst years for Buick that you should avoid include 2013, 2014, 2015, 2016, and 2017 models.
What Buick Encore years are the most reliable?¨
Note, we have a separate post with the most common problems across the Buick Encore models.
General Motors has been producing the subcompact Buick Encore since 2012. The Encore has sleek looks like its larger cousins, the Enclave and Envision.
It's also full of high-tech gear and a few additional features designed to give it a luxurious feel.
Powerful, comfortable, and responsive.
That's what the best years of Buick Encore offer.
If you're a big fan of small, comfortable vehicles, you may want to explore other Encores throughout the years to find the perfect match for you.
Here are some great picks to get you started.
2018 Buick Encore
Available in six different trims, the 2018 Buick Encore is an improvement over the 2017 version. It's quicker and more powerful. It's a great solid year for the series as it features fewer problems than its predecessor.
It ranks among the best subcompact SUVs because of its terrific:
safety score,
above-average reliability rating,
and straightforward infotainment system.
The 2018 Buick Encore also offers roomy seating and has plenty of cargo space while being small enough to navigate through packed streets in the city.
This year's model also took a comfortable hit as there was little back seat legroom, and overall, it felt like the SUV was sacrificing a lot of comfort for high-tech features.
These features include:
Android Auto,
an eight-inch touchscreen,
Apple CarPlay
and Android Auto.
Overall, the 2018 Buick Encore received a reliability rating of 8.3 out of 10 from U.S News and 86 out of 100 from J.D Power.
2019 Buick Encore
The 2019 Encore delivers a combination of luxury and power. Outside, it has acoustic laminated glass to keep off the noise and tinted glass to promote privacy.
It's similar to the 2018 version but with some additional issues that the automaker didn't address.
That means it features the same headroom, cargo space, and seating space while maintaining its small size for maneuverability.
2019 got four trims, and safety package II was introduced, including parking sensors, rain-sensing wipers, forward-collision warning, and lane departure warning.
Other safety features included:
cross-traffic alert,
blind spot monitoring,
and front-side airbags.
However, this package was only available for selected trims.
If you need to carry more cargo, you can fold the rear and front passenger seats for more space.
The 2019 Buick Encore gets a reliability rating of 88 out of 100 from J.D Power and 8.1 out of 10 from U.S News.
2020 Buick Encore
The 2020 Encore had minimal or no issues to deal with as the automaker paid attention to all the complaints raised in the previous model.
However, due to the massive competition from other brands like Mazda CX3, Hyundai Kona, and Honda HR-V, 2020 struggled to impress.
Most of its rivals beat it when it comes to:
acceleration,
cargo room,
and ride handling.
This small-sized vehicle makes it fun and easy to drive around the city due to its body size.
The automaker also ensured occupants were comfortable without squeezing the cargo space.
The seats are well-positioned to allow proper visibility. They also accompany an excellent amount of headroom and triple door seals to block out unwanted noise.
Besides the 2019 technology, the 2020 Encore features valuable and highly innovative features that allow you to spot and react to potential hazards, such as rear vision cameras.
Overall, the 2020 Buick Encore is an excellent option with a J.D Power reliability rating of 85 out of 100 and 7.8 out of 10 from U.S News.
2021 Buick Encore
Moving to the latest lineup of models, 2021 makes the list of the best Buick years to buy.
This SUV has been on the market for some time, and so far, so good.
Like its predecessor, the 2021 Encore also features ten airbags and other driver-assist features that we've already mentioned in previous years.
The interior is plush, flexible, and versatile, allowing a good amount of cargo.
Like the previous models, it has small dimensions to maneuver tight spaces. The SUV also comes with many user-friendly infotainment features.
The only issue most people have with this model is that it is slow to accelerate.
The 2021 Buick Encore received a reliability rating of 84 out of 100 from J.D Power and 7.5 out of 10 from U.S News.
2022 Buick Encore
While it may be too early to declare it perfect, the 2022 Buick Encore is worth adding to this list due to its intense effort to create a better version of 2021, which was already great.
The 2022 Encore stands tall and proud with a package full of new features and upgrades.
For instance, it comes with standard LED daytime running lights and a moonroof.
It also adds a new technology that prevents traffic sounds and other exterior noises from entering the car, allowing you to fully focus on driving and enjoying your favorite podcasts and music from the premium sound system uninterrupted.
This SUV boasts a gentle, comfort-focused ride, but like the 2021 version, its engine is underpowered for the 2022 model.
Some reviewers also feel that it's overpriced.
For 2022, the Encore only comes in one trim, and its engine has slightly improved with 17 horsepower.
The previous 8-inch touchscreen has been replaced with a 7-inch one.
Overall, the 2022 Buick Encore is slowly shaping into a solid car. It's too early to tell if the vehicle will suffer any significant problems.
The 2022 Version gets a reliability rating of 88 out of 100 from J.D Power and 7.4 out of 10 from U.S News.
What Buick Encore years should you avoid?
As with any vehicle, some Buick Encores were less desirable than others.
Most of these models have caused their owners costly problems from crucial components and systems such as engines and electrical systems.
Before we dive into the issues, you can also learn more here about general problems with Buick cars.
Here are the years you should avoid.
2013 Buick Encore
The 2013 Buick Encore is the perfect example of why you should never buy the first model in a lineup.
This one came into the market with serious engine issues that have cost drivers lots of money.
The vehicle has suffered six different recalls, making it one of the worst Encore.
Also, the Buick Encore is not handling snow too well. It's one of the small SUVs with low ground clearance.
While most recalls affected less than 500,000 units.
The biggest recall involved front seats not staying in place in the event of a crash, which increased the risk of injury.
The issue would be passed to 2014 models as well. Other recalls were about faults that would eventually cause engine failures, such as:
the engine's block heater's power cord getting damaged,
the turbocharge going out,
and leakages.
2014 Buick Encore
The 2014 Buick Encore is infamous for having the most problems and complaints in the entire series.
These problems require high repair costs, causing lower mileage and increased depreciation.
The NHTSA had a lot to say about the engine, among other issues. The model received four recalls that affected over 3 million vehicles.
The recalls were about the front seats not being stable. Another issue was the airbags that had a malfunction that prevented them from deploying in the event of a car crash.
The seats had a more significant issue as they would not stay anchored in the event of a crash. The battery also had problems and would go out and die too quickly.
The door locks also received a fair share of complaints for not working correctly.
2015 Buick Encore
While Buick managed to work on various issues car owners pointed out from the two previous models, they now had new problems, and some still carried on.
The 2015 Buick Encore had electrical, air conditioning, and brake issues. 
Similarly, it was issued with four different recalls, including one of the airbags not deploying.
The main issue with the brakes was that they would make loud grinding noises that would harm the driving experience.
The battery dying too quickly was another issue that carried on from the 2014 model. The turbocharger in the engine was also not fixed, and the engine lacked enough power.
2016 Buick Encore
The 2016 Buick Encore is only on this list because it was issued with two recalls that affected a lot of vehicles (3.6 million). Otherwise, the 2016 model was a significant improvement from the 2015 model.
The engine issues and airbag deployment problems carried on in the 2016 model.
The engine got the most criticism as it would stop working intermittently. It would also become rough even when the vehicle is idle and often hesitates when accelerating.
Intercooler failure and blown gaskets were also quite common. The turbocharger issue had not been fixed, which worsened the situation.
2017 Buick Encore
2017 was much worse than the 2016 version. The airbag deployment issue had not been resolved, and the engine was literally suffering as the check engine light would come on.
Some drivers experienced engine failure, and the rear brakes were not up to standard.
Aside from these, there were more reported issues which we have listed in the next section below.
From the list above, it's clear that the initial years of the Buick Encore gave the series a rough start and built a bad reputation for the lineup.
However, Buick took the complaints seriously and has been improving each new year.
That's why the latest models are not on this list, at least not yet.
What are some typical problems with the Buick Encore models?
If you're looking to add a used car to your garage, you need to know that the Buick Encore isn't a very reliable SUV.
However, it's also not the worst, but there are far better options out there.
If you decide to buy, here are some of the problems you'll potentially be facing.
Braking problems
Engine malfunctioning
Battery and electrical issues
Troubled turbochargers
Climate control system failure
Defective safety equipment
Transmission issues
Airbags that won't deploy
Slow acceleration
Finish issues
Final thoughts
By now, you probably already figured that the Buick Encore is not for people who enjoy high speeds.
It struggles to accelerate due to its less powerful engine.
Many people have also noted that most models are priced above the average price by $680.
It's also worth pointing out that the Encore has many problems that you may want to seriously look into before you buy any vehicle from the lineup.
If you're looking to buy a used car, there are more affordable, powerful, and luxurious options than the Buick Encore.
The rule of thumb is to thoroughly scrutinize your options to get the best deal. 
Was this article helpful?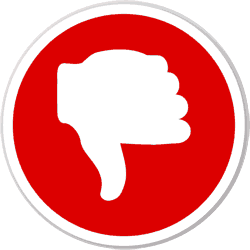 Did you find wrong information or was something missing?
We would love to hear your thoughts! (PS: We read ALL feedback)
ⓘ  The information in this article is based on data from National Highway Traffic Safety Administration (NHTSA) recall reports, consumer complaints submitted to the NHTSA, reliability ratings from J.D. Power, auto review and rating sites such as Edmunds, specialist forums, etc. We analyzed this data to provide insights into the best and worst years for these vehicle models.
---